Review: Jonathan Gold willingly waits in line for hours at Pizzana, where Neapolitan pizza goes L.A.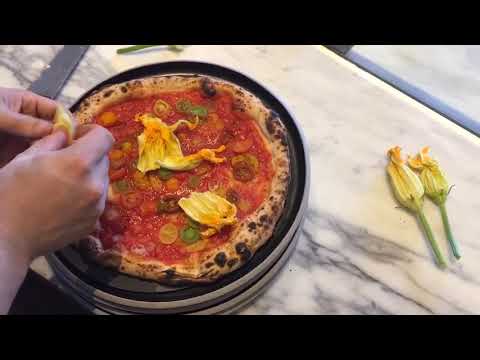 Chef Daniele Uditi explains his "neo-Neapolitan" pizza style at Pizzana.
Restaurant Critic
Pizza, as every New Yorker is fond of telling you, is the food of the people; cheap, tasty sustenance sold by the slice. But in Los Angeles, pizza has another dimension, as anyone who has ever considered dropping six grand on a custom pizza oven can attest — in certain circles a wood-burning Italian-made behemoth is as necessary as a fire pit or a screening room. Famous pizza virtuosi make regular stops at the homes of talk show hosts and sitcom auteurs, who know that a perfectly made Margherita is worth its weight in osetra caviar. Pizza is also the food of the rich.
Daniele Uditi, chef of the chic Brentwood pizzeria Pizzana, earned his bones at his family's bakery near Caserta, the buffalo mozzarella capital of Italy, and in Naples, home of modern pizza, before he moved to Los Angeles. He probably became well known when actor Chris O'Donnell rescued him from a dead-end restaurant job and hired him to cook for him and his friends. Uditi's pizza was a poorly kept secret, even among a lot of people who don't run in Hollywood circles — he was regularly touted as a celebrity chef in Italian newspapers. So it became almost inevitable that he end up with a Brentwood restaurant of his own, in partnership with O'Donnell, wife Caroline O'Donnell, and Candace and Charles Nelson of Sprinkles Cupcakes.
People line up for hours outside Pizzana's blue, tiled dining room, gazing wistfully at the great, domed oven, passing the time with frozen yogurt, acai nibbles, or the other options on the block. Once they finally get to a table, there are nicely realized versions of the fried things you might expect in Naples — crisply fried zucchini blossoms, plates of fried baby artichokes cascading over charred, wood-roasted hearts — as well as roasted meatballs, or billows of lovely, soft chicken liver pâté served with sweet tomato jam. The croutons for the little gem Caesar salad are baked to order in the pizza oven. The shaved Brussels sprout salad holds as many toasted pistachio nuts as it does leaves.
Does Uditi have a signature pizza? Not officially, although I'm guessing that it will end up being the Neo-Margherita, a take on the Neapolitan classic. There is rather a lot of cheese on a Neo-Margherita, a bit of oil, and a layer of San Marzano tomatoes cooked down to a dense slurry. (Uditi imports the San Marzanos himself.) The top of the pizza is dusted with a green flurry of toasted breadcrumbs infused with herbs. When you bite into the pizza — unlike the last Margherita pizza you had, this one is stiff enough to pick up with your hands — there is a crackle, a crunch, and a blast of fresh basil, that licoricey greenness that never quite comes through from a single raw leaf, right before the caramelized tomato acidity kicks in.
Does it resemble in some ways the modernized Margherita made famous by Franco Pepe, whose pizzeria in Caiazzo, north of Naples, is considered by some people (including me) to be the best in the world? It does, although Pepe's pizza achieves its effect through stripes of concentrated sauces on a layer of cheese, and gives an impression of lushness rather than herbal intensity.
Daniele Uditi, a celebrity of L.A. pizza, is baking at the new Pizzana in Brentwood. This is the aglio olio pizza.
(Francine Orr / Los Angeles Times)
Daniele Uditi has worked everywhere from his family's bakery to Naples' famous l'Antica Pizzeria di Michele.
(Francine Orr / Los Angeles Times)
The amatriciana pizza at Pizzana
(Francine Orr / Los Angeles Times)
Steam rises from a pizza cooked in a wood oven at Pizzana in Brentwood.
(Francine Orr / Los Angeles Times)
The Neo-Margherita pizza at Pizzana.
(Francine Orr / Los Angeles Times)
The cacio pepe pizza, based on a classic pasta dish.
(Francine Orr / Los Angeles Times)
Pizza aficionados Jason Rosentreter, 5, and Leah, 2, fill up on Pizzana's offerings.
(Francine Orr / Los Angeles Times)
Bianca pizza
(Francine Orr / Los Angeles Times)
The Pignatiello at Pizzana
(Francine Orr / Los Angeles Times)
Corbarina pizza
(Francine Orr / Los Angeles Times)
Another look at the Corbarina
(Francine Orr / Los Angeles Times)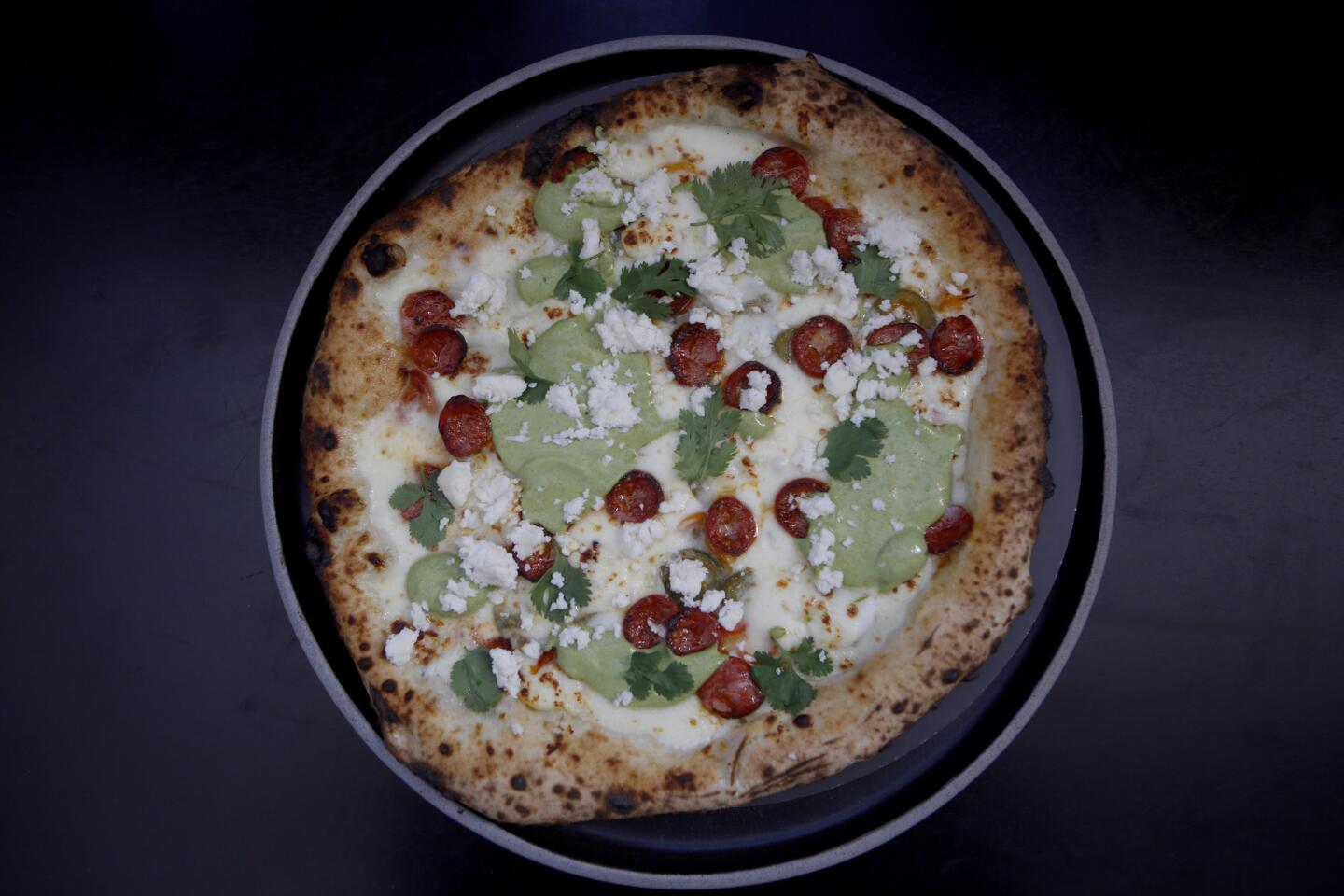 This one's called the Messicana: chorizo, cilantro lime sauce, queso fresco, jalapeno and pickled sweet chile.
(Francine Orr / Los Angeles Times)
Charred artichoke hearts with fried baby artichokes, toasted pine nut, parmigiano and lemon citronette.
(Francine Orr / Los Angeles Times)
House-made chicken liver pate and San Marzano jam, served with wood-fired bread.
(Francine Orr / Los Angeles Times)
Chef Daniele Uditi at his Pizzana restaurant in Brentwood
(Francine Orr / Los Angeles Times)
It's mealtime for, from foreground left, Anahita Hedayati, 11, Mandana Farmanfarmaian, Amir Hedayati and Ariana Hedayati, 9.
(Francine Orr / Los Angeles Times)
A birthday celebration at Pizzana in Brentwood, a neighborhood restaurant that happens to be run by a pizza celebrity.
(Francine Orr / Los Angeles Times)
Both pizzas solve what could be seen as the traditional Margherita's problems of irregularly distributed basil and a wet, soupy center. Both pizzas have half-lives that can be measured in minutes instead of seconds. Both pizzas demonstrate mastery of flavor, technique and form, although Uditi favors a longer, slower pass through the fiery wood oven, which firms up the dough and encourages the crispness and occasional burnt bubbles that Pepe tends to eschew.
There is nothing wrong with a wet center in Neapolitan pizza. One of the wettest is at Naples' famous l'Antica Pizzeria di Michele, where Uditi cooked before he came to Los Angeles. But the style is hard to eat without a knife and fork. You pretty much have to serve it unsliced, or the juices seep under and saturate the crust. And you lose both crunch and the delicious, bittersweet flavors of caramelization, which can add so much to the experience of a pizza. If you are ever lucky enough to find yourself in one of the great, old Naples pizzerias, take a look around. The tables around you are likely to be littered with uneaten pizza bones, many of them still in the form of perfect, hollow circles of dough.
Yet his pizzas are far from traditional, and apart from the regular Margherita pizza and the awesomely fragrant pizza topped with shaved Umbrian summer truffles, you would be unlikely to encounter any of them in Italy. I haven't tried it, but Pizzana even features a pineapple and prosciutto pie.
There are pizzas based on pastas — an awesomely garlicky pizza made to taste like a Roman aglio e olio pasta, speckled with heaps of pickled Calabrian chiles; an Amatriciana pie studded with crisped prosciutto instead of guanciale; and a pizza called pignatiello, named for the clay pot in which Neapolitan grandmothers simmer their Sunday ragù, in a long-cooked tomato sauce with short ribs.
The cacio e pepe pizza is a small miracle: crisp crust, pungent cheese and a showering of black pepper, a near-exact duplication of the flavor of the pasta's particular tang even before your tongue hits a stripe of cream, which lends a bit of the pasta's texture.
Uditi serves his pizzas on perforated platforms, which allow steam to escape before it softens the dough. With the possible exception of the "carnivorio," which holds an Italian deli counter's-worth of meats, his pizzas are sparingly dressed; even the Messicana, topped with the chorizo, sliced jalapeños and cilantro lime cream you may associate with a late-'80s post-Spago pie, is on the minimalist side. He refuses to sell his pizza as takeout at the moment, fearing that a delay might compromise its integrity. His dough, made completely by hand in a traditional wooden bin, is allowed to ferment for nearly two entire days. Uditi is the real thing.
::
Pizzana
LOCATION
11712 San Vicente Blvd., Los Angeles, (310) 481-7108, pizzana.com.
PRICES
Antipasti $8-$15; salads $12-$16; pizzas $16-$22 (more with truffles); desserts $8-$12.
DETAILS
Open Sun.-Wed., 11 a.m. to 10 p.m., Thurs.-Sat., 11 a.m. to 11 p.m. Credit cards accepted. Beer and wine. Valet parking.
RECOMMENDED DISHES
Roast artichokes; chicken-liver pate; Caesar salad; Neo-Margherita pizza; aglio olio pizza.
MORE FROM JONATHAN GOLD
Michael's in Santa Monica still looks like 1979, but it tastes very 2017
Jonathan Gold considers his favorite dishes from Food Bowl 2017
Jonathan Gold says the time for Filipino cuisine is now, and the place is Los Angeles
Get our weekly Tasting Notes newsletter for reviews, news and more.
You may occasionally receive promotional content from the Los Angeles Times.