Where to find the best <i>bibimbap</i>
The beef
bibimbap
is served in a black pot at Jeonju Dolsot in Los Angeles. The pot includes rice topped with kimchi, assorted vegetables and seaweed. It also comes with seaweed soup, noodles in young radish, Korean pancake, dried shrimp with soy bean, squash and cabbage with bean paste.
(Cheryl A. Guerrero / Los Angeles Times)
When you order beef
bibimbap
at Chung Kiwa, it comes with the usual bowls of
banchan
.
(Cheryl A. Guerrero / Los Angeles Times)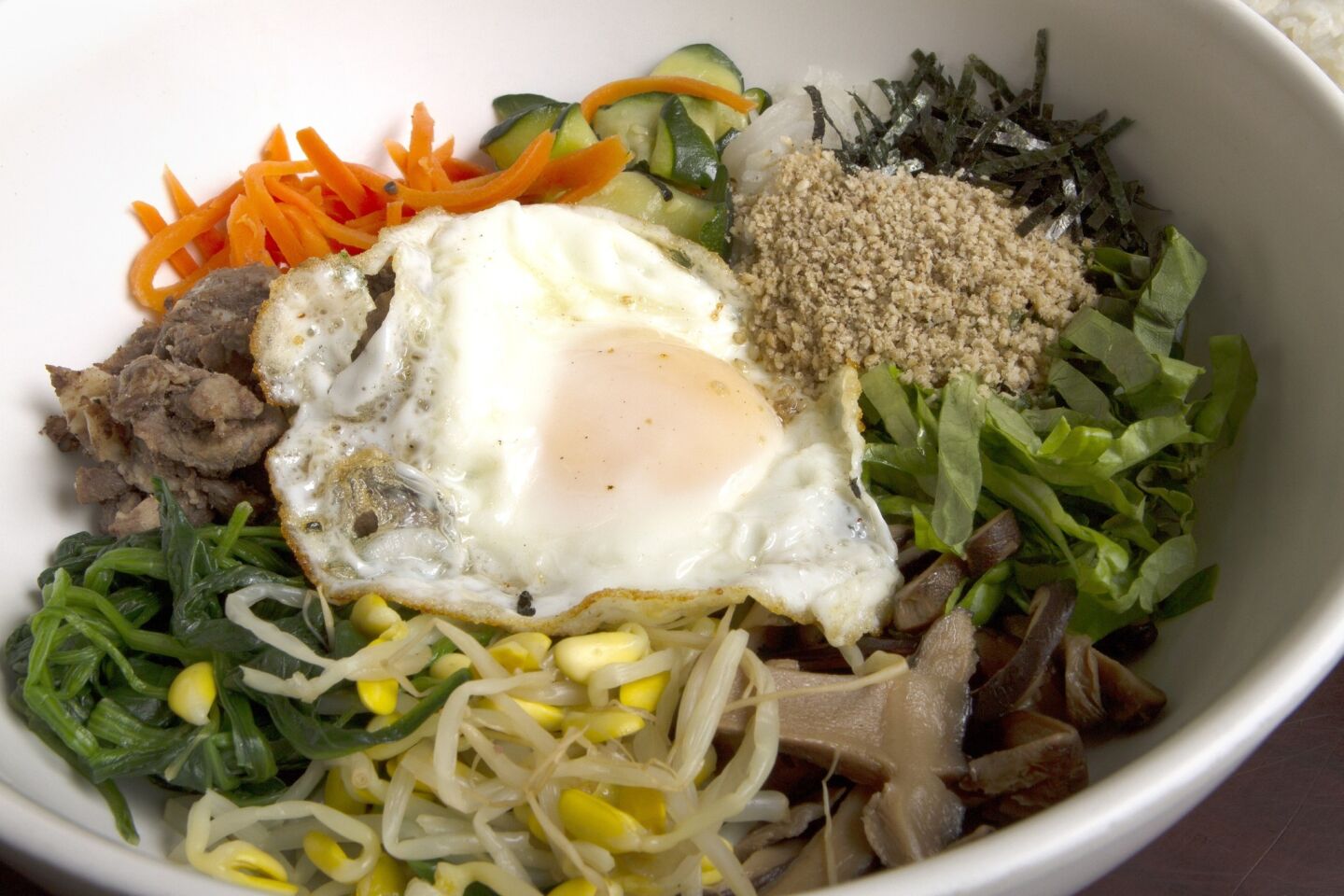 The simple beef
bibimbap
bowl at Chung Kiwa is topped with a fried egg.
(Cheryl A. Guerrero / Los Angeles Times)
The
hwaemul dolsot
is a seafood stone pot
bibimbap
at Gamja Bawi. It's mixed with rice and seafood cooked in sweet and spicy
gochujang
sauce.
(Cheryl A. Guerrero / Los Angeles Times)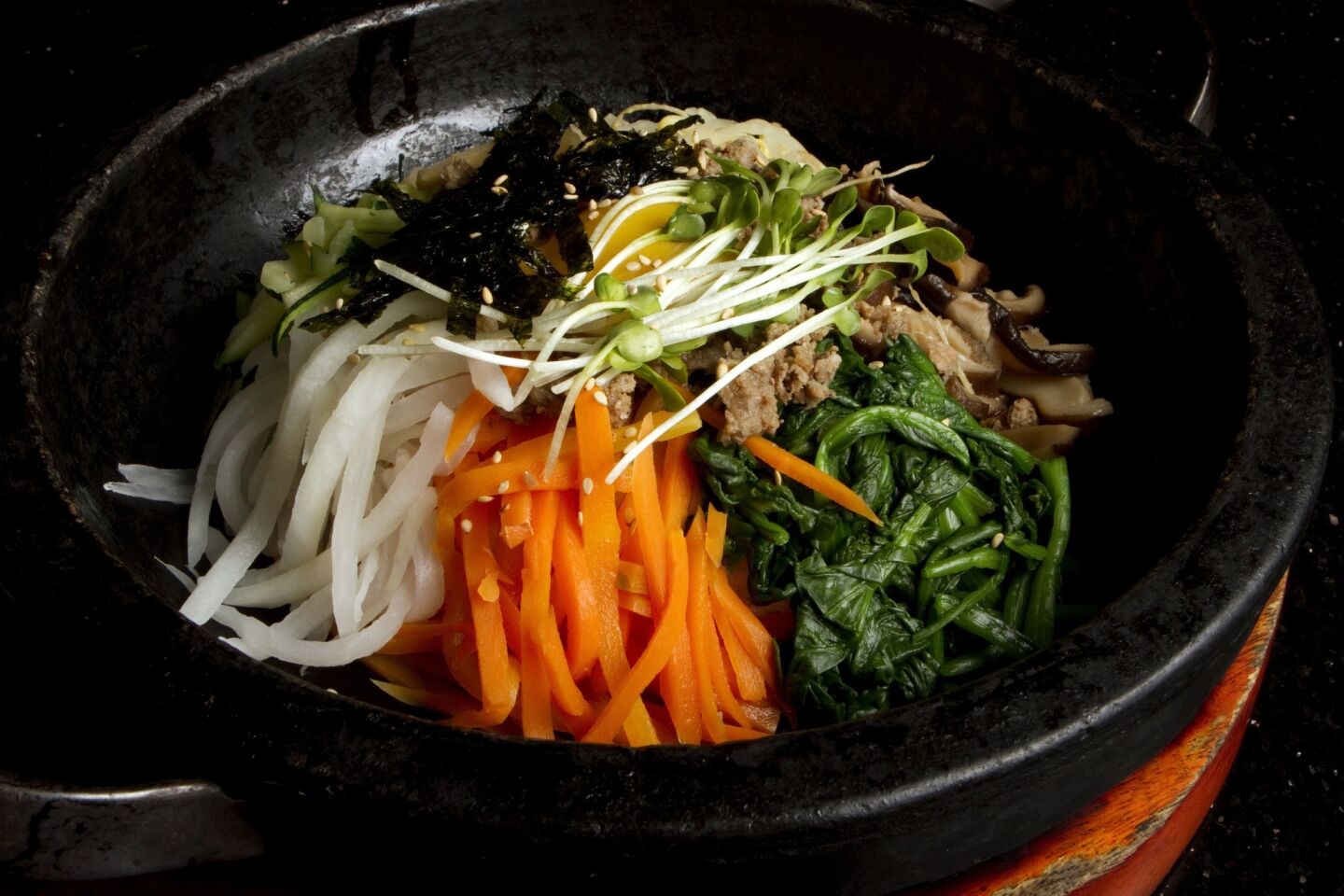 The beef
bibimbap
sizzling pot at Genwa comes with assorted vegetables, egg, rice and 23 side dishes.
(Cheryl A. Guerrero / Los Angeles Times)
Bibimbap is so ubiquitous on Korean restaurant menus that it's almost impossible to single out just one. Adding to the complications — as with so many other dishes in Korean cuisine — there are several varieties. Of course, so much depends on personal taste. Do you like your bowl to be sizzling? Egg or no egg? Seafood or meat? Spicy or mild?
The most popular is the dolsot bibimbap (dolsot = stone pot, bibim = mixed, bap = rice), served in a flaming-hot stone bowl, seasoned and lightly greased with a thin layer of sesame oil. Usually a raw egg is cracked into it just before serving. The pot cooks the egg and crisps the rice to a perfect golden brown crust on the outside. Toppings can be almost anything: mixed vegetables, meat or seafood. Diners can add as much gochujang (fermented chile paste) as they wish.
Jeonju Restaurant
The Korean name for the restaurant is Jeonju Dolsot, which should tell you everything you need to know. Jeonju, the capital of North Jeolla province in South Korea, is famous for its bibimbap. Most of its bibimbap is served in that signature black pot. You can't go wrong with its galbi dolsot, in which cubes of beef are added to the bowl of sizzling goodness.
2716 W. Olympic Blvd., No. 1 (inside J Plaza), Los Angeles, (213) 386-5678.
Chung Kiwa
Although most people come here for the barbecue (the restaurant does have a silhouette of a cow on its sign), those in the know order its simple bibimbap. No frills and served in a plain white bowl, it comes with a fried egg and the usual banchan (side dishes).
3545 W. Olympic Blvd., Los Angeles, (323) 737-0809.
Gamja Bawi
Tucked in the food court of the Koreatown Plaza, this unassuming joint serves some of the best and cheapest bibimbap this side of Seoul. So it's no surprise that it's the busiest food stand in there. Of their five varieties, the most unusual is the haemul dolsot (seafood stone pot) bibimbap, which is chock-full of seafood cooked in a sweet and spicy gochujang sauce.
928 S. Western Ave., No. 129 (inside Koreatown Plaza's food court), Los Angeles, (213) 387-5581.
Genwa
This upscale barbecue restaurant, a little bit outside the fluid boundaries of Koreatown, serves more than 20 tiny banchan and delicious bibimbap. Although it may not be the best bargain in town (you'll pay extra for the atmosphere and the cute hostesses), its menu and waiters are friendly to English speakers.
5115 Wilshire Blvd., Los Angeles, (323) 549-0760.
ALSO:
Four great vegetarian Chinese restaurants
Best gyoza in town? King of Gyoza (weekends only)
Get our L.A. Goes Out newsletter, with the week's best events, to help you explore and experience our city.
You may occasionally receive promotional content from the Los Angeles Times.