A first look at Antico, Chad Colby's ode to rustic Italian cooking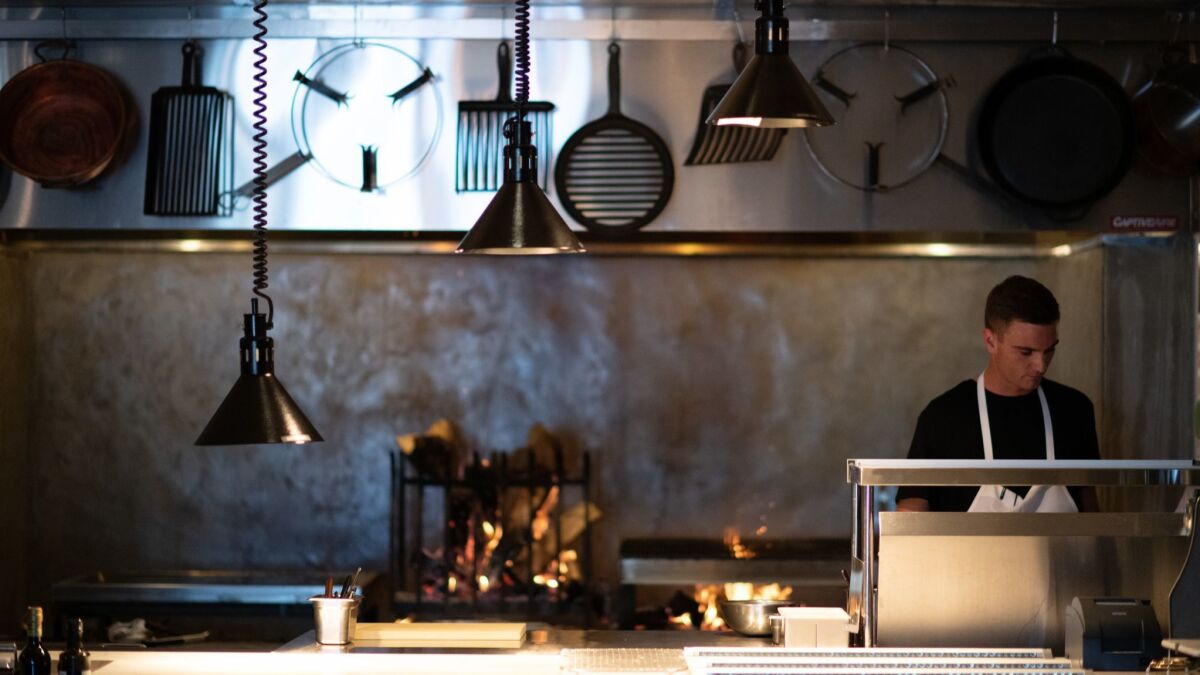 After nearly two and a half years — twice as long as it was slated to take — the fires at Chad Colby's long-awaited Italian restaurant Antico have officially been lit.
Occupying a gritty strip mall address that was previously home to a Korean nightclub, the 55-seat restaurant is set to open June 14 on Beverly Boulevard.
Antico is Colby's first solo restaurant, envisioned as an ode to the rustic culinary traditions of the Italian countryside and influenced by visits to agriturismo farms across Puglia and Campagnia. A couple of weeks before opening, neat rows of almond firewood were stacked a few feet from the door, fuel for a 10-foot-wide concrete hearth where anything from pork chops to lamb skewers to rustic flatbreads will be cooked over a blazing bed of wood fire.
"It's the kind of food you would cook in Italy if you grew and raised everything yourself," Colby says.
The 38-year-old Manhattan Beach native spent the majority of his career cooking under Mozza chef Nancy Silverton, who, along with ex-husband Mark Peel, hired Colby to work at Campanile in 2003. Colby went on to helm the kitchen at Chi Spacca, a butchery-centric appendage of Silverton's Mozza group that garnered its own share of critical acclaim.
After departing Chi Spacca four years ago, Colby briefly partnered with Curtis Stone to open Gwen in Hollywood; the chefs planned but never did open a restaurant together. It was through Stone, however, that Colby met his business partner at Antico, Kevin Caravelli, then general manager and sommelier at Stone's Beverly Hills restaurant, Maude.
Colby eventually found a worn but promising space just north of Koreatown near Western Avenue, cobbling together a group of restaurant investors to fund construction. Like optimistic real estate agents, Colby and Caravelli dubbed the geographically nebulous area "East Larchmont Village" and created an official Instagram geotag. They have aspirations to someday open a wine bar in the liquor store next door.
"The rent here was a quarter of what it was near the Beverly Center," Colby says. "The lower cost is what made this place possible in a lot of ways."
Inspired by the Greco-influenced look of a Puglian country house, the brick-and-drywall interior of Antico is painted stark white; copper pots and unadorned light fixtures hang from the ceiling. Green glass demijohns sit atop an antique armoire that Colby picked up from a secondhand store. An open kitchen dominates the room.
"I almost worry people won't realize how bare-budget this place is, because it manages to somehow feel comfortable," he says. "We didn't have a designer. So much of it was done by the skin of our teeth."
Though not tied to any particular region, the opening menu at Antico draws heavily from Italy's southeastern coast, the heel of the boot. A meal at Antico might begin with something from the menu section labeled "pantry," mostly house-made things to be eaten with squares of Antico's focaccia: slices of culatello or prosciutto; preserved or grilled vegetables; a dollop of whipped lard or neonata, a chile-infused baby sardine spread. Platters of burrata and ricotta are an homage to the ones served by Silverton, Colby's longtime mentor, at Osteria Mozza.
"Chad has always been on his own path," Silverton says. "He knows what he wants out of the food he cooks. It's not only passion that he brings to the table; it's all the knowledge that he's collected in his travels. That's why his food tastes so good."
A "garden" section features salads and hearth-cooked soups made using farmers market produce and ingredients grown in Colby's backyard garden, a five-minute walk from the restaurant (Silverton, it turns out, lives just around the corner).
Colby is especially excited about offering pasta — three shapes made by hand, another three imported from an artisan producer in Gragnano — a lodestone of Italian cooking that he has long obsessed over but was discouraged from serving at Chi Spacca. "Mario [Batali] thought it would cannibalize business from the Osteria, so we didn't put any on the menu," Colby recalls. "I would actually go home and make pasta in my spare time."
Tables will be given the option of ordering a "pasta tasting," miniaturized portions of several varieties prepared à la minute, for the same price as a full serving.
The centerpiece of meals at Antico, however, will come from the wood-fired hearth: thick slabs of steak, whole fish, roasted chickens, or giant , metal skewers threaded with mint-marinated lamb chops and curls of sausage.
To accompany entrees, sides such as confit fingerling potatoes or roasted broccolini will be chosen by the kitchen (unless otherwise requested) and shared by the table — a style of service that Colby says Silverton had originally wanted to offer at Campanile. Brad Ray, an alum of Eleven Madison Park, will prepare simple, seasonal desserts and ice creams.
Through deals struck with wine collectors and small distributors, Caravelli has put together a vintage Italian wine list that includes 60 or so bottles dating back to the 1960s. Most will be priced under $70.
"It's like buried treasure," Caravelli says. "When I look at a wine list, I usually ask, 'What's the oldest wine I can afford?' If you know where to look, you can still find Barolo or Barbera from decades ago that's really special but also accessible."
If there's an overarching theme to Antico, it's that Colby and Caravelli don't want diners to feel their experience is defined once they walk in the door; the room is equally suited to a lavish five-course meal as it is to a plate of pasta and wine at the marble countertop.
"At Chi Spacca we were seen as this special-occasion place, so there were always people who over-ordered and got the tomahawk steak and the marrow pie and whatever else. But they'd only eat there once a year. I would rather people order less and return more often," Colby says.
Antico will open only for dinner Monday through Friday initially; Saturdays will be reserved for the occasional winemaker or guest chef event.
After years of working for other chefs, Colby is grateful to have a restaurant to call his own. But he's also dismayed by what he sees as the growing challenges that accompany building a restaurant in Los Angeles, where "expedited" inspections cost hundreds of dollars per visit and where regulations require the installation of a $30,000 grease trap for a kitchen that doesn't use a deep fryer ("We dug an underground vault that's big enough to fit a truck," Colby says, "and we have zero use for it.").
There was also the confusing ordeal of a vegan cafe with the same name opening in Hollywood a few weeks prior, a matter that Colby believes was an unfortunate coincidence, though he hopes no Uber drivers end up at the wrong location by mistake.
Road bumps aside, Colby admits the benefits of running an independent restaurant are worth the cost, especially when it provides a wine room in which to cure your own salumi, hot embers to roast artichokes and ample space for rolling out orecchiette.
Or, to put it another way: "In Italy, you have to pay the mob to open. Here you pay the city inspectors. It basically comes out the same in the end."
4653 Beverly Blvd., Los Angeles, (323) 510-3093, antico-la.com
Get our L.A. Goes Out newsletter, with the week's best events, to help you explore and experience our city.
You may occasionally receive promotional content from the Los Angeles Times.