Review: Choose your own dining adventure at stunning new Auburn
Restaurant Critic
Opt for six courses. Bring a jacket or wrap if you chill easily. Don't think too hard about the intimidating-looking mound of box crab meat with various essences of tomato and seaweed. Simply plunge your spoon in and devour it all. Don't stare too long at the gorgeous frozen rose parfait. It'll start to collapse and melt. Yes, it tastes like roses, but not in a musty perfumed sort of way. The tree growing in the dining room is a purple-leaf acacia. If you disdain tasting menus, eat à la carte instead at the wide, comfortable bar.
My thoughts come fast and fervently for Auburn, the most exhilarating splurge-worthy restaurant to open in Los Angeles so far this year. Chef Eric Bost has spent decades working for some of the most decorated chefs in the world, including Alain Ducasse at Paris's Plaza Athénée and Guy Savoy, for whom he served as executive chef in Las Vegas and Singapore. After moving to L.A. and spending a year as Walter Manzke's second in command at Rèpublique, Bost made his solo debut at Auburn in March.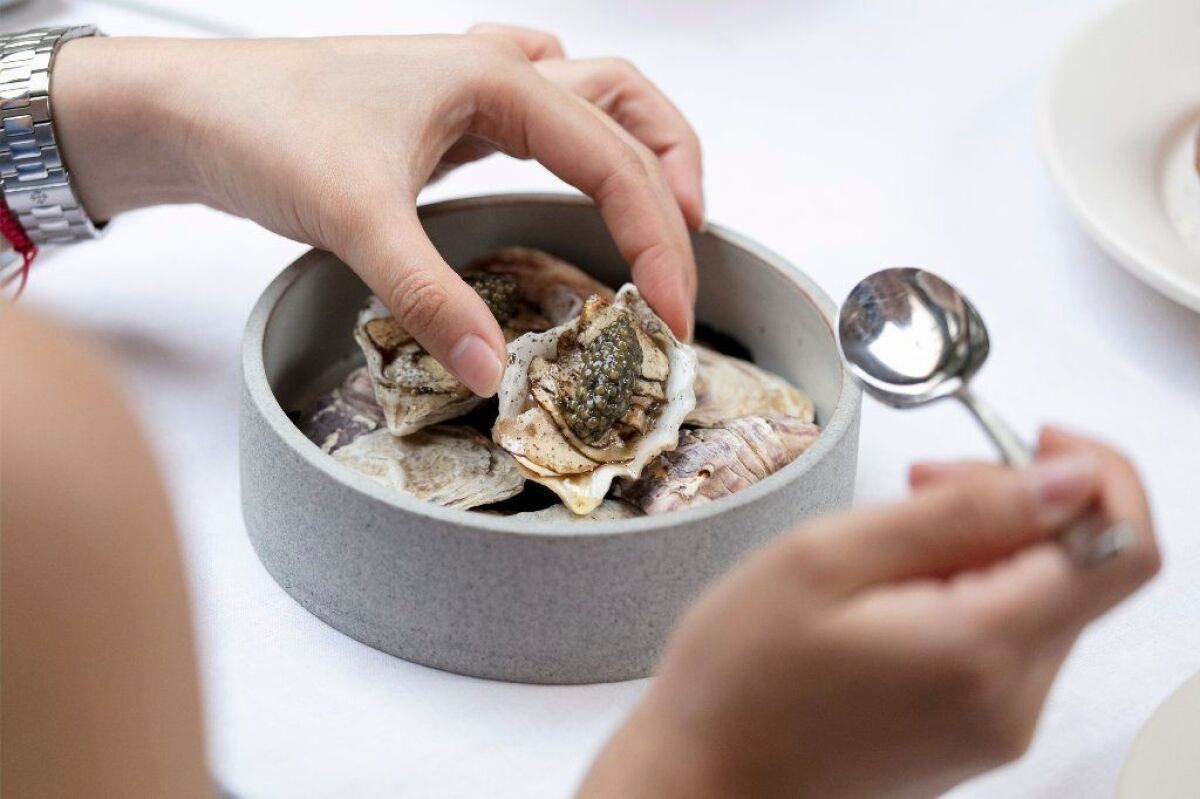 In its aesthetics, the tone of service and the left-brain-right-brain merger in the cooking, Auburn heralds how special-occasion experiences can still dazzle as we speed toward the 2020s. Bost is pulling off some uncanny balancing acts by freshly squaring casualness with formality, and by creating dishes, served in a mix-and-match degustation format, that equally rouse emotions and the intellect.
Exploring Hermosillo, northern Mexico's great unsung food city »
The restaurant — in a storied location, its previous tenants include the late Michel Richard's Citrus and Hatfield's — resides on Melrose Avenue a block from the intersection of Highland Avenue, a star-studded crossroads where Nancy Silverton's Mozzaplex sits diagonally across from Ludo Lefebvre's Trois Mec and Petit Trois. The latest makeover pulls in the most soothing, clean-lined aspects of Scandinavian and Japanese design: concrete, exposed white oak beams, vast pale walls, leather the color of first-of-the-season peaches. It looks like the house of the friends whose home you most envy. You want to gawk at the details several seconds past politeness.
In the middle of the dining room, set under a skylight with a retractable roof usually kept open during service, is a raised, boxed landscape of wildly sprouting grasses and plants. A young acacia tree stands in the center, its thin trunk and silvery branches stretching toward the light. Just beyond, Bost and his crew can be glimpsed in a sleek kitchen — a theater stage behind a fourth wall of glass.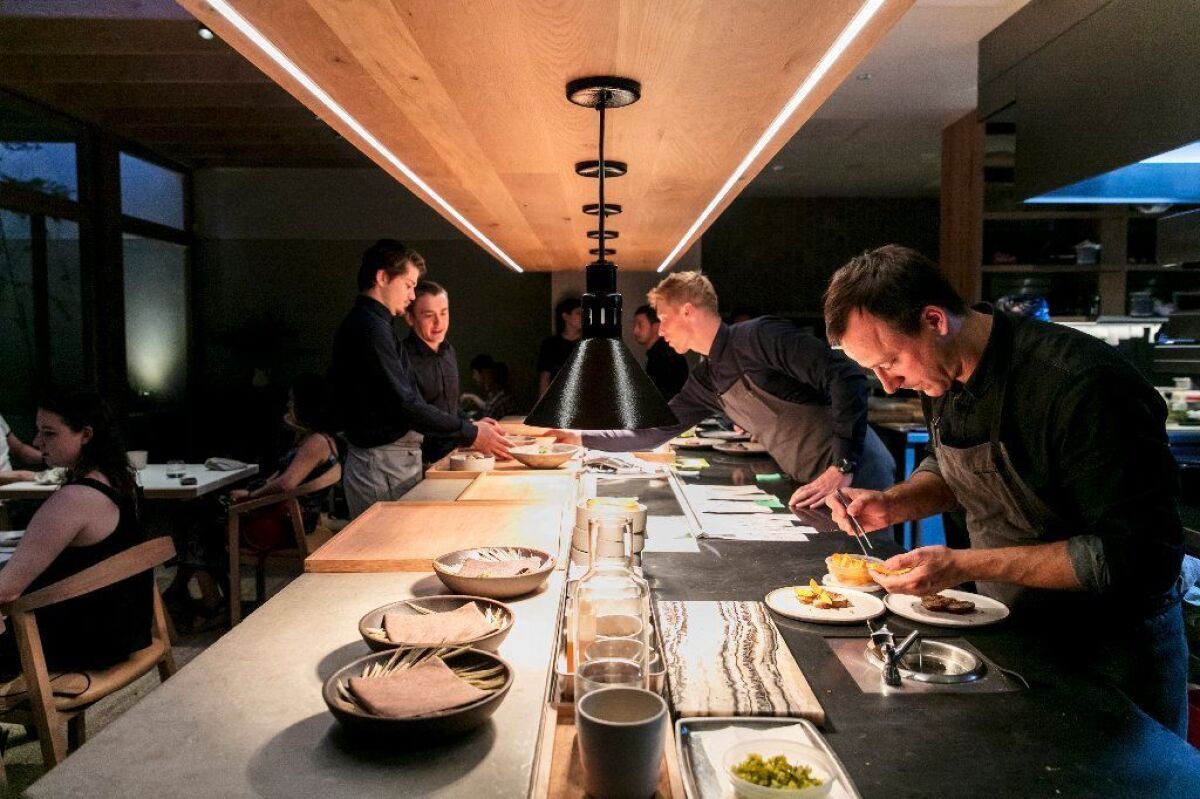 The menu has 12 items, including three desserts. Choose any of them in a progression of four, six or nine courses. Want only seafood, or in the mood for cheese and three desserts? Cool. The setup is meant to feel flexible, unstuffy. (I find that six courses is the right amount of food; it's enough to fully absorb the gratifying swerves in Bost's style and acuity.) Sure, chefs have put forth design-your-own-dinner models before. But Bost's tight list of options runs on especially high voltage: His food ripples with restless creativity. This menu won't stagnate. The formula sets him up for success. His guests too.
A compact loaf of sourdough arrives, alongside butter blended with avocado and pooled with herb oil. You rip off a hunk of bread. You smear the spread. You sip a cocktail citrusy with kumquat or brooding with mezcal and amaro. You relax. Servers know how to establish a rhythm to the meal without constantly interrupting conversation. Sommelier Rick Arline and dining room manager Roderick Daniels are aces with the wine list, which has range without being unwieldy.
A few small bites show up: a mini tart dappled with English peas, a wedge of rolled buckwheat crepe stacked with grilled onion and ham. Then the evening starts to intensify.
Sign up for the Tasting Notes newsletter »
Start with something pure and light: coils of cucumber neatly arranged in a bowl with ripe nectarine flesh, almonds and barely set yogurt, or squares of hiramasa (yellowtail amberjack) crudo crowned with sliced radishes and mulberries in a swirling sea of celery juice. Bost focuses on the visuals: These dishes have been tweezered and edited through a perfectionist's gaze. The compositions may have an aloof beauty, but the flavors come together with a heartening, cloudless-Saturday-afternoon-in-Los-Angeles sort of warmth: He does not sacrifice pleasure for presentation.
The seafood options feel most pointedly conceptual: poised Kusshi oysters gently heated over the coals of the kitchen's blazing hearth, enriched with bone marrow and slivers of fresh porcini; black cod in a smoky fish stock, a stalk of watercress stretched across its moody, splotched gray plate.
Elect for something meaty to contrast the artiness. Bost's presentation of duck with roasted cherries is constantly in flux: I'd had the duo hidden under mustard greens resembling a Christmas wreath and, more recently, in a bowl where the dark cherries are so abundant the dish wonderfully presages dessert. Dry-aged rib-eye, though cooked to ideal rosiness, is the menu's safest bore. I'd much rather end the savory portion of the meal with warmed, runny, just-funky-enough Epoisses spooned over soft sunchokes.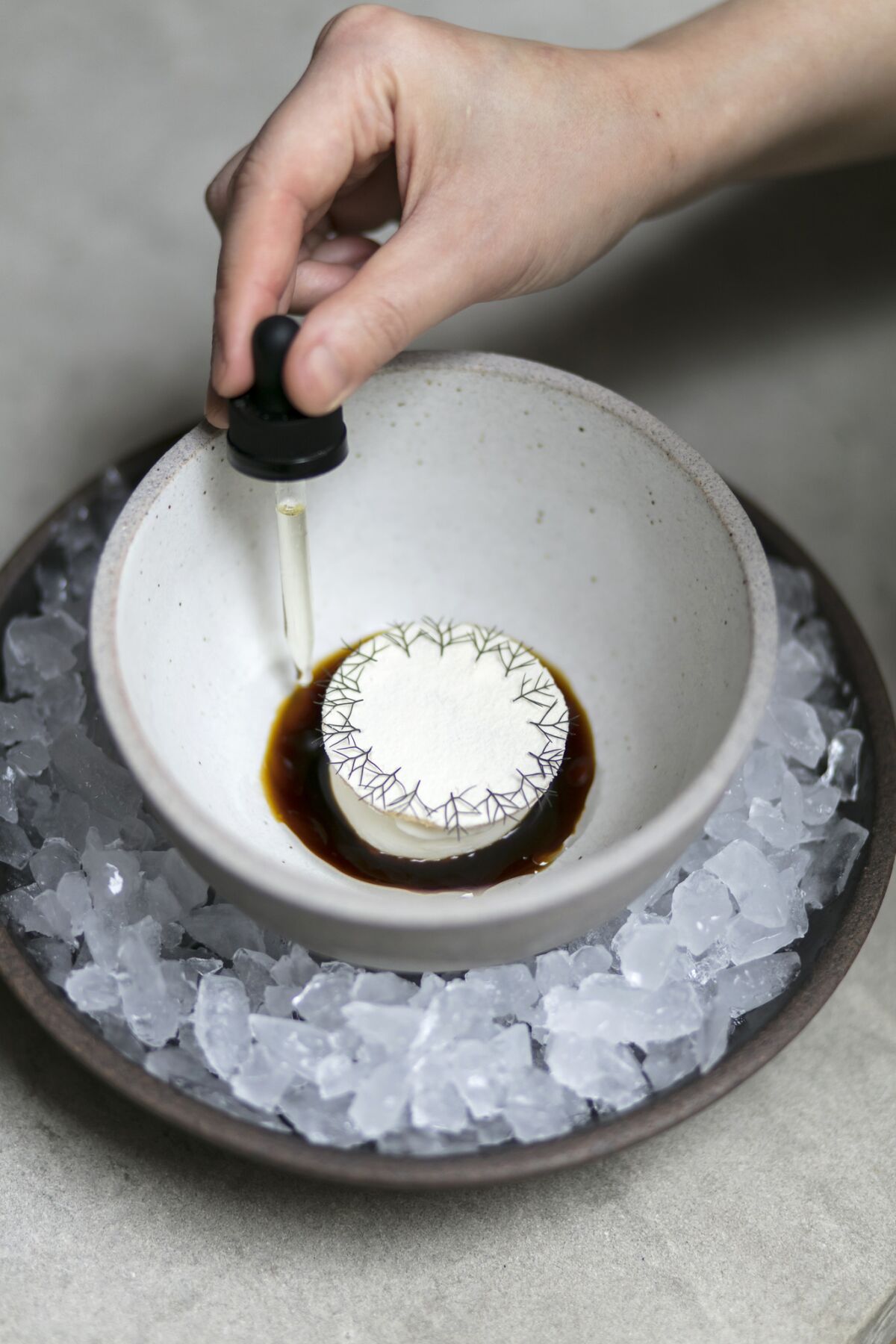 Though Auburn's format allows you to easily sidestep sweets, that would mean missing out on the brilliance of pastry chef Dyan Ng, who is as much of a boon to L.A. as Bost is. (The two worked together at Guy Savoy in Vegas.) Two of her creations transcend the seasons. She pairs chilled yogurt with caramel deglazed using mushroom stock; candied stalks of fennel echo a splash of Pernod added to the caramel. It's a brainy dessert for non-dessert lovers. The frozen rose parfait, cut into a rectangle and scattered with edible rose petals snipped into triangles, bends the mind: It involves aeration and a sous vide machine and stabilization. All that exertion results in a floral, spongy-looking cloud that takes no effort to inhale.
Ah, but then there are the strawberries poached in honey with cream and milky ice cream — and also a powder made of dried lacto-fermented greengage plums.
Though many of the dishes are different, the food on the à la carte menu at the bar follows the restaurant's overall sensibility; I love the ruddy oxtail offset with seaweed marmalade. Here, Ng presents a strawberry tartine — a thin tart shell on which the berries are stacked like closely spaced castle spires. A base of caramelized milk jam anchors the fruit; rose geranium-scented Chantilly cream and an icy granita made from whey and strawberry juice come along for the ride.
The trio are sensational together. As with Bost, Ng finds equilibrium between headiness and abject delight. For an out-of-balance world, such enjoyment brings a welcome reprieve. In this way, and many others, Auburn is an inspiring direction forward for luxe dining in Los Angeles.
Auburn
In a calming, modernist setting and with a mix-and-match tasting menu format, Eric Bost moves the needle on upscale dining in Los Angeles.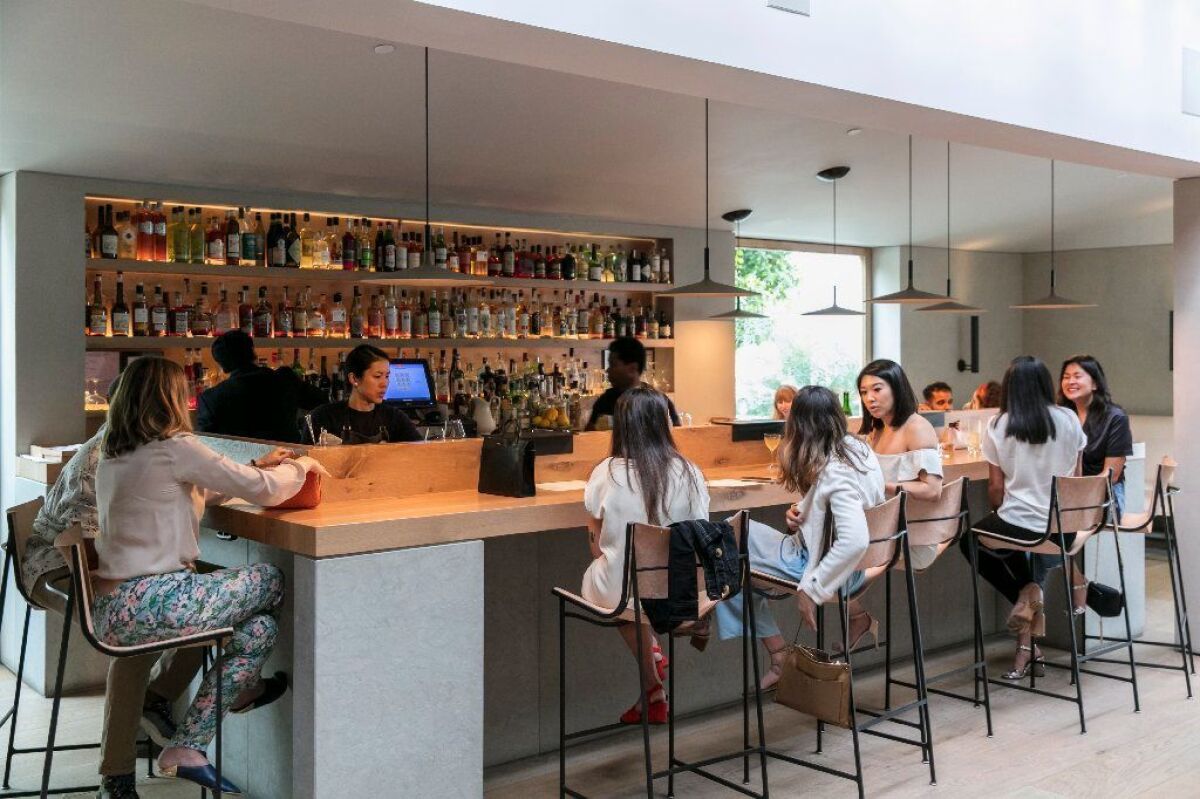 LOCATION
6703 Melrose Ave, Los Angeles, (323) 486-6703, auburnla.com.
PRICES
Tasting menu options: Four courses $75; six courses $105; nine courses $150. Bar menu dishes $9-$22.
DETAILS
Credit cards accepted. Full bar. Valet parking. Wheelchair-accessible.
RECOMMENDED DISHES
Hiramasa crudo; duck with cherries; Epoisses; any dessert.
Instagram: @bill_addison
Twitter: @billaddison
Get our L.A. Goes Out newsletter, with the week's best events, to help you explore and experience our city.
You may occasionally receive promotional content from the Los Angeles Times.