What to do when zucchini gets away from you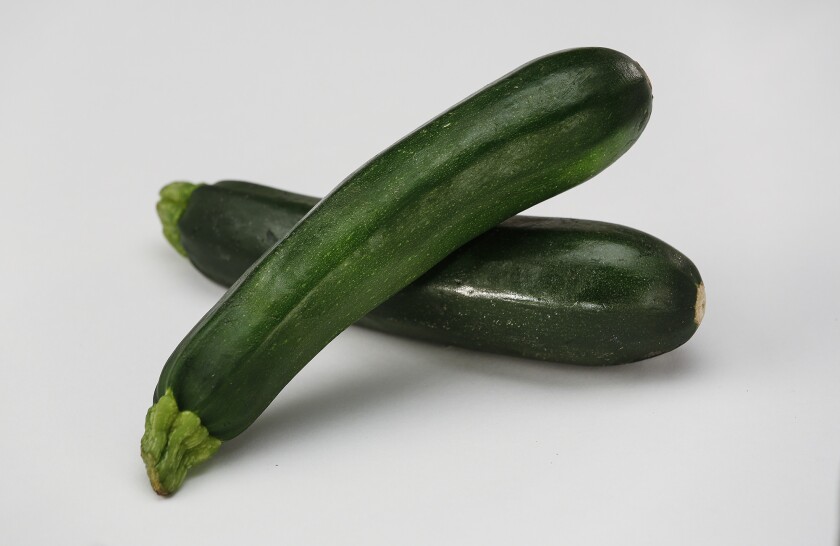 It's every gardener's secret September shame: Those zucchini plants you've been nursing along all summer suddenly have gone ballistic. Maybe you went away on vacation for a week. Maybe you merely turned your head for a moment. But what once was a promising little squash fingerling suddenly seems as big as your arm.
The conventional wisdom is that the only use for zucchini this big is compost, preferably added in the dead of night so none of your neighbors can see how you've failed.
As usual, the conventional wisdom is wrong. Just stuff them.
While these big zucchini may no longer be good for cooking by themselves (the marrow is too watery), with a little preparation they make ideal cases for all kinds of fillings. And there are few things more flexible and more delicious than baked stuffed squash.
Stuff them with whatever you have on hand. Bake them with a sauce or not. Serve them hot or at room temperature. Just take a minimum of care and they're going to be good. Stuffed zucchini is kitchen economy at its best: Nothing goes to waste and a little bit of this and that only makes it better.
The best zucchini for stuffing are those just on the cusp of monster-dom: 3/4 to 1 pound. Cut them in half lengthwise. A melon baller is the best tool for hollowing out the center. Start with the biggest spoon, and scoop out little balls just as you would for a honeydew salad. Then switch to the smaller spoon and smooth out the sides. You'll end up with something that looks kind of like a canoe. Don't trim too much or the squash will collapse during baking. Leave about 1/4 inch along the sides and a little more than that along the bottom.
If you've got really big zucchini, cut them into roughly 3-inch sections and then hollow them into cups. If for some reason you've decided you're going to stuff smaller zucchini (petits farcis, anyone?), just shave a bit along one side and use that as the starting point.
Don't throw out the cores. Dry them out by chopping them coarsely, then sautéing them until they cook down and lose their moisture. That's the base for the filling. You can add bits of whatever you have on hand for flavoring: ground lamb, Italian sausage, sautéed peppers, cooked rice or grains, cheese, herbs — stuffed zucchini is almost endlessly adaptable.
Bind the mixture with beaten eggs if you'd like. Or not. If you do, you'll probably want to add extra grated cheese and some fresh bread crumbs to absorb any extra moisture.
Some cooks prefer to stuff the zucchini raw and cook everything through during the baking. I like the texture and flavor a little better when I steam the zucchini until it's almost done, then stuff and bake for a briefer time.
Whichever way you go, you'll want a little moisture in the baking dish, if only to prevent the zucchini bottom from scorching. A tomato sauce is always a good idea, preferably one spiked with capers or olives or something else to give it a little pop. Or you can go with a simple light broth or even water.
As far as serving goes, you can pretty much play that as you like as well (are you sensing a theme here?). Stuffed zucchini is superb straight out of the oven, but it's just as good lukewarm. Bake them in advance and refrigerate, then just let them come to room temperature before serving.
Stuffed vegetables are easy that way. In fact, probably the sagest advice of all comes from the great Richard Olney, who wrote in "Simple French Food": "Recipes for stuffed vegetables should not be taken too seriously — at least insofar as the ingredients for the fillings are concerned; vegetables may be stuffed with practically anything, and, if a bit of common sense is brought to the composition, they cannot help being good."
---
Get our weekly Tasting Notes newsletter for reviews, news and more.
You may occasionally receive promotional content from the Los Angeles Times.