Recipe: Spaghetti with arugula and garlic bread crumbs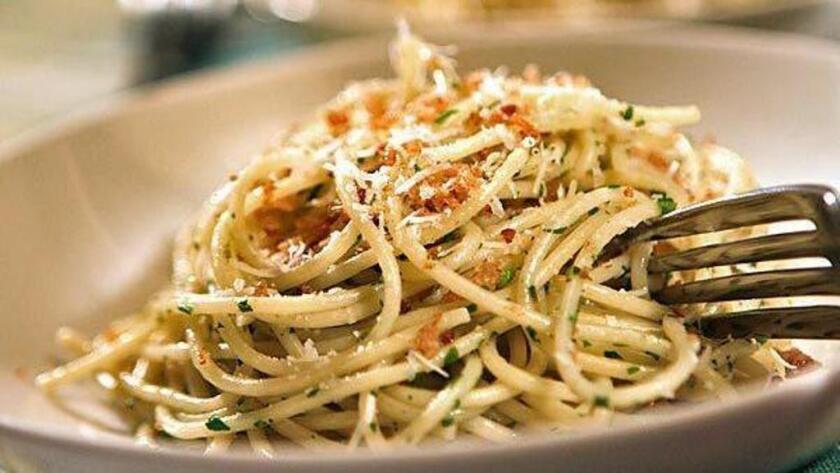 Spaghetti with arugula and garlic bread crumbs
Total time: 30 minutes
Servings: 6
---
Our recipes, your kitchen: If you try this or any other recipe from the L.A. Times Test Kitchen, we would like to know about it so we can showcase it on our food blog and occasionally in print. Upload pictures of the finished dish here.
---
1/2 cup fresh bread crumbs
1 clove garlic, split in half lengthwise
Olive oil
Salt
1 pound spaghetti
1/2 cup finely chopped arugula
Grated Parmigiano-Reggiano
1. Combine the bread crumbs in a small saucepan with the garlic and 2 tablespoons olive oil. Stir to coat well; there should be only a light trace of oil in the bottom of the pan. Season with a pinch of salt and place over medium-high heat. Cook, stirring constantly, until the crumbs have darkened and toasted, about 5 minutes. Transfer them to a small bowl and set them aside to cool slightly. When cool, discard garlic.
2. Cook the spaghetti in a large pot of liberally salted, rapidly boiling water. When it is tender but still slightly chewy, drain it and combine it in a mixing bowl with 2 tablespoons olive oil and the chopped arugula. Add 5 tablespoons toasted bread crumbs and toss to coat well.
3. Divide among 4 to 6 shallow pasta bowls. Sprinkle with the remaining bread crumbs and Parmigiano-Reggiano to taste. Serve immediately.
Each of 6 servings: 370 calories; 10 grams protein; 58 grams carbohydrates; 3 grams fiber; 10 grams fat; 1 gram saturated fat; 0 cholesterol; 2 grams sugar; 48 mg sodium.
---
Get our weekly Tasting Notes newsletter for reviews, news and more.
You may occasionally receive promotional content from the Los Angeles Times.