Fried chicken: Who rules the roost in L.A.?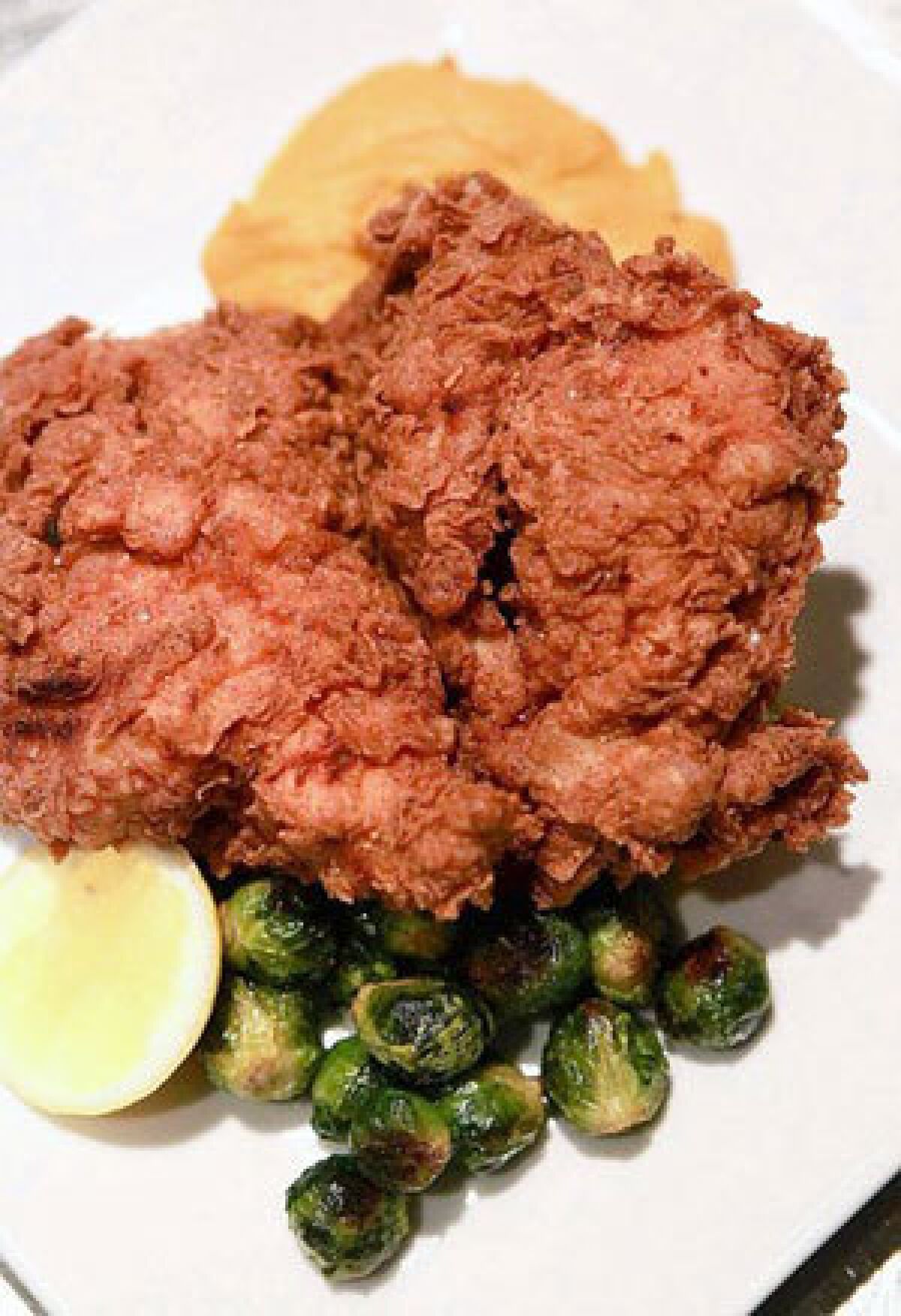 Los Angeles Times Food Critic
Sometimes you just get a hankering for fried chicken. That's what I took to the Hollywood Bowl recently when I was invited by some friends to see Dolly Parton. Though it may be best eaten in the great outdoors, luckily, we can also find some great fried chicken in restaurants that give special attention to the all-American dish.
Roscoe's House of Chicken 'n Waffles: As much as Tommy's or In-N-Out Burger, Roscoe's is an L.A. institution, where people of all ages and ilk chow down on fried chicken and the signature waffles. Some people swear by the breast, some go for the wings and some order their chicken smothered in gravy. The more daring veer toward fried chicken livers or giblets with grits, eggs and a fluffy hot biscuit.
1514 N. Gower St., Los Angeles, (323) 466-7453; 5006 West Pico Blvd., Los Angeles, (323) 934-4405; 106 Manchester Blvd., Los Angeles, (323) 752-6211; 730 E. Broadway, Long Beach, (562) 437-8355; 830 N. Lake Ave., Pasadena, (626) 791-4890. Half a chicken with two waffles, $15.30.
Bouchon Beverly Hills: The fried chicken dinner at Ad Hoc in Napa Valley has been such a consistent hit that Thomas Keller occasionally offers it at Bouchon in Beverly Hills as a Monday night special. Check with the restaurant to find out when the next fried chicken dinner is scheduled. The deep-golden pieces burst with juices. Last time, Keller and company served the chicken with cheddar biscuits, macaroni and cheese, and red wine-braised cabbage. You might want to leave the calorie counter at home.
235 N. Cañon Drive, Beverly Hills, (310) 271-9910, https://www.bouchonbistro.com. Fried chicken offered as an occasional special, $36 per person.
Cube Café, Cheese Bar and Marketplace: Cube's wildly popular spicy fried chicken is still on the menu, many moons after it debuted as part of a special Tuscan week. Good move, that, because anybody who's had it once is going to come back for more. The sides are always changing, and always delicious.
615 N. La Brea Ave., Los Angeles, (323) 939-1148, https://www.eatatcube.com. Spicy fried chicken, $28. Also Fridays at Broome Street General Store in Silver Lake, 2912 Rowena Ave., Los Angeles, (323) 570-0405. Fried chicken picnic for two, $33.
Eva Restaurant: The ebullient Mark Gold won my heart with his soulful Sunday night dinners at Eva. That's where you can find the chef-owner's fried chicken — not every Sunday but often enough. As the menu puts it, "you keep asking, and we keep making." Served family-style, the Sunday dinner includes unlimited red and white wine, quite a bargain at $39 per person.
7458 Beverly Blvd., Los Angeles, (323) 634-0700, https://www.evarestaurantla.com. Sunday night dinner, $39 per person, including wine.
Ludo Truck: To find out where or when Ludo Lefebvre's mobile kitchen will be serving up the French chef's fried chicken, join his Twitter feed @LudoTruck and line up. Fans will always debate which of his three fried chicken dishes wins — the Provençal Pepitte (boneless chicken balls infused with rosemary and herbes de Provence), honey-glazed garlic wings (wings are the best part of the chicken, in my view) or chicken breast strips (his take on chicken fingers). You can dress up your fried chicken with various dipping sauces including a classic béarnaise or a piquillo pepper sauce.
https://www.mobimunch.com/ludotruck or follow along on Twitter at @LudoTruck. Items, $5 to $6.
— S. Irene Virbila
Get our L.A. Goes Out newsletter, with the week's best events, to help you explore and experience our city.
You may occasionally receive promotional content from the Los Angeles Times.