Esdras Ochoa, the taco missionary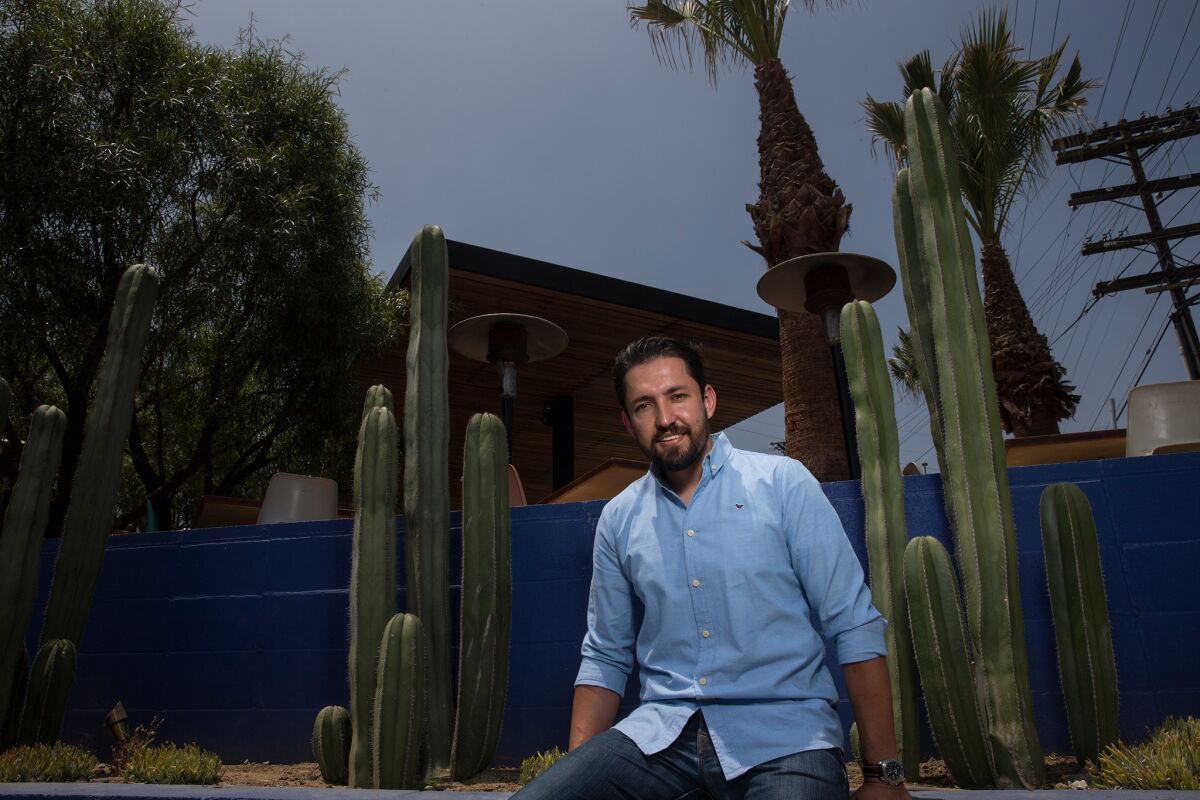 The origin myth of the taquero is often embedded in a street scene, maybe from a Cormac McCarthy border town, or a home kitchen somewhere in Sonora or Michoacán or East L.A., tortillas made by mothers and grandmothers, meat on a fire. Not on a Mormon mission in the Pacific Northwest.
Yet that's the beginning of Esdras Ochoa's culinary story. Ochoa, the chef and co-owner of the popular taqueria Mexicali Taco & Co. in downtown L.A., as well as the recently opened Mexican barbecue restaurant Salazar and a new pop-up taqueria named Califas, traces his culinary beginnings to his two-year stint as a Mormon missionary in Cle Elum, a tiny town in Washington's Cascades. That's where the Mexico City native found himself, having just graduated from high school in Calexico, over the border in California from Mexicali, on a Mormon mission, serving as a Spanish-speaking elder to the community.
"All white people; I was exotic to them," says Ochoa, 34, sitting on one of the plastic chairs outside Mexicali in Chinatown.. "I'm in hell — my first experience cooking outside my house."
Ochoa had grown up with his mother's cooking, first in Mexico City, then in the towns his family moved to during his childhood, his mother a nurse, his dad working for a grocery chain in Salinas, Mexicali and Calexico. "I remember being in a different city: desert, super-super hot, playing tag until the sun went down."
He'd always cooked as a kid, he says, describing his mother's frustration when he'd turn the stove on by himself. His new neighbors in Washington wanted to make him feel at home, so "they took me to the best Mexican restaurant. The only Mexican restaurant." Ochoa smiles, the sounds of the kitchen inside his own restaurant rising above the traffic from Figueroa Street, the aroma from the meat on the spit coming through an open window.
So Ochoa began cooking in Cle Elum, for himself and for others. "I made tortillas, legit sauces, the word got out," says Ochoa. "That's how it all started. People liked my food."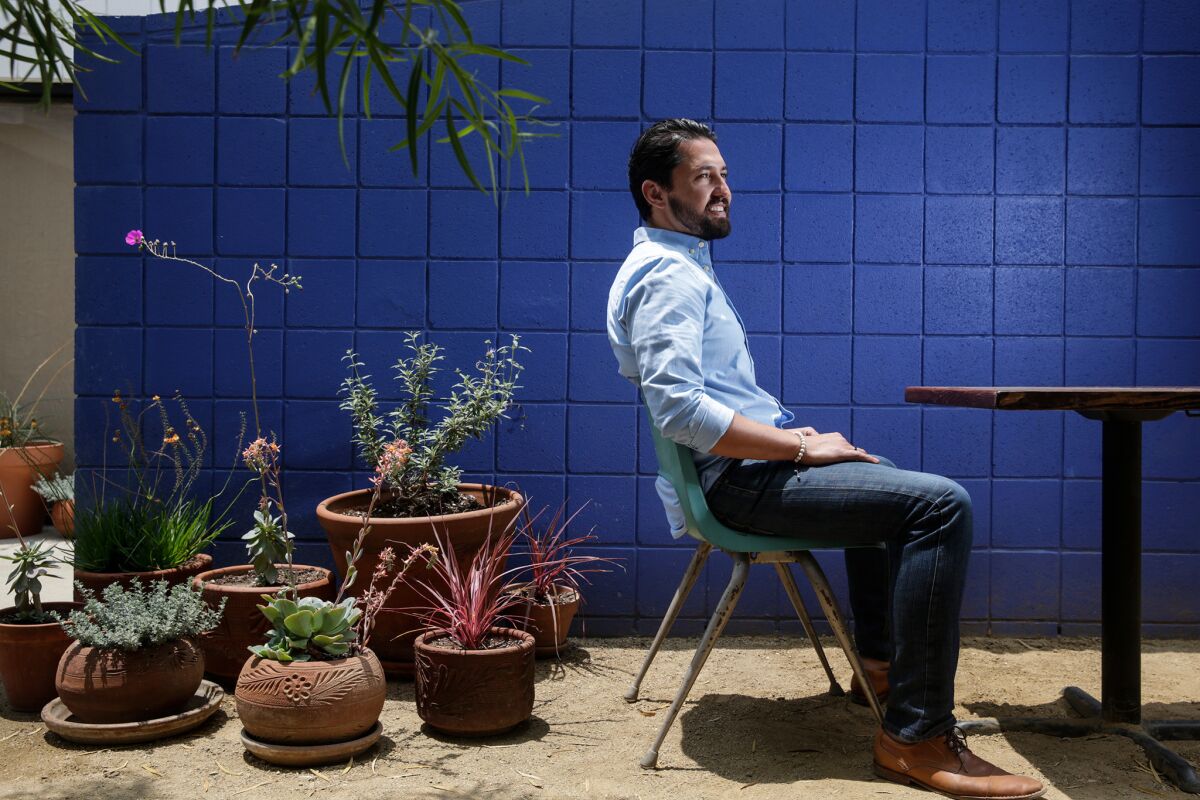 Ochoa was born into a Mormon family, so any conversion experience he has had has been culinary rather than theological. After his mission ended, he moved to Los Angeles — to study fashion at the Art Institute of California.
"I got into fashion in the 11th grade. My dad's a painter. I loved clothes." Ochoa's mother gave him $1,000 and he got a room, and when the money ran out, he slept in his car until he got a job at a casino. "I felt like a rock star, getting paid to gamble and going to fashion school." Ochoa is still smiling as he points out that it was just a job: "Mormons frown on gambling." After he got his degree, in 2005, he says he'd go to interviews, but "I just put it off," and stayed in the casino industry — in his free time taking friends to Mexicali on taco runs — until the recession hit three years later and he, along with a wave of other people, got laid off.
"By then tacos were huge," says Ochoa. "That's when the idea struck: Start a taco stand." So Ochoa sold his Honda Civic and bought a Dodge Ram truck, got some tables and chairs and, set up a taco stand on the corner of Beaudry Avenue and 1st Street in downtown L.A. There was a pop-up tent, a floodlight on the pickup truck, a grill, the carne asada chopped in the open air, the city streets as a backdrop. It's Ochoa's second origin story, really, where for 2 1/2 years he made border-style tacos for L.A.'s hungry residents, as the stock market reeled and downtown struggled with its own rebirth, just as this city was on the cusp of a street food revolution.
"YouTube was my culinary school," says Ochoa. "I was introduced to foodies and Twitter. To me it was like finding a gold mine."
In 2012, Ochoa moved Mexicali indoors, into a former Mexican restaurant close to the site of his original stand. He expanded his menu, but not by much, because he wanted to keep true to what had earned him a following. "I came up with the vampiro," says Ochoa, of the dish Mexicali is known for, a tortilla stuffed with carne asada, garlic sauce and cheese. "Who doesn't love quesadillas; who doesn't love Zankou garlic sauce?"
Ochoa has just opened his second restaurant, Salazar, a Sonora-style barbecue place jigsawed into the former mechanic's shop for which it's named. It's at once more formal than Mexicali, which is a stripped down taqueria filled with picnic tables and a salsa cart, and oddly less so. The mechanic's shop is now a lofty space dominated by a bar run by Aaron Melendrez, formerly of the Normandie Club, and filled with the latest mixology paraphernalia.
Salazar's adjacent kitchen is newly built, loaded with a Santa Maria grill, a flat top and a fryer, an airy place with big windows that look out to an enormous patio filled with picnic tables. Two African sumacs and giant palm trees provide shade, along with what looks like a repurposed gas station awning.You're in Frogtown, across from the bridge over the Los Angeles River, and the place feels like the best neighborhood backyard barbecue party you've ever been invited to. If the atmosphere is cozy and family-oriented, it's fitting, since Ochoa, married with two young kids, lives in Frogtown. "I ride my skateboard to work."
Ochoa's team is also a kind of family. He met two of his business partners — Paul Yoo at Mexicali; Billy Silverman at Salazar — when they became regular customers at the original Mexicali. Their friendships fixed over carne asada, smoke and tortillas.
"I've grown so much," says Ochoa. "I think about where the forks go, where the straws go." He's also thinking about where the dining populace of Los Angeles is going these days, as he talks about his plans to build a fire pit in the back of Salazar for weekend brunch barbacoa. "My grandfather would probably be disappointed if we didn't do a whole animal," says Ochoa. You could say the same thing about the rest of us.
And last Sunday, Ochoa opened his third project, Califas, a pop-up taco stand that's part of L.A.'s Smorgasburg, a new weekly downtown food market at the Alameda Produce Market, patterned after the popular Brooklyn Smorgasburg. Califas isn't a second Mexicali — there's also one of those in the works — but a taqueria devoted to the mash-up of tacos and, of all things, French fries. "It's very SoCal," says Ochoa, "the heart of L.A. in a taco."
As Ochoa stood over the hot grill at the Califas stand last weekend, there was a sense of symmetry lodged in the triple-degree heat. Ochoa's neighborhood is again, like the early days of Mexicali, a concrete universe of grilled meat and smoke and fire — his mission defined by repeating plates of warm, fragrant tacos handed out to a gathering, hungry crowd.
Salazar, 2409 N. Fletcher Drive, Los Angeles, no phone, salazarla.com
Mexicali Taco & Co., 702 N. Figueroa St., Los Angeles, (213) 613-0416; mexicalitaco.com
Califas at Smorgasburg, L.A., at the Alameda Produce Market, between Alameda and Bay Street, Los Angeles, 10 a.m. to 6 p.m. Sundays, la.smorgasburg.com
Get our L.A. Goes Out newsletter, with the week's best events, to help you explore and experience our city.
You may occasionally receive promotional content from the Los Angeles Times.