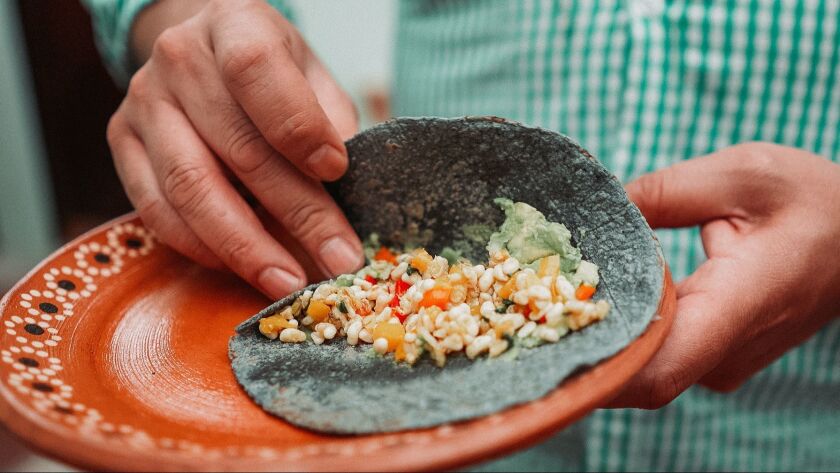 Food Bowl continues.
Night Market comes to an end this afternoon with a barbecue party, hosted by Food Editor Peter Meehan, with BBQ specialists Adam Perry Lang, Sam Jones and Aaron Franklin, plus many others. There are also dinners, discussions, screenings and lots of food and drink going on all week, and for the rest of the month.
MAY 13: KATO X BAROO
Chef Jonathan Yao from Kato and chef Kwang Uh from Baroo Canteen collaborate to bring a unique tasting menu that combines Yao's seafood and Asian American nostalgia dishes with Uh's fermentation-heavy rice bowls.
$101, 5:30 p.m. to 10 p.m. at Kato. Tickets and more info: lafoodbowl.com/events/kato-x-baroo.
MAY 14: COOKBOOK TALK WITH GABRIELA CÁMARA
Restaurateur and chef Gabriela Cámara will be joined by L.A. Times Food Editor Peter Meehan for a discussion about her debut cookbook, "My Mexico City Kitchen: Recipes and Convictions." A book signing will follow the interview.
Admission is free. 7 p.m. to 8:30 p.m. at Space 15 Twenty. More info at lafoodbowl.com/events/cookbook-signing-by-gabriela-camara-at-now-serving.
MAY 14: DIANA KENNEDY DOCUMENTARY
A screening of "Nothing Fancy," the new documentary about Mexican cuisine expert and cookbook author Diana Kennedy, with a conversation with Kennedy and with director Elizabeth Carroll.
$25, 7 p.m. to 10 p.m. at Paley Center. Tickets and more info at: lafoodbowl.com/events/nothing-fancy-diana-kennedy.
MAY 15: CHEF YU BO SICHUAN DINNER
Chef Qiu Tian Tian will open up her Westside restaurant, Mala Town, to Chengdu chef Yu Bo. Guests will enjoy more than 30 dishes, such as the chef's famed pen-brush pastry, four-by-four appetizers, hedgehog bun, truffle cold noodle and other dishes featuring all 24 flavors of Sichuan cuisine. A wine pairing will be available.
$190, 6 p.m. to 11 p.m. at Mala Town. Tickets and more info at: lafoodbowl.com/events/chef-yu-bo-sichuan-dinner-hosted-by-qiu-tian-tian-2.
MAY 17: ESCAMOLES DINNER
Chef Fernando Villagomez of will introduce adventurous diners to escamoles, or ant eggs, a Mexican delicacy enjoyed since the time of the Aztecs and considered Mexico's answer to caviar. Villagomez is importing a limited supply of this rarity for a four-course tasting menu available for just three days.
$50, 6 p.m. to 10 p.m. at La Tostaderia. Tickets and more info at: lafoodbowl.com/events/l-a-goes-buggy-for-escamoles-3/.
MAY 18: SUSHI KIMURA POP-UP
Chef Kouji Kimura of Sushi Kimura in Tokyo is a master of aging seafood. Kimura presents a "light omakase" dinner, featuring a selection of his special dishes.
$100, 11:30 a.m., 1 p.m. and 2:30 p.m. at Inn Ann at Japan House. Tickets and more info at: lafoodbowl.com/events/sushi-kimura-pop-up-dinner-japan-house.
MAY 18: FILIPINX GARAGE PARTY
This event brings some of the best Filipinx chefs to the roof of the Standard, Downtown LA. Participating chefs such as Russell Victorioso (Cafe Birdie), Chad Valencia (Lasa), Tom Cunanan (Bad Saint) and JP Anglo (Sarsa), will come together to create a potluck-style party.
$35, 12 p.m. to 4 p.m. at the Rooftop at the Standard. Tickets and more info at: lafoodbowl.com/events/filipino-garage-party.
MAY 18: FRITES FÊTE
Chef Dominique Ansel and his team are cooking steak, moules or mushroom frites, teamed with unlimited crispy herbed fries. Also on the menu: Gruyère gougères, salad and tarte tatin for dessert. The dinner has an optional wine pairing.
$55, 5 p.m. to 10 p.m. at 189 by Dominique Ansel. Tickets and more info at: lafoodbowl.com/events/frites-fete-at-189-by-dominique-ansel.
Instagram: @AScattergood
---