Recipe: Nectarine almond crumble pie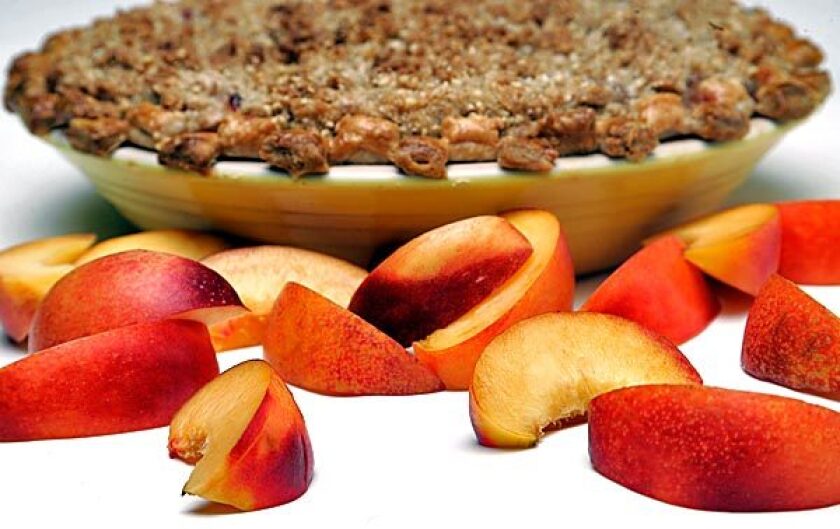 Nectarine almond crumble pie
Total time: 1 1/2 hours, plus cooling time
Servings: Makes 1 (9-inch) pie
Crumble topping
2/3 cup whole almonds
1/2 cup flour
1/4 cup plus 1 tablespoon light brown sugar
1/4 cup granulated sugar
1/8 teaspoon cinnamon
1/4 cup plus 1 tablespoon cold butter, cut into 1/2-inch cubes
In the bowl of a food processor, combine the almonds and flour and pulse until the almonds are coarsely chopped and combined with the flour. Add the brown and granulated sugars and cinnamon and pulse again until combined. Add the butter cubes and pulse again until the butter is broken up and the mixture is crumbly.
The crumble topping can also be made by hand: Chop the almonds finely and stir together with the flour, brown and granulated sugars and cinnamon, then add the butter and rub together with your fingers until the butter is broken up and the mixture is crumbly.
Pie and assembly
1/4 cup plus 2 tablespoons sugar
1/2 cup plus 2 tablespoons flour
8 cups sliced nectarines
11/2 teaspoons almond extract
1 baked 9-inch single pie crust
1 egg
Prepared crumble topping
1. Heat the oven to 350 degrees.
2. In a large bowl, whisk together the sugar and flour. Stir in the nectarine slices, coating completely, then stir in the almond extract until evenly combined.
3. Pile the nectarine filling into the prepared pie shell, sprinkling over the slices any additional sugar-flour mixture that did not stick to the fruit.
4. In a small bowl, whisk the egg to form a wash.
5. Brush the edge of the crust with the egg wash. Drizzle the crumble topping over the fruit slices.
6. Place the pie in the oven and bake until the crust is a rich golden color and the filling is bubbly and thick, about 1 hour.
7. Cool before serving.
Each of 8 servings: 557 calories; 9 grams protein; 74 grams carbohydrates; 5 grams fiber; 26 grams fat; 11 grams saturated fat; 65 mg. cholesterol; 37 grams sugar; 232 mg. sodium.
---
Get our weekly Tasting Notes newsletter for reviews, news and more.
You may occasionally receive promotional content from the Los Angeles Times.