An ode to L.A.'s gay restaurants, where a community can find a home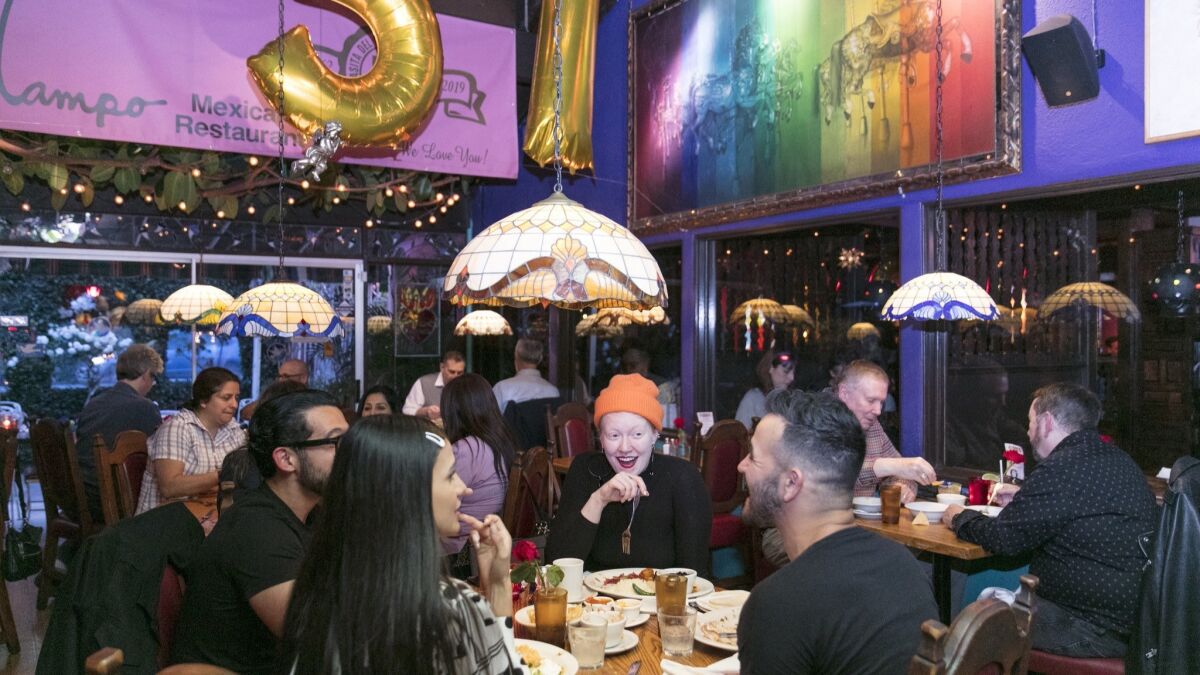 One evening in May 1959, inside a doughnut shop called Cooper Do-nuts on South Main Street in downtown Los Angeles, three LGBTQ individuals were being arrested because their outward gender identities did not match the ones on their identification. That's when they decided to revolt.
Doughnuts, coffee cups and wadded napkins were thrown at the police officers, who retreated at first but returned with reinforcements. The revolters, who included transgender people, gay men and "hustlers" — according to John Rechy, one of the men the police attempted to arrest, who detailed the event in his 1963 novel "City of Night" — continued their stand, the commotion blocking off that strip of the street through the night and into the next day.
That revolt is widely regarded as the first recorded event where people in the LGBTQ community took a stand against police brutality. It laid the foundation for later uprisings at the Black Cat Tavern in Silver Lake (then Edendale), Compton's Cafeteria in San Francisco's Tenderloin neighborhood, and then, most notoriously, at the Stonewall Inn in New York City, all of which occurred within the ensuing decade.
In essence the gay rights movement, one could argue, started not in a bar, with beer bottles crashing under the glow of neon, but in a tiny restaurant serving doughnuts 60 years ago this month.
Gay people have always gathered in bars or secret clubs, sacrosanct for their ability to protect us from outside evils. But more minutely, the sites function as just great places to knock back a drink after being on high alert all day in public. Every gay person who moves to a new city first seeks out the bars, to better understand the new environment. I did this in my 20s in New York as well. But many of the special, formative moments I had after coming out in a city occurred not at the bars but over meals shared with friends after the bar closed — or the next morning for brunch, which typically occurred at a laughably late 4 p.m. because we hadn't gone to bed until 6 that morning. Often diners that sold to anyone and everyone — just like Cooper Do-Nuts — these were second-phase forums. You met your new friends on the dance floor; you got to explore their humanity in the red leather booth over a plate of fries in the back.
Stephen Swafford, 57, remembers moving to L.A. from Birmingham, Ala., 20 years ago and feeling overwhelmed by the scale of the city. His coworkers introduced him to gay clubs such as RoosterFish, Ripples and Boom Boom Room, but the feeling of home "really cemented when I went to the gay restaurants."
"Being from the South, food was always an important way to get to know other people, so those restaurant meals were really special times," said Swafford, a landscape architect who lives in East L.A.
These restaurants, found across the country, are what we in the community call "gay restaurants": spots that are either owned by, or cater to, a largely gay — most often cis male — clientele (although no one would get turned away).
In L.A., they include downtown hot spots Precinct and Redline. In Silver Lake, El Condor is a favorite of 40-year-old screenwriter Adam Roberts, who resides in Atwater Village — "It's low-key and has a festive atmosphere. I came here with a group of friends recently, and they actually ate all the carbs on the table" — and the Kitchen, which counts Drew Droege, 42, as a loyal customer.
"It's got feel-good, kinda healthy food and a real classic neighborhood vibe," Droege, an actor who lives in Beachwood Canyon, says. "I always run into a dozen folks I know here before we walk around the corner to go drink at Akbar."
And in West Hollywood, there are staples like Cafe d'Etoile, Saint Felix and even the Abbey, more famous as a raucous bar but one that's also a community center for its patrons.
"The Abbey's best times are its quietest," says 54-year-old lifestyle writer and WeHo resident Eric Diesel. "I like to come here on a lazy Monday afternoon, and I see neighbors who stop by to chat; waiters I know by name will come say hi and give a genuine hug. I've even had strangers toast me from across the room. Everyone here is family."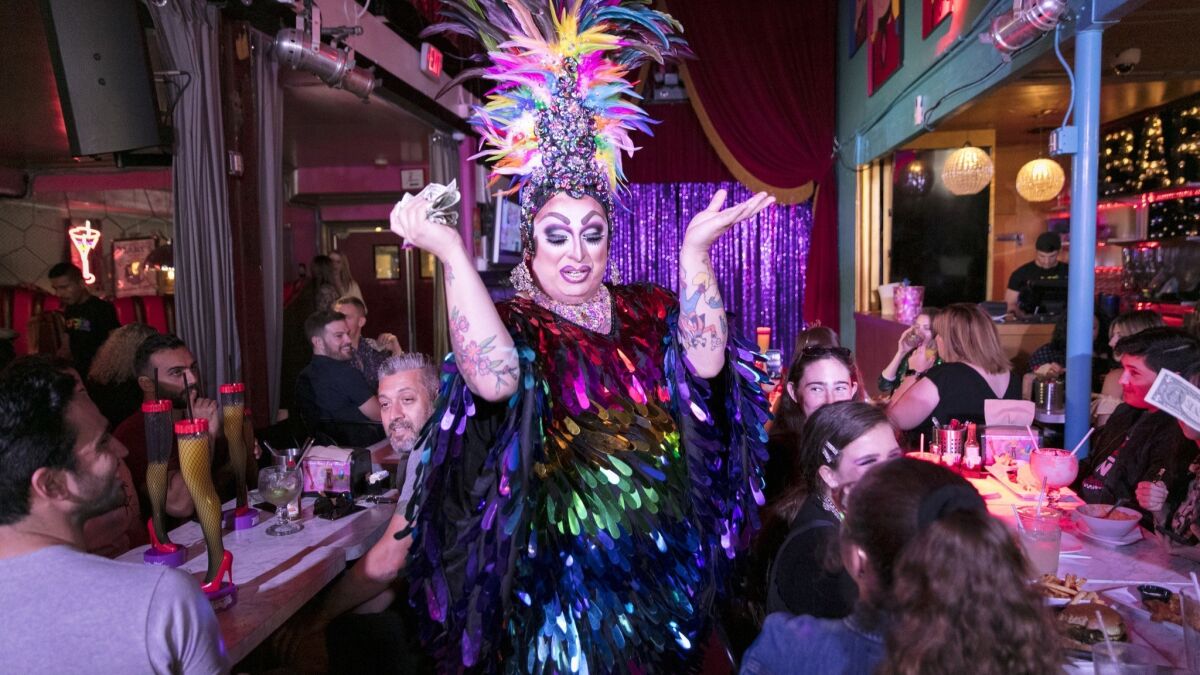 Some "gay restaurants" have interiors decked out in rainbow flags, framed pics of Bea Arthur as her "Golden Girls" character Dorothy Zbornak and posters of exuberant drag queens advertising the next themed brunch. Some look like your run-of-the-mill casual-dining restaurant, but the owners employ mostly gay waitstaff who know how to deliver the right amount of sass and a smile to get you to order that cinnamon bun that everyone at the table says they won't eat but then devours within 20 seconds. Some just happen to be located in gay neighborhoods and, if they're welcoming, stand the test of time as hallowed totems of the community.
The food, frankly, is never that good. But that's also not the point. These restaurants care more about creating an atmosphere of inclusiveness — or simply making money off a loyal clientele — than crafting the perfect dish that will land them in the pages of a food glossy. The now-closed Rocking Horse Cafe in New York's Chelsea neighborhood was my go-to spot specifically for that reason. The food was perfectly fine American-filtered Mexican food, but the scene on a summer weekend, especially during Pride, was upbeat and joyful, with the euphoric excitement spilling out into the street. When you went in, though, the guacamole was always cold, the chips freshly fried and salty, and the margaritas strong. In other words, it hit the marks it needed to hit to keep people happy.
Many of the special, formative moments I had after coming out in a city occurred not at the bars but over meals shared with friends after the bar closed.
— Ben Mims
Since moving to L.A. in March, I've found a few spots that already give me that same feeling. At El Coyote Cafe on Beverly Boulevard, you can get one of the best plates of carnitas in town, with an orange liqueur-heavy margarita that is kinda wonderful. Its labyrinthe dining room, lit in neon colors and decorated with brightly colored Mexican blankets, stained-glass parrots and piñatas, is the epitome of camp.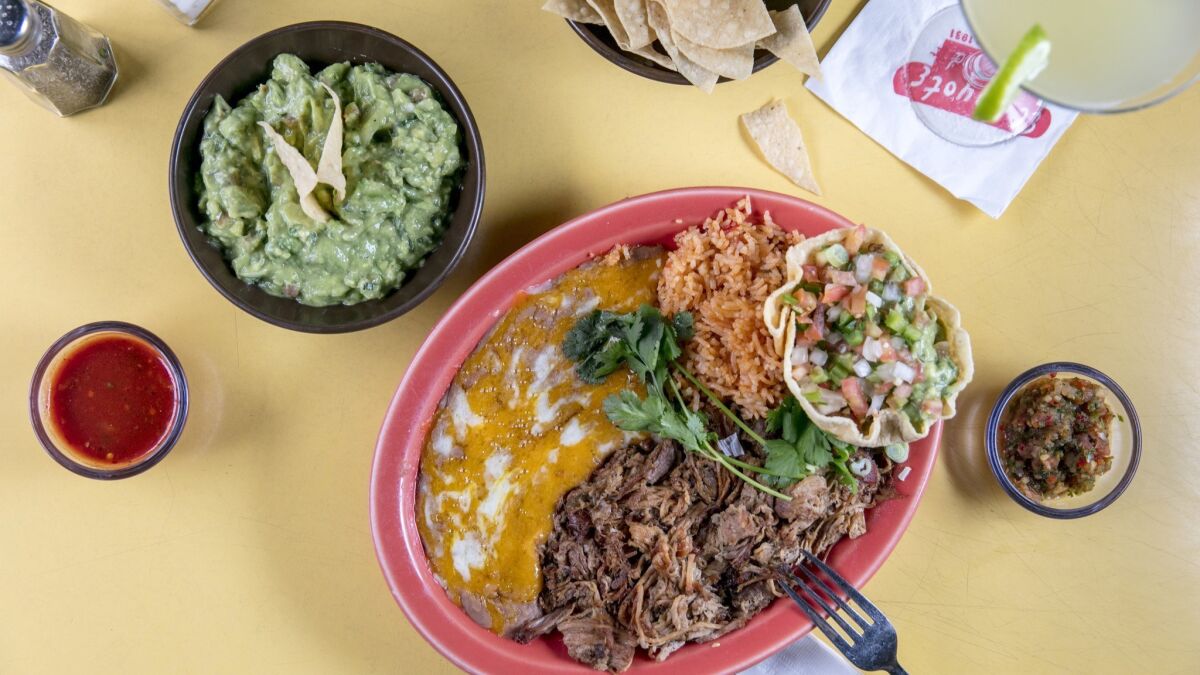 For a frivolous night out in West Hollywood, there's Hamburger Mary's. There are several across the country, but the WeHo location's reputation as a training ground for famous drag queens makes it feel like an L.A. establishment. It offers a decent burger and, more important, the chance to pelt the winners of each round on bingo night with balls of paper as they run around the restaurant while you take 1 1/2-foot-long sips of your margarita through a cocktail glass shaped like a fishnet stocking-sheathed, red pump-shorn lady's leg.
And at Casita del Campo, a flamboyant restaurant in Silver Lake with a cabaret theater in the basement, you get your guacamole in a giant taco shell and your chile verde served extra saucy. Gays have been going there for decades. Why? My best guess is that it started because the late owner, Rudy del Campo (his son Robert Martin del Campo still owns the restaurant), was a dancer who played one of the "sharks" in the 1961 film adaptation of "West Side Story" and was supposedly an uncredited dancer in the 1954 version of "A Star Is Born" starring Judy Garland. If that doesn't merit a gay affiliation, I don't know what does.
Get our L.A. Goes Out newsletter, with the week's best events, to help you explore and experience our city.
You may occasionally receive promotional content from the Los Angeles Times.