Review: Red Medicine, a little like punk rock and splendid in its own way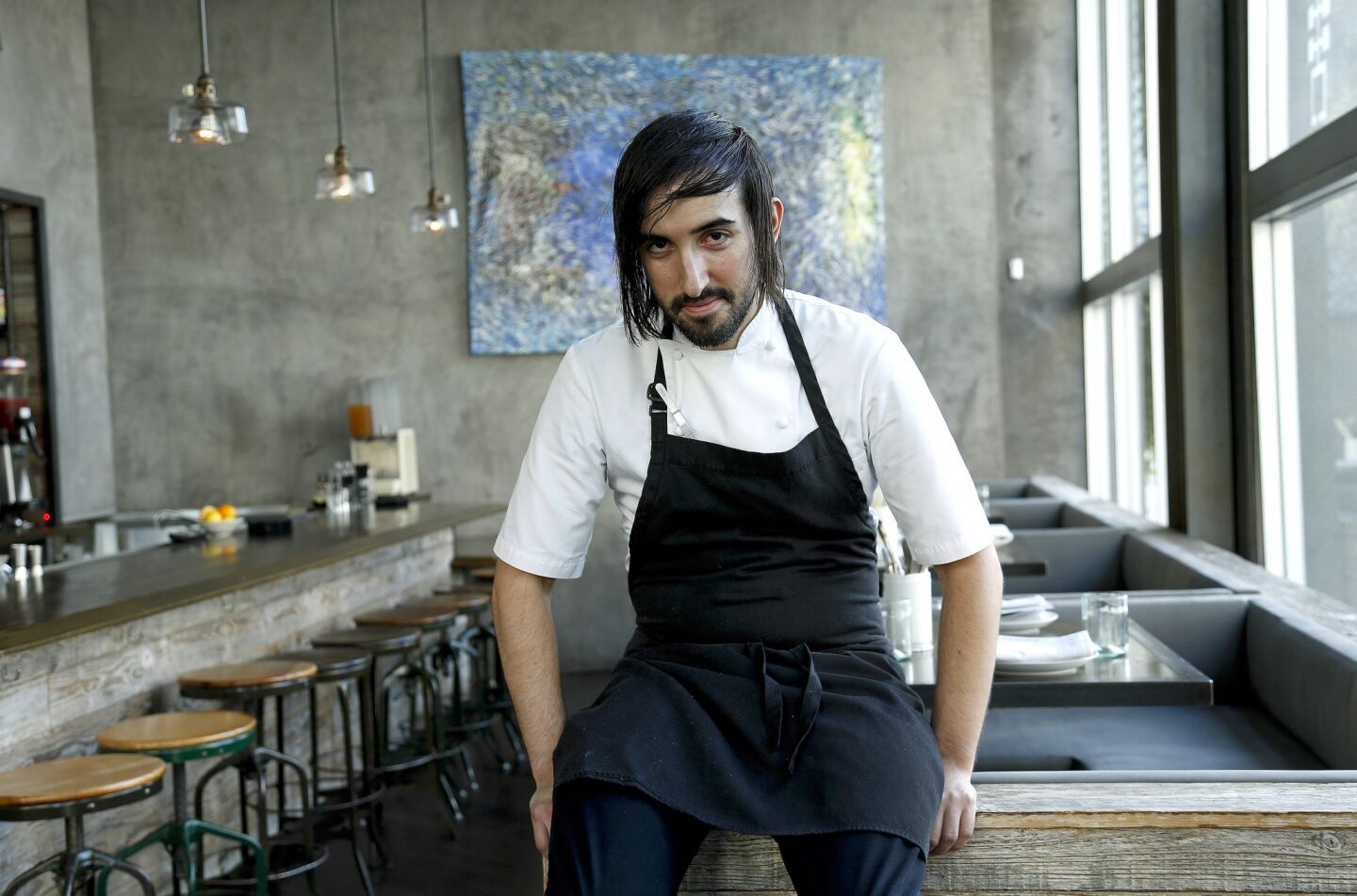 Chef Jordan Kahn inside Red Medicine.
(Mel Melcon / Los Angeles Times)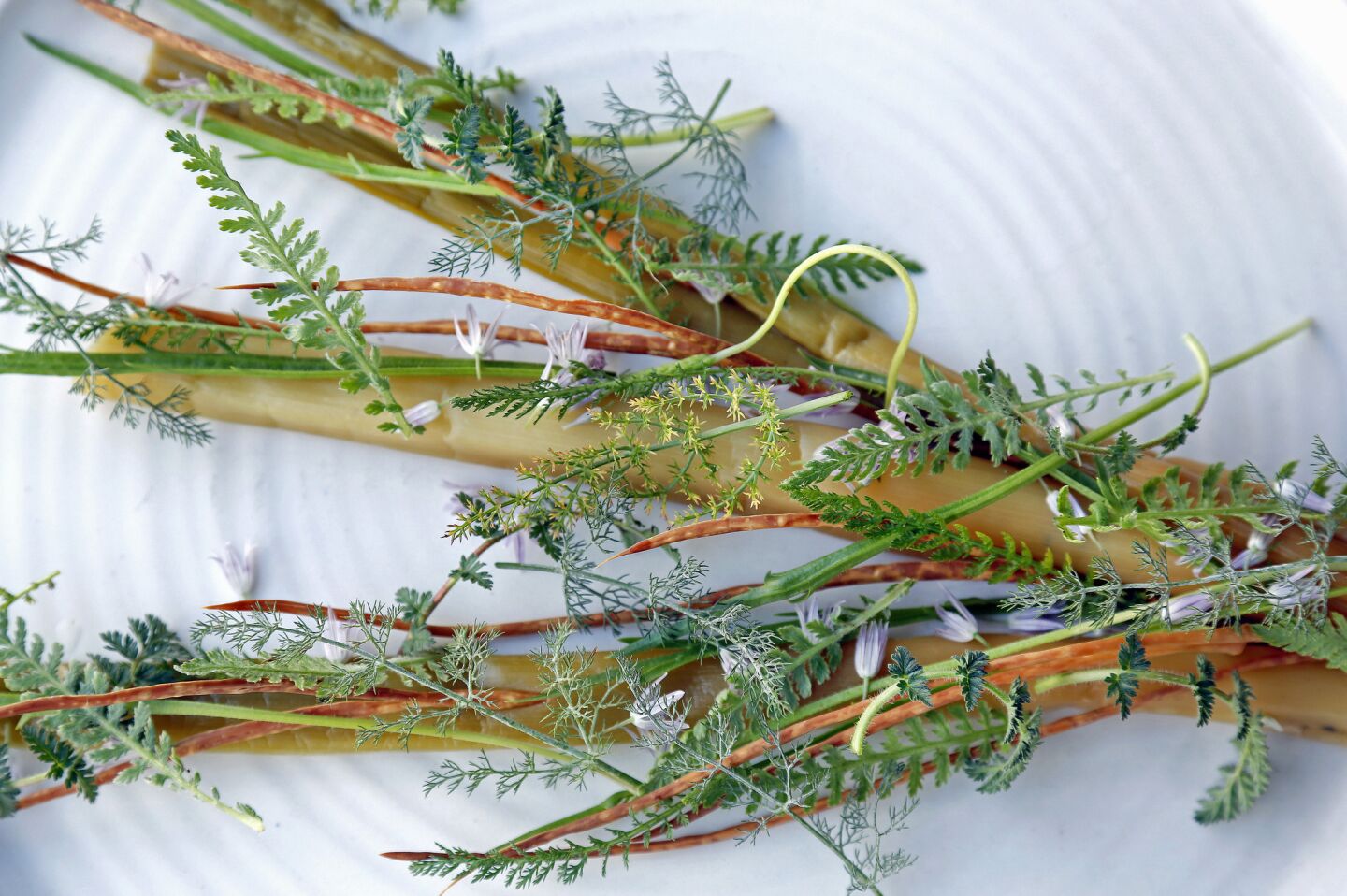 Biodynamic Leeks are on the menu at Red Medicine restaurant.
(Mel Melcon / Los Angeles Times)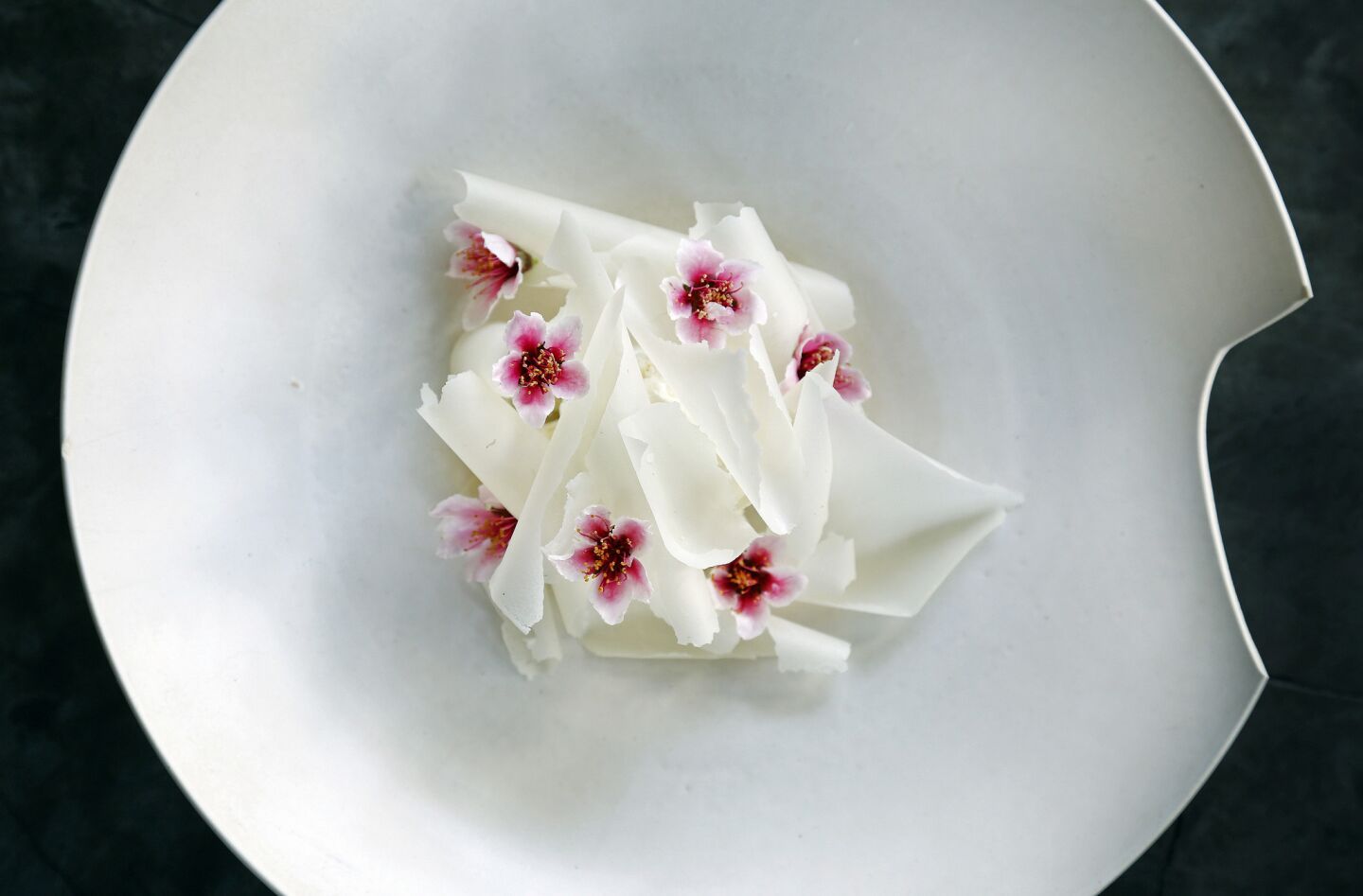 Santa Barbara uni is blowtorched and arranged at the bottom of a huge bowl with liquid nitrogen-zapped horseradish ice and crunchy unripe guavas, then buried under white sheets of dehydrated almond milk that look like shreds of bark.
(Mel Melcon / Los Angeles Times)
Trout Roe is on the menu at Red Medicine restaurant in Beverly Hills.
(Mel Melcon / Los Angeles Times)
The night of the lunar eclipse, I was having a late supper at Red Medicine out on Wilshire, a few tables over from a man who had decided to dress as Jesus for the evening, a slender young man with long, straight hair and white robes flowing around his ankles. I can't be sure, but I think he ordered the tasting menu.
After dinner, I walked outside in time to see the last sliver of the moon disappear into the Earth's shadow. An elderly man plucked at my arm, eager to know what I was looking up at, and I pointed at the moon, at Mars shining bright and pink in its penumbra. The man shrugged. He'd seen better. The boulevard in Beverly Hills pulsed with the red lights of three police cars on a chase. Across the street, Jesus caught my eye and waved.
The thing was, none of this was any odder than the dinner I'd just finished eating, which included peas, trout eggs and lemon curd served in a goldfish bowl capped with a thin sheet of frozen pea-pod purée, a salad of wild roots and stalks with crunchy dried cabbage and marbles of walnut marzipan, and a delicious if unexpected dish of baby potatoes cooked with butter and yeast. The essence of young sequoia tree showed up in the lamb dish and the dessert. I tasted varieties of yarrow I had never seen outside a national forest, was directed to suck a sour wood sorrel stem and munched on a dozen species of wildflowers, some of which were arranged in the shape of the type of soft garland in a flower girl's hair.
A cocktail served in a sealed Mason jar changed from pink to dark purple when I shook it as instructed. It wasn't quite water to wine, but I was tempted to consult with that guy on the other side of the room.
Red Medicine is a splendid restaurant in its way, but it may still be better known for its faux pas than for anything that has ever appeared on its plates. The restaurant's original logo featured an image of Ho Chi Minh, who is not a popular man in the local Vietnamese community. A manager attempted to shame no-shows by posting their names on the restaurant's Twitter account. Some early dishes borrowed a bit too faithfully from the famous Copenhagen restaurant Noma, which was odd because Red Medicine was nominally a Vietnamese restaurant at the time. (Red Medicine's manifesto, still on its website, says, "Our bun cha is not striving to replicate the one your mother used to make. Hers is better, and the next time you make it, we'd love to be over.")
Most notoriously, a manager made a Los Angeles Times colleague wait 45 minutes, snapped a picture, threw her out without seating her and posted her (until-then anonymous) likeness online. No restaurateur has ever been quite so nasty to a critic. Even the best friends of the restaurant probably wouldn't let Red Medicine feed their cats while they were on vacation, testify on their behalf at a hearing or baby-sit their kids.
So has Red Medicine mellowed in the last three years? Not in the obvious ways. But it isn't a Vietnamese restaurant anymore, not that it ever convinced most people that it was one in the first place, although it is still possible to get caramelized chicken meatballs, like nem, to wrap into lettuce leaves with herbs and pickles, and the huge slabs of glazed pork belly or fish sauce-braised Wagyu beef brisket still retain a bit of Vietnamese flavor. (That beef brisket, a bit sweet and a bit smoky, is enough to feed five or six people at least.)
Instead, the locavore neo-Nordic principles that always seemed to be lurking beneath Jordan Kahn's mountains of chicken rillettes and vast bowls of rice porridge have come to define his cuisine. Servings are enormous — Kahn is definitely trying to shake the small-plates thing —– and even the tasting menu is served as a series of huge bowls plunked in the middle of the table. A single serving of duck liver may incorporate as many foraged herbs and flowers as Alma serves in a month.
You will learn to appreciate burnt leaves as a condiment, especially in a bowl of various brassicas — cabbage, broccoli, kale, etc. — rising high over a puddle of duck broth. You will take it for granted that when you order the Santa Barbara uni, it will be blowtorched, arranged at the bottom of a huge bowl with liquid nitrogen-zapped horseradish ice and crunchy unripe guavas, then buried under white sheets of dehydrated almond milk that look like shreds of bark. You will have waitresses treat you like a slow schoolchild when you don't immediately grasp that the coal-like lumps in a crab dish are pickled pioppini mushrooms rolled in coal ash. You will end your meal with roasted carrots in wildflower syrup, or maybe a chocolate namelaka that looks more like grilled meat in pesto sauce than like anything you'd have as dessert. There has always been something a little punk rock about Red Medicine, but it has become hard to imagine the Los Angeles restaurant scene without it.
Red Medicine: Once faux-Vietnamese, now more neo-Nordic, Red Medicine has changed, but it hasn't mellowed.
Location: 8400 Wilshire Blvd., Beverly Hills, (323) 651-5500, redmedicinela.com
Prices: Most dishes, $9-$32; desserts, $11-$12; six-course tasting menu, $65.
Details: Open 6 p.m. to 2 a.m. daily. Full bar. Valet parking. Credit cards accepted.
---
Get our L.A. Goes Out newsletter, with the week's best events, to help you explore and experience our city.
You may occasionally receive promotional content from the Los Angeles Times.