Review: At the long-awaited DTLA French restaurant Spring, Jonathan Gold tastes the essence of early summer
Legumes de Saison, roasted, braised, steamed and raw seasonal vegetables.
(Jay L. Clendenin / Los Angeles Times )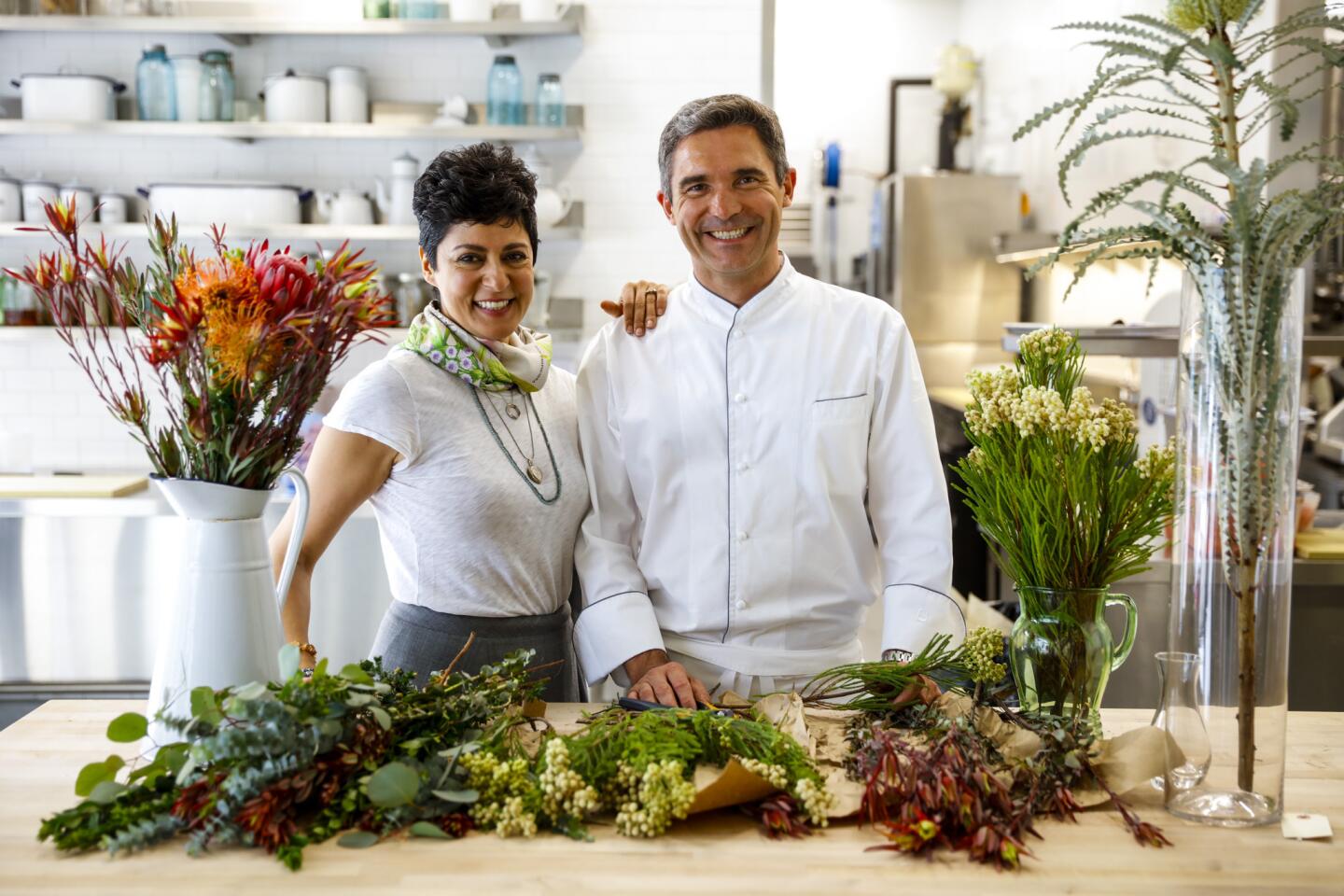 Chef Tony Esnault with his wife and business partner, Yassmin Sarmadi, at Spring in downtown Los Angeles.
(Jay L. Clendenin / Los Angeles Times)
Boeuf tartare, with grass-fed Strauss family farms beef, garlic and cured egg yolk, for $18, at Spring.
(Jay L. Clendenin / Los Angeles Times)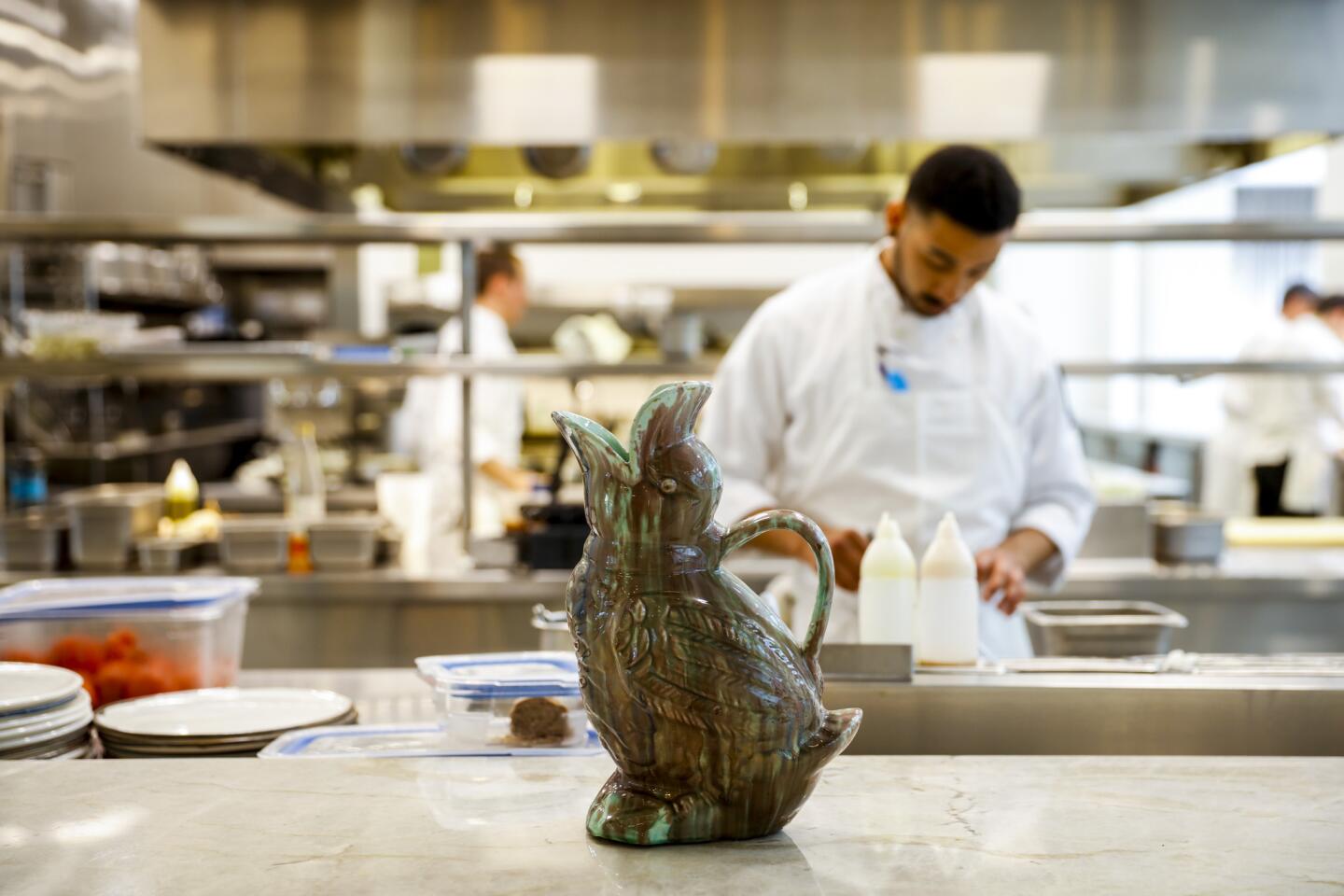 The kitchen at Spring gets a personal touch.
(Jay L. Clendenin / Los Angeles Times)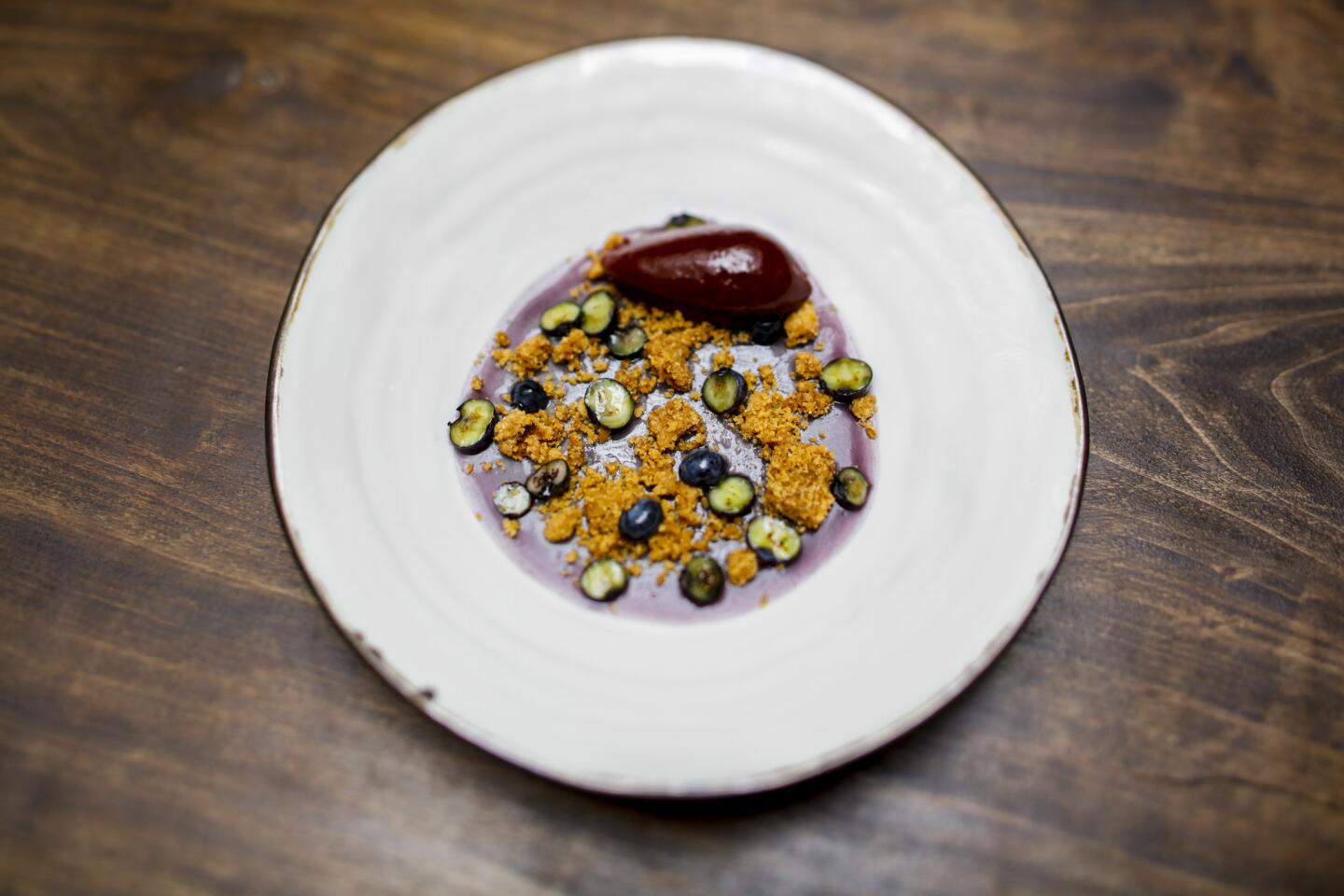 Myrtille with fresh blueberry, mint panna cotta, blueberry sorbet and pate sucre at Spring.
(Jay L. Clendenin / Los Angeles Times)
Yassmin Sarmadi at Spring in downtown Los Angeles.
(Jay L. Clendenin / Los Angeles Times)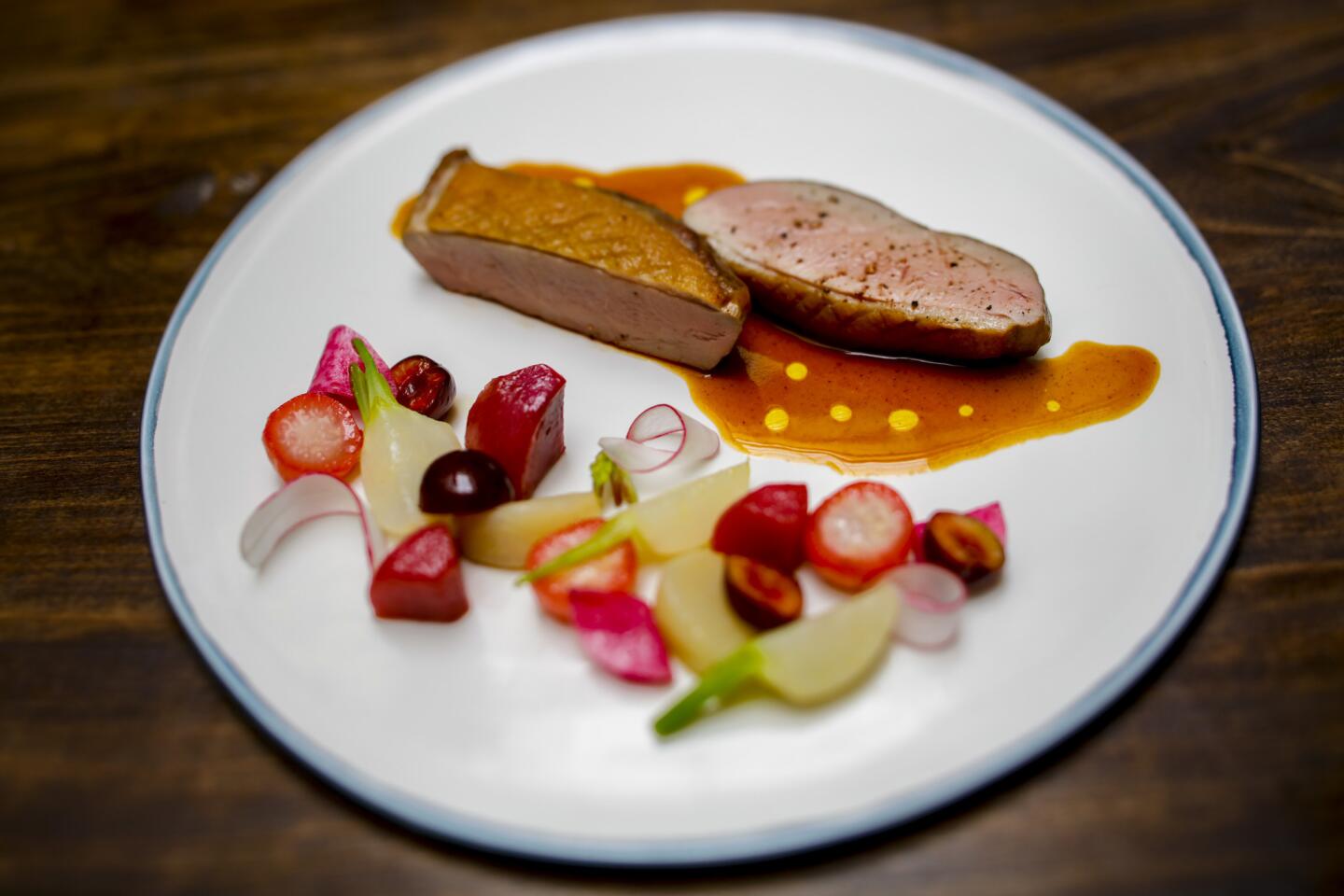 Magret de Canard, maple leaf duck breast, salsify, pear, yam and sauce dolce forte at Spring.
(Jay L. Clendenin / Los Angeles Times)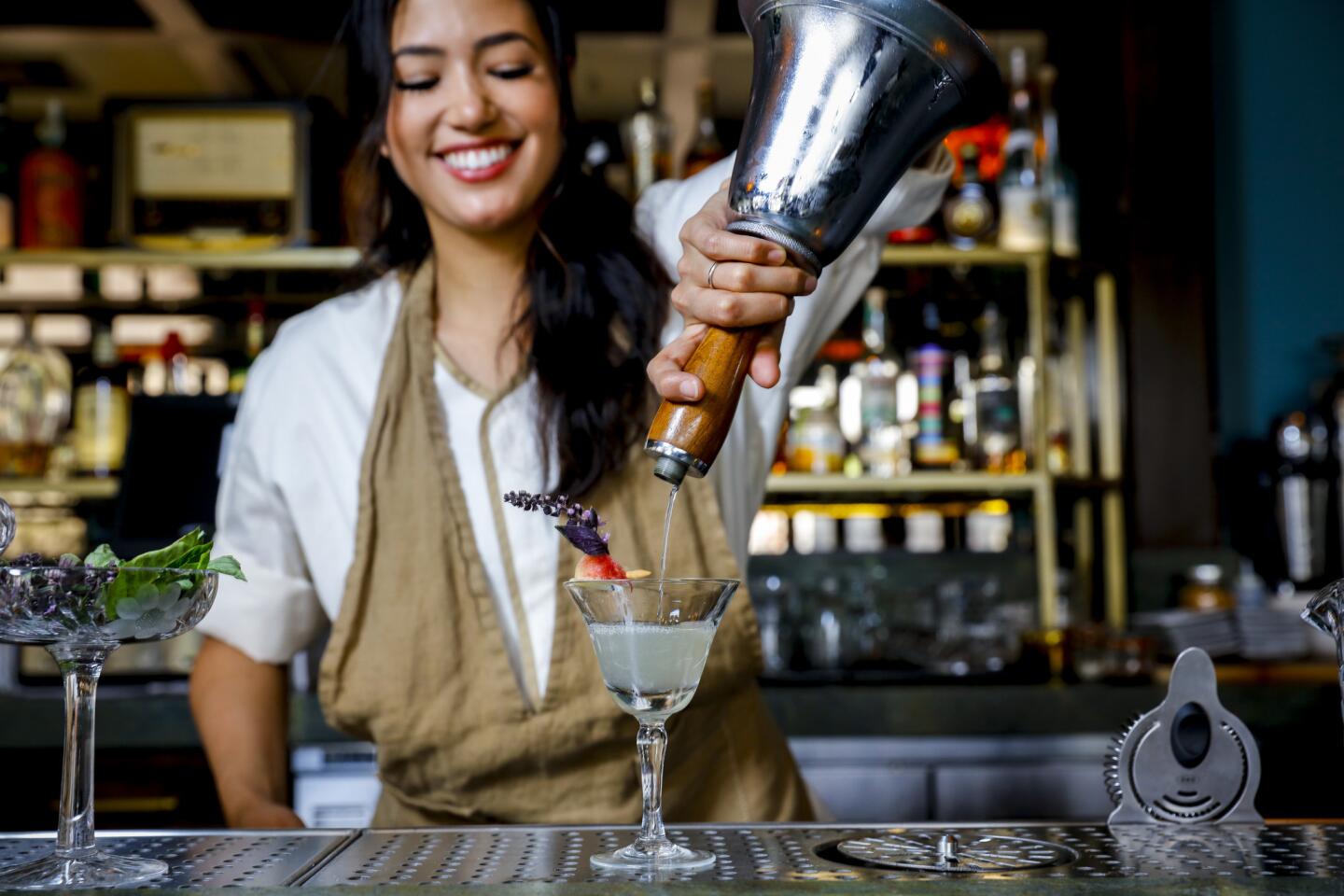 The What a Peach! cocktail is poured using a vintage shaker shaped like a bell.
(Jay L. Clendenin / Los Angeles Times)
The Oh Cherry cocktail at Spring.
(Jay L. Clendenin / Los Angeles Times)
Chef Tony Esnault looks over the day's catch at Spring.
(Jay L. Clendenin / Los Angeles Times)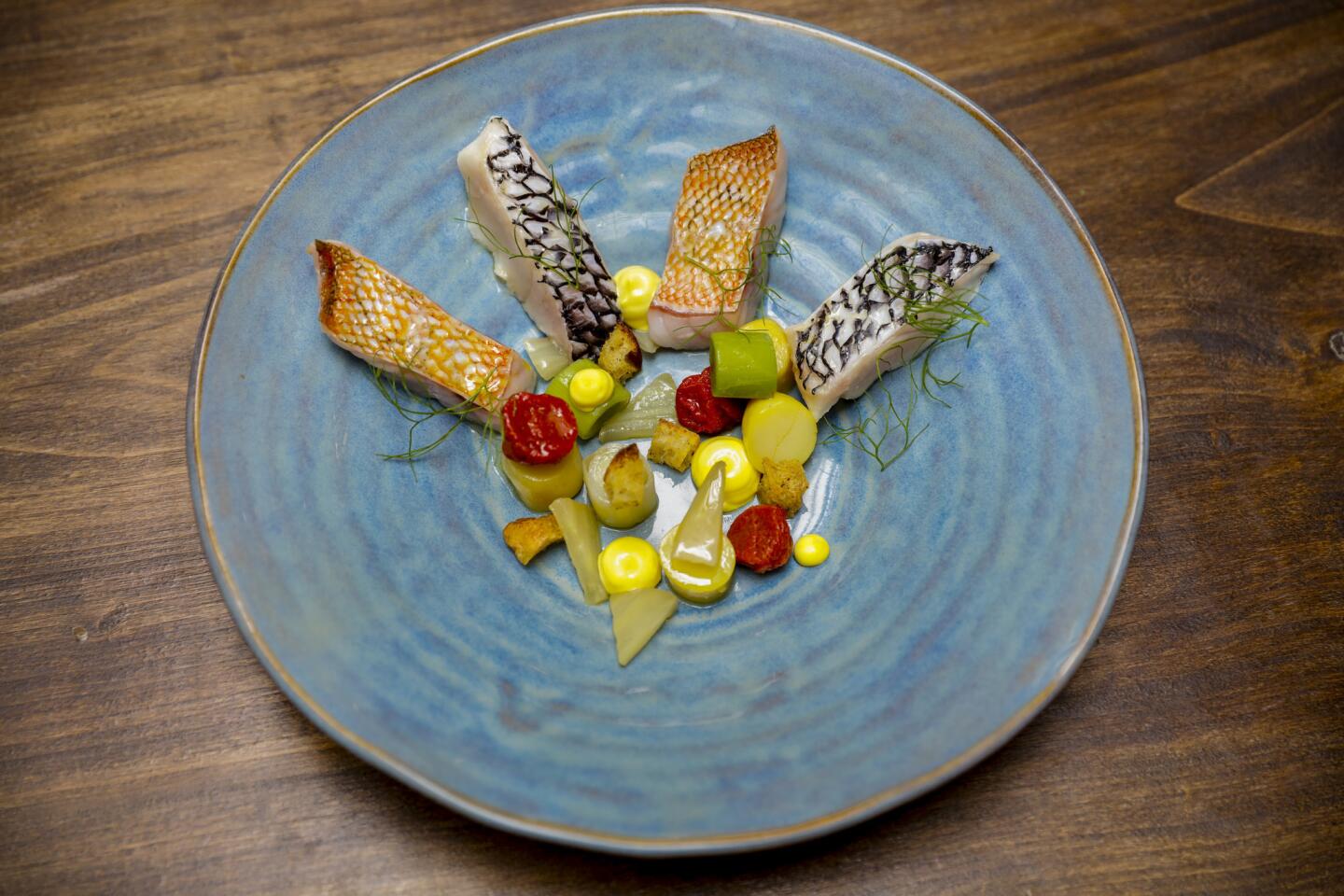 Bourride, a delicate fish stew with fennel, potato, leeks, garlic, saffron and aioli.
(Jay L. Clendenin / Los Angeles Times )
Dave Lofstrom, left, and Nicolas Somers enjoy lunch at Spring.
(Jay L. Clendenin / Los Angeles Times)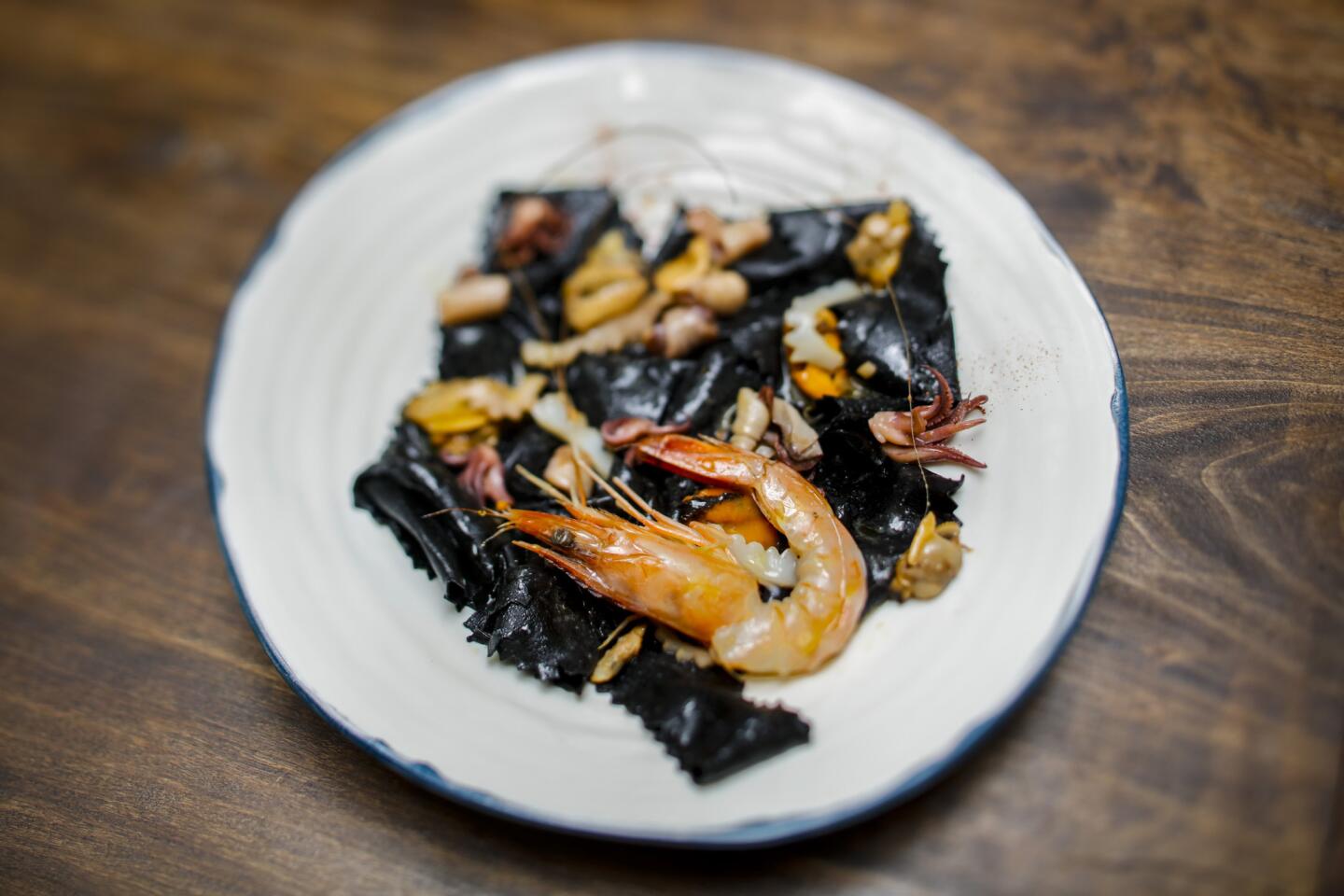 Pâtes aux fruits de mer, with squid ink tagliatelle pasta, manila clams, mussels, calamari, cuttlefish and prawns at Spring.
(Jay L. Clendenin / Los Angeles Times)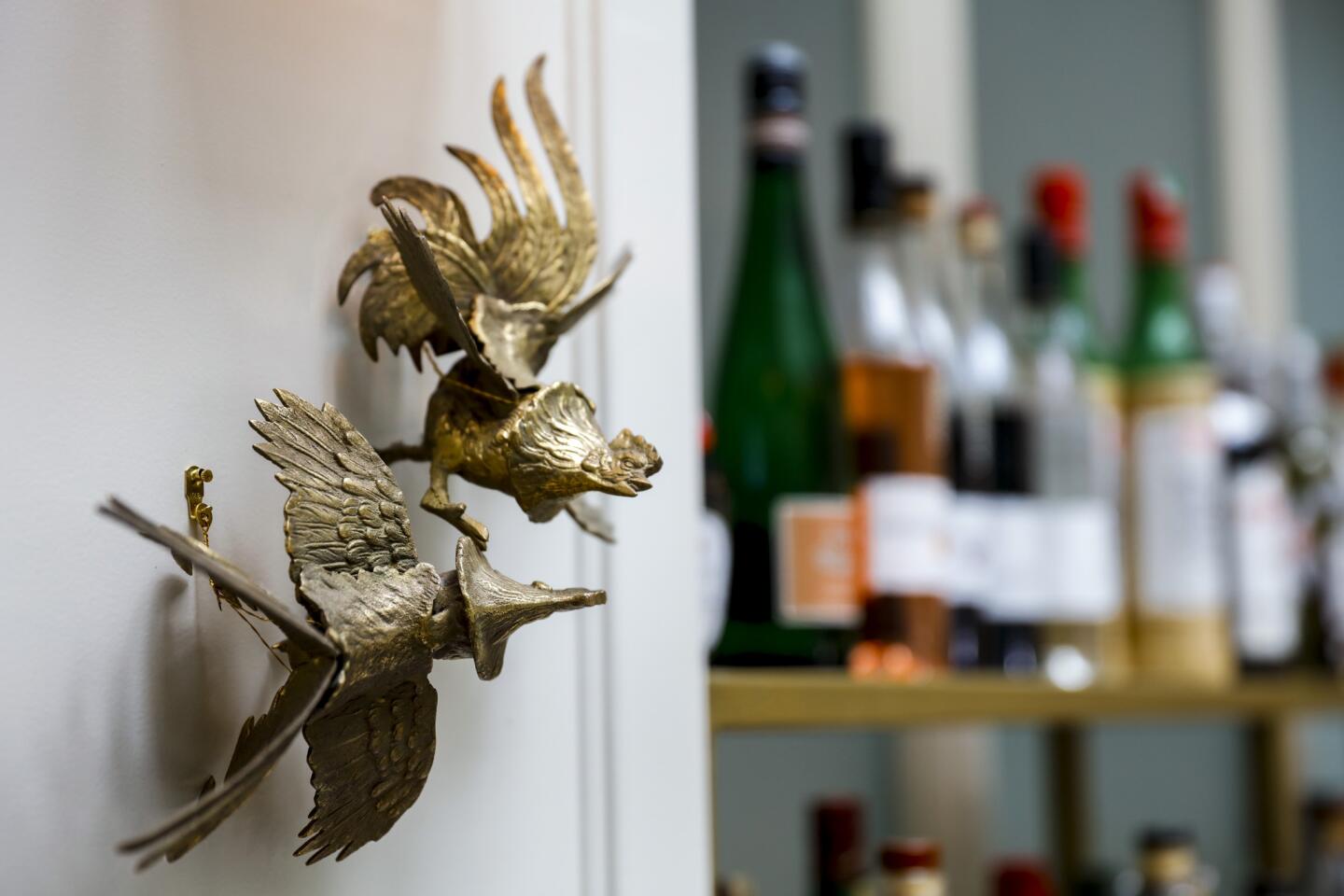 Fighting roosters from France hang on the wall behind the bar at Spring.
(Jay L. Clendenin / Los Angeles Times)
Items from the personal collection of chef Tony Esnault and his wife and business partner, Yassmin Sarmadi, are seen throughout their restaurant Spring.
(Jay L. Clendenin / Los Angeles Times)
When I first visited Alain Ducasse's restaurant at Essex House in New York a decade and a half ago, a short-lived place that for a time served the most detailed — and expensive — French cooking the United States has ever seen, I became obsessed with his vegetable soup. It was a smallish serving, maybe half the volume of a can of Campbell's. It cost $42 or so. It contained hundreds of vegetable spheres, each about the size of a pea, that somebody in the kitchen had carved by hand.
I asked my friend Zanne, the director of the Gourmet test kitchen, how long it might take to fashion the vegetables for the soup, and she called me back an hour later, slightly out of breath, to tell me that it had taken her almost 40 minutes to scoop a half-cup of the tiny balls out of an old carrot. The soup at Essex House had been magnificent — the effect was of a brilliant mouthful of early summer — but the labor in its preparation was difficult to imagine.
I thought about that soup the other night when I was having dinner at Spring, a splendid new restaurant in the 1898 Douglas Building a few blocks south of City Hall. I was eating a dish called legumes de saison, seasonal vegetables, and marveling that Tony Esnault too had managed to capture the essence of early summer. The vegetables weren't carved into spheres, but they were beautifully turned: thick slices of zucchini, summer squash and gleaming carrot; asparagus tips and tiny spring peas; translucent slivers of raw radish and purple carrot; wedges of turnip and cauliflower steamed almost to the point of purée; artichoke hearts and bright chard stems that had been flavored with lemon, held together by a shiny puddle of vegetable juice lightly flavored with brown butter and maybe a little olive oil.
Each of the vegetables had obviously been cooked separately — steamed, roasted, sautéed — and each of them tasted vibrantly of themselves, but combined into that high note of season and place. Nobody spends this amount of time on a dish merely to have a vegetarian option on their menus: The dish is nothing less than a statement of purpose. There was a fad a few years ago for gargouillou, a flashy multi-vegetable plate first concocted by Michel Bras at his restaurant in Laguiole, but Esnault's legumes de saison may be, in their subtle way, just as wonderful. It is probably not a coincidence that he spent much of his career cooking with Ducasse.
To get to Spring, you wander down from one downtown pay lot or another, past what looks like a line of darkened storefronts, until you spot a sign that points you toward an unassuming door on Third Street. You pass through a corridor that runs between the hostess stand and the bright open kitchen. And then you emerge into one of the loveliest restaurant spaces in Los Angeles: an old courtyard, dotted with pepper trees and high-end lawn furniture, a fountain and twinkling tiny lights, under a century-old canopy of cast iron and glass. You might expect to run into the occasional space like this in Paris or Prague. I have worked within a block or two of this restaurant most of my adult life, but until I first visited, I had no idea this courtyard even existed.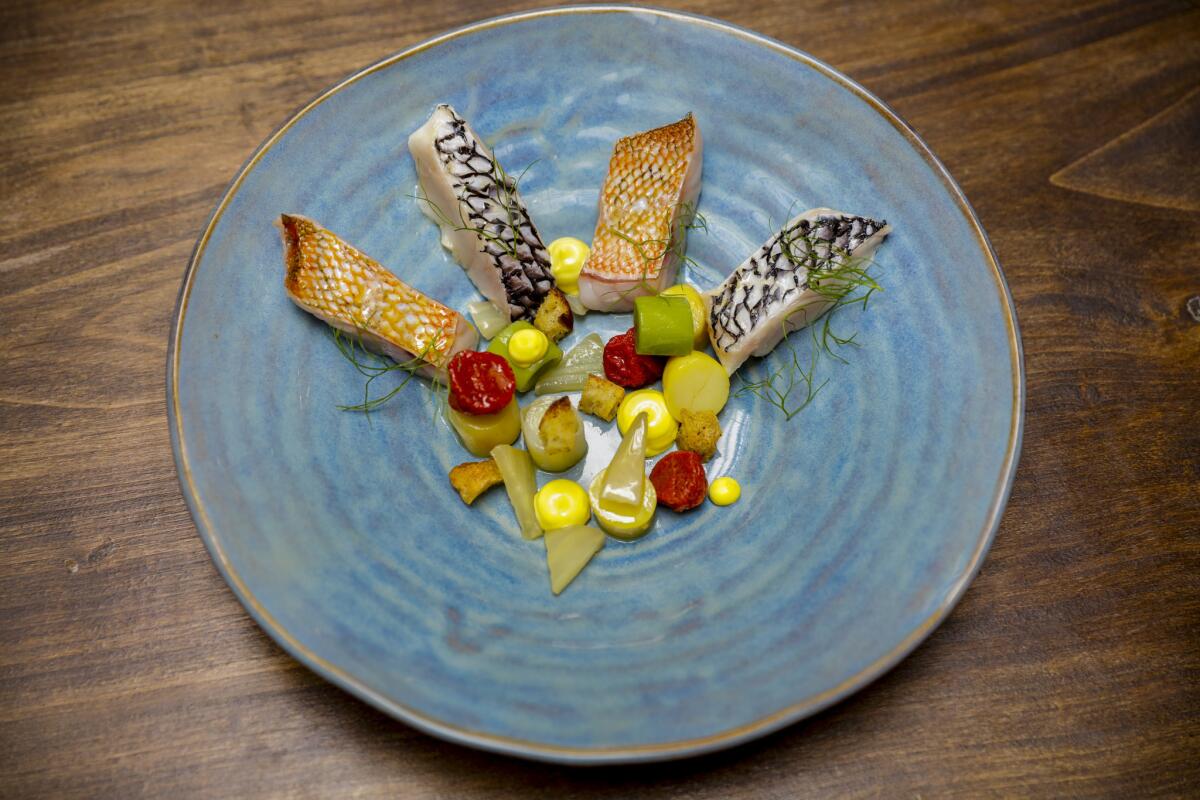 If you keep up with local French restaurants, you probably know Esnault. He worked for Ducasse in both Monte Carlo and New York. He moved to Los Angeles to become the chef at Patina — my former colleague S. Irene Virbila awarded it a rare four stars — before moving to the Arts District bistro Church & State, owned by his wife and business partner Yassmin Sarmadi, which continues to serve some of the most thoughtful French food in town. Church & State is a splendid destination when you are in the mood for onion soup, tarte au cleri, or a solid charcuterie board.
But Spring, which had been announced so far in advance that most people forgot it was in progress, is a more serious restaurant, its flavors influenced by Provence and California, whose kitchen has achieved an almost fanatical level of execution.
The roast duck breast at Church & State is delicious, in a demiglace; at Spring, it is aged, cooked slowly at low heat, and served with cherries, baby turnips and kohlrabi, and the meat is as rich and delicate as the best sauted foie gras. Everybody likes the steak tartare at Church & State, but at Spring the grass-fed Strauss beef, arranged on the plate in a Rothko rectangle next to a matching oblong of chopped vegetables, is buttery and delicate instead of something you might scarf down with fries. The garlicky Church & State snails in puff pastry are wonderful; the earthy Spring snails, wild-caught in Burgundy, are arranged into a lovely salad with tiny dice of tomato and fennel, painted with a vivid green pure of garlic and herbs — as ethereal as you can imagine snails to be.
This is Los Angeles — is there pasta? Of course, but French-guy pasta, which is to say soft, homemade, tossed with a Basque-style composition of rabbit and piquillo peppers, or with seafood. A spring risotto is less like an Italian risotto than like a French congee, lightly textured, saturated with the sweet musk of morel mushrooms and spiked with crisp shavings of raw asparagus.
Esnault's bourride is spectacular, lozenges of cooked sea bass and alfonsino arranged around squat plinths of potato and turnip crowned with tiny roasted tomatoes and dabs of garlicky aioli — a thick, saffron-infused fish soup is poured into the bowl from a little pitcher. I love the filet of wild striped bass, cooked until the flesh is just opaque, served under a coating of buttery, lemony breadcrumbs.
And somehow, dinner here seems to cost about what it does at Esnault's unpretentious bistro — even less when you visit the sunwashed courtyard for a delicious fix-price lunch.
To end, the cara cara orange with white chocolate and crunchy meringue is delicious, and the bitter chocolate Monegasque with honey sorbet is pure Ducasse, but you really should try the sliced strawberries with strawberry sorbet, crumbles of dehydrated cake, and a bracing shot of licorice-y tarragon ice.
Spring
French cuisine from the folks who brought you Church & State.
LOCATION
257 S. Spring St., Los Angeles; (213) 372-5189; springlosangeles.com.
PRICES
Appetizers $10-$19; pasta and risotto $20-$24; entrees $24-$32; desserts $9-$11.
DETAILS
Lunch 11:30 a.m. to 2:30 p.m. Tues.-Fri.; Dinner 6 p.m. to 10 p.m. Tues.-Fri.; 5:30 p.m. to 10 p.m. Sat. Credit cards accepted. Full bar. Nearby lot parking.
RECOMMENDED DISHES
Escargot provencal, seasonal vegetables in brown butter; bourride; striped bass with lemon; strawberries with tarragon granita.
MORE REVIEWS FROM JONATHAN GOLD
Jonathan Gold finds splendid spicy fried chicken at the upscale Chinese restaurant Dongpo in Arcadia
At Hanjip in Culver City, Jonathan Gold says get the stuff you don't see at other Korean BBQ joints
Jonathan Gold reviews Button Mash: Tofu balls! Arcade games!
Get our weekly Tasting Notes newsletter for reviews, news and more.
You may occasionally receive promotional content from the Los Angeles Times.