Recipes for Iftar and Eid al-Fitr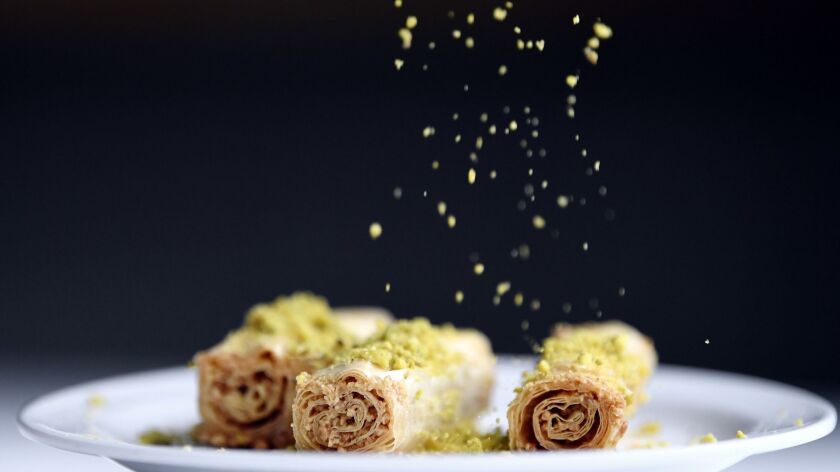 In Anissa Helou's beautiful story about fasting and feasting during Ramadan, she describes mouthwatering foods that would be delicious anytime. Heavy on the sweets with a nice balance of savory, the dishes offer a taste of countries throughout the Middle East. You can bring those flavors home by trying these recipes for some of the dishes Helou described:
Fattoush: Crisp-fried pita adds crunch to a refreshing salad.
Add chickpeas and yogurt to make it a heartier full meal.
Baba Ghanouj: It's nearly as easy to make this eggplant dip as it is to go out and buy some.
Fatteh: Layers of toasted pita alternate with eggplant in this yogurt-smothered vegetarian main dish.
Qorma-e ru-ye nan: Lamb cooked with onions and tomato soaks into croutons and mingles with a savory yogurt sauce.
Shaariya Medfouna: This translates to "buried in vermicelli," and that's exactly what happens with chicken in this savory dish seasoned with warming spices.
Sweets are an integral part of breaking fast. Here are a few traditional options:
Shir Khurma: Like a bread pudding, this sweet milky mix is thickened with ground almonds and pistachios and seasoned with rose and saffron.
Gullac: Layers of wafers are soaked with milk and enriched with crunchy nuts.
Baklava: These honeyed bars studded with nuts are a project worth pursuing.
Muhallebi: This rice pudding is made with rice flour, resulting in a creamy smooth texture, fragrant with orange blossom water.
---
Get our weekly Tasting Notes newsletter for reviews, news and more from critics Bill Addison and Patricia Escárcega.
You may occasionally receive promotional content from the Los Angeles Times.