Review: Does Jiang Nan Spring have the SGV's best Shanghainese food?
Restaurant Critic
Our server at Jiang Nan Spring in Alhambra nods toward the tureen of yan du xian — double pork soup with bamboo shoots — he's just hoisted onto the table, and then he makes a grand pronouncement over it in Mandarin and slips away. A friend dining with me translates his words: "If a chef doesn't know how to make this dish properly, he isn't from Shanghai."
A lofty statement, but also misleading: As it turns out, chef Henry Chang is a native of Taiwan. He's cooked the specialties of Shanghai for 30 years, though, and has more than earned his mastery. His yan du xian, as cloudy as the Southern California skies during June gloom, soothes mightily. A balanced coupling of salt pork and uncured pork belly, cut into matching two-bite rectangles, keeps the broth from becoming overly brackish. Angular bamboo shoots bob in and out of sight, as do blades of bok choy and sheets of tofu skin tied in knots, an addition that lends chewy, contrasting texture.
The soup, beyond its show of skill, makes an ideal symbolic start to a meal: It epitomizes the restaurant's name. Yan du xian is traditionally a springtime palliative; it's also a staple of the Jiangnan region, an area of China defined by the Yangtze River Delta whose cuisine includes the cooking of Shanghai but also culinary traditions from neighboring cities Hangzhou, Ningbo and Shaoxing.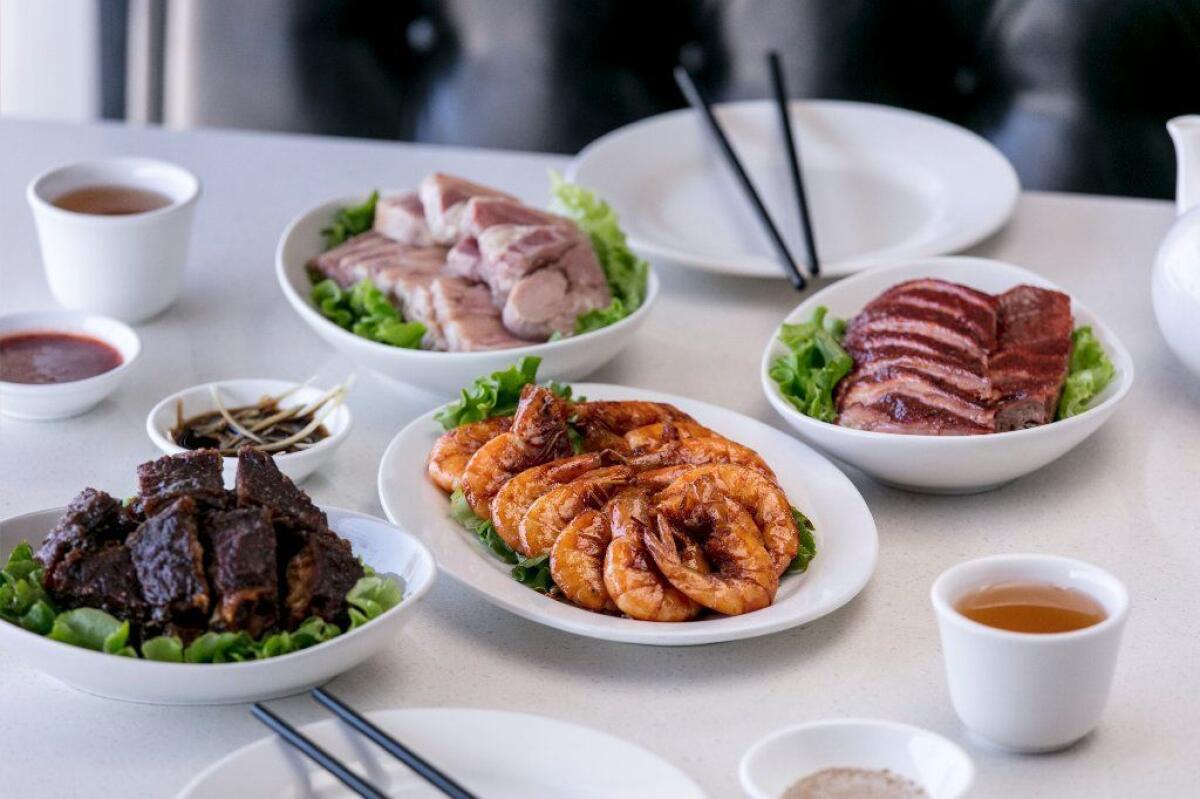 This is the geography through which to best map your order at Jiang Nan Spring, though its menu of nearly 150 items can require focused navigation. Jiangnan's treasures mingle mostly unmarked among Cantonese- and Sichuan-inspired ubiquities: kung pao chicken, walnut shrimp with mayonnaise, mapo tofu, spicy fish with sour cabbage. Look for dishes whose English names begin with "Shanghai" or "West Lake" (a famous freshwater landmark in Hangzhou). Servers offered on-point, no-nonsense guidance when I expressed interest in Jiangnan cuisine — even when Mandarin-speaking pals weren't present.
Review: At Forn Al Hara in Anaheim, it's all about the flatbreads and cheese boats »
Ling Chu owns Jiang Nan Spring with other family members, some of whom helped run nearby Chang's Garden, where Chang was formerly chef. The two restaurants share similar menus, with Jiangnan specialties threading quietly but palpably through the breadth of dishes. With Chang in the house, Jiang Nan Spring unquestionably has the more vitalized cooking.
Along with yan du xian, begin with two or three cold appetizers. The smoked fish isn't technically cooked by indirect heat: It's deep-fried and then doused in a dark soy marinade with traces of five-spice powder. Comparable flavorings, with a stronger shimmer of ginger, infuse crimson sliced duck. Pair either of these with chicken in wine sauce and slivers of lotus root stuffed with glutinous rice. Together they usher diners into Jiangnan cooking's defining affinity for delicate, restrained seasonings and flickers of sweetness.
Fuchsia Dunlop wrote a cookbook a few years back about the region called "Land of Fish and Rice." Take ordering cues from the title. My favorite among Jiang Nan Spring's seafood entrees is hunks of tilapia fried in batter striated with seaweed; it gives the appearance of thin green veins feeding life into the fish inside. The restaurant lists about a dozen seasonal seafood specials. One Shanghai-specific showpiece features sea cucumber in a sauce enriched with the distinctive taste of shrimp roe. This delicacy may not charm uninitiated palates, but if you're down for its gelatinous and righteously oceanic fundaments, it delivers.
Rice dishes are most compelling in the form of the region's beloved rice cakes — flattish, ovular, with a satisfying chew. Stir-fried crab with rice cakes is a seasonal special, ideal for a celebration, but other dishes put them front and center. Two options have near-identical names: "Shanghai leek rice cake," stir-fried with greens and julienned pork, and "Shanghai style rice cake," tossed in the wok with less vegetables and meat but with a pronounced dousing of soy sauce. Either appeals; I prefer the symmetry and undisguised tastes of the leafier-porkier variation.
Speaking of pork, Jiangnan is also a land of the pig. Orders of dong po rou — a Hangzhou masterpiece of pork belly slowly braised in rice wine, soy sauce, ginger and sugar — eventually land on most tables. A server presents a large, wobbly hunk of belly, surrounded by broccoli florets, and then uses scissors to cut the mass into manageable squares. I've had more tender renditions of dong po rou, honestly, but this one is respectable enough.
Lion's head pork meatballs have a proper silken lightness. Nubs of scarlet pork ribs veer way further into sweetness than is often common; I'm much more taken with a gem I've rarely seen on menus in America: fen zheng rou, boneless cylinders of pork rib meat smeared with rice flour and steamed in fragrant lotus leaves. Open the leafy bundles and the mingled perfumes, sharpened by a fermented wheat paste called tian mian jiang, rise like voices in a cathedral. The rice over the pork transforms into a soft, thin porridge, scented with sweet spices. Sometimes Jiangnan is tagged with a rep for bland, overly plain cooking; this kind of masterwork erases such notions.
There's no exiting the subject of pork dishes in the region without addressing Jiangnan's most famous export: xiao long bao. Jiang Nan Spring's soup dumplings are decent; sometimes they show up irregularly shaped (comparisons to Din Tai Fung's rigorously consistent versions come to mind), and they aren't as juicy as the ones at my current preferred source for xiao long bao, Jin Jiang in San Gabriel. Consumed quickly before the liquid soaks into the dough, they still have a place in the mix at Jiang Nan Spring.
The tables on which they land are often round, large and filled with groups: In the four months since opening, the restaurant has found a steady audience that orders with gusto and lingers contentedly. The sleekness of the comfortable room — knotty hardwood floors, bright white walls, sculptural art and starry, Midcentury Modern-esque chandeliers — encourages a drawn-out lunch or dinner.
Before you go, the server will nudge you toward a flaky red bean pancake for dessert. Push back and ask for a Jiangnan treat such as ba bao fan, listed as "eight treasure rice pudding." Dried fruits and nuts crown a mound of steamed, lightly sweetened glutinous rice. There's also a poetic soup, aromatic with sweet rice wine and filled with small balls of rice and soft petals of just-set egg. For a meal that can feel so centering — in terms of a specific place and also a restored frame of mind — beginning and ending with soup makes sense.
Jiang Nan Spring
In a sleek dining room, feast on standout fish, pork and rice specialties from Shanghai and its surrounding Jiangnan region.
LOCATION
910 E. Main St., Alhambra; (626) 766-1688; jiangnanspring.com
PRICES
Cold appetizers $9.95-$12.95; soups and "warm pots" $8.95-$39.95; most entrees $8.95-$18.95; desserts $6.95-$15.95.
DETAILS
Visa and MasterCard accepted. Full bar. Lot and street parking. Wheelchair accessible.
RECOMMENDED DISHES
Pork soup with bamboo shoots; smoked fish; "seaweed-flavored" fried fish; Shanghai leek rice cake.
Instagram: @bill_addison
Twitter: @billaddison
Get our L.A. Goes Out newsletter, with the week's best events, to help you explore and experience our city.
You may occasionally receive promotional content from the Los Angeles Times.