How to make a Sqirl's super trendy grain bowl with chef Jessica Koslow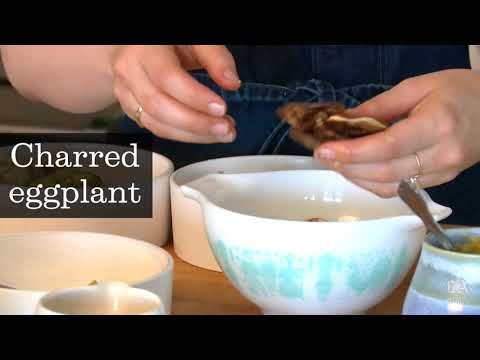 Chef Jessica Koslow, owner of Sqirl in Silver Lake, demonstrates how to make a healthy rice bowl from her kitchen.
When Jessica Koslow put together her first rice bowl a couple of years ago, she wasn't looking to start a trend. She just wanted to be able to offer something a little different to her customers at her East Hollywood restaurant, Sqirl.
Now, of course, rice bowls, their near-cousins grain bowls and even the distantly related porridge bowls are just about the most happening menu items in Southern California.
"What is a sandwich?" Koslow pondered recently while preparing a rice bowl in her Silver Lake home. "It is really just protein between two buns. I think people want more lunch options than that these days. The grain bowl is a lot more flexible. It's a new kind of lunch."
Just as the basic framework of the sandwich can be adapted almost endlessly to fit any number of ingredients and tastes, so it is with the grain bowl. That's particularly true in a district like Silver Lake, where customers often have very specific tastes and demand a certain culinary flexibility even from their favorite restaurants.
"People modify them all the time, and chefs have to be responsive and we have to accommodate what our customers want," Koslow said.
In the Kitchen: Sign up for our weekly cooking newsletter
That accommodating, businesslike attitude is one of the reasons Sqirl, located on what was once a quiet stretch of Virgil Avenue, has become so popular that customers looking for parking places can create traffic jams that back up for several blocks.
The inspiration for the rice bowl came from a happy conjunction of the traditional Japanese donburi dish ("some kind of rice, some fish, some nori, all really clean flavors," as Koslow describes it) and a decidedly L.A. twist of a constantly evolving, complex mix of tastes and textures.
One standard at Sqirl is the sorrel pesto rice bowl, made with brown rice, sorrel pesto, preserved Meyer lemon and lacto-fermented hot sauce (all are made in-house), as well as radishes, feta and a poached egg.
"The funny thing is, doing everything yourself actually winds up being more expensive, but the taste makes it worth it," she said, as she ground her own sunflower tahini.
The Long Beach-born Koslow — a competitive figure skater in her teens, then a graduate student in communications, then a pastry chef — started cooking in Los Angeles while she was still working as a producer at "American Idol."
"I'd work the midnight to 8 a.m. shift at Village Bakery in Atwater Village, then go home and sleep for a couple of hours and show up at work at Fox by 10:30," she remembered. "I'd just sit there at my desk and go, 'What am I doing?'"
Koslow opened Sqirl in 2011, making just jams. Today she sells about 35,000 jars of them a year, in 25 varieties. The big leap in business, she says, came a year later when she started selling toast and a few other prepared foods.
"That was a major step," she said. "I knew I couldn't survive doing just jam. That's a cottage business, money-wise. I remember the first day we started selling food and we made $600. I felt like shouting, 'We did it! We did it!" Sqirl is thriving today, despite serving only breakfast and lunch. And rice bowls are served at both meals.
"It was just something that seemed like a good idea. I had no idea that it was going to become the year of the grain bowl."
Build a rice bowl, Sqirl-style

Grain bowls like Jessica Koslow makes at Sqirl are incredibly adaptable. You can use almost anything you can find in your kitchen, if you apply a little good sense and keep in mind a few basic rules.

First, of course, comes the grain. Koslow prefers rice, specifically the brown rice grown in California by Koda Farms. "It's so healthy and it tastes so good. It's brown but not too brown." You could also use any other cooked whole grain, such as farro, barley or quinoa.
The grain has to be well seasoned. Koslow dresses the rice in her bowls with both butter for body and an acid such as yuzu juice for tartness.
She also relies on what she calls a "schmear" — some kind of sauce spread in the bottom of the bowl — to give the rice some oomph. "Tahini is great for that, but yogurt or labneh with some hummus mixed into it would be great too," she says. For breakfast bowls, the ubiquitous "egg on top" serves the same purpose.
There needs to be a crunchy component. "That comes from raw vegetables, like watermelon radish, spinach, tomatoes, that kind of thing." The crunch can also come from cooked vegetables. Koslow particularly likes to use eggplant chips: Asian eggplant sliced thin on a mandoline, brushed with oil and roasted until it's caramelized and crisp. "They're crunchy and super-delicious," she says.
You need a certain meaty quality as well, and that can come from cooked vegetables — roasted cauliflower or sautéed zucchini, for example.
To set off all those components, Koslow looks for some kind of pickle. "Bowls have to have a bit of acidity for freshness," she says. "That can come from preserved lemons, pickled peppers, anything with brightness and zing. We use lacto-fermented hot sauces for that too."
To make rice bowls yourself, it's probably a good idea to have a rice cooker (Koslow uses a Zojirushi at her house) and to have an assortment of cooked vegetables and prepared condiments ready so you can mix and match.
When it's done right, what looks simple turns out to be a thoughtfully composed combination.
"It might look like just a bunch of vegetables on dry rice, but with a good one, when you mix it up you get all these different flavors and textures," Koslow says.
ALSO:
Forget the beer, try these white wines with your fish tacos
Check out the thousands of recipes in our Recipe Database
Restaurant review: Jonathan Gold finds brilliant pot-au-feu at Bryant Ng's Cassia
Get our L.A. Goes Out newsletter, with the week's best events, to help you explore and experience our city.
You may occasionally receive promotional content from the Los Angeles Times.