Lamb chops come in three main cuts. Head butcher Meagan Schneider at McCall's Meat and Fish Co. in Los Feliz says any cut of meat from the lamb shoulder can be called a "shoulder chop" and that there are three distinct variants, all cut from the same piece, which is called a square-cut shoulder: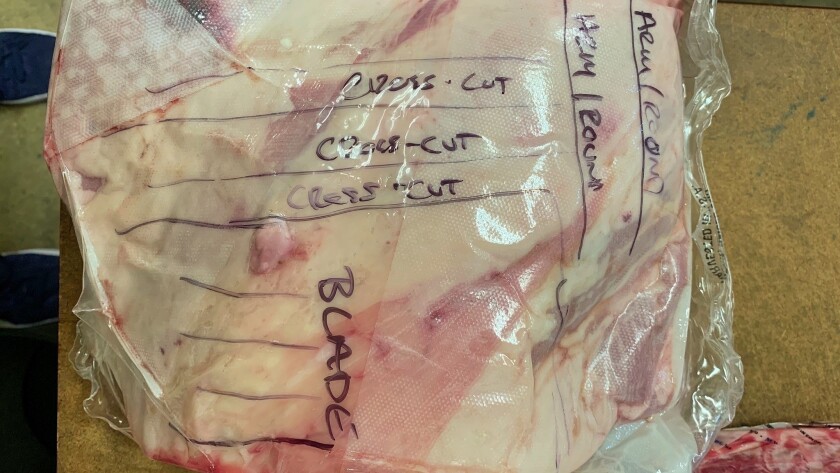 — Arm or round bone chops/steaks: Usually only two per shoulder, these are cut from the side of the shoulder where the front leg used to be attached, so there's a circular bone piece in each.
— Blade chops/steaks: The side of the shoulder where the ribs, or "rack of lamb," were severed will give you five to six steaks that include the irregularly shaped blade bone and a bit of the pricey tenderloin, along with mostly striated muscle and fat that is especially flavorful, but for half the price.
— Crosscut shoulder chops/steaks: The remainder of the shoulder is cut into steaks that incorporate the interconnected joints of the shoulder underneath the collarbone; you can get three to four of these cuts.
All three cuts are ideal for grilling or pan-searing over high heat to quickly brown the outside and keep the insides medium-rare; cooked any further, the meat will get tough. Shoulder "blade" chops or steaks are my personal favorite of the shoulder cuts, both for size and texture/variety of meat, but you can use any of the types available at your grocery store or butcher shop.
---