Maida Heatter, the queen of chocolate desserts, dies at 102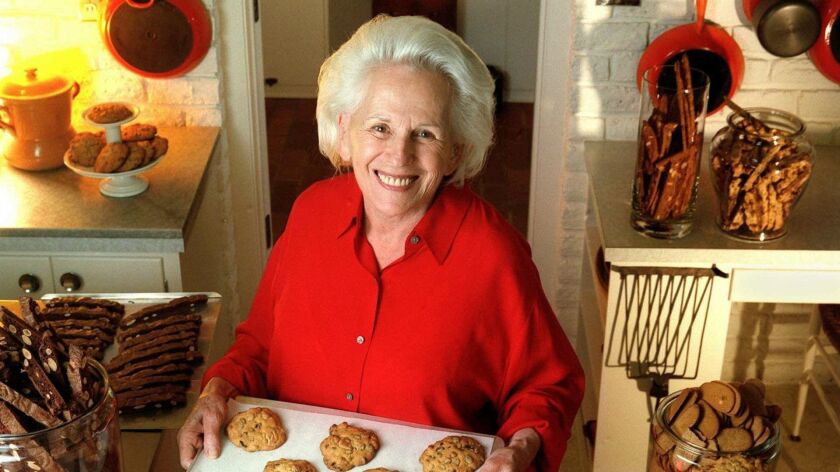 Maida Heatter, known for most of her life as "the Queen of Cake," was first put in the national spotlight in 1968 not solely for her confections but also for her wry sense of humor: She had her husband put elephant-meat omelets on the menu at his restaurant just as the Republican National Convention pulled into town.
And so America was introduced to a baking powerhouse who would go on to write cookbooks that were classics of the genre.
The legendary baker, cookbook author and pastry chef died June 6. She was 102. The news was confirmed by Little, Brown and Co., Heatter's book publisher.
"Like many of my generation, I credit Maida Heatter's books with teaching me how to bake," said fellow baker, author and authority Dorie Greenspan, who wrote the foreword to Heatter's last cookbook.
"Baking from her recipes was like having her with you in the kitchen — her voice was so present, so wise and so generous," she said. "Indelible, really — even now, there are moments when I can hear her in my head telling me not to worry when the batter curdles or the top of the cake cracks."
The six cookbooks that taught us to cook »
Born in 1916, Heatter was the daughter of Gabriel Heatter, a well-known radio commentator. She was raised on Long Island and at tony addresses in upper Manhattan.
Although Heatter trained as a fashion designer and illustrator, baking was her calling. She entered the American culinary lexicon after Craig Claiborne wrote about her in a 1968 New York Times story and championed the idea of her sharing her recipes in cookbooks (she devised the desserts for Inside, her husband's Florida restaurant, where Claiborne wrote about the omelets).
"Maida Heatter's Book of Great Desserts," originally published by Knopf in 1974, was well received, and by 1976 she was teaching classes across the country — including at the cooking school attached to Wolfgang Puck's Ma Maison restaurant in Los Angeles.
"She was like my mother," Puck said by phone from Spago late Thursday night. Puck recalled Heatter coming to Los Angeles in the 1980s to do the cooking class at Ma Maison, driving out to California in her Cadillac from Florida. She continued to come to Ma Maison, then to Spago's original location in Hollywood, driving all the way across the country each time. As she got older, Puck would visit her, and send her monthly care packages. "Smoked salmon, goulash — a big ice chest — every month for the last five or six years." Puck said he last saw Heatter last fall, when he took her some wine and stone crabs. "She was a great lady; she was so tough. I really loved her."
Nancy Silverton, who was a pastry chef at Spago long before taking over the kitchens at the Los Angeles restaurants Campanile and Mozza, first met Heatter when Puck took her to Heatter's house on a trip to Florida. "He's not even through the door and she brought out all the individually wrapped cookies she'd baked for him. Then lunch. She was someone who baked her way through life."
100 'genius' dessert recipes all in one cookbook, including tips and techniques »
"Her work is the gold standard that so many food writers aspire to," said Amanda Hesser, the co-founder of Food52, longtime New York Times food writer and critic, and author of many cookbooks herself. "My favorite Maida Heatter story was that after handing in a manuscript for one of her books, her oven repairman noted that her oven temperature was off by 25 degrees. So she promptly called her publisher and told them to put the book on hold while she retested every recipe."
"She was, without a doubt, one of the most high-spirited, energetic and down-to-earth people I've ever dealt with," said Nach Waxman, who has run the Manhattan cookbook shop Kitchen Arts & Letters since 1983. "She was still calling up and ordering books from the store into her early 90s — interestingly, not as much on baking as on some of the newer regular cookbooks, because she wanted, as she once told me on the phone, 'to keep a hand in.' "
"She was amazing," said Ruth Reichl, former editor of Gourmet magazine and of the Los Angeles Times' Food section. Though she didn't know Heatter well, Reichl said, "I was on the receiving end of many of her exuberant letters — written by hand and always including a recipe."
Heatter published her final cookbook this year. Its title is a fitting epilogue to her life and what she taught so many people: "Happiness Is Baking."
Instagram: @AScattergood
---
Get our weekly Tasting Notes newsletter for reviews, news and more.
You may occasionally receive promotional content from the Los Angeles Times.