Recipe: Thai vinaigrette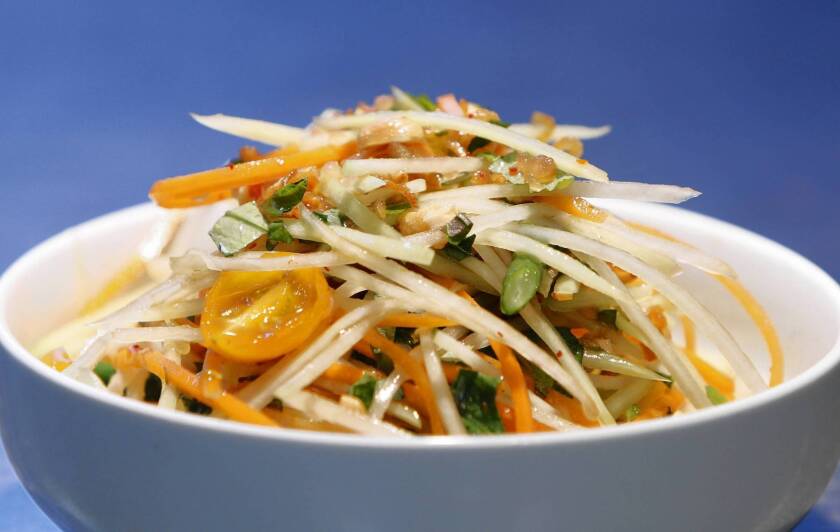 Thai vinaigrette
15 minutes. Makes about 1 cup vinaigrette
Vinaigrette base
1/2 cup fish sauce, preferably Red Boat brand
1/4 cup light soy sauce
1 tablespoon plus 2 teaspoons (1 ounce) shrimp paste
7 ounces coconut palm sugar, grated (about 1 1/3 cups)
6 dried red Chinese chiles
Blend together the fish sauce, light soy sauce, shrimp paste, sugar and chiles to form the base. This makes a generous cup of vinaigrette base, more than is needed for the remainder of the recipe. The base, should keep, covered and refrigerated,for at least 2 weeks.
Vinaigrette
1/2 cup vinaigrette base
1 Thai chile, more if desired
1/2 teaspoon salt
1 teaspoon fish sauce, preferably 3 Crabs
2 tablespoons palm syrup (see note)
About 1/2 cup lime juice
Blend together the vinaigrette base, Thai chile, salt, fish sauce and palm syrup to make the vinaigrette. Whisk together equal parts vinaigrette and lime juice before dressing the salad.
Per 1-tablespoon serving:
calories 37
protein 0
carbohydrates 9 grams
fiber 0
fat 0
saturated fat 0
cholesterol 0
sodium 535 mg
sugar 8 grams
Note: Fish sauce, light soy sauce, shrimp paste and coconut palm sugar can be found at Thai and most Asian markets and cooking supply stores, as well as online. To make palm syrup, heat equal amounts palm sugar and water in a saucepan until the sugar is dissolved. This is perfect for green papaya salad made with shredded green papaya, long beans, cherry tomatoes, peanuts, dried shrimp and fried shallots.
---
Get our weekly Tasting Notes newsletter for reviews, news and more.
You may occasionally receive promotional content from the Los Angeles Times.