Review: At the fast-casual Hasiba, luxuriate over hummus and other Israeli classics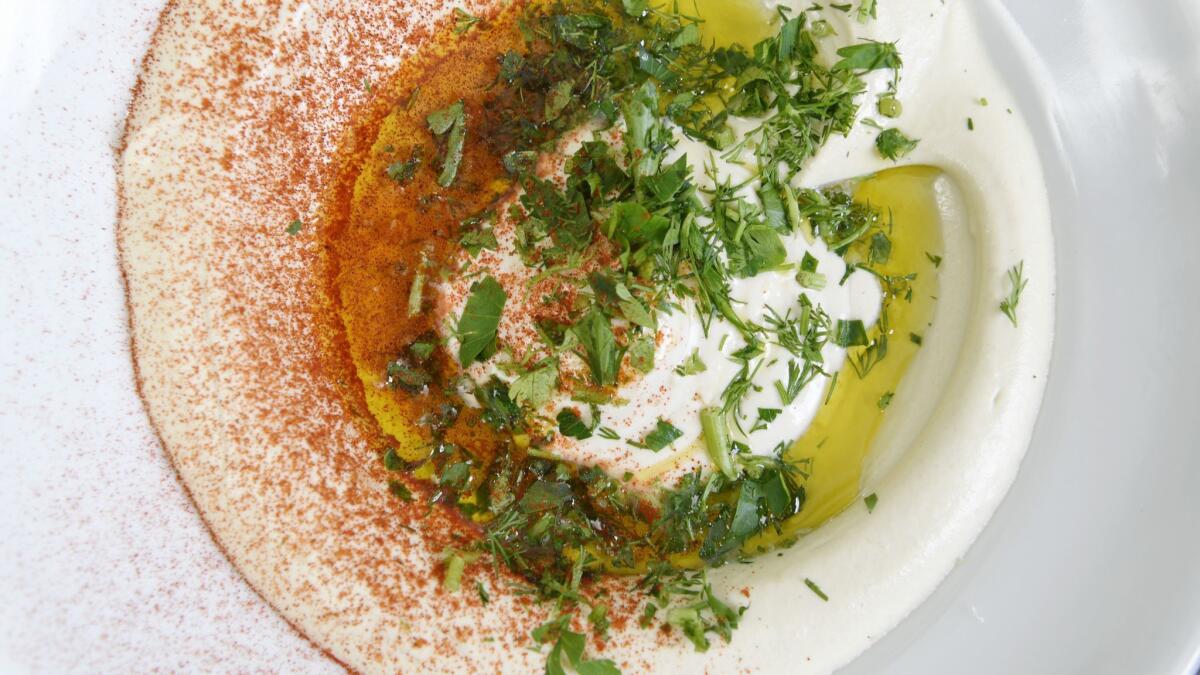 Restaurant Critic
Inside the tiny dining room at Hasiba, a counter-service hummus and pita spot in the heart of Pico-Robertson, the young woman sitting next to me at the long communal table fires up the FaceTime app on her phone. She's showing off her plate of hummus ful, marveling over the velvet elegance of the purée, the pool of olive oil and stewed fava beans scattered with flakes of chopped parsley. This all reminds her of home, she tells the person on the other end of the line.
The call over, she tears off a hunk of hot pita and drags it across the plate, and she sighs the kind of euphoric sigh of extreme gastronomic indulgence — the kind that accompanies a melty slice of Kobe beef, maybe, or something in the chocolate ganache oeuvre.
This hummus is better than dessert, the woman tells me. She extols the pita — thick, earthy sourdough spheres that puff up like whoopee cushions in the restaurant's oven. It's the closest thing to Israeli-style pita she's found in Los Angeles, she tells me.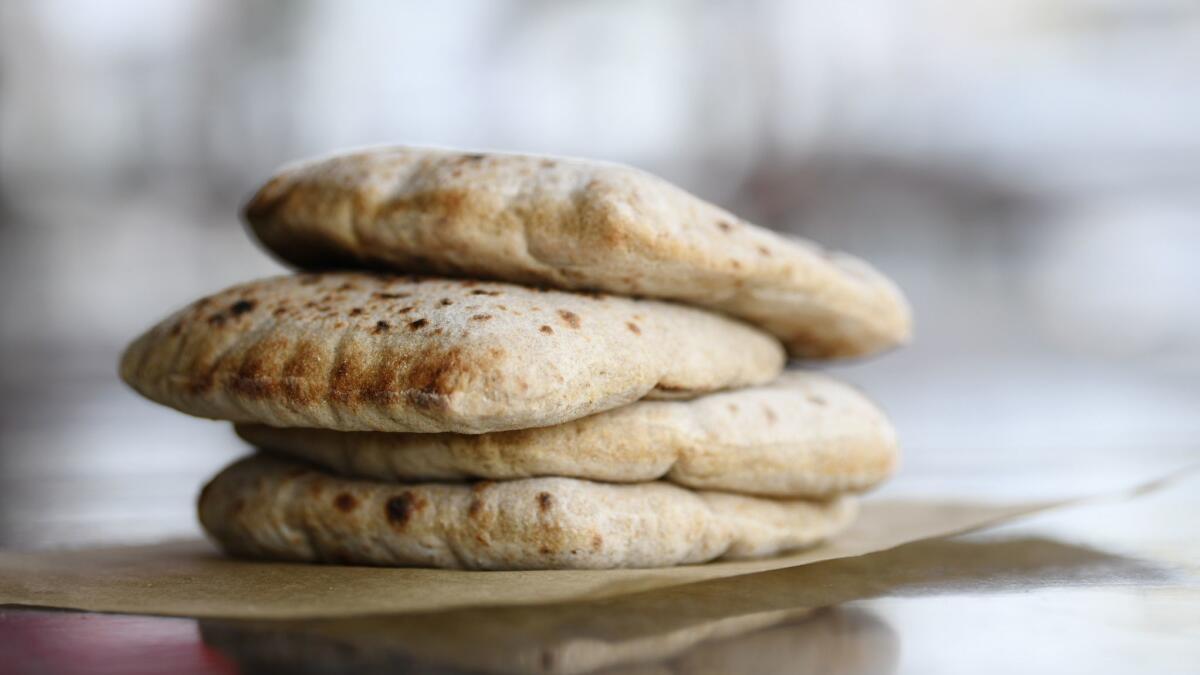 Read: How to make your own homemade pita bread »
Hasiba, a kosher-certified cafe patterned after Israel's quick-service hummusiyas, is the first hummus restaurant from Alex Phaneuf and Or Amsalam, part of the team behind Culver City's popular bakery-cafe Lodge Bread Co. Since it opened last summer on Pico Boulevard, Hasiba has inspired both debate and devotion among the local hummus-and-pita cognoscenti. The hummus is good, somebody told me recently, but not superior to what you'll find at some of the other spots in the neighborhood. Others, most notably the young woman seated next to me at Hasiba, call the restaurant's hummus and pita the city's best.
No matter where you fall on this spectrum, it's clear that Hasiba is tapped into the current zeitgeist of hummus obsession. It's the kind of obsession that famously led Ori Menashe of Bavel to spend years perfecting his harissa-spiked hummus, hailed by our late restaurant critic Jonathan Gold as "magnificent" in his final published review. And it's the kind of obsession showcased at new wave Middle Eastern restaurants like Michael Solomonov's Zahav in Philadelphia, where his tahini-intensive hummus has become a widely replicated marquee dish. For Solomonov, the success of Zahav has led to Dizengoff, a growing micro-chain of Philly-based hummusiyas; for the Lodge Bread Co. folks, Hasiba is an effort to bring the homegrown fast-casual hummusiya to Los Angeles.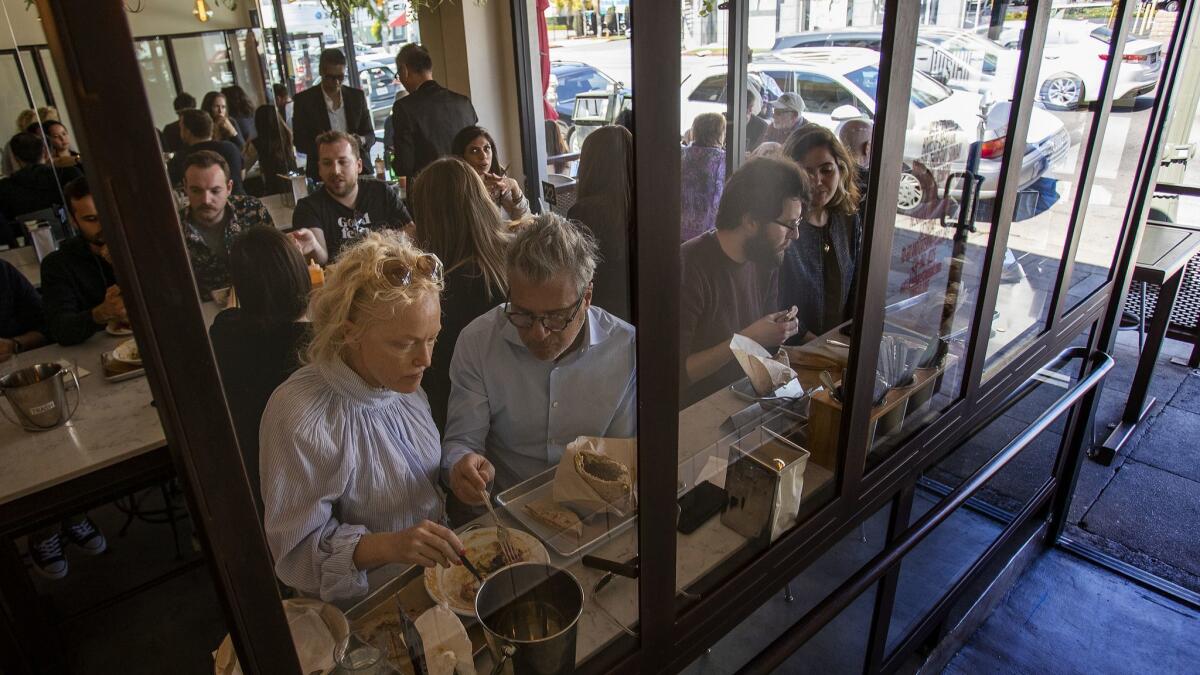 Review: At Joy in Highland Park, the name says it all »
Like those restaurants, Hasiba steers away from the idea of hummus as the grainy-pasty shelf-stable side dish of office potlucks, or the serviceable goop endemic to middling mezze platters. Here, hummus is made fresh daily, and plated with dutiful precision on white dinnerware, like any other main course.
There are four varieties on the menu, including the top-selling wild mushroom hummus, an earthy dip punctuated by a garlicky slash of the Moroccan herb sauce chermoula. Eggplant hummus is pounded to a satiny, slightly bittersweet finish and topped with diced marinated eggplant and a blizzard of chopped parsley. The hummus ful might be the most vibrant of the bunch, its toasted sesame base inflected with the bright, herbal notes of stewed favas. I keep coming back to the evenness and simplicity of Hasiba's "classic" hummus, an ultra-creamy pure of chickpeas and tahini blasted with smoked paprika. You will add a dollop of hummus to everything and probably be happy; there are very few dishes at Hasiba that its hummus won't make even better.
It's possible, though, to eat at Hasiba without so much as touching hummus. There is a satisfying classic shakshuka on the menu, a bubbling-hot blend of tomatoes and peppers layered with sweetness, tartness and a twinge of heat.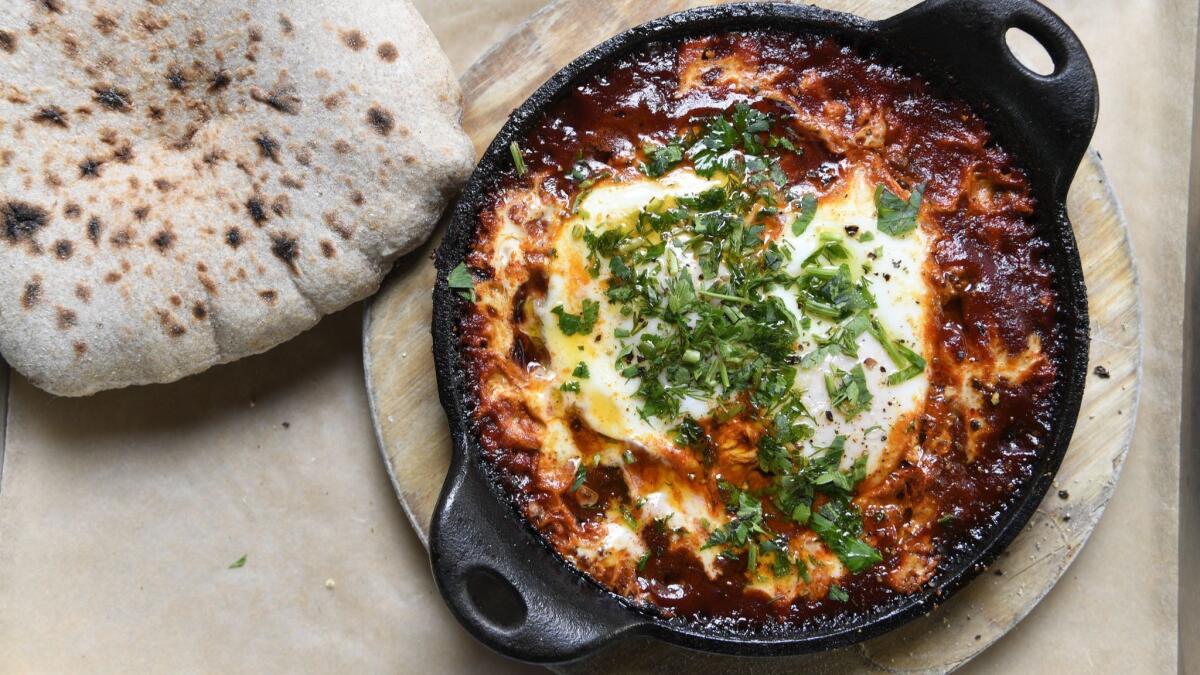 Review: At Los Balcones in Studio City, modern mestizo Peruvian cooking is a party »
The menu is also plumped out with an assortment of warm, overfilled pita sandwiches, including the classic Israeli street sandwich called sabich. Hasiba's sabich, girthy as a kid's baseball mitt, is bursting with crusty slices of fried eggplant, crispy potatoes and bits of hard-boiled egg, the veggies dampened in a sweet-tangy dressing called amba. It's a drippy, delicious mess, and you could probably work your way through half of it before you realize it happens to be entirely vegetarian. A slightly more measured option is the roasted tomato sandwich, a squishy, savory jumble of roasted peppers, tomatoes and hard-boiled egg.
The falafel sandwich is hard to resist; the craggy deep-fried balls are beautifully crisp and textured, although the taste of spiced garbanzo and pureed herbs is too subtle to leave a lasting impression considered against the other options.
Hasiba may become the source of your new favorite dessert, though: pita bites, miniature pillows of deep-fried pita lacquered in honey and sugar. Wash it down with a cup of lemonana, an electrically tart and herbal mint lemonade. Lemonade is probably not the reason you come to Hasiba, of course — you came to luxuriate over a dinner plate of hummus so simple yet so intensely satisfying, you might have to call your friends and tell them about it.
Hasiba
The team behind Culver City's Lodge Bread Co. brings a fast-casual hummusiya and pita restaurant to Pico-Robertson.
LOCATION
8532 Pico Blvd., Los Angeles, (424) 302-0225, hasibarestaurant.com.
PRICES
Hummus $10-13; shakshuka $13; pita sandwiches $12; sides $5-$10.
DETAILS
Credit cards accepted. Street parking. No alcohol. Dining room and restrooms are wheelchair-accessible.
RECOMMENDED DISHES
Hummus ful; classic shakshuka; sabich; roasted tomato sandwich
patricia.escarcega@latimes.com
Twitter: @piescarcega
Get our L.A. Goes Out newsletter, with the week's best events, to help you explore and experience our city.
You may occasionally receive promotional content from the Los Angeles Times.