Review: In Inglewood, Mutiara is the spot for Burmese noodles, curries and salads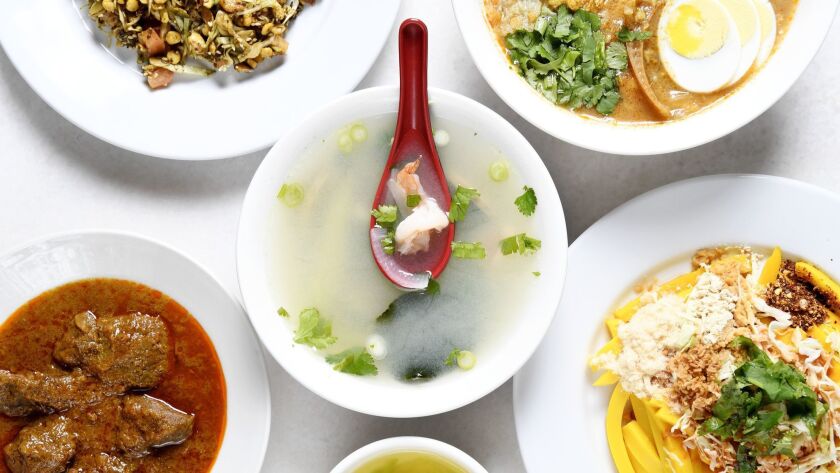 Restaurant Critic
On a Friday afternoon, it can feel like all of Inglewood is having lunch at Mutiara Food and Market, a long-standing Burmese cafe jammed between an insurance office and a clothing boutique on a sleepy stretch of La Brea Avenue.
Inside the dining room, off-duty Inglewood police officers are hunched over plates of tandoori chicken; a couple is sharing a platter of lamb biryani; and worshipers from the nearby Islamic center are drinking tea after prayer service. Locals carry out armfuls of wobbly Styrofoam takeout containers filled with pan-fried noodles, curries and blistery scraps of the restaurant's Burmese-style naan.
Most regulars know to park behind the restaurant, where there's an unmarked back door that leads past the closed kitchen, through a long, skinny hallway cramped with shelves of crackers, spices and bags of chickpea flour for sale. The dining room, a spartan space with peach-colored walls and industrial tile flooring, is subject to long quiet spells between flurries of service.
The man behind the counter is owner Myo Aung, a friendly but scattered presence who regularly disappears into the kitchen. He reappears, uncannily, at the moment you're ready to place an order or pay the check.
Aung has a head for remembering what his regulars love. "Veggie curry. Goat curry. Naan?" he says, greeting a couple who regularly drive all the way from Long Beach to order more or less the same thing. They nod appreciatively. "He always remembers our order," they tell me.
Review: The meat is truly what matters at APL, Adam Perry Lang's steakhouse »
Aung, a native of Yangon, the commercial capital of Myanmar (formerly Burma), opened Mutiara with his sister, Sandar Win, and brother-in-law, Aung Naing, almost 12 years ago. Before Mutiara, Aung and his brother-in-law operated Jasmine Market in Culver City, which he believes was the first halal Burmese restaurant in Los Angeles (Jasmine Market is still open under new ownership). At Mutiara, each family member has a kitchen specialty: Aung is in charge of the meats; his sister presides over most of the curry-making; and brother-in-law Naing does the time-intensive work of toasting, grinding and preparing the spices used in everything.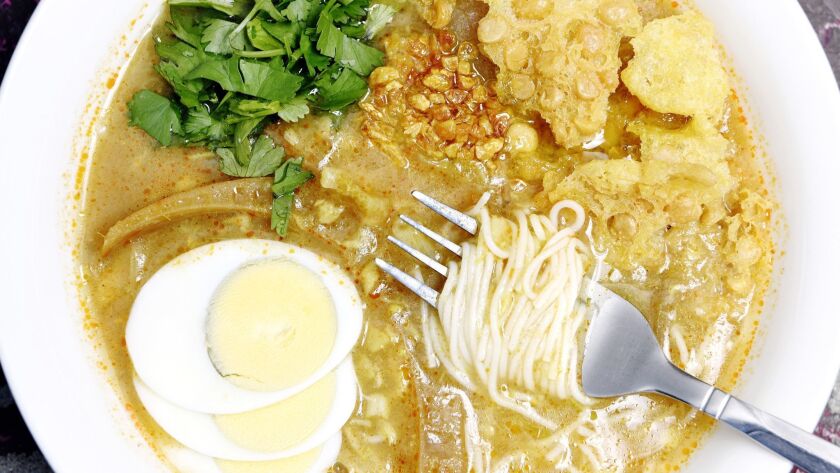 The menu contains more than 80 items, many added over the years to accommodate customer requests; Mutiara is the kind of spot that works hard to be all things to everyone. There are meaty, strictly halal dishes; dishes for vegetarians and vegans; dishes for folks who prefer boneless over bone-in tandoori chicken (the latter is superior, Aung tells me with a shrug, but the public demand for boneless was too great to ignore). The menu is also a snapshot of Myanmar's breathtaking culinary diversity, a heady confluence of Malaysian, Thai, Indian, Chinese and Indonesian traditions that makes the restaurant's Burmese identity less than obvious at first glance. Some people eat here with only a vague notion of eating South Asian cooking.
Review: At Fonda Mixcoac in Anaheim, order a cheesy 29-inch machete. Bring friends »
The most quintessentially Burmese dishes are on the restaurant's weekend-only menu, including the excellent mohinga (listed on the menu as "rice noodle fish soup"), often referred to as the national dish of Myanmar. Mutiara's version uses ground tilapia in favor of the more common catfish, a creamier, less overtly fishy rendition of the soup, laced with slithery rice noodles and thin slices of banana-tree trunk. It's garnished with a lovely, crisp, fried bean fritter that never quite melts into the broth. The other weekend soup is ohn no khao swè, a thick, meaty coconut chowder of curried chicken and wheat noodles that recalls Malaysian laksa.
It's worth making a weekend trip for Mutiara's traditional Burmese salads. Tea leaf salad — pickled tea leaves layered with crunchy bits of fried lentils, beans and peanuts — is hypnotically crunchy, if less pungent than other fish-sauce-laden versions. Aung will rightly steer you toward the soft tofu salad: the turmeric-stained bean curd, made in-house using dried chickpeas, is sliced into cool, creamy strips that have marinated in a pungent and tart garlic-tamarind dressing. I mistakenly overlooked the ginger salad on my first visit; the fresh spicy slivers of ginger are tossed with shredded cabbage, fried yellow peas and garlic. Its baroque crunchiness puts the standard American chopped salad to shame.
During the week, it's easy enough to fill up on the spicy pan-fried noodles called mee goreng you will see on tables around the dining room. But there's a small universe of curries at Mutiara worth exploring. The most robust, full-flavored curry in the house is probably the beef korma, ultra-tender hunks of beef sweltering in a thick, pungent sauce heavy with cumin and chile powder. The lentil-mutton dal goash is soupier than you might expect, but deftly spiced, and it's a pleasure to soak up the curry with scraps of flatbread.
On Fridays, Mutiara makes what is more or less the kitchen's showpiece: lamb biryani, a slow-cooked marriage of intricately spiced lamb and rice, notably gentler than its spicy Hyderabadi counterparts. It's delicate and sumptuous, especially paired with the restaurant's naan.
Welcome to our new food section »
On other nights, get the naan with pe byouk, the thick, boiled yellow pea mash with a sweet-savory earthiness akin to peanut butter. In Myanmar, the bread and mash combo is famous as a breakfast dish. At Mutiara, you swipe the bread against the buttery paste and instantly crave more. Sometimes you'll see regulars order some of the naan and pe byouk to go. What is known as the working person's breakfast on the streets of Yangon is a hard-to-find indulgence on the streets of Inglewood. Mostly, though, it's the kind of thing that may inspire you to go back often enough to give Aung a chance to learn your regular order too.
Mutiara Food and Market
A long-standing Burmese restaurant in Inglewood with an expansive menu of noodles, curries, meats and salads.
LOCATION
225 S. La Brea Ave., Inglewood, (310) 419-7221, mutiara-food-and-market.cafe-inspector.com
PRICES
Appetizers $3.99-$5.99; noodles and rice dishes $6.99-$9.99; seafood and meats $8.99-$14.99; curries and vegetables $5.99-$10.99
DETAILS
Credit cards accepted. No alcohol. Street parking. Dining room and restrooms are wheelchair-accessible.
RECOMMENDED DISHES
Rice noodle fish soup; ginger salad; beef korma; lamb biryani; naan with beans
patricia.escarcega@latimes.com
Twitter: @piescarcega
---
Get our weekly Tasting Notes newsletter for reviews, news and more.
You may occasionally receive promotional content from the Los Angeles Times.