Renée Günter grew up hungry in South L.A. Now her mission is running a fresh produce shop there.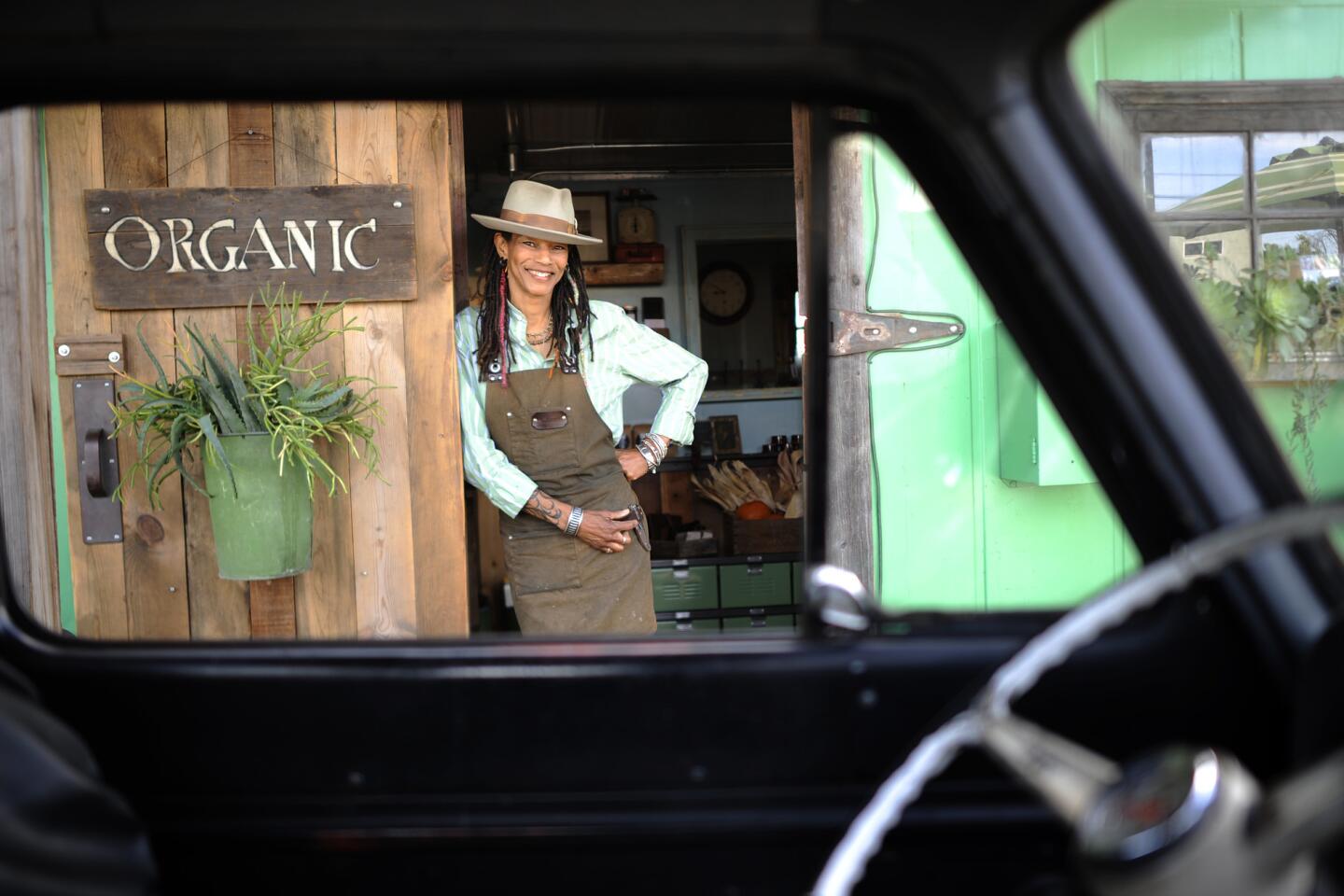 Renée Günter at her Daily Organics produce stand.
(Christina House / For The Times)
Renée Günter leans against the 1962 Corvair Rampside pickup that was her rolling market before she opened the Daily Organics stand.
(Christina House / For The Times)
Renée Günter once modeled for the likes of Balenciaga and Givenchy.
(Christina House / For The Times)
Through Daily Organics, Renée Günter aims to make quality, healthful produce available in a part of L.A. where such food isn't always easily to find.
(Brian van der Brug / Los Angeles Times)
The day's offerings at Daily Organics in the Shops at Adams Gateway on Adams Boulevard near Fairfax Avenue.
(Irfan Khan / Los Angeles Times)
A produce list, left, and shopping baskets at Daily Organics.
(Christina House / For The Times)
Produce selection at Daily Organics.
(Christina House / For The Times)
Renée Günter peels a tangelo at Daily Organics.
(Christina House / For The Times)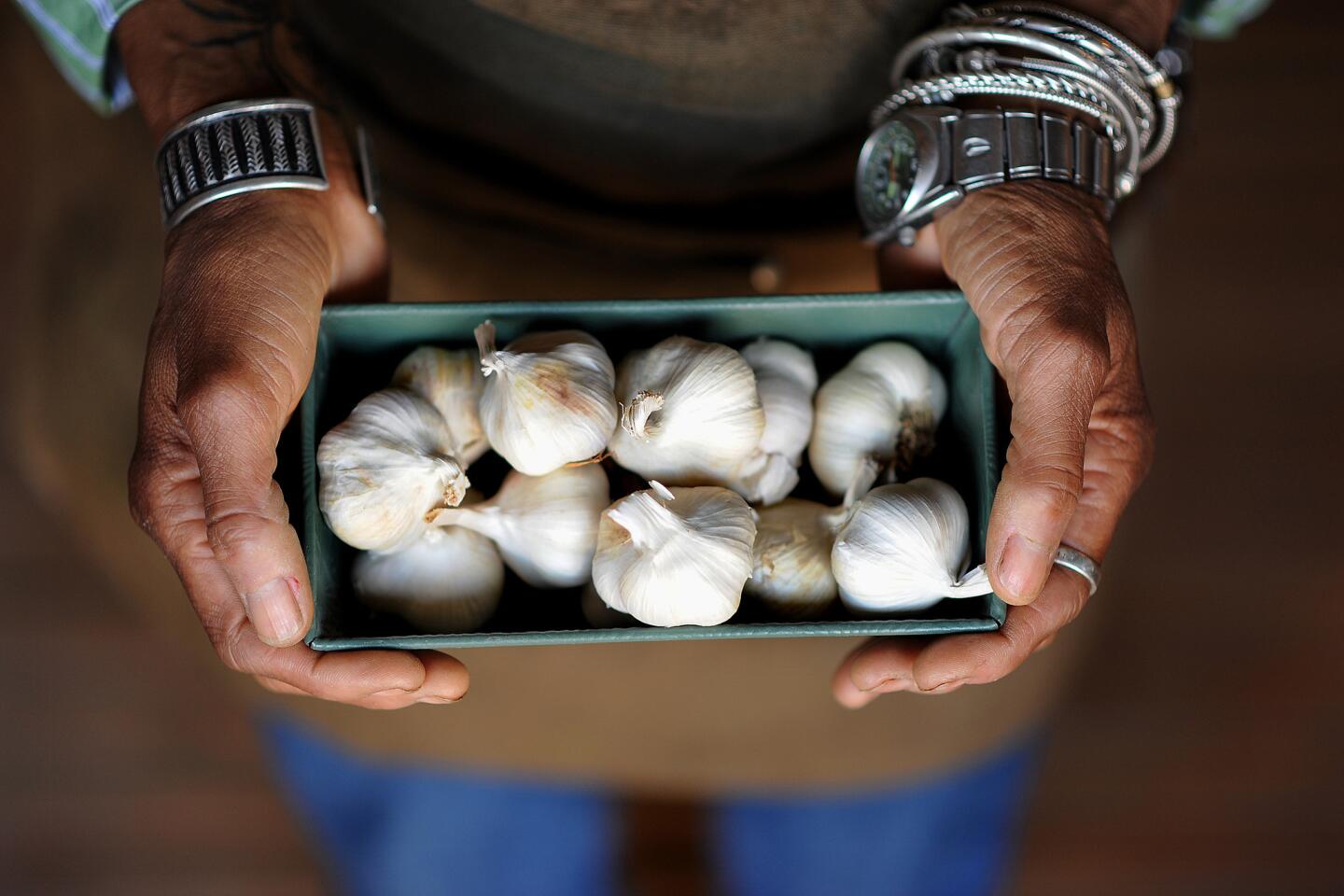 Garlic at Daily Organics, ready for the kitchen.
(Christina House / For The Times)
Carrots for sale at Daily Organics in South Los Angeles.
(Christina House / For The Times)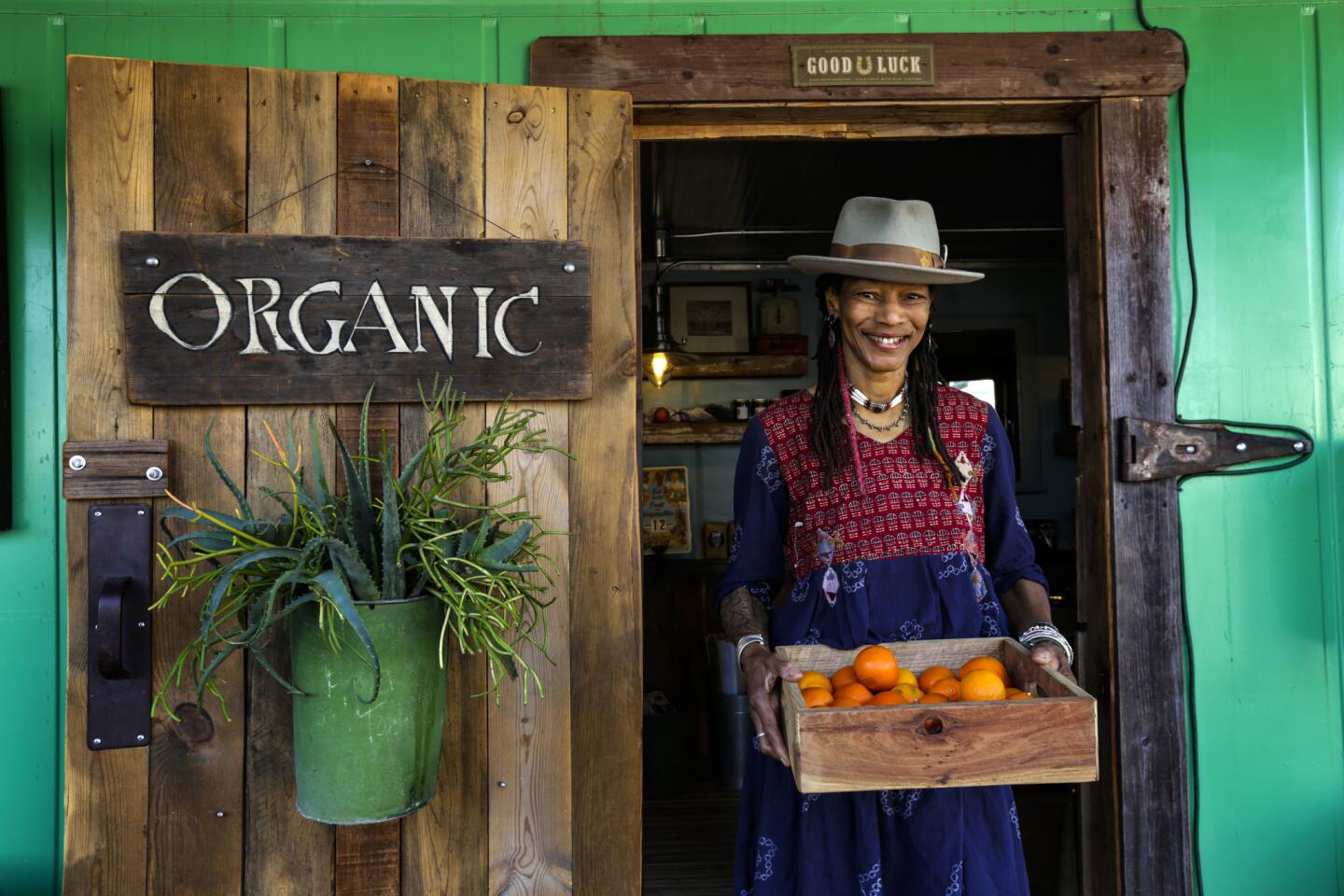 Renée Günter, who grew up in South Los Angeles, learned about food while modeling in Europe. These days she sells organic fruit and vegetables at Daily Organics, housed in a colorful former shipping container at the Shops at Adams Gateway.
(Irfan Khan / Los Angeles Times)
Renée Günter has traveled an unlikely path to become founder and owner of the fresh produce shop Daily Organics in South Los Angeles.
"I grew up with no food," says Günter, reflecting on her impoverished childhood in the area. "I'm that person who survived sometimes by eating out of a trash can. I stole [school] lunches because I was hungry."
Today she sells mostly local-farm-sourced fruits and vegetables out of a mint-green shipping container at the Shops at Adams Gateway, the new container village on Adams Boulevard near Fairfax Avenue. Open nine months now — Günter operated a mobile farm stand for two years prior to being at Adams Gateway — Daily Organics may be the only organic produce shop currently operating in South L.A., an area encompassing some 50 square miles.
It's also the latest shape-shifting moment in a varied life and career that began just a few blocks away. Günter, 63, was 6 years old when her mother died; she never knew her father and was raised by various family members and friends in Los Angeles until she moved to Europe in her 20s. Soon after arriving, Günter was spotted on the streets of London, an act of serendipity that led to a successful modeling career in France, Italy and Japan working for the likes of Balenciaga and Givenchy.
In Paris she was a model in Yves St. Laurent's personal atelier, where the designer draped fabric across her shoulders as his pugs scurried around their feet. At the time, Günter was one of just a handful of models of color working in Europe and Asia. Among the benefits to her was an exposure to high-quality food, something that has stayed with her ever since.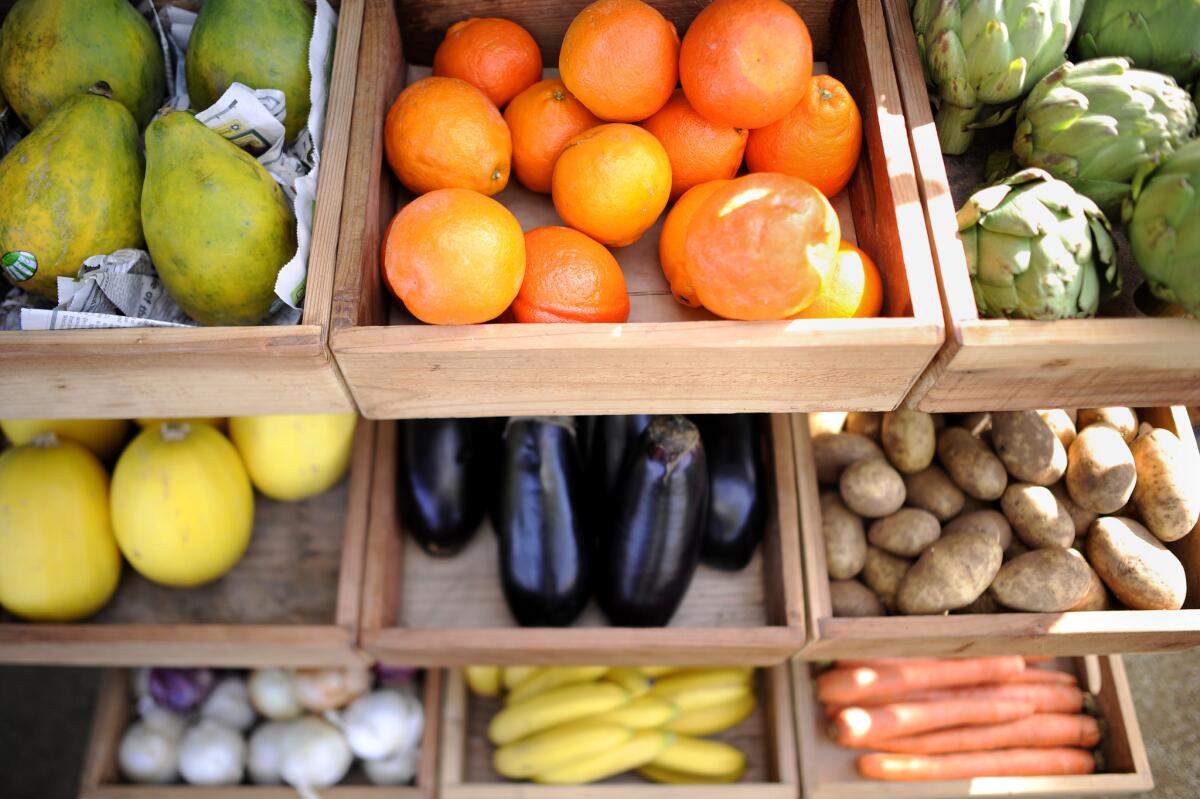 "I have such a respect for fine cuisine based on what I've experienced," she says. "My brother used to put sugar in milk just to make it taste different, because that's all we had."
After nearly a decade in Europe, Günter moved back to L.A., living in Studio City and Sherman Oaks, where she raised two children. (Her son is now a chef in Laguna Beach.) She continued to work in fashion, this time on the design side, and also as a landscape designer specializing in native, drought-resistant gardens. (Her own garden in West Adams has been certified as a wildlife habitat by the state.) But when she moved back to South Los Angeles in 2004, she realized something vital was missing there: options for more healthful food.
And then came her participation in Cornerstone Theater Company's 2012 production of "Seed: A Weird Act of Faith," a play about inner-city food inequities. Performing in Inglewood, it was an experience that hit close to home — and got Günter thinking.
"It seemed like malnutrition was in epidemic proportions in my neighborhood," she says, "and who was doing anything about it? I thought, 'Well, why don't you do something about it?'"
So in early 2013 she used the $300 in earnings from her performance as seed money to launch Daily Organics. On weekends over the next two years, she sold organic produce from her painstakingly restored 1962 Corvair Rampside truck, which she parked on a residential street corner in West Adams. On her first day in business, Günter gave away bushels of fruits and vegetables at no charge to passersby.
"People looked at me like I was crazy. I wanted to see what would happen when they tasted an orange that really tasted like an orange."
With a growing customer base, she was able to open her storefront two years later. From her container decorated in vintage farm stand bric-a-brac, Günter greets customers with handfuls of bok choy and ruffled kale, a recipe always at the ready.
On chalkboards hanging from the corrugated exterior walls, she offers haiku-like sets of simple cooking techniques. "Roasted, Sauté'd, Fried, Baked," goes one.
Equal parts epicure and community builder, Günter cultivates customer relationships with care, whether the shopper can easily afford her produce or must save all week to buy it. That propels her battle with state authorities for the right to accept EBT payments — the electronic system that replaced food stamps. Günter was denied the right to accept EBT because her then-curbside business was technically a mobile market.
But that didn't stop Günter, who recently added to her life résumé a black belt in the samurai martial art of kobudo. "Nobody tells me no," she says, adding that she has sent letters or made visits to nearly all of her political representatives, to whom she often brings fresh produce.
"I wanted to know why I wasn't able to accept EBT payments when the liquor store across the street and the fast food joints in my neighborhood could."
Now that Günter has a storefront — albeit in a shipping container — she is determined to get that right and to bring quality, healthful food to her community.
"I've had a really interesting, creative path — which I am so grateful for. So it's ironic that I end up in this little box, half a mile from where I lived when I was 6 and hungry. It's my way of saying, 'I'm OK now, let me feed you.'"
::
Daily Organics
Where: 5746 W. Adams Blvd., Los Angeles
Contact: (323) 250-9931, www.dailyorganicsla.com
Get our L.A. Goes Out newsletter, with the week's best events, to help you explore and experience our city.
You may occasionally receive promotional content from the Los Angeles Times.