Review: Is Spago relevant? Our critic talks through three (very different) recent meals
Restaurant Critic
This week our two restaurant critics jointly consider one of Los Angeles' dining behemoths and ask the question: Is Spago still relevant? This is Bill Addison's review. Find Patricia Escárcega's take here.
Weighing the context and evolution of our defining restaurants such as Spago is important. Also, for most of us, the primary question amounts to this: How's the food at this once-upon-a-time game-changer today? Consider three recent review meals at Spago, two of which Patricia Escárcega and I shared:
WELCOME TO SIBERIA
An elegant play of light delineates Spago's indoor and outdoor seating. In the main room, framed by a glassed-in kitchen manned by chefs in white, an enormous skylight pulls in and diffuses the Southern California rays. Milky sunshine eventually caramelizes into a chandelier's palm-sugar glow as evening falls. The space opens onto a brick patio where ivy inches down the walls; the retractable ceiling makes this an enclave for power players, regardless of the weather. Tiny stringed bulbs glitter on olive trees come nighttime.
Right at the cusp between inside and outside sits an undesirable row of low tables with stubby, awkward chairs. This is where a staffer leads us for our first meal. Over the next hour, we watch couple after couple reject sitting in this area, until the restaurant is so full they have no other choice. I'm delighted, though: We'd likely slipped in undetected.
I've had dinner at Spago a few times over the years; I'm soon sad this is Patricia's first impression. The purgatorial seating has a psychological effect on the service. They forget us often. A sommelier muddles through an unenthusiastic conversation about half-bottles of Rieslings. Dishes arrive in an uneven cadence during our meal: short-long-long-short.
Brilliant cooking can blot out most any shortcomings in atmosphere or hospitality. Unfortunately, only two dishes — our first and last — really transmit any electricity. The famous smoked salmon pizza isn't listed on the menu but is always available on request. Puck's long-ago reimagining of lox and bagels — the smoky crust spread with herbed crème fraîche, overlaid with house-cured Alaska salmon and dotted with salmon roe — can still kick off the meal with charm. Designer pizza forever.
Pastry chef Della Gossett channels Puck's Austrian heritage into kardinal schnitte, a cathedral of a dessert built of rich sponge cake beams, meringue turrets and layers of custardy strawberry-white chocolate crème, all glorified by the ripest Harry's Berries strawberries. This dessert for two is $36 for thick twin slices, but its magnificence merits the indulgence, and there's so much of it you can eat it in a happy daydream for breakfast.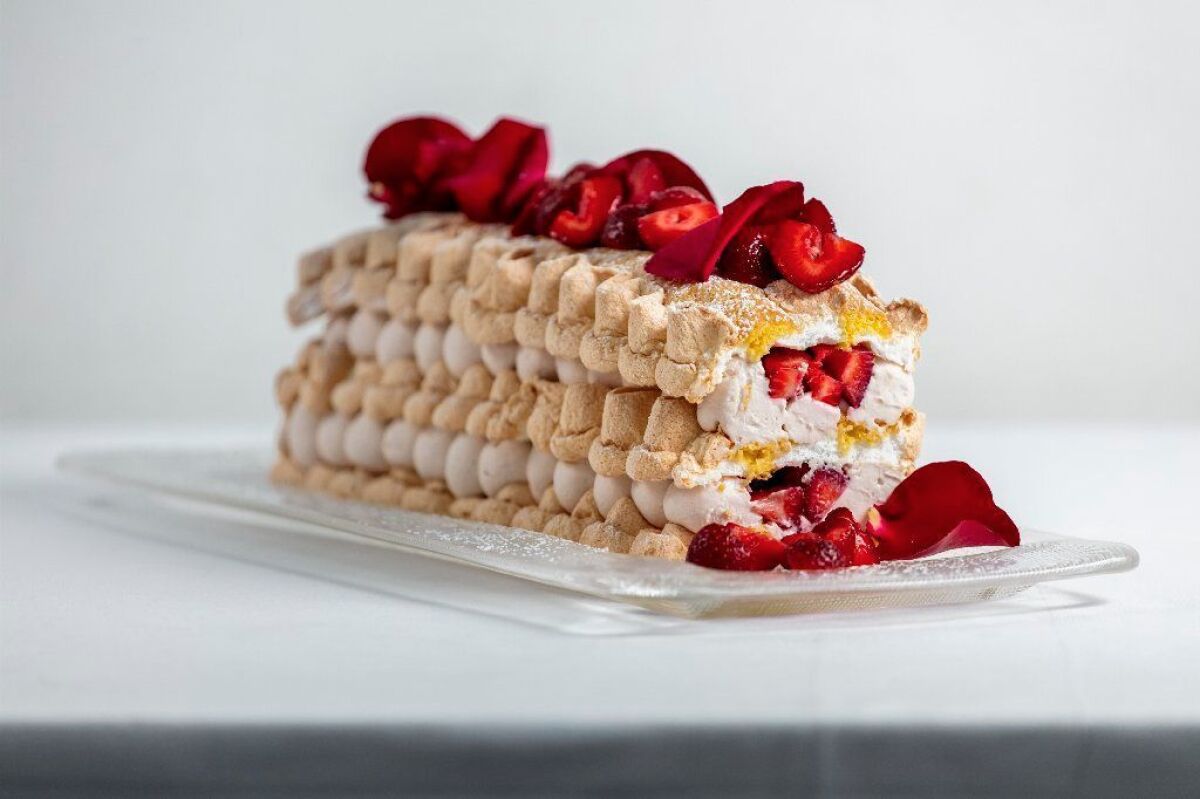 The rest of the meal? Fine to underwhelming. Endive salad with date purée, feta and pine nuts; roasted turbot with morels; miso-mustard glazed asparagus with shrimp crackers; agnolotti with English peas, mascarpone and Parmesan: It all encapsulates the cherry-picking of Italian, French, Japanese and Chinese ingredients and techniques that synthesize into Puck's philosophy of California cuisine. But the worldview isn't moving forward on the plate; it's stagnating.
The kitchen outright botches the Wiener schnitzel, another off-the-menu Puck signature. The breaded cutlet comes out dry, underseasoned, lifeless. The fingerling potato salad and marinated cucumbers on the side taste flat. That is a discouraging plate of food for $49.
LIFE IN THE PARTY
Two weeks later, minutes before the early reservation for our second meal, I run into Patricia on the street a block away from Spago. We've just had the same experience: The restaurant's valet staff ignored us when we pulled up — long enough that we both drove away to find street parking. A blip, sure, but every interaction sets the tone of hospitality.
Ah, at least we land in the dining room proper tonight. Laura Linney settles in a couple of tables down. Our server paces the meal beautifully. It's a Friday night. The din rises with the percussion of plates and silverware and with voices full of exclamation points.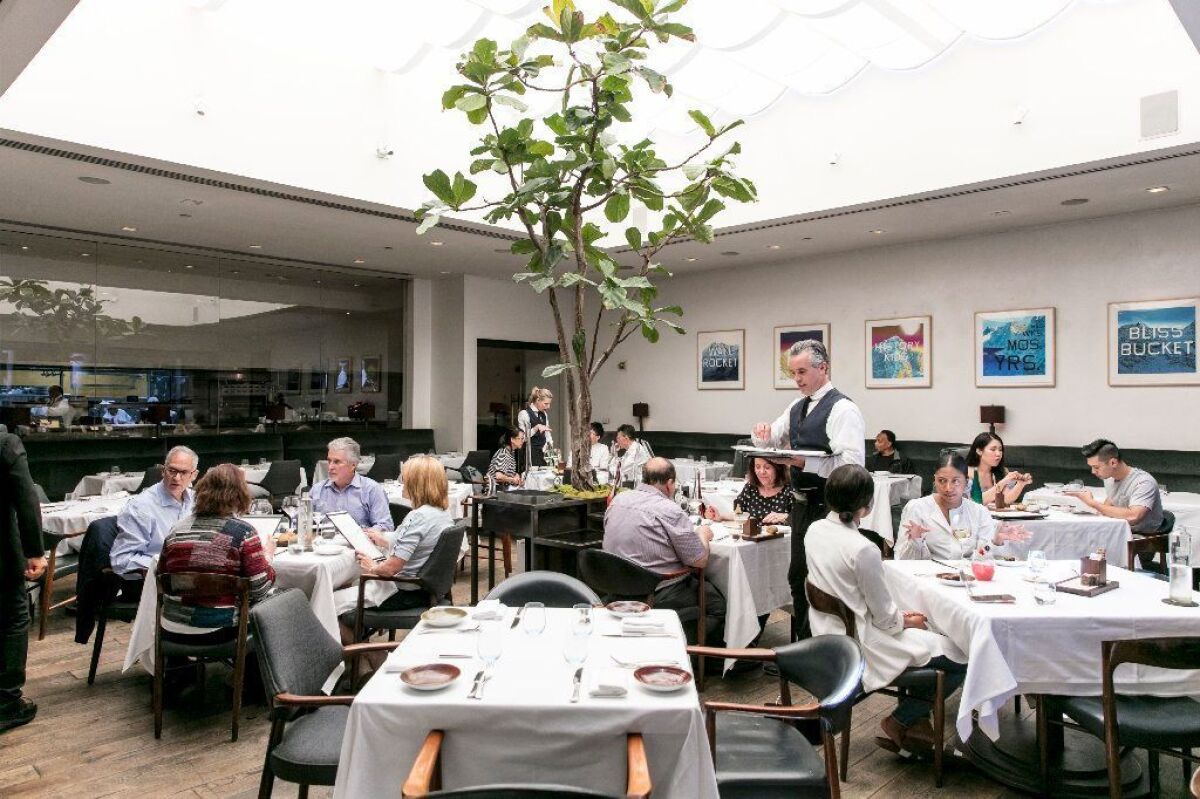 Veering far from the script of Spago classics, we enjoy our most compelling dinner here this night. Executive chef Tetsu Yahagi and his team show off their command with offal. Calf's brain tempura aces its crisp-creamy textural contrasts, with thinly sliced bamboo shoots reinforcing the crunch and a healthy shot of lemon perking up the flavors. Signs of spring surround veal sweetbreads sautéed to a precise snap: fava beans, pea tendrils and rhubarb compote flavored with only enough port to tease out the sweet-bitter elements.
These skillful feats of daring don't last long on the menu — maybe no one orders them? — but I'm happy to have caught their fleeting moment, to know some ways the kitchen can reach and triumph.
We order one Spago standard: sautéed black bass flourished with the trick of ladling boiling oil over the skin. It makes the scales crackle and stand vertical. Currently the kitchen encircles the fish with lobster, cucumber and sauce Americaine, a standard of the French repertoire made from fish stock, tomatoes, white wine and butter.
The combination is a deliberate glance backward. When Puck opened Spago with Barbara Lazaroff in 1982, it hastened stuffy Continental dining's undoing. These flavors have a modern lightness, and Continental-French cooking is having a resurgent moment across America, but to see the restaurant that helped spur a culinary revolution serve a dish, without irony, that summons the traditions Puck once rebelled against is a real trip. Truly, everything is cyclical.
ROCK STARS
All in on a Spago finale: a smoked salmon pizza to start, requested with caviar rather than salmon roe as it's depicted in all the promo shots (that's a $59 upcharge on a $28 pie); two tasting menus, with one wine pairing; and two extra, irresistibly summery-sounding desserts from the regular menu.
The server who seemed indifferent to us when we sat down suddenly lights up. "You ordered like rock stars!" he says before gliding away. My friend visiting from out of town rolls her eyes.
Caviar dappled on the pizza doesn't much alter its essential pleasures, it turns out. The tasting menu includes starter bites: spicy tuna tartare in tuile cones, often a gift handed to Spago VIPs (it's my first time trying them; they lean sweet but they're fun), an herbed blini with more smoked salmon, a charming savory marshmallow flavored with Parmesan.
The courses begin in earnest with chawanmushi (Japanese egg custard) cooked in an egg shell. The menu notes its crown of "buttermilk espuma," a throwback to the modernist moment when foam covered all the dishes in the land. A food runner arrives and mumbles a description. "Wait, what kind of espuma on top?" I ask. "Wild mushroom," he says. My friend stops her first bite midair.
We'd told our server pointedly that my friend is very allergic to mushrooms. The server comes over, sees what's happened, whispers a four-letter word, tells us he told the kitchen and removes the dish. Yahagi comes out moments later with a beautiful plate of fluke sashimi and apologizes, telling us the kitchen never heard about the allergy. No one wants to take ownership of the mistake, though the restaurant did comp a dessert for us.
The rest of the meal has its capstones (charred octopus in a taut habanero-coconut aguachile, served in a halved coconut with sweet meat still lining the shell; white corn agnolotti) and its disappointments (an empanada with an overly gloppy filling that overpowered Dungeness crab; squab over an imbalanced mole negro). The wine pairing, mixing and matching varietals from Burgundy to Rioja to Oregon's Rogue Valley, is a highlight. But in the quiet moments between courses I think about other special-occasion splurges around town where I'd rather find myself that night.
And then I look over and notice the contented couple next to us. They chat familiarly with the staff. They're both having the schnitzel. Spago will always have its audience. And while I will forever think fondly of that strawberry kardinal schnitte, I realize that I will never be one of its regulars. That's fine. The beauty of Los Angeles is that, nowadays, no single culinary icon feels like the center of our dining universe.
Spago
Wolfgang Puck's flagship pioneered casual fine dining in Los Angeles. But is the restaurant still relevant?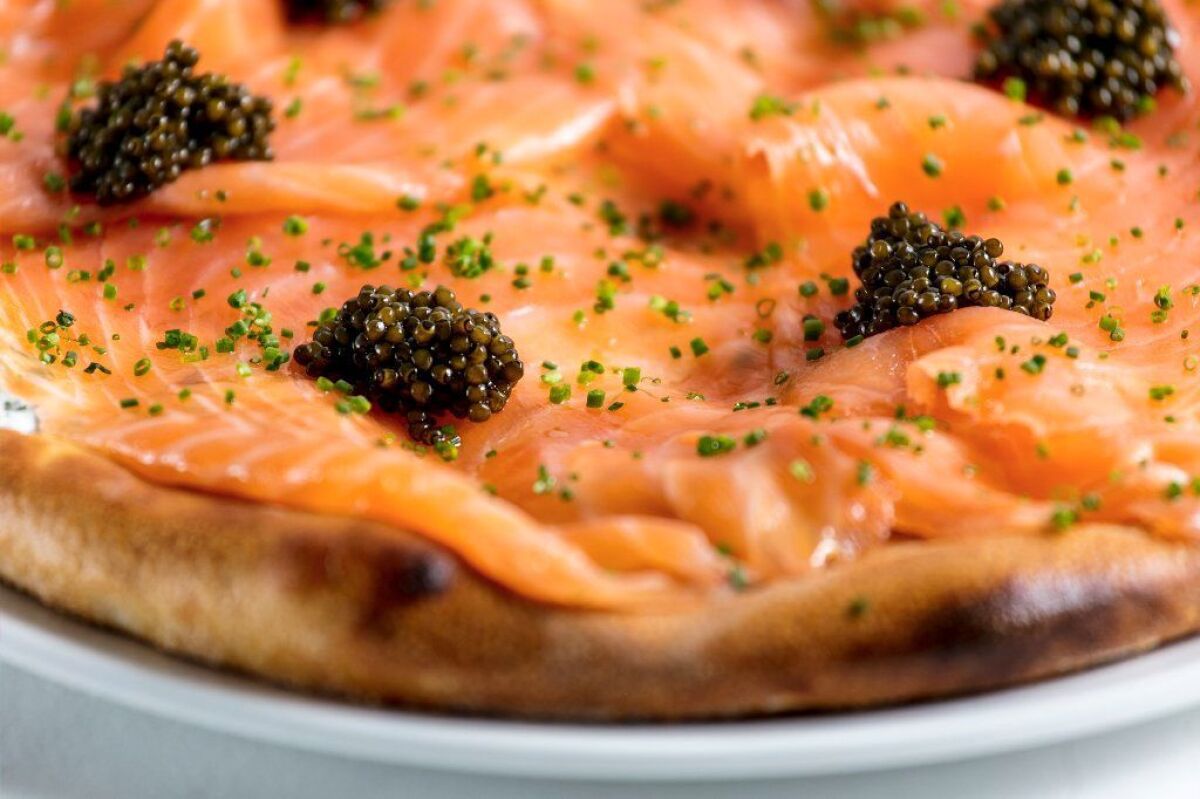 LOCATION
176 N. Canon Drive, Beverly Hills, (310) 385-0880, wolfgangpuck.com/dining/spago
PRICES
Starters $19-$59; pastas $21-$48; entrees $39-$165; sides $14
DETAILS
Credit cards accepted. Full bar. Valet parking. Dining room and restroom are wheelchair-accessible.
RECOMMENDED DISHES
Smoked salmon pizza; aguachile-style octopus; agnolotti; strawberry kardinal schnitte
Instagram: @bill_addison
Twitter: @billaddison
---
Get our L.A. Goes Out newsletter, with the week's best events, to help you explore and experience our city.
You may occasionally receive promotional content from the Los Angeles Times.