Review: Spago at middle age: Is Wolfgang Puck's flagship restaurant still relevant?
Restaurant Critic
This week our two restaurant critics jointly consider one of Los Angeles' dining behemoths and ask the question: Is Spago still relevant? This is Patricia Escárcega's review. Find Bill Addison's take here.
As armchair statisticians like to remind us, the lifespan of the average restaurant is painfully short. It makes a certain amount of sense that older restaurants, heralded for their longevity, are entombed in the language of deference and age ⁠— they are "classics," "landmarks," sometimes even "icons."
Spago, Wolfgang Puck's temple to casually elegant dining, is the rare restaurant that can make a fair claim to all three titles. At 37 years old, it is a middle-aged colossus with name recognition around the world.
Its legacy is manifold: Puck's stardom, and the successful branding of his name and image, pioneered the trajectory of the modern-day celebrity chef. Spago's dining room, more amiable than fussy — the original Spago in West Hollywood was an overnight sensation with a casually cool dining room (those white wire-basket chairs!) — nudged the dining world toward a more democratic model of service. The kitchen distinguished itself with an eccentric yet glamorous menu of clever finger foods, fusiony Asian-inspired dishes and Continental classics reworked with the freshest California-grown ingredients.
On the menu in those early days: duck sausage pizza; "Chinese style" duck breast with shiitake mushrooms and scallions; and marinated tuna with avocado, kaiware and red onions. Nothing cost more than $15. The local papers called it "California cuisine."
The flagship Spago was relocated to its current Beverly Hills address in 1997; in 2012, both the dining room and menu underwent an extensive redesign. Since then, the menu has followed an Italian-style format of antipasti, pasta and entrees (a multicourse "California tasting menu" is also available and remains a popular option). The kitchen still hinges on a familiar yet compelling formula: refined French and Japanese technique fused with a California obsession for seasonality.
In early June, on the cusp of summer, Spago's menu is flush with the buttery sweetness of first-of-the-season white corn. The handmade agnolotti that was served over a velvety puree of sweet English peas back in April now is enrobed in a breathtakingly rich corn, Parmesan and mascarpone sauce. The excellent brigand's hat pasta, strewn with meaty honeycombs of wild morel mushrooms and withered ramps in springtime, turns into a more keenly aromatic dish by June: now it's chanterelle mushrooms lathered in basil-intensive butter. At Spago, you can track the seasons through a bowl of soup.
Review: Seek out Sri Lankan hoppers and fish curry at Apey Kade in Tarzana »
Spago today lands squarely in the golden mean of upscale dining: modern but not exactly modernist; elegant but not stuffy; stimulating but rarely thrilling. This is most obvious on the menu of rotating entrees. You probably will be content with the grilled prime New York strip, reliably well-cooked and served with a crisp, fatty bacon-potato lozenge that tastes like the most ludicrously fatty ham and cheese sandwich fathomable. Steamed Virginia bass, marinated lightly in soy, is pleasantly fleshy and moist. The pan-roasted Jidori chicken is reliably excellent: gorgeously crisp-skinned and padded lightly with a thin, creamy layer of goat cheese.
Dinner is most compelling when the menu meanders away from the expensive prime cuts and familiar sides of polenta and blistered shishito peppers. There is, for example, an aguachile-style octopus served in a young coconut, sumptuously tender and bracingly tart. Crispy tempura calf's brain — crispy, creamy, with a sharp hit of citrus — is as snacky as potato chips. Versions of the whole, roasted Cantonese duck have bounced on and off the menu for years, and the bird is still a marvel of texture: Its sweet-sticky exterior, baroquely crisp, yields beautifully to rich, moist flesh.
Spago has an aptitude for keeping up with the times but smartly keeps one foot in the past. You can still request popular off-menu staples like the house-smoked salmon pizza with crème fraîche (a dish that helped turn "gourmet" into an appropriate modifier for pizza) and Puck's signature Wiener schnitzel. But if these dishes invoke nostalgia, it is a nostalgia available only to certain diners — those for whom Spago holds personal memory and meaning.
Review: The Farmhouse at Roger's Gardens suffers from convoluted cooking »
There's a bigger question I've been circling since I first ate at Spago earlier this year: Who is this restaurant for? I did not grow up eating at Spago, and so for many years the version of it that lived in my imagination was one culled from tabloids, movies and the fiction of Bret Easton Ellis: Spago as a hothouse of celebrity and excess, a home away from home for the sons of Beverly Hills, killing time in their Ray-Bans and popped collars over expensive salads. Whether that was half-true or half-caricature, it added up to the same conclusion: This was not a restaurant meant for me.
Who does Spago belong to in 2019? On a recent Friday night, the dining room belonged to the family celebrating the newly minted UCLA graduate wearing his blue mortarboard at the table and to the throngs of sport-jacketed men drinking gin and tonics at the bar. For more than two hours, it belonged to a group of well-coiffed tourists occupying the prime corner booth, documenting every morsel of their multicourse tasting menu with shiny iPhones. Spago today, on a Friday night, feels like a one-size-fits-all special-occasion restaurant, where "special occasion" might intimate a whole spectrum of desires: the desire to celebrate a major achievement or fill your Instagram with crisp photos of beautiful-looking food.
Those seeking more than the satisfaction of checking off the restaurant from their dining bucket list may be disappointed. Long hailed as less fussy and more democratic than its peers, Spago can be icy and frantic in ways more closely aligned with a tourist attraction than a well-worn local restaurant. Service is not always commensurate with the high cost of admission. The chaos of the valet station on Canon Drive may force you to circle the block, hunting for a rare free spot. Dinner can be sullied by absentmindedness and poor pacing: On one occasion, my server disappeared mid-dinner. Dishes plodded out irregularly for the rest of the night; bread service arrived closer to the end of the meal than the beginning. The spell of Spago can quickly be broken.
In a city where the most interesting cooking often happens in sweltering food trucks, strip mall kitchens and backyard pop-ups, Spago is no longer innovating. You will not come here to explore the city's most vital flavors and personalities. But Spago rests comfortably on a bedrock of accomplished cooking, legacy status and nostalgia. And for a certain segment of Angelenos, no amount of airy discussion will change the fact that it still feels like home.
Spago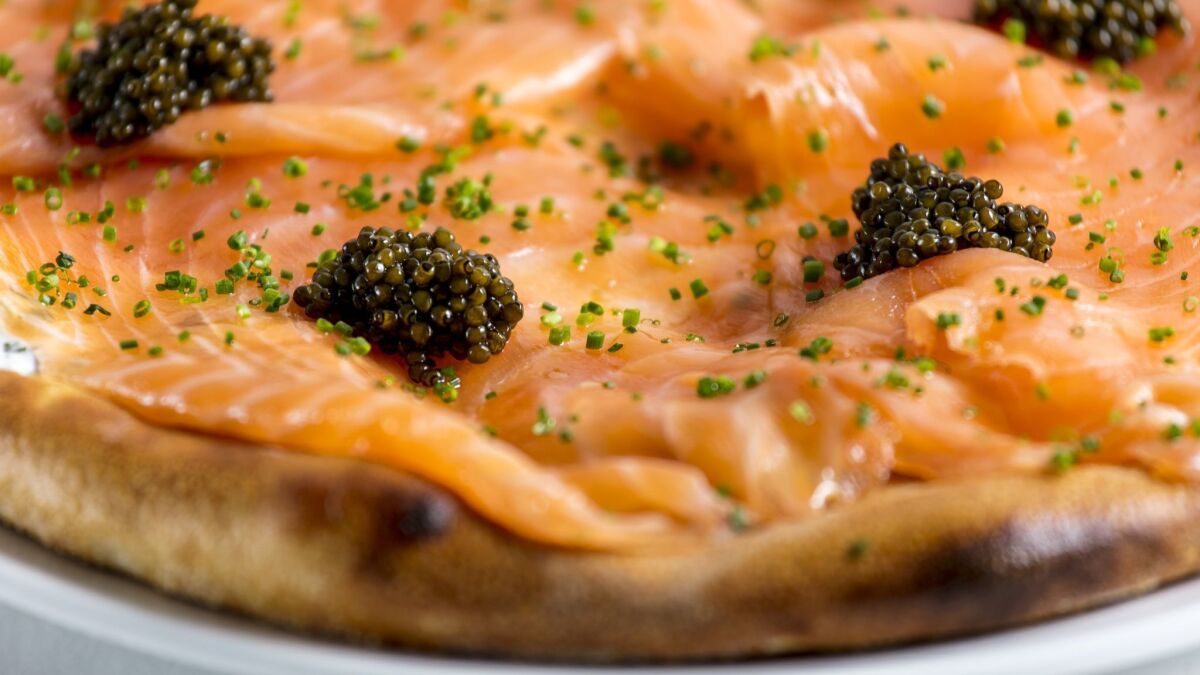 Wolfgang Puck's flagship pioneered casual fine dining in Los Angeles. But is the restaurant still relevant?
LOCATION
176 N. Canon Drive, Beverly Hills, (310) 385-0880, wolfgangpuck.com/dining/spago
PRICES
Starters $19-$59; pastas $21-$48; entrees $39-$165; sides $14
DETAILS
Credit cards accepted. Full bar. Valet parking. Dining room and restroom are wheelchair-accessible.
RECOMMENDED DISHES
Smoked salmon pizza; aguachile-style octopus; agnolotti; pan-roasted Jidori chicken
patricia.escarcega@latimes.com
Twitter: @piescarcega
bill.addison@latimes.com
Twitter: @BillAddison
---
Get our weekly Tasting Notes newsletter for reviews, news and more.
You may occasionally receive promotional content from the Los Angeles Times.