A beginner's guide to taco trucks
Food Columnist
There are few things that better represent the greatness of Los Angeles and our love of constant movement than the taco truck, sometimes called a lonchera (lunchbox), a name that encompasses food trucks of all kinds.
Taco trucks dot the Los Angeles cityscape — there are over 3,000 licensed food trucks and carts roaming the streets. But many people don't venture beyond a truck's signature item. Sticking just to carne asada tacos, for example, while satisfying, can limit your experience.
Here is a far-from-complete but good general overview of what one could expect to find at a typical taco truck.
Tacos
Tacos are as perfect a food you'll find on this earth. Most tacos from a workaday truck are soft corn tortillas, a little bigger than a coaster, wrapped around whatever you wish — usually meat. Two tortillas are the norm for an L.A. streetside taco. But there are numerous variations you can encounter:
Tacos dorados are deep fried, giving the outer shell a satisfying crunch. The vegetables are placed on the outside of the taco — the inside is usually meat-only. The fried shrimp tacos from Mariscos Jalisco are some of the most famous tacos dorados in the city.
Tacos árabes (literally "Arab tacos") come from the city of Puebla, where immigrants from the Middle East adapted their cooking practices — specifically spit-roasting meat and baking pitas — to create a new style of taco. The juicy, marinated pork is cut from a rotating spit and served on pan árabe, a thin, pita-like bread, instead of a tortilla and served with a red, chipotle-powered salsa. Check out Los Originales Tacos Árabes de Puebla on East Olympic Boulevard to get your fix.
Tacos estilo Tijuana are usually served with a smear of guacamole and wrapped in a thin piece of parchment paper, used to pinch the taco closed. Tacos de adobada are Tijuana's version of tacos al pastor — marinated, seasoned pork that's sometimes treated with achiote paste to give it a vivid red color. A classic taco al pastor can be found at Tacos Tamix or Leo's Tacos.
While not really truck fare, if you grew up in Los Angeles, you likely at some point ate a crunchy hard-shell taco at Tito's Tacos. A distinctly American invention that Taco Bell would eventually make famous worldwide, hard-shell tacos are topped with cool shredded cheese and iceberg lettuce.
A classic Mexican street treat, tacos de canasta are traditionally layered in a big basket and sold from vendors on bikes. Also known as tacos al vapor or tacos sudados, these tacos are steamed. Fillings and toppings can vary.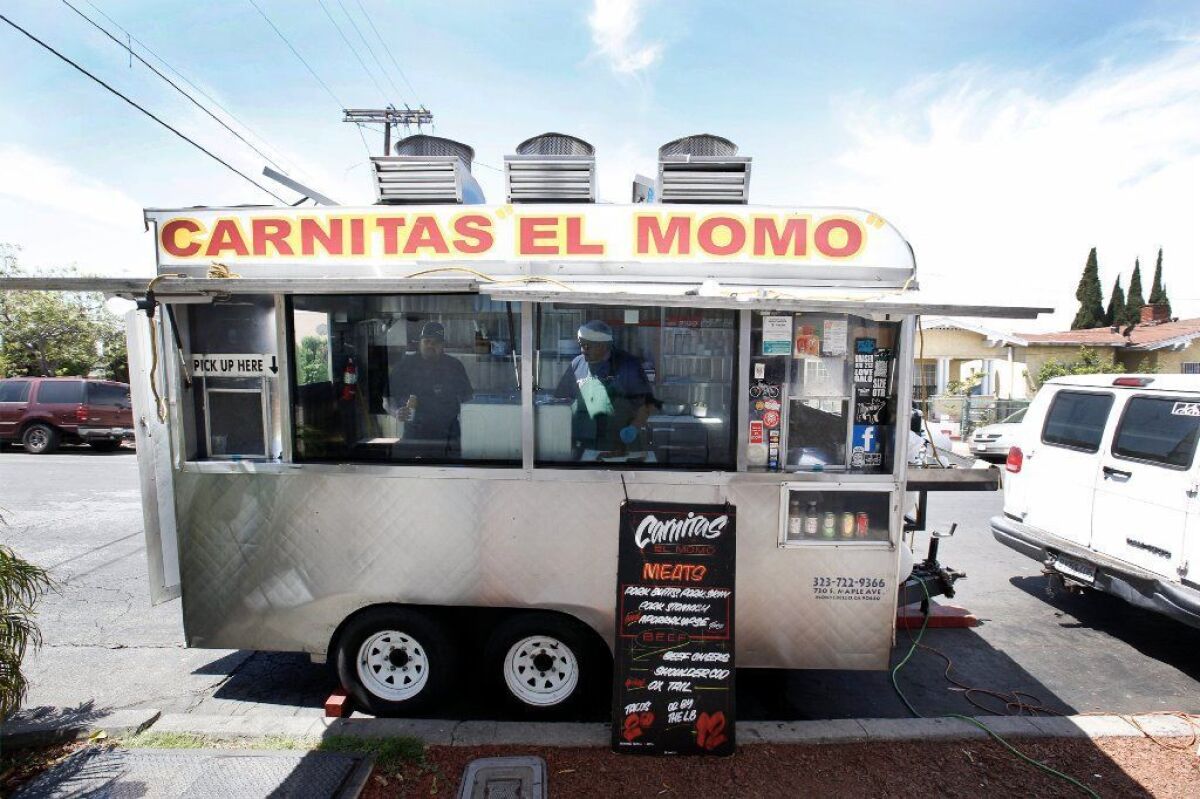 Burritos
The burrito consists of a large flour tortilla that completely encases its fillings. Popular in areas of northern Mexico and everywhere in the United States, burritos usually contain meat and beans (for purists) but can incorporate rice, cheese, sour cream and various condiments. For Northern Californians in particular, where burrito decency conspicuously lacks, there's apparently no limit to what you can stuff into a flour tortilla.
Tostadas and vampiros
A tostada is the crisp, open-faced sister of the taco; the tortilla is fried and golden and piled with toppings: meat, cheese, shredded lettuce, sour cream. The fragile tostada is prone to breakage, and beans are commonly smeared on the tortilla to prevent the toppings from tumbling off.
While tostadas are created with pre-made crunchy tortillas, the tortilla of a vampiro is grilled to order. Buckling sinisterly on the plancha, the tortilla is first covered in melted cheese before loaded up with other toppings — an effective way of preventing the tortilla from shattering, as frequently happens with tostadas.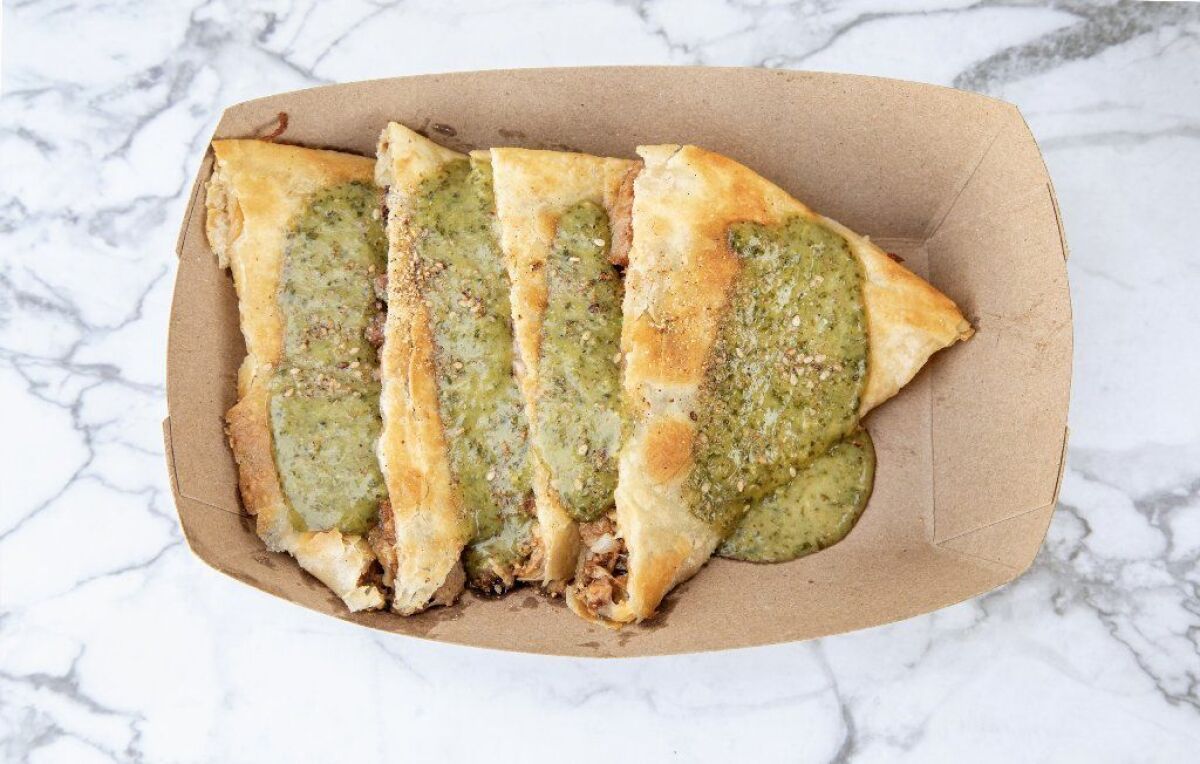 Quesadilla
A quesadilla is a tortilla filled with gooey melted cheese and, optionally, meat and vegetables. Quesadillas can be made with flour or corn tortillas. Tortillas can be stacked, one on top of the other, or a larger tortilla and its fillings can be cooked open-faced, then folded in half.
Mulitas
A mulita is a cheesy, meaty sandwich — smaller than a typical quesadilla, and almost always including protein. Two corn tortillas, stacked one on top of the other, act as bookends to the delicious insides.
Nachos
You can thank Ignacio Anaya and the border town of Piedras Negras, Mexico, the next time you sit down with a plate of nachos. Conventional wisdom is that in 1943, forced to improvise an appetizer one evening, Anaya covered a batch of tortilla chips with cheese and slices of jalapeño. A few minutes in the oven later, nachos were born.
Sopes, picaditas, huaraches, gorditas
These belong roughly in the same family — masa that has been shaped and pinched by hand and married to cheese, meat and vegetable toppings. The thickness and shape of the masa ranges and there are endless regional variations, but in general: sopes are smallish, with crimped edges like a little tart; picaditas are essentially the same, but from the state of Guerrero; huaraches are named after sandals and are oblong like their namesake; gorditas are hot little corn pockets stuffed with different fillings.
Torta
A torta is a sandwich. Frequently served on a crusty, white telera or bolillo roll, there are as many torta variations as galaxies in the universe, from the Pueblan cemita poblana (distinguished by the inclusion of the divisive herb pápalo) to the salsa-drenched Guadalajaran torta ahogada to the delectable, unholy monstrosity of the multi-meat 20-car pile-up of the torta cubana. The Super Tortas D.F. trailer specializes in massive tortas of all shapes and sizes.
Alambres
While alambre technically means "wire," referring in this case to a metal skewer on which meat and vegetables are cooked (or possibly how strings of cheese resemble a tangled mess), there's no real requirement that alambres require any skewer- or shish kebab-like cooking. It can be thought of as a catch-all term for a pile of grilled meats, veggies and cheese, and is frequently served with tortillas.
Carnes
Carne Asada
The verb asar means to grill or roast. Carne asada is grilled, seasoned beef. Particularly well-known in northern parts of Mexico, it's a staple of almost every taco truck.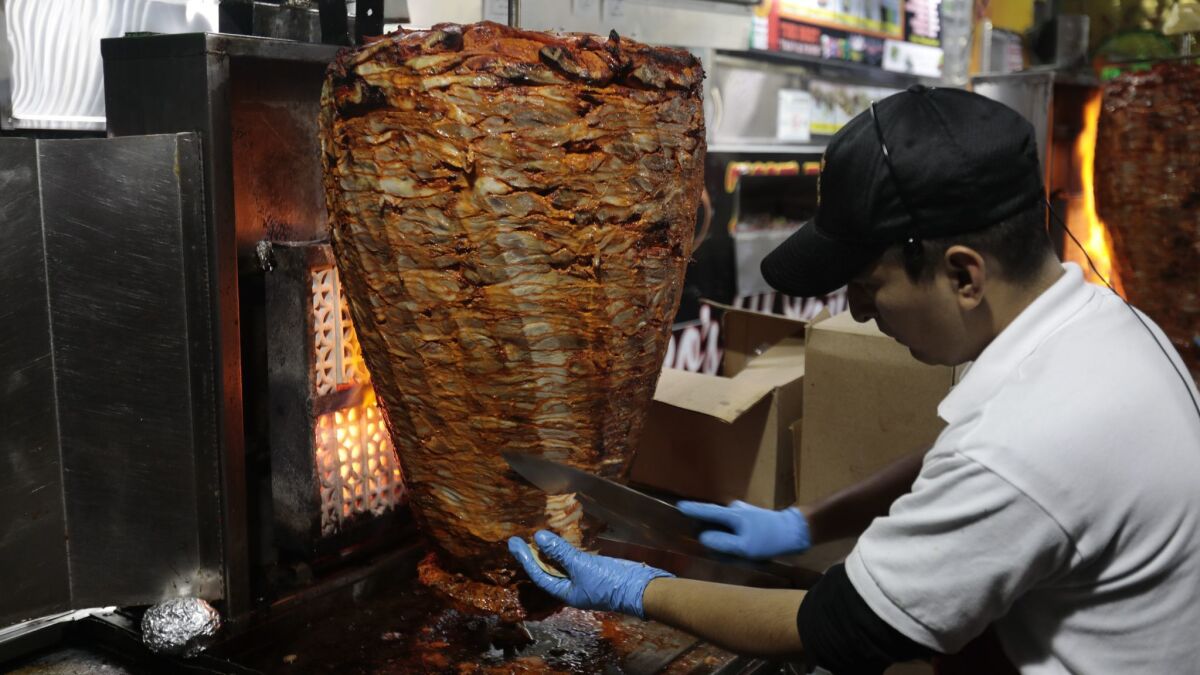 Pastor
Instantly recognizable from the spinning trompo, or vertical spit, tacos al pastor are made with pork marinated in bright red achiote paste, guajillo chiles and other spices. A sliver of pineapple commonly rests on top. In Baja California, you'll find tacos de adobada prepared in a similar style.
Carnitas
This classic Michoacanense preparation, which literally means "little meats," is pork that has been cooked long and slow in a bath of fat. It's often crisped/reheated on a griddle before it goes into your taco. The Carnitas El Momo trailer has taken pig preparation and elevated it to something truly special.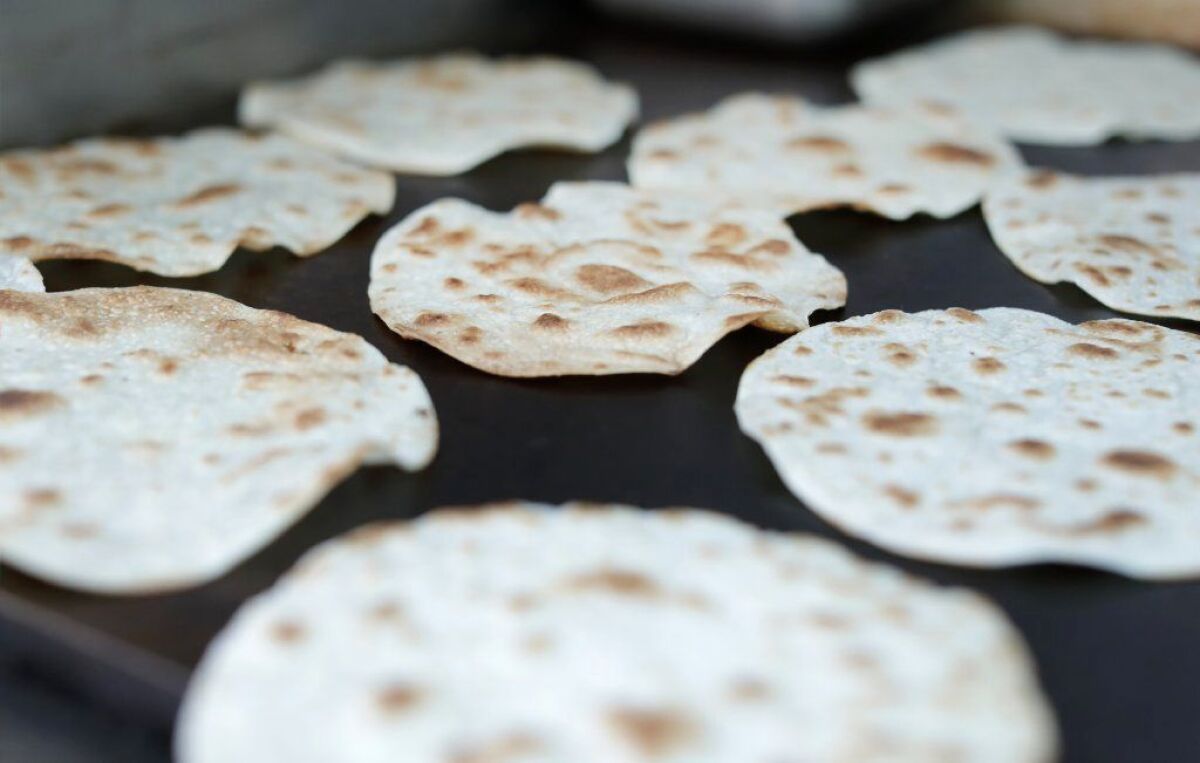 Pollo
Not many trucks are particularly known for their chicken tacos, but if you find a good one, hold onto it. You've found something special.
Buche
Chewy bits of pig stomach.
Trompa
Not to be confused with trompo, the rotating spit on which you'll find delicious marinated pork for tacos al pastor, tacos de trompa are filled with gelatinous, chopped pig snout.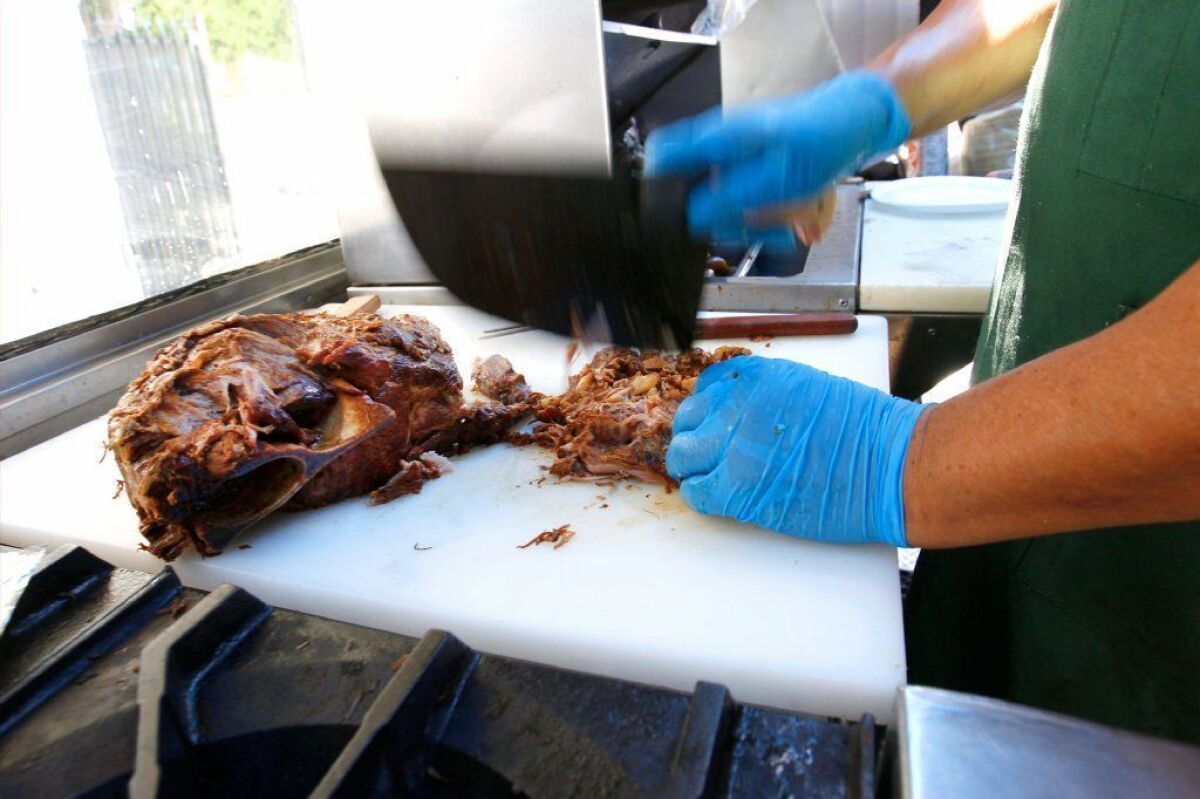 Cabeza
Cabeza tacos consist of meat from the head of a cow — aforementioned cranium is slowly roasted until the flavorful meat can be picked off. At places that specialize in cabeza, you can have your pick of the frontispiece — from labios to the silky-smooth ojos.
Chorizo
Mexican chorizo is a deeply spiced pork sausage flavored with chiles and vinegar. Check out the Chori-Man, with citywide pop-ups and a storefront in San Pedro, for chorizo of all sorts, including Zacatecano red and Tolucan green chorizos.
Tripas
Tripe, or beef intestine, may not be to everyone's liking, but are particularly nice when cooked to the point of being slightly crunchy on the edges, with a pleasing chew.
Birria
A spiced meat stew. Although it can technically be made from nearly any kind of meat, purists will contend that it must be made from goat or mutton. The tender, saucy meat is typically eaten with tortillas, and is frequently a special-occasion dish.
Beef is the meat en vogue for birria these days, and can be found in L.A. at places like Birrieria Gonzalez and Teddy's Red Tacos. A cup of salty, meaty consommé is often served alongside for dipping.
Barbacoa
Barbacoa refers to the pit-roasting of whole animals, which can include goat, sheep, and beef — think fire pit dug into the ground, and whole-day (or night) affair of cooking the meat until fall-off-the-bone tender.
Suadero
Meat from the underside of the cow, around where the belly meets the leg; it is usually fried confit-style in a massive flat-bottomed comal. Tacos de suadero are a true Mexico City specialty.
Lengua
Chunks of firm, flavorful beef tongue. Do not fear the tongue tacos, one of the most undeservedly avoided fillings in the taco pantheon.
Nopales
Cactus meat. If veggies are your thing, sink your teeth into a taco with bits of plump, slightly tart bits of the prickly pear cactus.
Guisados
Stewed meats. Guisados of all kinds — beef, chicken, cochinita pibil, chicharrón — can be used as taco fillings.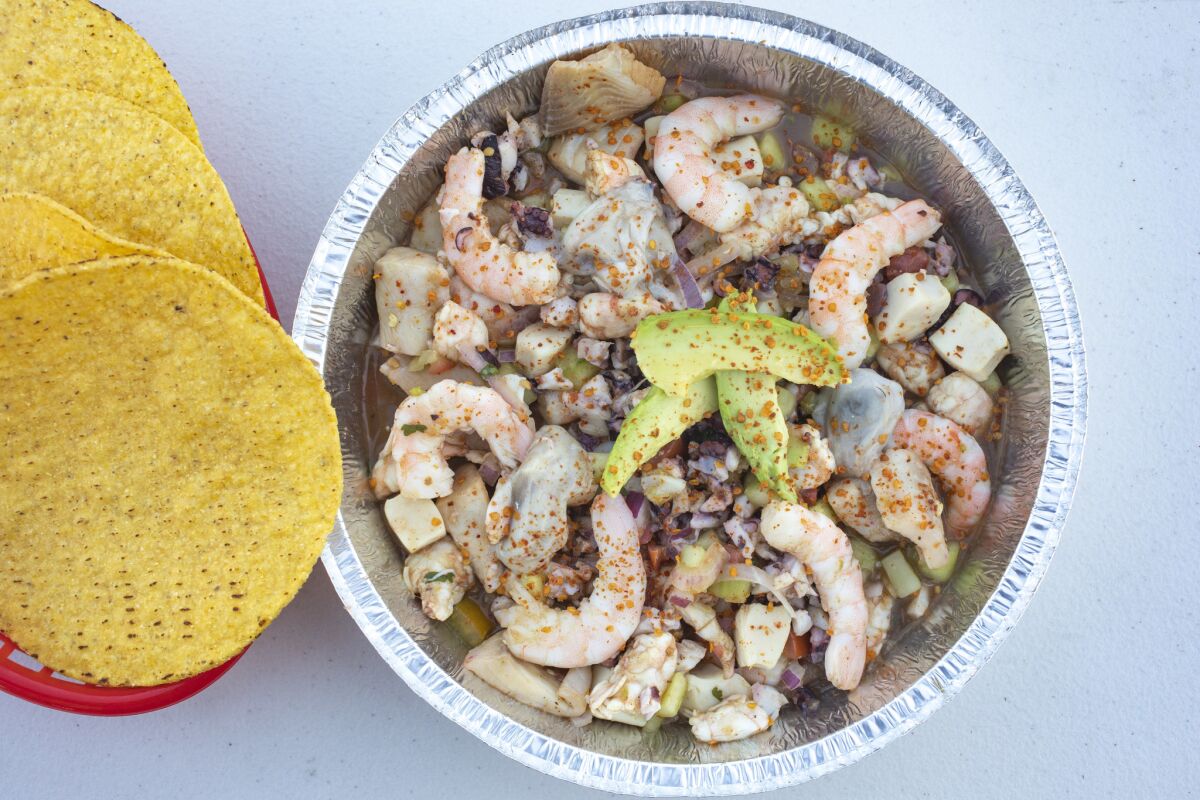 Mariscos and fish
Why should the pleasures of the taco be limited to terrestrial mammals? White fish battered and fried, Ensenada-style, is a classic taco filling as is smoked marlin or tuna (in both cases, the name "taco de marlin" is used). Searing aguachiles and tangy ceviches can be made with various combinations of shrimp, octopus, scallop, fish and other creatures of the sea. Mariscos Jalisco is the go-to, but Mariscos 4 Vientos, just down the street, is a viable alternative.
The fried fish tacos from the Ricky's Fish Tacos truck are excellent if you're lucky enough to catch the truck on its weekly rounds. As of this writing, it's frequently parked on Riverside Drive under the Hyperion Avenue bridge.
Campechano
You know when you were a kid and would go to the soda fountain and fill your cup with a little bit of Coke, a little Sprite, some Fanta, Dr. Pepper and anything else available? The taco equivalent is the campechano, a mixture of different meats (a typical combo would be carne asada and chorizo). Mix and match to your heart's desire.
Condiments
A good truck has plenty of condiments to accompany your purchase, including salsa verde (usually made with tomatillos) and salsa roja (made with red jitomate) and containers full of cilantro, diced onion, sliced limes and radishes.
Bebidas
Jarritos, Boing!, Topo Chico
Jarritos, a beloved brand of Mexican soda introduced in 1950, can be found at most good taco trucks. Flavors include strawberry, lime, tamarind and guava. Boing! is a brand of non-carbonated, thick and pulpy fruit juice. Topo Chico, from Monterrey, Mexico, is one of the best (and most bubbly) waters you'll come across.
Horchata
Most commonly consumed as rice milk, flavored with cinnamon and sweetened with sugar. Horchata can also be made from sesame seeds, calabash tree seeds and other plant products.
Aguas frescas
Literally "fresh waters" or "cool waters," these are drinks commonly made by blending fruit with water. Two common (and two of the best) flavors are jamaica (hibiscus) and maracuyá (passion fruit).
Taco truck tips
In the words of Jonathan Gold, "the taco honors the truck." But what truck to pick? Daniel Hernandez, editor of the website L.A. Taco, offers a few pieces of advice.
"In most cases, a good-sized, decent crowd is a sign of a good taqueria or lonchera," he says, "but sometimes there's a herd mentality."
Another is to follow your nose — is there a strong smell of grease or butane? That could be a negative sign.
Check the tortilla situation: If handmade is an option, go with that. Lastly, watch the cash box.
"Are they conscientious about who's handling food versus who's handling money?" Hernandez asks. If the person dispensing change immediately grabs a tortilla to make a taco, you might want to search elsewhere.
---
Get our L.A. Goes Out newsletter, with the week's best events, to help you explore and experience our city.
You may occasionally receive promotional content from the Los Angeles Times.