Niki Nakayama, Ludo Lefebvre and more will be at The Taste food festival this weekend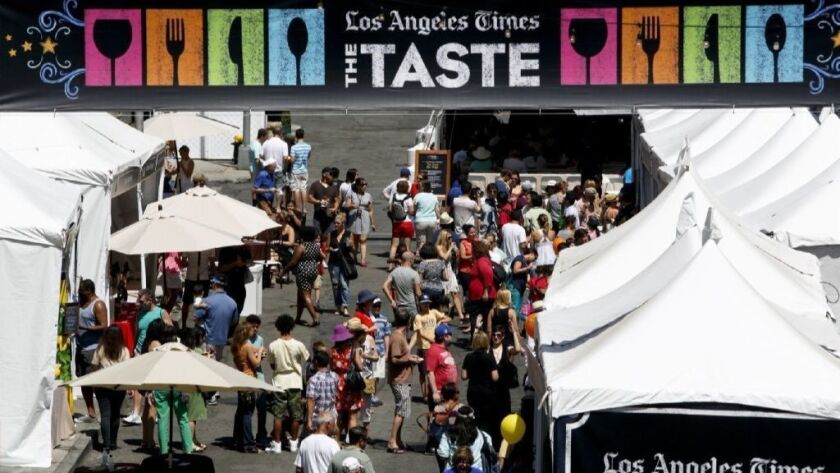 The Los Angeles Times' annual Taste food and drink festival kicks off Friday, with three full nights of unlimited bites and sips from some of the city's best restaurants.
The event takes place 7:30 to 10:30 p.m. Friday through Sunday on the Paramount Pictures lot. This year, there will also be special tributes in honor of late restaurant critic Jonathan Gold.
Attendees are encouraged to post on social media with the hashtag #TasteLA.
This year, the Taste will also be coming to Orange County for the first time. The OC event will be Oct. 19-21 at the Met in Costa Mesa.
Here are some highlights from this weekend's festival:
Ricardo Zarate of Rosaline and Jonathan Yao of Kato will co-host a cooking demonstration at 8:45 p.m., followed by a cooking demo at 9:45 p.m. by Ludo Lefebvre of Troic Mec and Petit Trois. And Cari Hah of Big Bar will teach attendees how to make the ultimate martini.
Participating restaurants include Coni' Seafood, Mexicali Taco & Co., Gus's World Famous Fried Chicken, Otium, Church & State, the Bellwether, Hinoki & the Bird, Michael's Santa Monica, Holbox and Chichen Itza.
Briana Valdez of Home State will do a Tex-Mex breakfast demonstration, followed by a BBQ demo by Burt Bakman of pop-up Trudy's Underground BBQ. There will also be an ice cream social featuring Adrienne Borlongan and Dana Borlongan of Wanderlust Creamery. Wes Hagen of J. Wilkes Winery and Ira Norof of Southern Glazer's Wine and Spirits will discuss 101 reasons to drink wine.
Participating restaurants that night include Szechuan Impression, Kali, Trois Mec, Mayura, Border Grill, Jaffa, Cento Pasta Bar, Prince of Venice food truck, Rappahannock Oyster Bar, Pacific Dining Car and Kasih.
Minh Phan of the newly opened Porridge + Puffs will be on stage giving a cooking demonstration at 8:15 p.m. There will also be demos from Sean Lowenthal of Little Beast, Charles Olalia of Rice Bar and Ma'am Sir, Jennifer Feltham and Teodoro Diaz-Rodriguez of Sonoratown, and Niki Nakayama and Carole Iida-Nakayama of n/naka. Kim Stodel of Providence will do a zero-waste cocktail demo.
Participating restaurants include Jitlada, Banh Oui, Meals by Genet, Lalibela, Luv2Eat Thai Bistro, Inko Nito, Kobee Factory, 71Above, Faith & Flower, Lao Tao, Manuela, Wolf, Guisados and Bulgarini Gelato.
Twitter: @byandreachang
Instagram: @byandreachang
---
Get our weekly Tasting Notes newsletter for reviews, news and more.
You may occasionally receive promotional content from the Los Angeles Times.