The Saturday Cook: A fresh take on spinach artichoke dip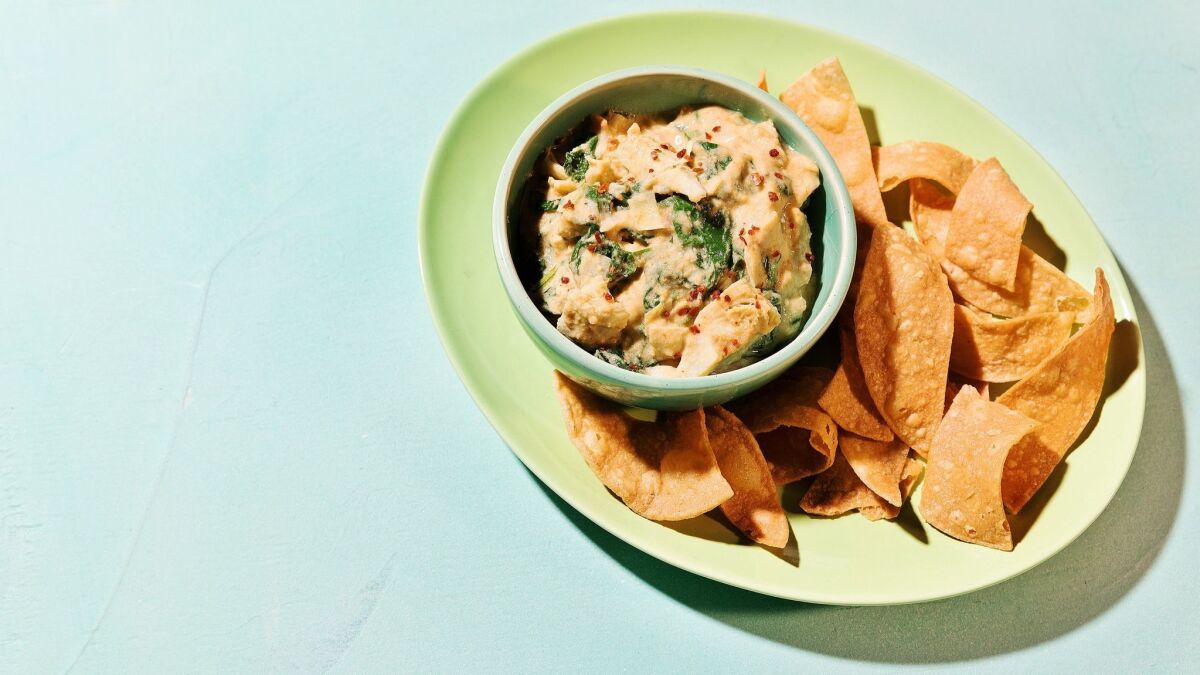 Spinach artichoke dip always wins. Everyone loves the bubbling cheese-topped, cream-cheese-filled classic, but it starts feeling a little heavy as the days get warmer. And it's not the best option for folks who can't handle dairy or as the starter to a big feast since it's so filing. Enter this creamy — creamless! — dip.
Artichokes stay married to spinach, but they mingle in a lemony blend of Marcona almonds. These almonds from Spain contain more fat than their California cousins and have a deeper richness that bears a faint resemblance to cheese. It doesn't hurt that you commonly find them roasted in olive oil and showered in salt. When they're blended until smooth, they take on a velvety texture ideal for cradling garlicky sautéed spinach and artichokes.
This time of year, it's easy to find fresh artichokes and just a touch harder to prepare their hearts for this dip. But jarred or canned ones packed in water work fine if you're in a hurry or just don't want to bother. Whether fresh-cooked or canned, the artichokes become the star of this nostalgia-inducing dip that taste both light and satisfying.
Vegan Spinach Artichoke Dip
15 minutes. Serves 6 to 8.
Ingredients

10 whole artichoke hearts, freshly cooked or from a 10-ounce jar or can
6 tablespoons extra-virgin olive oil
1 large garlic clove
1 cup packed baby spinach leaves (about 1 ounce)
Kosher salt
¾ cup roasted, salted Marcona almonds (about 3½ ounces)
2 tablespoons fresh lemon juice
Piment d'espelette, Aleppo pepper, or other red chile flakes, to taste
Chips or crackers, for serving
Instructions

If you're using jarred or canned artichoke hearts, drain them well and pat very dry, gently squeezing out excess liquid. Coarsely chop the artichoke hearts.
Pour 1 tablespoon oil into a medium skillet. Using a microplane grater, grate half the garlic into the oil. Grate the remaining garlic half into a blender and reserve.
Turn the heat to medium and stir the garlic until sizzling, about 1 minute. Add the spinach and a pinch of salt and cook, stirring, until just wilted, about 2 minutes. Remove from the heat and stir in the artichokes to evenly coat. Season to taste with salt and pepper.
To the garlic in the blender, add the almonds, lemon juice, ¼ cup cold water, remaining 5 tablespoons oil, and a pinch of salt. Purée until smooth, scraping the bowl occasionally.
Transfer the almond mixture to a medium bowl and fold in the artichoke mixture. Season to taste with salt. Transfer to a serving bowl and sprinkle with the piment d'espelette. Serve with chips or crackers for dipping.
Make Ahead
The dip can be refrigerated in an airtight container for up to 5 days.
---
Get our weekly Tasting Notes newsletter for reviews, news and more.
You may occasionally receive promotional content from the Los Angeles Times.