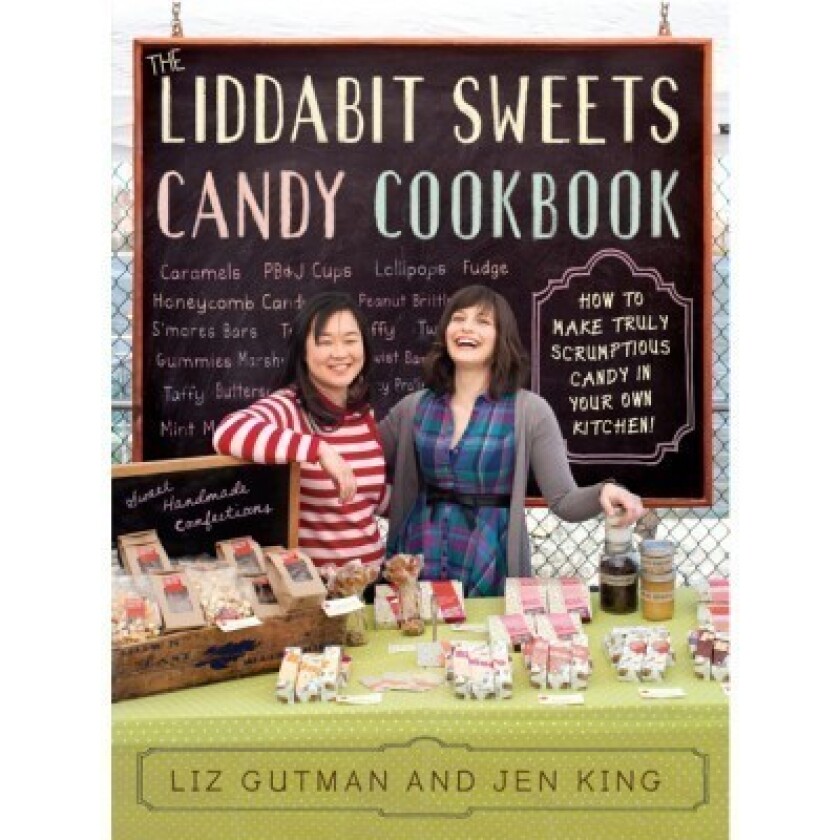 It's that time of year when ardent bakers have their stand mixers perpetually at the ready. Cookies, cakes, pies? No problem. But candy? The sight of a candy thermometer can make even the most experienced among us hesitate, if not run screaming.
Enter "The Liddabit Sweets Candy Cookbook," written by the founders of the eponymous Brooklyn candy shop known for its fat, handmade candy bars, caramels in flavors such as fig-ricotta, and "slurtles" -- turtles made with beer caramel, potato chips and pretzels.
The book makes candy making approachable, with plenty of hand-holding. If you want to ease into candy making, there are plenty of easy recipes with which to start (all of the recipes are marked "easy," "moderate" or "worth it"). Jump right in and make buckeyes, chocolate mint meltaways, chocolate bark, buttermints, candied citrus peels, fruit jellies and nonpareils.
The first 50 pages of the book are a candy making primer, complete with easy-to-follow instructions on tempering chocolate. Once you know how to temper chocolate (which is actually simple) and making marshmallow and nougat, you can advance to making your own candy bars -- yes, homemade candy bars. Such as the King Bar: a cookie base, peanut butter nougat and banana ganache, enrobed in chocolate.
"The Liddabit Sweets Candy Cookbook" by Liz Gutman and Jen King, Workman Publishing, $17.95.
ALSO:
3rd annual Napa Truffle Festival
Cook's gift: Fog Linen kitchen towels
Sam Marshall to design Walter Manzke's Republique
Chocolate mint meltaways
Cooking spray or vegetable oil
2 cups (13 ounces/370 grams) chopped dark chocolate
1/3 cup (75 grams) coconut oil or solid vegetable shortening
1/4 teaspoon pure peppermint oil (preferred) or 1/2 teaspoon peppermint extract
1/2 teaspoon fine sea salt
About 1 cup sifted (100 grams) powdered sugar, for dredging
1. Place a roughly 9-by-9-inch sheet of parchment or wax paper on a cutting board. Set it aside. Lightly grease an 8-by-8-inch baking pan with the cooking spray, and line it with a piece of parchment or wax paper that extends a few inches over two ends of the baking pan (you'll use these ends as handles to lift the candy out after it's set). Set aside.
2. Combine the chocolate and coconut oil in a medium-size heatproof bowl. Place the bowl over a small saucepan of simmering water and stir frequently with a heatproof spatula until melted and completely combined. (Alternatively, place the chocolate and coconut oil in a microwave-safe bowl and heat on high for 30 seconds. Stir, then microwave in 10-second intervals, stirring with the spatula between intervals, until the chocoalte and coconut oil are melted and combined.)
3. Add the peppermint oil and salt to the chocolate mixture and stir well with the spatula to combine. Pour the mixture into the lined baking pan, spreading it evenly with the spatula. Allow it to sit until firm to the touch, about 2 hours.
4. Once the meltaways have set, run a sharp chef's knife along the unlined edges of the pan and lift the slab of candy out of the baking sheet. Gently turn it out onto the parchment-lined cutting board and cut it into 1-inch squares.
5. Place the powdered sugar in a small bowl and dredge the candy pieces in it until evenly coated on all sides. Store the meltaways in an airtight container in the refrigerator for up to 2 weeks.
The best hot fudge sauce
5 ounces (140 grams) dark chocolate, chopped (about 3/4 cup)
8 tablespoons (1 stick) unsalted butter
1/2 cup (120 grams) water
1/2 cup (100 grams) sugar
1/4 cup (45 grams) packed brown sugar
1/4 cup (70 grams) light corn syrup
2 tablespoons unsweetened cocoa
1/2 teaspoon pure vanilla extract
1/4 teaspoon fine sea salt
1. Melt the chocolate and butter in a small saucepan over medium-low heat. Add the water, sugars and corn syrup, and bring to a boil over medium-high heat. Reduce the heat to medium and cook, stirring occasionally, until the mixture has thickened and looks like chocolate syrup, 7 minutes. Turn off the heat.
2. Add the cocoa powder, vanilla and sea salt, and stir well with a heatproof spatula until combined and smooth. Allow the mixture to cool for 10 minutes. Then stir it again with the spatula to even out the temperature, about 1 minute. Now, what in the Sam Hill are you waiting for? Go ahead and spoon it over some ice cream! (If the sauce is too thick, add a tablespoon of warm water and whisk well until the desired consistency is reached.) Store the fudge sauce in an airtight container in the fridge for 2 to 3 months.
OK, the following recipe is labeled "moderate" in the cookbook, and you'll need a candy thermometer, but it's bacon buttercrunch ... .
Bacon buttercrunch
12 ounces (340 grams) bacon, cooked very crisp, crumbled (about 1 cup), rendered fat reserved
8 tablespoons (1 stick) butter, plus extra for greasing
2 cups (385 grams) sugar
2 tablespoons pure vanilla extract
1 1/2 teaspoons fine sea salt
1/4 cup water
1. Carefully pour the bacon fat into a heatproof measuring cup, and add enough melted butter to make 1 1/2 cups. Set aside.
2. Generously butter a 13-by-18-inch baking sheet and set it aside on a heatproof surface.
3. Combine the bacon fat mixture with the sugar, vanilla, salt and water in a medium-size saucepan and bring it to a boil over medium-high heat. Insert a candy thermometer and continue to cook, stirring constantly with a whisk until it reaches 300 degrees (hard crack stage), 18 to 20 minutes.
4. Wearing your oven mitts, remove the pan from the heat and stir in the crumbled bacon. Carefully pour the mixture onto the prepared baking sheet, and use a heatproof spatula to spread it evenly. Cool the buttercrunch completely, at least 1 hour, then break it into bite-size pieces. Store the bacon buttercrunch, layered with parchment or wax paper, in an airtight container at cool room temperature for up to 1 week.
---