An easy way to perfect Persian rice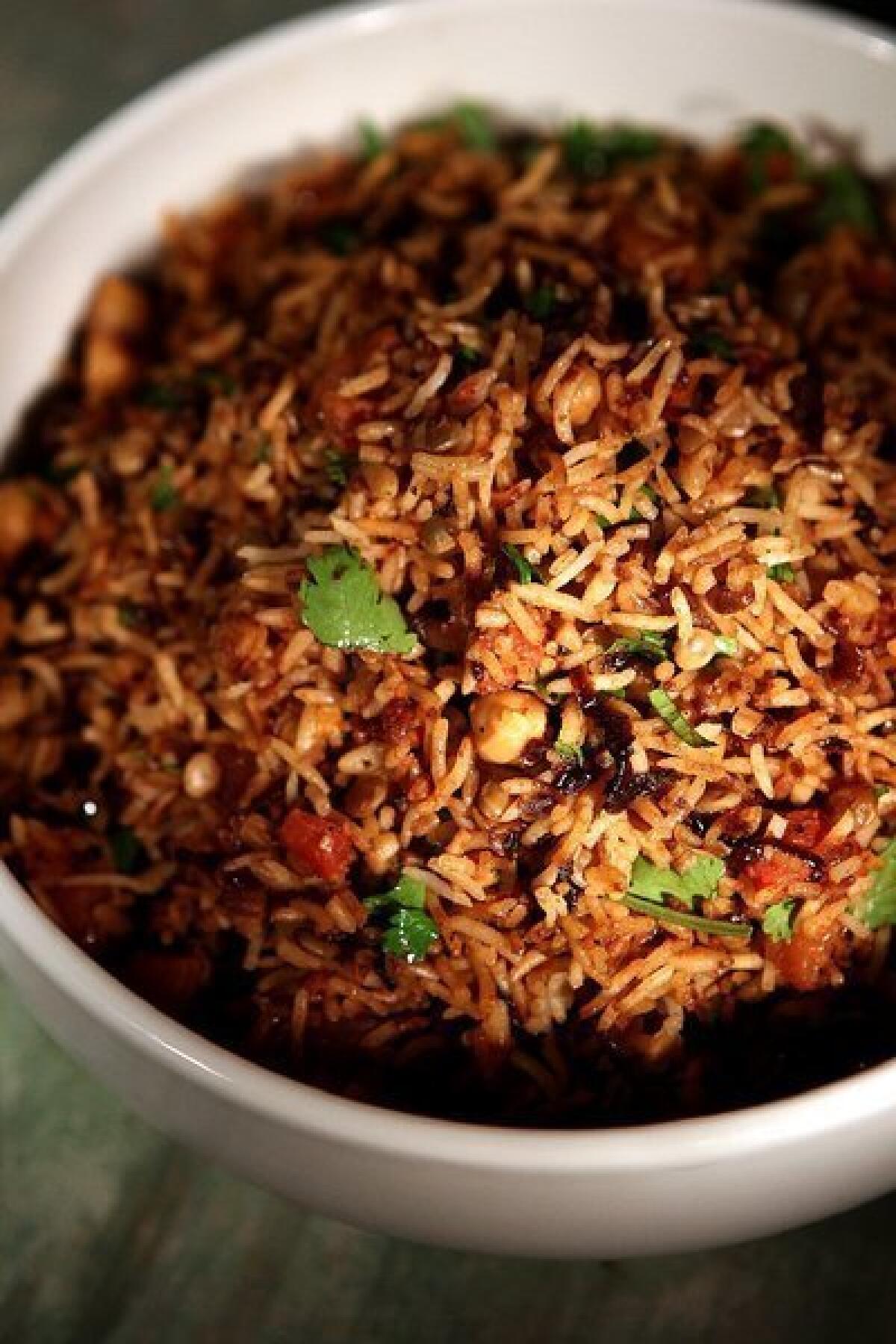 In my column Saturday on learning to cook perfect pilaf, I confessed that I still had yet to master making tah-dig, that crust of browned rice that is the hallmark of a great Persian cook.
I got lots of comments and advice, but maybe the most interesting came from a very enthusiastic Jeff Winett, who told me about Persian-style rice cookers. These are electrical machines kind of like Asian rice cookers, but instead of using fuzzy logic circuitry to avoid scorching the rice, these encourage it.
"This type of rice cooker has only a single switch to turn on and off the cooker. The interior bowl is the slickest non-stick surface you will ever know. All of the ingredients are placed into the cooker, you turn on a switch, and then 90 minutes later, you place a plate over the rice cooker bowl, invert (a jello mold should only invert this easily), and you are left with a GORGEOUS and deelishuhs Tahdig!
"The above is merely a suggestion, but a passionate suggestion, should you desire the easiest and most wonderful method of creating Tahdig. There are many, many out there. I think that I purchased mine from a Persian market out here in Sherman Oaks, and should you frequent any of the Westside Persian markets, I'm guessing you will hit pay dirt … or of course, you can do the online thing as well.
"And now for the final 'secret' regarding this type of cooker … you want to know from 'Pommes Anna' heaven??? OHMYGAWD, but this dish comes out like an absolute dream, as made in my Persian rice cooker! No weighing down the buttery potato slices to compact the dish while cooking. It happens all by itself. And after you unmold, you will be eating Pommes Anna that would make a French grandmother weep. The only difference is in the timing … 90 minutes for the Tahdig … 70 minutes for the Pommes Anna."
Winett says he uses one made by the National company, but that particular brand doesn't seem to be available anymore. Still, Google turns up several other similar machines (Disclaimer: I haven't used any of them myself).
I also found a very good how-to on using these machines on the website My Persian Kitchen, run by Angeleno Sanam Lamborn. She uses a Royal Cook rice cooker that is available online at Sayad Market.

Get our L.A. Goes Out newsletter, with the week's best events, to help you explore and experience our city.
You may occasionally receive promotional content from the Los Angeles Times.