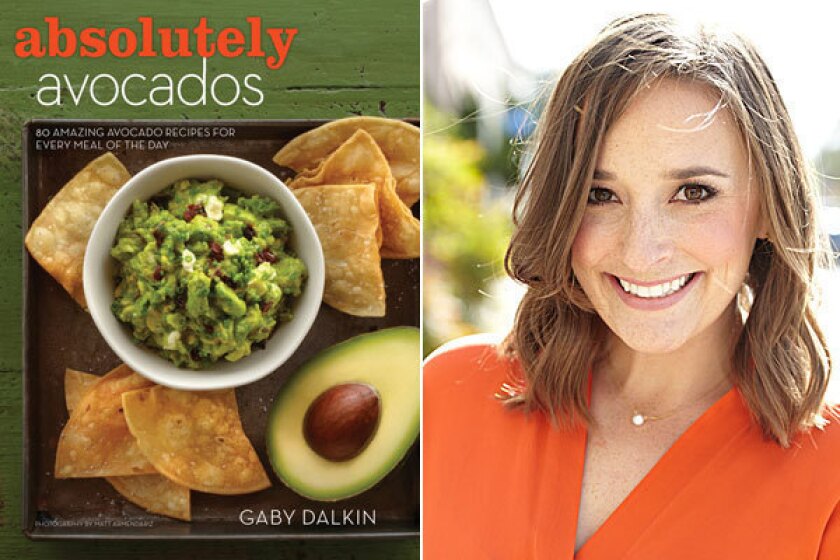 Where there is avocado, you will find Los Angeles food blogger Gaby Dalkin.
Dalkin is absolutely obsessed with the creamy, luscious avocado, something you already know if you are among her thousands of followers on Twitter, or a regular reader of her blog, What's Gaby Cooking. There, she writes, tweets and experiments about all the ways you can put avocado to delicious use.
So it's not surprising that the title of her new cookbook is a love letter to avocados titled "Absolutely Avocados." There are plenty of creative ways to make guacamole and salsas, of course. But also included are unexpected ways to use avocados in chocolate chip cookies, banana bread, pound cake and brownies.
PHOTOS: 25 Cinco de Mayo recipes
"People are always surprised by the desserts," she said. "I use avocado in place of butter."
But she doesn't always tell people that upfront. When she finally figured out the perfect ratios for her chocolate chip cookies, she served them to a bunch of non-foodie friends without letting them know the secret ingredient. "I knew it was a hit because they just ate 'em all up," she said. (She probably couldn't get that one by foodies, who begin deconstructing a dish before it even hits their lips!)
It took Dalkin about five months and several hundred avocados to develop the 80 recipes in the book. She said she became "besties" with the produce manager at her local Whole Foods. (She's giving him a copy of her cookbook to thank him for all the times he set aside primo avocados for her.)
PHOTOS: 17 outrageous garlic dishes
Among other unexpected applications, Dalkin purees avocado into pasta sauces, uses it to add creaminess to casseroles, tucks it into quiches, whips it into salad dressings or uses it as a foundation for a chimichurri sauce. She also grills it, piles it on top of pizza ... you get the idea.
"You can pretty much work avocado into every savory dish, in some shape or form," she says.
In addition to using it as a butter replacement in deserts, Dalkin uses avocado as a stand-in for another popular condiment. "I've been using pureed avocado to replace mayonnaise for health. It's the best mayo replacement ever."
There is one recipe that Dalkin couldn't bring herself to put in the cookbook, even after she nailed it. It's an egg baked into an avocado, which has become somewhat of an online sensation of late but failed to impress her.
"I don't know, I just didn't like it," Dalkin said.
When the cookbook was finished -- including the photography by noted Los Angeles food photographer and fellow food blogger Matt Armendariz -- Dalkin put herself on an avocado fast.
It lasted about a week.
Now, she's back to her typical diet. It includes avocado, in one form or another, every day. And very often, that day starts with toast slathered with avocado, and some salt and pepper.
"I can never get enough avocado," said Dalkin, who already has about 40 new avocado recipes she developed since the book was sent to the publisher. Could "Absolutely Avocados II" be far behind?
ALSO:
Jonathan Gold's 14 best Mexican restaurants in SoCal
Cinco de Mayo: Where to go this weekend for tacos, tequila, more
---