The Bucket List: Tasting the best fried chicken sandwiches in Los Angeles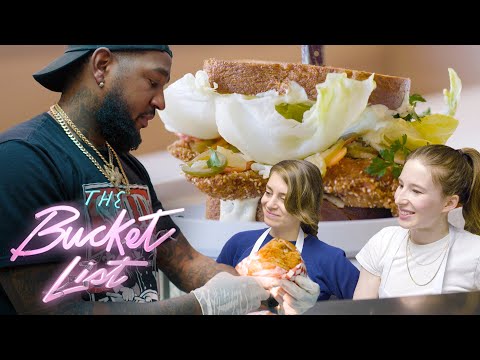 A fried chicken sandwich can be a little like a Rorschach test: The specific imprint of grease and schmutz and stray vegetation it leaves behind are a picture of the person who made it, or at least a good look at how they take something already delicious and try to put their own spin on it.
In this episode of the Bucket List, Jenn visits with two of her favorite fried chicken sandwiches in Los Angeles. The first — an unlikely alliance of schnitzel and Texas toast and herb-spiked mayonnaise — is as distinctive as everything chefs Sara Kramer and Sarah Hymanson serve at their nouveau Middle Eastern spot Kismet. Jenn and the Sara(h)s then visit the Shad's New Cali Catering food truck in Torrance to try chef Michael "Shad" Lawless' Kickin' Chicken sandwich. It's closer to Southern tradition with a fried chicken breast, slaw and pickles on a buttery bun.
Kim Prince of Hotville and Johnny Ray Zone of Howlin' Ray's share hot chicken insights in the premiere of our 'Bucket List' fried chicken show.
Get our weekly Tasting Notes newsletter for reviews, news and more.
You may occasionally receive promotional content from the Los Angeles Times.