'Hungry Girl's' Lisa Lillien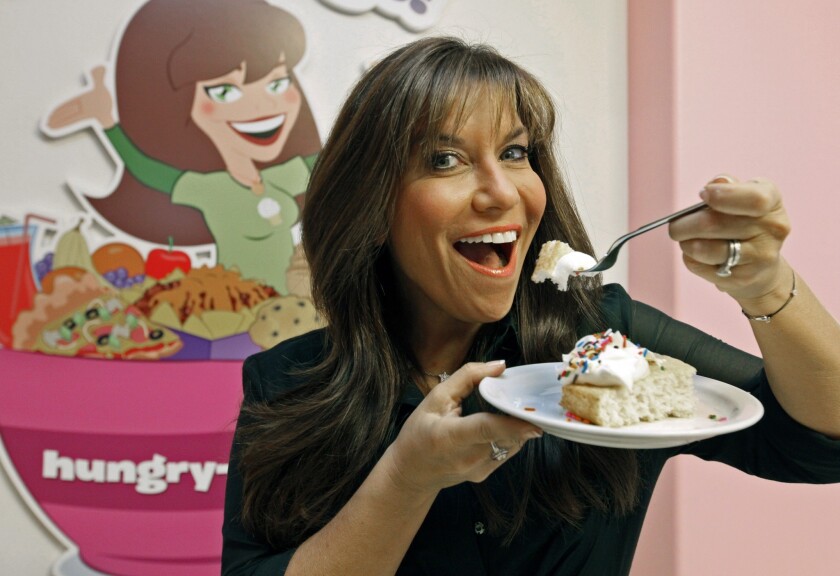 Lisa Lillien has the world on a plate. The Los Angeles author and entrepreneur sits atop the multimillion-dollar "Hungry Girl" empire that includes TV shows on the Food Network and the Cooking Channel, several bestselling cookbooks and a daily email blast that tops 1 million subscribers. Lillien is a genius at finding low-calorie ways to scratch a craving itch and then sharing them with her legion of fans.
Her new book, "Hungry Girl to the Max," features 650 guilt-free recipes, many that are fewer than 200 calories per serving. (And mind you, these are not teeny, tiny servings. Lillien hates that.)
This is your ninth cookbook — are you close to running out of recipes?
Not at all. I call this book the Hungry Girl "Bible" because it takes many of the classics and updates them. But many of the recipes are also about reader favorites and what they want. Some people don't want to use artificial sweeteners, for example, so we are going back and retesting recipes for those who want to use real sugar. And we are really blowing out the favorites. We have more than a dozen [baked] onion ring recipes. And tons of Hungry Girl egg mugs and foil packets. [What's an egg mug? Think an omelet microwaved in a mug for maximum portability.]
What's the biggest challenge of trying to meet consumer demands?
They want it all. They want something that tastes good, of course, but they want everything to be easy to make and be done in 15 minutes. At the end of the day, we all struggle with that. We want to eat the food that we want to eat, but we also want to fit into our pants.
You struggled with your weight for years before finding a way of eating that works for you. Are there foods that you simply will not touch?
In general, no. I will eat everything. But I am realistic. I can't remember the last time I ordered a pasta dish at a restaurant. But if I end up in a restaurant known for having the best pasta in the world, I am going to have some of that. I think the trick is finding [tasty, calorie-conscious swaps] for the foods you like, and then enjoying — to a limit — the foods you love.
You get flak in some corners from people who say too many of your recipes involve "fake" foods — processed cheeses or artificial sweeteners, and so on. What do you say to those critics?
I say, "Look at my recipes." Some of the recipes do have artificial sweeteners — but people are looking for recipes that don't use sugar. Many of my recipes use tons of vegetables .... I am not trying to tell people what to eat. I am trying to give them options. And this new book has plenty of fresh ingredients. [One Hungry Girl recipe that we loved, the vegetarian Bella Asada fajitas, features corn tortillas piled sky high with sliced portabello mushrooms, peppers, onions, tomatoes and homemade lime-and-cilantro guacamole. One serving — made up of a tummy-filling three fajitas — sets you back just 275 calories.]
We know how you handle the food end of the health-and-fitness equation, so what do you do to work out?
Exercise is so important. Working out is key. For me, it's all about doing something I enjoy. I like walking on a treadmill while I watch TV. I get something loaded up on the iPad and I just go. It doesn't feel like working out. I watched five seasons of "24" in two months' time. I joke that Jack Bauer is my personal trainer.
---