Here's your chance to work on your yoga handstand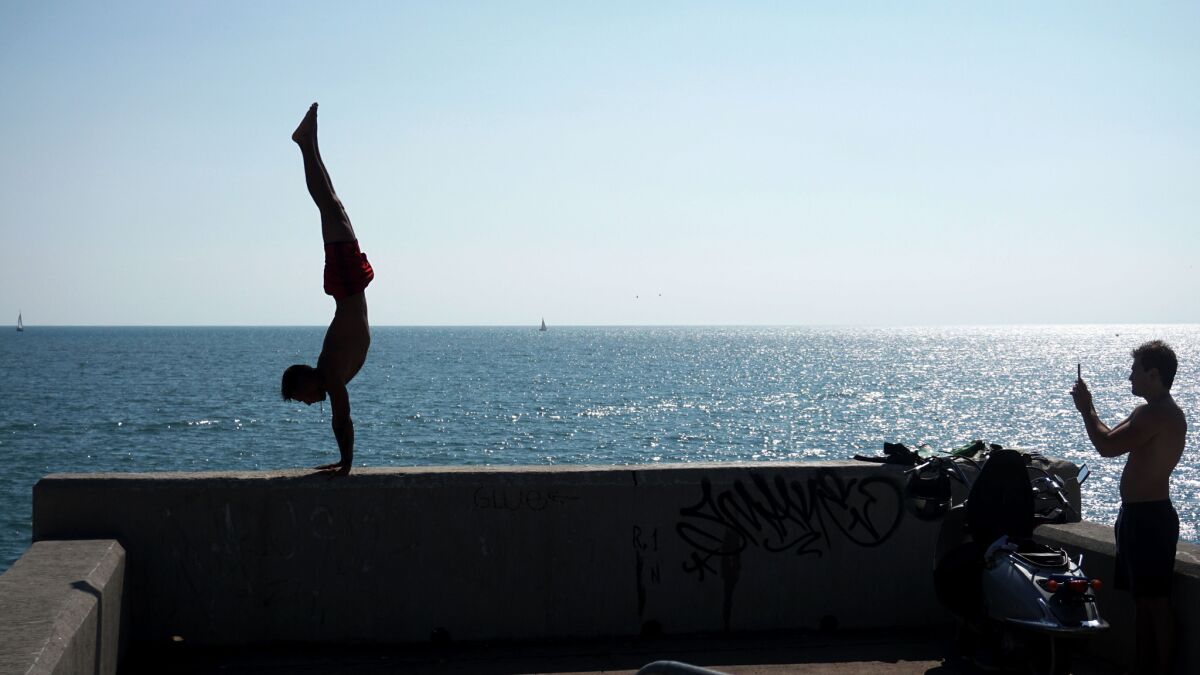 Free yoga, sound therapies, and motivational workshops and workouts. Here are a few upcoming wellness events you'll want to know about:
To celebrate the rebranding of Culver City's Goda Yoga as SoulPlay Yoga, new owner Nathania Stambouli is opening her doors to a free hour-long vinyasa class Saturday, Aug. 5, followed by a wine-and-cheese party.
Stambouli, a yoga instructor who also leads international retreats, says she's making a few changes to the popular studio: Among the revamped offerings are the trademarked BandzYoga class, which combines the ancient practice with resistance training. On Friday nights, there will also be a session dedicated to handstands.
"It's a full hour dedicated to getting people upside down," said Stambouli, adding that while the class is for all levels, participants would need some upper body strength. "We want to offer classes different from what you see in the Los Angeles yoga scene."
Info: The free class takes place at 3:30 p.m. on Saturday, Aug. 5. Participants are invited to stay on for a paid two-hour Yin Yoga and Gong Bath event starting at 6:30 p.m. Single classes start at $12.50, unlimited classes are $135 a month. SoulPlay Yoga, 9711 Washington Blvd., Culver City. SoulPlay.Yoga
::
Sound therapy is an increasingly popular component in the yoga/wellness space, and an upcoming Santa Monica class will focus specifically on it. The Ultimate Therapeutic Sound Journey with Irwin is an hour-long session featuring binaural beats and sacred sounds to bring on deep relaxation. It's a passive class; participants can sit, stand or lie down while listening to the electronically-generated sounds.
Info: 8:30 to 9:30 p.m. on Saturday, Aug. 5 at the Mandala Center, 719 Broadway. $25 in advance. $30 at the door. MandalaCenter.us
::
Feeling stuck? An upcoming free workshop in West Hollywood is designed to recalibrate attendees "and get you in line with what you want," said Courtney Romano, co-founder of Dream. Set. Make., organizer of the event. The two-hour gathering will begin with a meditation and guided visualization on the rooftop, after which attendees will practice journaling.
"There's a little bit of group work and some solo introspection as people figure out their tangible next moves," said Romano, whose business partner, Kara Griffin, will be leading the event. "It's for career, creativity and life." Coconut water brand Harmless Harvest will be among the healthful refreshments served.
Info: 2 to 4 p.m. on Wednesday, Aug. 9. Hills Penthouse, 8560 Sunset Blvd., West Hollywood. Free, but space is limited. RSVP to hello@dreamsetmake.com.
::
Fitness trainer Katie Dunlop, founder of the Love Sweat Fitness brand, will be among a number of trainers on hand at the upcoming Propel Co:Labs Fitness Festival.
"I'll also be working out side by side and assisting people coming to the event," said Dunlop. The two-day festival in Hollywood, sponsored by the electrolyte water brand, will feature classes from noted names like Barry's Bootcamp, Taryn Toomey, ModelFit and FlyWheel, many set to live music. Athletic apparel retailer Bandier will have a pop-up on the site.
Info: 8 a.m. to 6 p.m. on Saturday, Aug. 12 and Sunday, Aug. 13. Quixote Studios, 1011 N Fuller Ave. Ticket prices TBD. PropelWater.com
READ ON!
Yes, you can eat your way to beautiful skin
10 high-tech gadgets to help you get to sleep
How 'Scandal's' Katie Lowes hid her psoriasis
7 steps to making your health your No. 1 priority
---