Free workouts in and around L.A.: Runyon Canyon Yoga, anyone?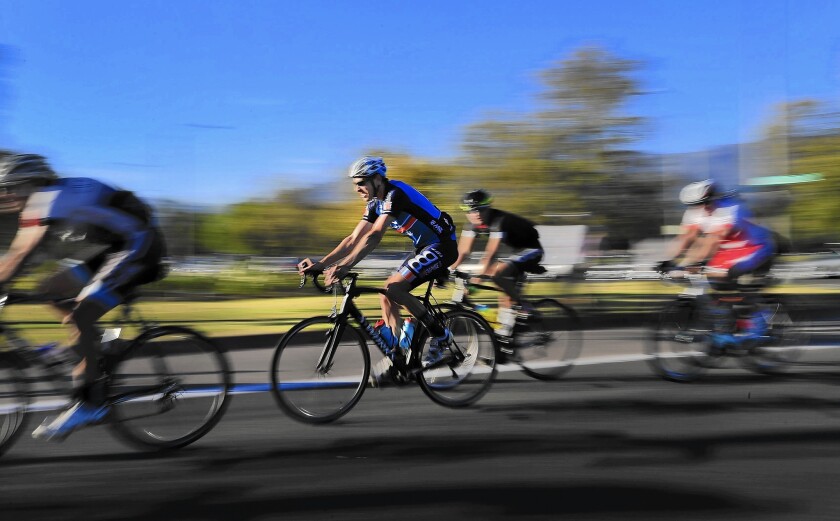 Sick of that treadmill at the gym? Need an alternative to your Pilates routine? It's time to switch it up. Here are six places and ways you can work out in the outdoors for free or nearly free. Whether it's joining a hiking group in the mountains or zooming around the Rose Bowl on your bicycle, if you've got time, we've got options.
Runyon Canyon Yoga
A group yoga class; pay by donation. 2000 N. Fuller St., Los Angeles. Class takes place two to four times a day depending on season and day of the week.
What's cool about it: The Runyon Canyon yogis have been meeting for 15 years at this spot, just inside the Fuller gate. Expect to move through your vinyasas alongside 10 to 30 other participants. "We try to make it an all-levels type of class," says Daniel Overberger, who's been teaching there for 10 years. "We have six teachers and they all teach a little differently." Many people, he adds, have taken their first yoga class at Runyon.
For information, go to Facebook and type "Runyon Canyon Yoga" into the search box.
Santa Monica Wellbeing Festival
Trainers, boutique gyms offer sample classes and routines. Santa Monica Civic Center, Sept. 12
What's cool about it: Get there by 11 a.m. for the Trainer Challenge, now in its third year. Trainers lead attendees (that means you, if you're game) in five-minute routines — think kickboxing, cycling, Zumba, you name it — while officials from Santa Monica-UCLA Medical Center and St. John's Health Center judge the festival's best trainer. Expect to join a workout crowd of about 200 people.
For information, go to smchamber.com/wellbeing-festival-featuring-buy-local-marketplace
Getting out for a Southern California experience>>
The Rose Bowl Ride
A 30-mile bicycle ride around the Rose Bowl. Every Tuesday and Thursday at 5:55 p.m. 1001 Rose Bowl Drive, Pasadena
What's cool about it: It's a 60-year-old tradition that attracts at least 100 riders each week. "We're riding in a big group, very close together," says Mark Rich, a ride organizer who has been circling the Bowl on his bike for decades. "We're also going extremely fast; on the down side, we're going close to 40 mph and riding within an inch of each other." In other words, this isn't for newbies or the faint of heart.
For information, go to Facebook and type "Rose Bowl Ride" into the search box.
Bfit Fitness Classes
(This one's not technically outside, but it feels airy on the glassed-in bridge.) Free Zumba is held at 7:30 p.m. Tuesday, cardio kickboxing is 7 p.m. Thursday and yoga is at 10 a.m. Saturday. Baldwin Hills Crenshaw Plaza, 3650 W. Martin Luther King Jr. Blvd. Classes take place on the bridge connecting Macy's and the main mall.
What's cool about it: When the mall underwent a $40-million renovation a few years ago, it adopted a new theme of redevelopment — not just for the shopping center "but for the overall community," said Angela Buenaventura, marketing manager for Baldwin Hills Crenshaw Plaza. So think of the classes as body renovation. The classes can accommodate 200 exercisers at a time, and they almost always fill up. Plan to arrive at least a half-hour before class begins to make sure you get a spot on the workout floor.
For information, go to www.baldwinhillscrenshawplaza.com/info/bfit
Santa Clarita Runners
A club for runners of all levels, with more than 200 members. Annual membership of $30 for an individual, $35 for a family, which includes one (individual) or two (family) T-shirts, an annual banquet, other social events throughout the year and discounts on race fees and running apparel from local running stores. Tuesday night track run, Thursday night fun run, Saturday morning five-miler, Sunday morning marathon training.
What's cool about it: After the weekend runs, stick around for coffee and conversation. After the Thursday night runs, enjoy a beer or even a meal with other runners. Club members also host their own race and social events and travel together to events in-state and elsewhere throughout the year.
For information, go to www.scrunners.org
562 Outdoor Fitness and Hiking Meetup
A hiking group organized by a guy named Howard Jones, who wanted to meet new hiking buddies, through Meetup.com and aimed at residents of the 562 area code, though open to all. Erratically scheduled; - no more than twice a month, often less.
What's cool about it: All ages, from little kids to the elderly, and all skill levels take part. There's always someone leading and someone bringing up the rear, communicating with walkie-talkies, to make sure the group stays intact. "People love hiking," Jones says, "but they don't want to go by themselves because it's lonely or because they don't know where to go." If you like the sound of that but are looking for a group closer to your area, search Meetup for hikes in your neighborhood. There are groups across Southern California.
For information, go to www.meetup.com and search for 562 Outdoor Fitness and Hiking. You don't have to join the group to see its calendar, unless you want to communicate with Jones and/or other members of the group.
MORE GETTING OUT:
Pickleball: a little bit Ping-Pong, a little bit badminton, a lot of momentum
9 outdoor adventure apps to boost your call of the wild
How one man conquered his paralyzing fear of swimming in open water (and how you can too)
---