13 ways to become a runner in 2018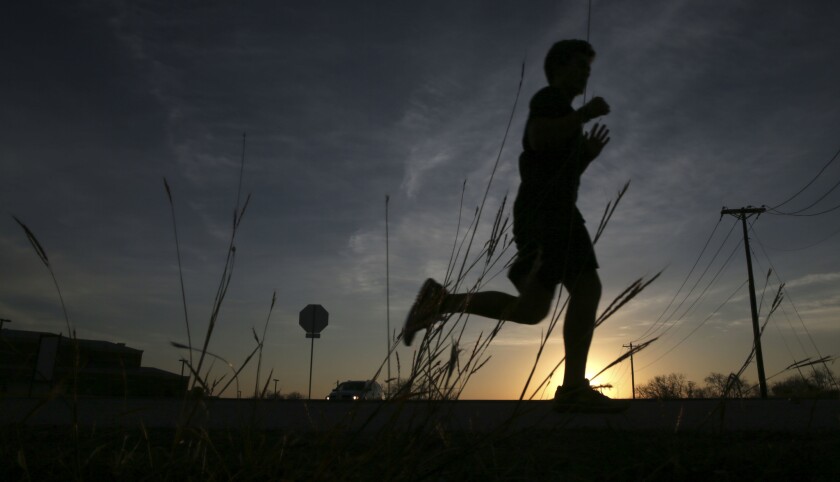 So here we are again, after another season of overindulging, and yet another crazy-busy month of shopping, parties and family gatherings.
Somewhere along the way, we misplaced our exercise routine and found an extra 10 pounds.
Let's face it, we're overweight and overtired and getting outside for a run seems a little overwhelming.
It's not such a bad place to be. But it's a bad place to stay.
"Nooooo!" I hear you crying. Not another New Year's resolutions story!
OK, let's call this a New Year's inspirations story.
The goal is to find the inspiration to take that first step toward becoming fitter, healthier and happier, then finding a way to take another step and another and, pretty soon, we've developed a consistent running routine.
They say that happiness is an inside job. Fitness is, too, I think.
I'm right there with you. I'll be running my 10th consecutive Boston Marathon in April but, this January, like most Januarys, I need to shake off about 10 pounds and a pattern of inactivity that December always seems to deliver.
Where do we turn for inspiration?
That's an easy one for me. I have a wife who loves being outside and traveling. I have children who love physical activities. I have a 5-month-old granddaughter who, judging by her progress in the baby boot camps I've put her through, is going to be pretty athletic.
So I do it for my family. I want to share many more good times with them.
I set a goal years ago, when it became clear I was loving this running thing, of completing 25 consecutive Boston Marathons.
So I do it for me. I love goals, and I've chosen one that will keep me striving.
I have a wide circle of friends who help me find joy and serenity and faith, and I have the good fortune of being involved in a variety of activities that allow me to be of service to people in my community.
So I do it for others. I want to be healthy enough to keep showing up.
They say that happiness is an inside job. Fitness is, too, I think. The best fitness gear and running shoes and training guide aren't going to make a consistent runner out of you. It's what you feel in your heart about what you want to achieve that is going to get you out the front door.
Find your inspiration, and then find your fitness.
That said, here are some suggestions to help with the first step, and the ones that come after that.
Call them the 12 Tips of After-Christmas.
1. Buy new shoes. Don't skimp. Get ones that you want to put on.
2. Put the shoes in the middle of your bedroom floor before you go to sleep. If tripping over them in the morning is what you need to remember to run, so be it.
3. After your first run, make or buy a smoothie. It's a great habit to get into.
4. Adopt a mantra. Use it. You can borrow mine — If it were easy, anyone could do it.
5. Start easy. Thirty minutes three times a week is a good start, and take walk breaks if you need them.
6. Buy some healthy snacks, like apples or granola or nuts. You need calories.
7. Invite a friend on your run. Have coffee or a smoothie together afterward. Running with someone keeps you both accountable, and it's fun.
8. Sign up for a 5K run/walk in your area. You don't have to be a fast runner to set a goal and work toward it.
9. Keep a running log and enter your mileage daily. If you don't enter anything two days in a row, maybe you'll get the hint.
10. If you like music, download something that fires you up. Running and music are a great combo. Podcasts, too.
11. Vary your running route to keep things fresh, and include some dirt trails.
12. If possible, run in the morning, before the day gets complicated.
Oh, and one more thing:
13. Wave to the other runners out there. We're family, and we inspire each other.
READ ON!
Yes, you can eat your way to beautiful skin
10 high-tech gadgets to help you get to sleep
How 'Scandal's' Katie Lowes hid her psoriasis
7 steps to making your health your No. 1 priority
He lost 84 pounds in four months — and kept it off
---