How L.A.: Free beachfront yoga in Marina del Rey taught by 'the Yoga Bunny'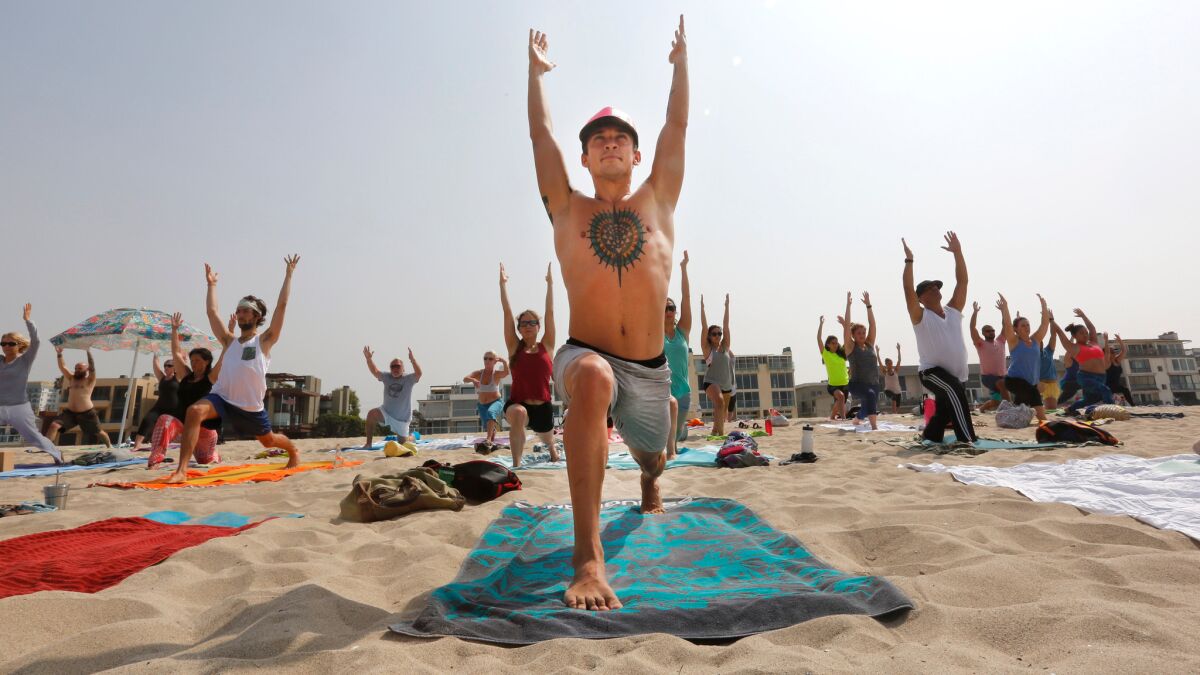 On any given Saturday morning, they gather on the beach off Hurricane Street in Marina del Rey to practice the ancient discipline of yoga.
The class begins and ends with meditation to the sounds of crashing surf, the occasional flyover by a Los Angeles County sheriff's helicopter and beachgoers looking on.
Bunok Kravitz, a.k.a. the Yoga Bunny, leads the free class, open to anyone who wants to join in.
See the most-read stories in Life & Style this hour >>
"My goal is to ultimately offer free classes everywhere I go so that those who may not have the means … [still] have access to a yoga and meditation practice under the guidance of an instructor," she says.
Why?
"Why? Because that's what my heart tells me to do."
What also makes this class unique is that it's now in its third decade, which means it could be the single longest running yoga class in L.A.'s wellness circles — if anyone bothered to keep tabs on such things.
According to class legend, Kravitz is only the fourth instructor to teach it. Some had feared that the class would simply dissolve after the previous instructor died in 2009.
But Bunok stepped in.
"I was then honored to carry on this legacy and... keep the class alive," she said.
The class attracts an eclectic group of people with diverse abilities from all over the world. In any given week, about 50 students attend.
"The people that have attended the class over the years have come and gone," said Penny Akashi, who has been taking the class for over 16 years, "but the constant has been the like-mindedness of the group and the wonderful growing community that has been created."
Unlike a traditional yoga studio, there is plenty of space to stretch out.
Pro tip: Most bring a blanket or sheet to cover the sand, then place their yoga mat on top.
Classes are held at 9:30 a.m. during summer, and at 10 a.m. during winter. You can find more details at Kravitz's website, TheYogaBunny.com
ALSO
There's just one name for yoga done to the sounds of Drake: Introducing Namasdrake
This L.A. walk takes you — and your dog — on a scenic oceanfront stroll in Long Beach
Are you brave enough to get off the ground with aerial yoga?