The Brits have hot-dog-stuffed-crust pizza, but we can beat that!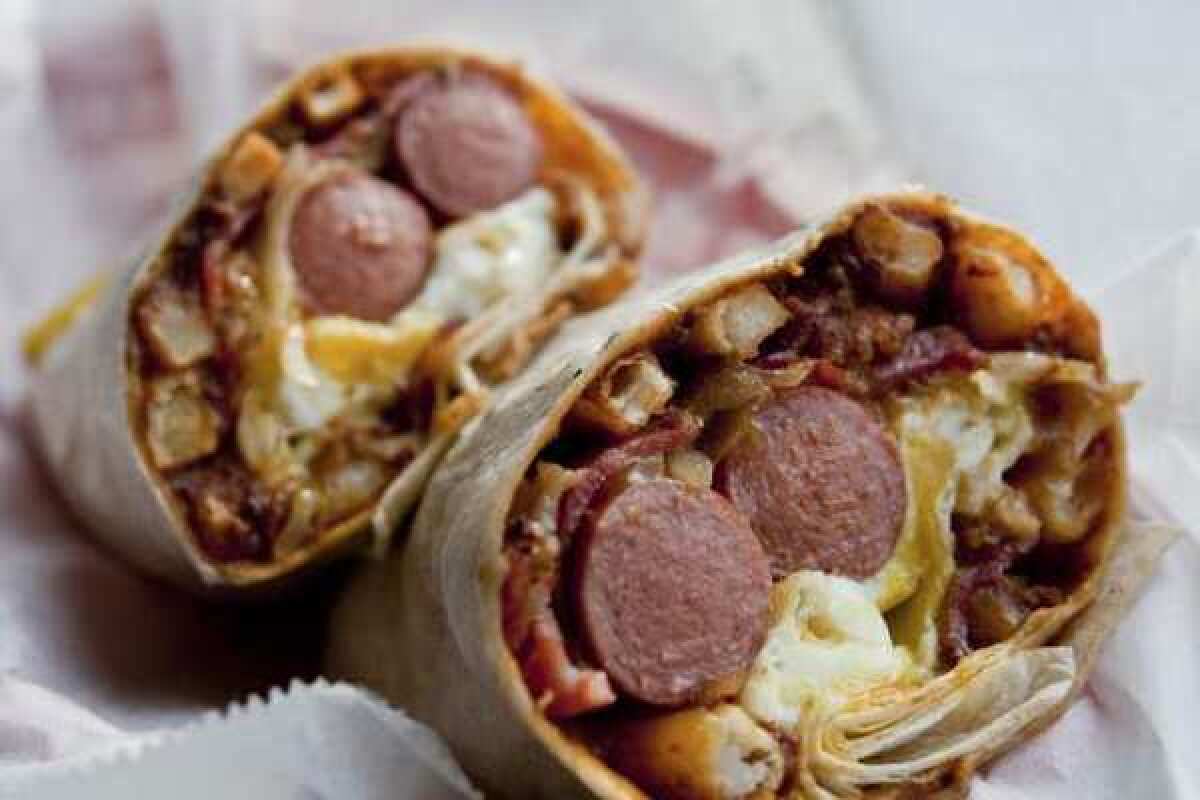 It's really not fair. Lucky residents of Britain can now buy a Pizza Hut pizza with a crust stuffed with a hot dog. And it comes with a "free" mustard drizzle!
It's grosser than the cheese-stuffed crust pizza we get in this country, though not as gross, I'd argue, as a vegetarian pizza I once got in Britain that was just a crust topped with those canned cubed vegetables.
Here it is on the British menu! I am going over there in a few weeks, and now I know what one of my meals won't be.
An item over at Time asks us to soul-search how this fair nation can "redeem its title as most unhealthy country?"
Let's see now. We may have lost on this one (Pizza Hut has no imminent plans to bring the hot-dog-stuffed-crust pizza over here), but I think we're still up there with the greatest.
Case in point: the image above, a "TNT Super Dog" cooked up a Pasadena's Slaw Dogs that contains chili, cheese, bacon, pastrami, fries, grilled onion and a fried egg (upon request), wrapped in a giant tortilla.
Many of the best U.S. examples of totally disgusting and unhealthful foods can be had at our beloved county fairs. Check out this Booster Shots blog that describes such delicacies as deep fried butter (with whipped cream and chocolate sauce), a jalapeno pepper stuffed with a Butterfinger bar, and fried Kool-Aid.
More examples? Here's a Men's Health article on the "20 Worst Foods in America." Its grand prize goes to Outback Steakhouse Aussie Cheese Fries with Ranch Dressing, clocking in at 2,900 calories, 182 grams of fat and 240 grams of carbs.
Next, let's head over to the website of Center for Science in the Public Interest, which keeps a running tally on such matters in a feature they call "Food Porn" and each year hands out Xtreme eating awards.
The 2011 Xtreme award list includes the usual rogue's gallery of burgers topped with eggs and pork belly and whole cows and bushels of lard, as well as an obscenely calorific red velvet cheesecake from our old friend the Cheesecake Factory (1,540 calories), but I think my favorite, conceptually, must be the cheese-injected meatballs you can dine on at Applebee's (1,520 calories).
Here's a look at what Virginia schoolkids eat, courtesy of uglyfood.com. I nearly lost my lunch looking at the ham and cheese pita.
And here are single, double, triple and quadruple bypass burgers offered by an Arizona food chain. (One, two, three and four burgers, piled high, on a bun, interlaced with cheese, with all the trimmings.)
The U.S.A. brings an artistic touch to its food craft, what's more. Let us not forget that this land is the home to Sarah the cheese lady, who creates fine sculptures out of a wide range of cheeses. Check out her holiday Santa.
Best of all is this meathouse -- a little cabin constructed entirely out of bacon, sausages and other kinds of flesh.
Take that, Britain.
---