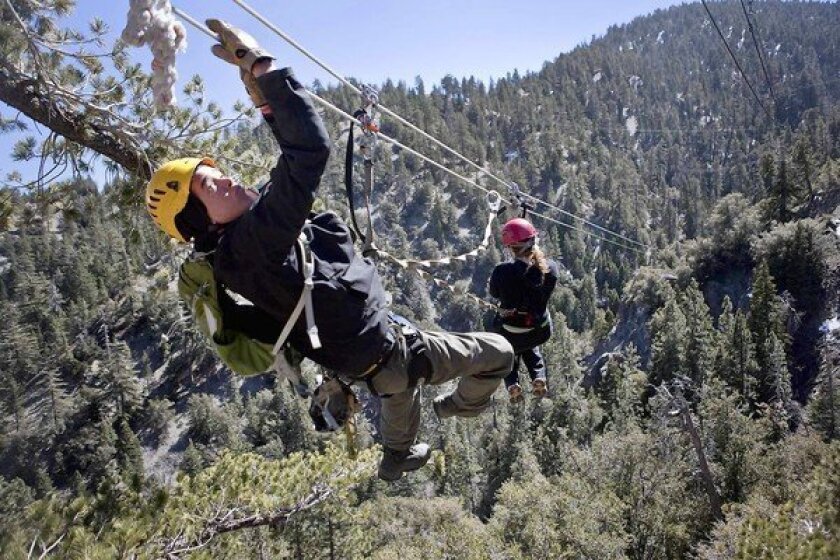 If you want to give zip-lining a try, your Southern California options are plentiful. Most have physical requirements participants must meet, so be sure to call or check the website before you book.
Catalina Zip Line Eco Tour: This two-hour aerial tour of Catalina Island is comprised of five zip lines, and guides provide information about local wildlife and history along the way. Tours leave 9 a.m. to 4 p.m. Mondays to Fridays, and 7 a.m. to 6 p.m. Saturdays and Sundays.
From Jan. 1 through May 24 and fromSept. 4 through Dec. 31, the tour costs $109 per person; from May 25 through Sept. 3, the tour costs $120 per person.
(800) 626-1496; https://www.visitcatalinaisland.com/avalon/tour_zipline.php
San Diego Zoo Flightline Safari: Should you be looking for more predictable wildlife sightings, the San Diego Zoo has a zip line that places you 160 feet above the animals in their habitats. The tour lasts for an hour and is open during regular park hours, which vary depending on the season. For adults, the tour is $112; for children, it's $102.
(619) 718-3000; https://www.sdzsafaripark.org/safaritickets/flightline_safari.html
Skull Canyon Zipline: This reservation-only ziplining club takes tours of at least two people at a time over parts of Temescal Canyon in South Corona. The club has two courses: the original, two-hour course, which is open to anyone and offers seven zip lines, for $75 a person; and the extreme course, also two hours in total, with four zip lines, open only to those who have zipped at least once before, for $100 per person.
(951) 471-0999; https://www.skullcanyon.com
Action Zipline Tours: Offering a three-hour, nine-zip-line course, Action Zipline takes riders on a tour of the San Bernardino Mountains in Big Bear. The course is open year-round, seven days a week, and tours leave at 8 a.m., 11 a.m. and 2 p.m. Each visitor pays $95.
(909) 866-0390; https://www.actionziplinetours.com
Navitat Canopy Adventures: Set in the San Gabriel Mountains in Wrightwood, this 10-zip-line course takes about 31/2 hours and opens March 31. Tours are offered seven days a week from 7 a.m. to 4 p.m. and include information about local wildlife. The cost is $109 for adults and $99 for kids.
(760) 249-9990; https://www.navitat.com/wrightwood
---