Here's what the celebs will be drinking on Oscars night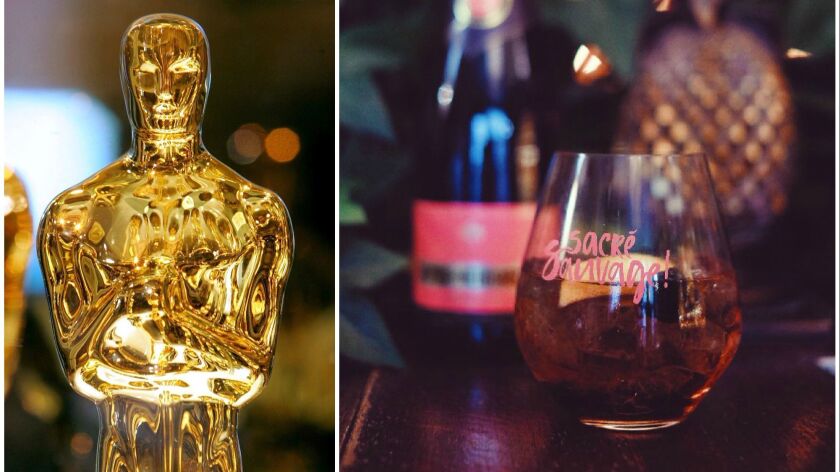 Are you going to an Oscars party? Throwing one yourself? Or just watching at home in your PJs?
Here's the recipe for the sparkling signature cocktail that will be served on Sunday, when celebrity chef Wolfgang Puck will oversee food and drink for Hollywood's A-listers.
It's the perfectly bubbly beverage to serve at your own Oscars party, even if it's just a party of one.
SACRE SAUVAGE
5 minutes. Makes 1 cocktail.
4 ounces rosé Champagne, preferably Piper-Heidsieck Rosé Sauvage
1 ounce chilled ginger syrup
2 dashes orange bitters
½ ounce triple sec or orange liqueur
Zest strip of pomelo or pink grapefruit
Ice cubes or ice ball
Blackberries or blueberries, for garnish
In a tumbler-style wine glass, combine the Champagne, syrup, bitters, liqueur, zest and ice. Garnish with berries and serve.
Each cocktail: Calories 184; protein 0; carbohydrates 23 grams; fiber 0; fat 0; cholesterol 0; sugar 21 grams; sodium 391 mg
Note: Adapted from a recipe by Piper-Heidsieck. To make ginger syrup, infuse simple syrup (equal parts sugar and water combined to form a syrup) with fresh, sliced ginger to desired flavor and strain before using.
The 90th annual Academy Awards
ABC will carry the ceremony starting at 5 p.m. Sunday, live from the Dolby Theatre.
For that second-screen experience, turn to latimes.com for the latest news, analysis and all the best (and worst) red-carpet looks and more.
---