Susan Orlean and readers share library stories at L.A. Times Book Club launch
L.A. Times Today airs Monday through Friday at 7 p.m. and 10 p.m. on Spectrum News 1. 
In her research for "The Library Book," Susan Orlean was surprised to learn how many people call the Los Angeles Library on a daily basis with outlandish questions.
Some people want help cheating on crossword puzzles. Others have more personal queries.
"There is a guy who calls the library every couple of weeks to ask, 'How are things going for the actress Dana Delany?'" recalled Orlean.
Orlean shared insights from six years of working on the nonfiction bestseller during the Los Angeles Times Book Club's Tuesday debut event at the sold-out Barnsdall Gallery Theatre.
The book focuses on the unsolved 1986 fire at L.A. Central Library and its aftermath. Orleans also writes about the life of arson suspect Harry Peak; the evolution of the library into a modern institution including Charles Lummis' stint as L.A.'s city librarian; and personal memories of childhood library trips with her mother.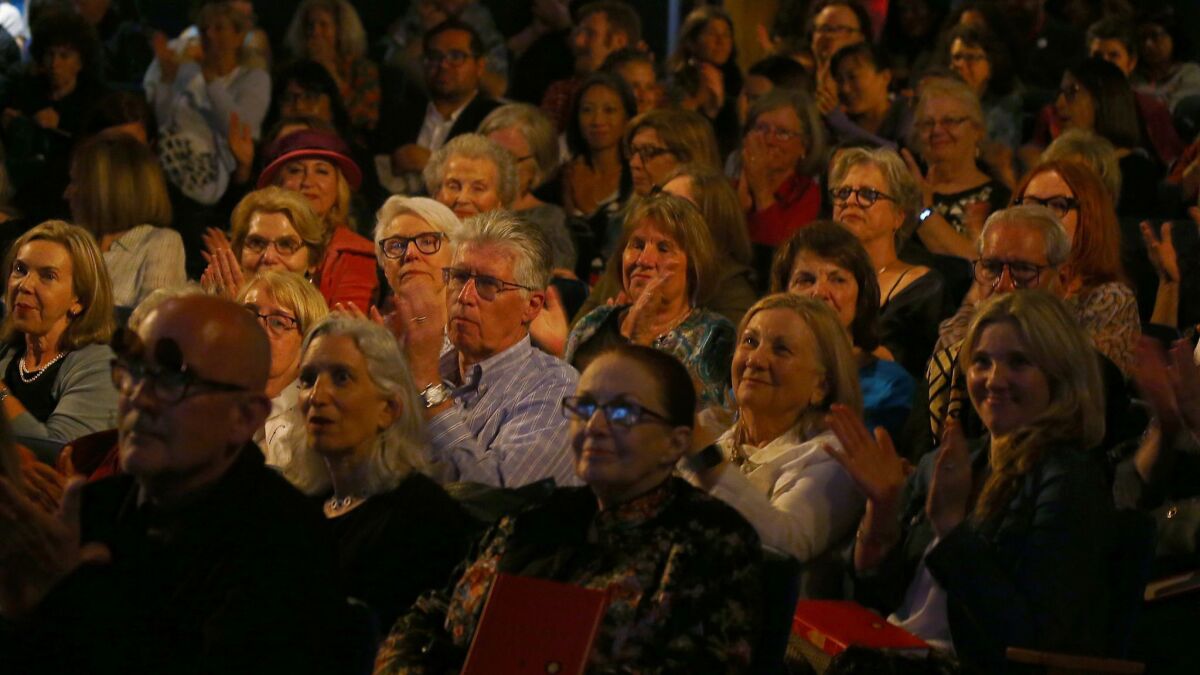 All the interludes explore the book's underlying question: Why do we care so much about books and libraries?
One answer is in the many ways patrons now use library services. During the forum, Times columnist Steve Lopez read an excerpt from a chapter that describes how the library became a de facto community center for homeless people.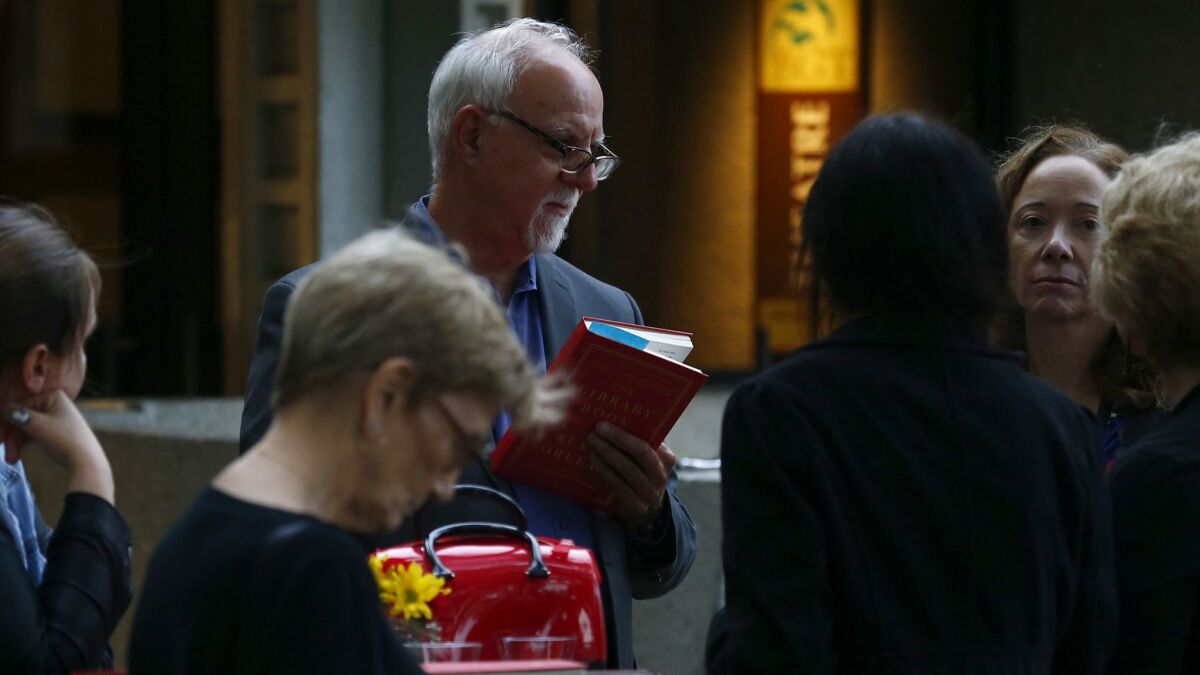 Public libraries are one of the few places where homeless people are given access to computers and are welcome to spend their entire day. Lopez said he connected to the book because Nathaniel Ayers, the violinist who became homeless and the subject of his book "The Soloist," used to read sheet music and scores at the Central Library.
Lopez said his son is a librarian at Connecticut College. He added, "And another reason the book connected with me is because I was married in a library ⁠— in nonfiction."
Additional guest speakers included Times reporter Maria L. La Ganga, who recently wrote about the most-circulated books in 28 library systems representing 200 branches across L.A. County, and former city employee Patricia Sterne Evans.
Armed with a bullhorn, Evans managed the 1986 rescue effort to save 3 million books from the Central Library after the fire. It took 2½ days around the clock to get the books out with the help of volunteers.
"It really was the most extraordinary and inspirational thing I've ever been involved in," Evans said.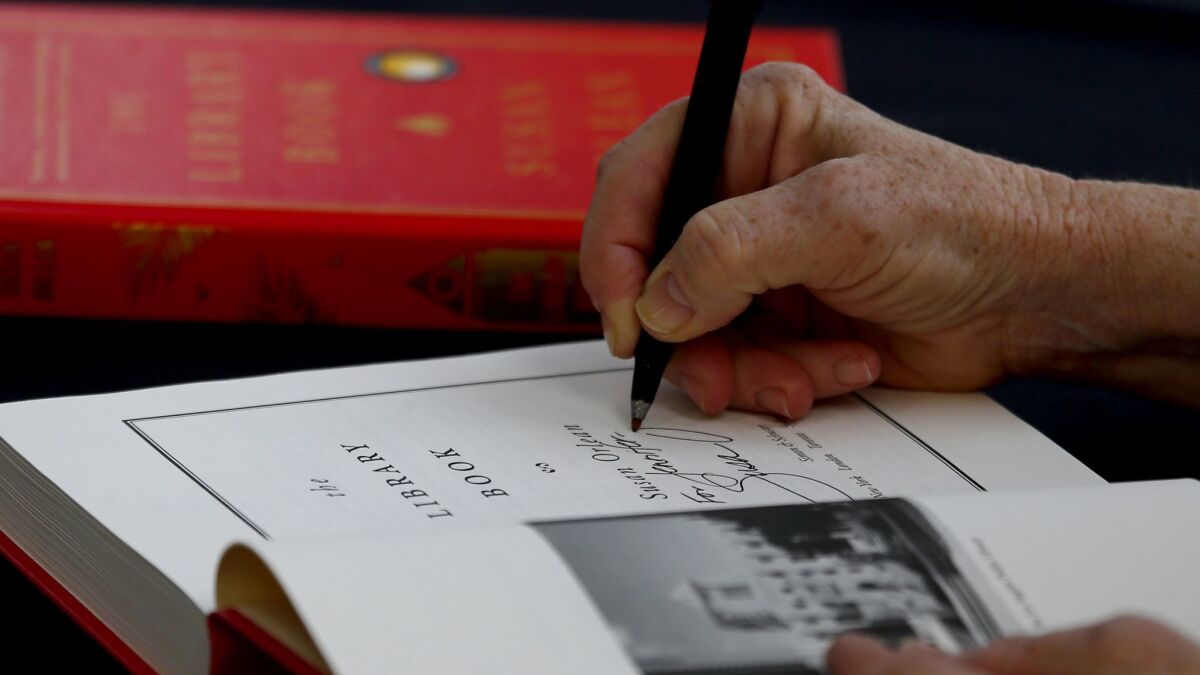 During their conversation, Times Deputy Managing Editor Julia Turner asked Orleans whether libraries will remain vital.
"Their future lies in embracing the placeness of a library and continuing to embrace new ways we receive information," Orlean said.
She noted that more people are working from home and communal spaces are increasingly valued. It's what created coffee-shop culture. Also, libraries offer multiple ways of getting information⁠ — books, film, music, the internet, historical archives. Orlean says they remain the best one-stop portal to knowledge and information.
At the end of the event, Book Club Editor Donna Wares announced Laila Lalami's "The Other Americans" as the next book selection. The novel is about the suspicious death of a Moroccan immigrant told through alternating perspectives of multiple characters.
Ticket information will be available soon at latimes.com/bookclub.
Get the latest news, events and more from the Los Angeles Times Book Club, and help us get L.A. reading and talking.
You may occasionally receive promotional content from the Los Angeles Times.