Indie Focus: Sundance finale, 'Lover For a Day' and 'Working Girls' at UCLA
Hello! I'm Mark Olsen. Welcome to another edition of your regular field guide to a world of Only Good Movies.
As you are reading this, the L.A. Times team covering the Sundance Film Festival already has disassembled and scattered like Voltron or the Wu-Tang Clan. But that's not to say we don't have one more round of missives and movies for you.
The festival's awards were given out Saturday night with top honors going to Desiree Akhavan's "The Miseducation of Cameron Post" for the U.S. dramatic competition and Derek Doneen's "Kalish" for U.S. documentary. The U.S dramatic audience award went to Andrew Heckler's "Burden," while the audience award for U.S. documentary went to Rudy Valdez's "The Sentence."
Times critics Kenneth Turan and Justin Chang surveyed their favorites while also taking stock of the festival as a whole. As Justin put it, "It's been a good year, though maybe not a banner one. … Certainly I saw many more good-to-decent films than awful ones, which is not the worst place to wind up."
I spoke to director Reed Morano, screenwriter Mike Makowsky and actors Peter Dinklage and Elle Fanning about the post-apocalyptic story "I Think We're Alone Now." The story is about two people who seem to be the last on Earth, one a loner who is oddly OK with it (Dinklage) and the other (Fanning) someone who needs connection to get through the day.
The movie is beautifully shot by Morano, also an acclaimed cinematographer, and crafts a delicate mood. As Moran said, "I think if you can make something that gives you almost everything in a weird way — it's emotional, it's scary, it's tense, it's funny and it's surreal and impressionistic — it felt like it had the opportunity to be all those things, so it would be fun."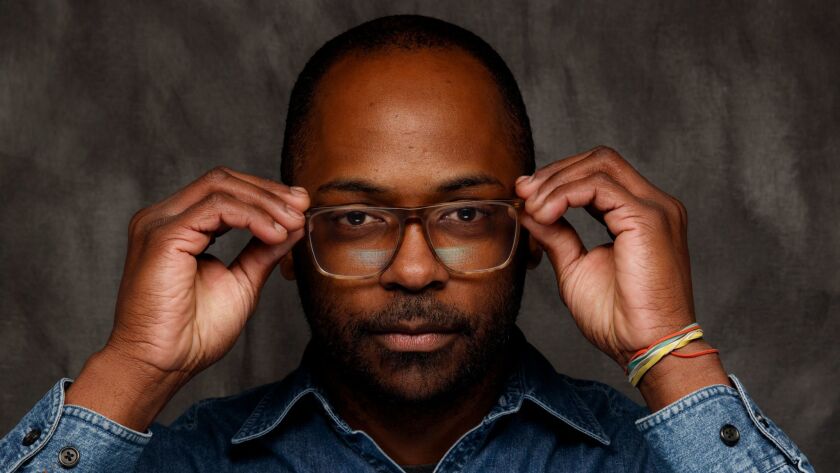 Tre'vell Anderson spoke to RaMell Ross about his documentary "Hale County This Morning, This Evening." Set in Alabama, the film follows two young black men, Daniel and Quincy, and their families to create an intimate portrait of their lives.
As Ross said, "My goal is to create an experience of the historic South, the experience of the centrality of the black experience, the experience of Quincy and Daniel's lives. Let that experience meet [the audience] where they are in their life and then hopefully change the trajectory of the way that they experience black people in the future."
The interview for the movie "Clara's Ghost" was easily among my favorites at this year's festival, with writer-director Bridey Elliott and her parents, Chris Elliott and Paula Niedert Elliott, and sister Abby Elliott, all of whom also star in the film. They talk about an Elliott family comedic sensibility while putting it on full display. A delight.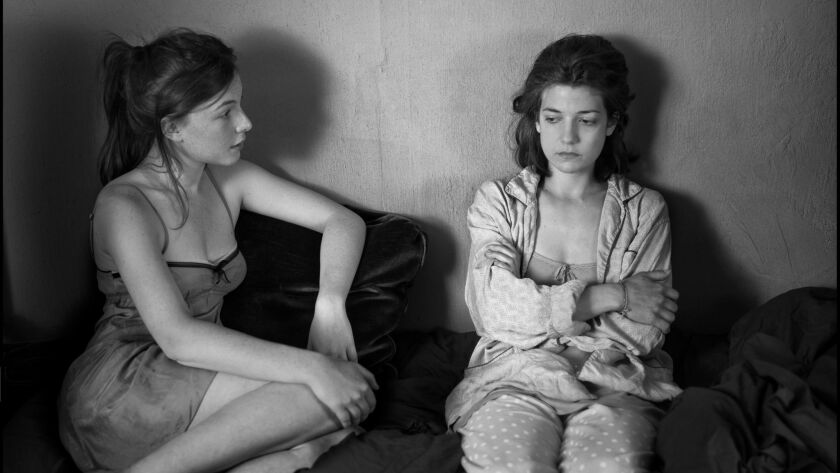 'Lover for a Day'
A different artistic family sensibility is that of the filmmaking legacy of French filmmaker Philippe Garrel. His son Louis Garrel has become a fascinating actor in his own right, and now daughter Esther Garrel has emerged as a bright screen presence as well. Aside from her pivotal supporting turn in "Call Me by Your Name," Esther stars in her father's new film, "Lover for a Day."
In the film, Esther Garrel plays a young woman who, distraught after breaking up with her boyfriend, goes to the apartment of her father, played by Éric Caravaca. He is there with a young woman (Louise Chevillotte) whom he has been dating who is not much older than his daughter. The two women strike up an unlikely friendship that has increasingly complicated ramifications.
I spoke to Esther Garrel by phone recently when she was in New York City. Aside from adjusting to his preference for shooting only one take whenever possible, Esther said of working with her father, "He knows how to get what he wants from me. … I could say it's like the continuity of our own life's work together. Every day at home, he is talking about his work a lot; he's completely immersed in his work. We speak about cinema as much as we speak about food. So it felt like a continuity to take that to our work, and I felt very open in my relationship with him as a director."
In his review for The Times, Justin Chang celebrated the "low-key, unvarnished realism that has become Philippe Garrel's aesthetic signature," while adding, "That realism keeps this story grounded, even when its characters give soaring voice to their deepest hopes and frustrations. Having established an emotional triangle that would seem to lend itself to all manner of angsty contrivance, 'Lover for a Day' seems content simply to follow its characters as they navigate their own personal confusion."
At the New York Times, Manohla Dargis added of Garrel's filmmaking, "Every image looks harmonious without being fastidious, which means that you see the picture rather than the intention. Yet even when you see the thought behind his images, the gentle disorder of his characters' lives, with their patched walls and messes, creates an inviting informality that strengthens his realism. He's a master of near-perfection, of dazzlingly lit and shot wisps of hair and tear-streaked cheeks."
'Working Girls: America's Career Women Onscreen' at UCLA
The new series "Working Girls: America's Career Women Onscreen," opening at the UCLA Film and Television Archive on Friday and running through March 24, is exactly the kind of imaginative and innovative programming that makes the Los Angeles rep scene so exciting and vital. The series looks at depictions of women in the workplace across decades of movies.
The series kicks off with a 35 mm screening of Mike Nichols' "Working Girl" followed by a conversation between one of the film's stars, Sigourney Weaver, and The Times' own Jen Yamato. Other films in the program include "9 to 5," "Working Girls," "Losing Ground," "Norma Rae," "Swing Shift," "Girl 6" and "Don't Tell Mom the Babysitter's Dead." Just about every film is a rare treat to see projected on the big screen, making this program a series of don't-miss nights.
For Los Angeles Magazine, April Wolfe spoke to programmer KJ Relth about the series. Of the film's unlikely pairings and seemingly off-beat selections, Relth said, "In diving into independent productions or even Dimension films — the one-offs from larger studios — that's where I was able to find a more representative depiction of a more diverse range of women."
Email me if you have questions, comments or suggestions, and follow me on Twitter @IndieFocus
---