Column: Housing the homeless hits NIMBY wall in 'progressive' Venice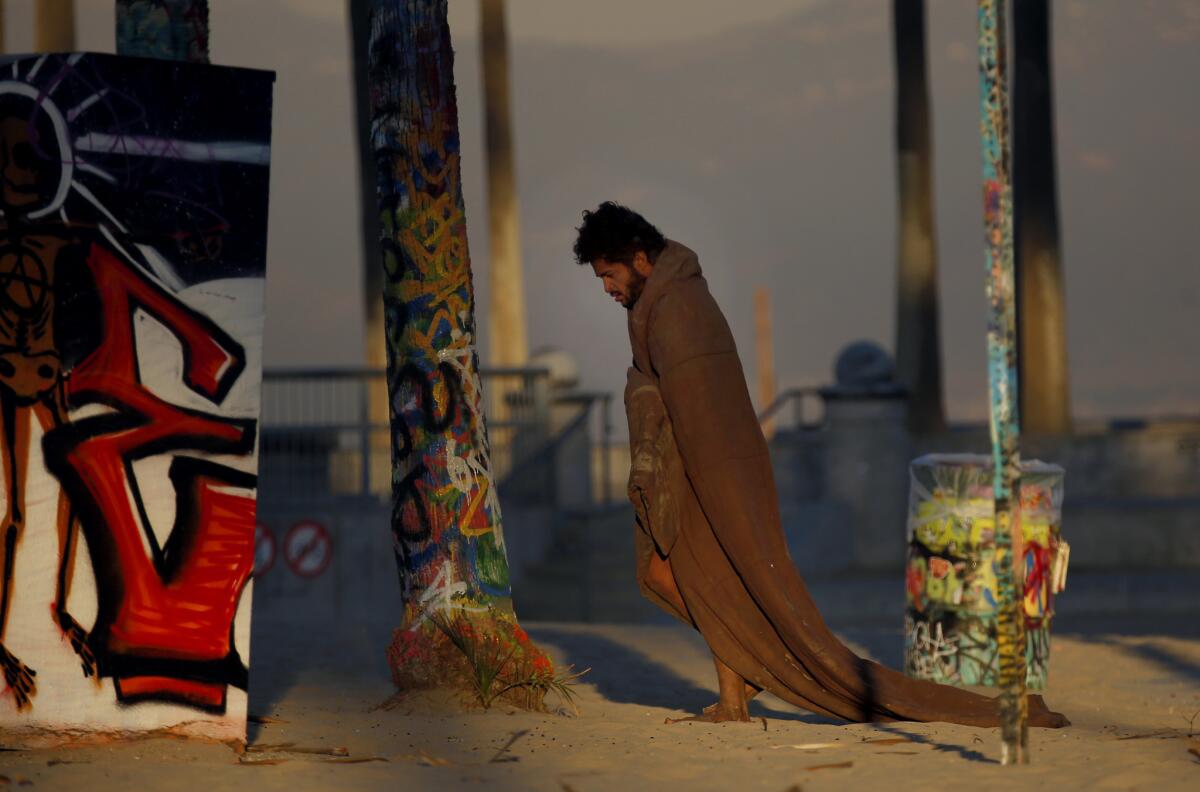 The blue couch appeared one evening at the dumpster across the alley behind my house.
Over the course of the next two days, the couch was moved around a bit.
By the third day, someone had dragged the couch to the side of my house, a not particularly private space.
The next morning, as I took my niece to school, we noticed that a young man, presumably homeless, was asleep on the couch.
I had just heard a report on KPCC about how homelessness can exacerbate or even cause mental illness, not the other way around. One factor, the report said, is the lack of sleep suffered by people with no place to lay their heads.
I left the kid alone. I was going to give him some food, but when I checked an hour later, he was gone.
My neighbor and I dragged the couch back into the alley.
I called the city, and within a day, the sanitation department picked it up.
In some residential neighborhoods of this sprawling city, I suppose it's possible to look away from the homeless crisis.
Here in Venice, it is not.
As home prices continue their exorbitant march upward, as rents skyrocket and short-term rentals like Airbnb displace longtime Venice tenants from their rent-stabilized units, more and more people are facing a homeless crisis not of their own making.
On Tuesday morning, Los Angeles County released the results of its latest homeless count. The Westside experienced a huge leap: 19%.
::
Shortly before the report was released, I met Becky Dennison in a city-owned parking lot on Pacific Avenue, between South Venice and North Venice boulevards. The size of the parking lot is deceptive. It looks like it takes up a city block, but it stretches a few blocks east and comprises almost 3 acres. The lot is used intensively during the summer, and on weekends, not so much at other times.
Dennison is the executive director of Venice Community Housing, a local nonprofit that has made a mission of trying to end homelessness here. VCA owns 216 units of affordable housing, scattered across 15 buildings in Venice, Mar Vista and Del Rey. It also owns a shelter that can hold up to eight homeless families.
The group is spearheading a proposal to turn the parking lot into a complex called the Reese Davidson Community (named for two historical Venice figures) that would include 140 units of low-income and transitional housing, artist lofts and retail ground space. The buildings would be two and three stories, like most of the surrounding homes, apartments and buildings.
You can't just erase public parking spots, especially not ones near the beach, so the project will also include a three-story parking structure on the east side for visitors.
As you can imagine, opposition has been intense. Some think the project is simply too dense. Others fear the disruption of construction.
One vocal group, Fight Back Venice, has dubbed the project the "Monster on the Median."
Members of Fight Back Venice have compared the project to Chicago's notorious Cabrini-Green project, and allege it is being promulgated by "powerful special interests in the social services sector." This was the exact wording in an email urging Venice residents to vote for a Fight Back Venice-approved slate of neighborhood council candidates opposed to various affordable housing and shelter projects. The community, said the mailer, needs a "wartime Venice Neighborhood Council."
A wartime council?
They argue that the city should sell the pricey beach-side property and construct housing for the homeless somewhere else. Somewhere less expensive. Somewhere not as desirable.
But, as Dennison points out, ghettoizing supportive housing in low-cost, so-called low-opportunity neighborhoods would probably violate state and federal fair housing laws.
When I raised the specter of "Cabrini-Green," she winced.
"Cabrini-Green had close to 10,000 public housing units," she said. "Cabrini-Green failed its residents because the federal government completely disinvested in the public housing program and just left people to sit in slum housing conditions. This project is exactly what the policy alternative to places like Cabrini-Green is."
Also, not to put too fine a point on it, but what exactly would a private developer want to put on nearly 3 acres of beach-side property?
As wooden beach bungalows on narrow streets are replaced with gated mega-mansions, and the region's only historically black beach neighborhood — Oakwood — is increasingly gentrified, making a haven for affordable housing, low-income artists' studios and ground-floor retail is the only hope we have of keeping Venice's diverse character intact.
::
It does seem, more and more, that the housing apocalypse is upon us.
Encampments spring up under freeway overpasses, on sidewalks, anywhere a tent can be pitched or a bedroll unfurled. The garbage and human waste that ensue are not just a blight on the city but also a health hazard, as my colleagues have relentlessly reported.
In my neighborhood, I've noticed, a passive-aggressive war is being waged: Residents put planters on public sidewalks to ward off squatters, a practice that is generally illegal, but effective, if the goal is to erase homeless people from your sightlines.
And yet, when a 154-bed homeless shelter was proposed for an abandoned bus yard on the north side of Venice, on Main Street just below the Santa Monica border, neighbors rose up in anger. A lawsuit has frozen the project, which is part of the mayor's vow to put at least one new shelter in each of the city's 15 council district.
"Nobody is happy about people being homeless in Los Angeles," Dennison said. "It's no exaggeration to say that people are dying on these streets, whether they are dying literally or dying slowly because of our neglect."
I will never understand why the progressives of this famously liberal, famously permissive enclave refuse to be part of a solution to the seemingly intractable problem of homelessness.
I would so much rather that young man who dragged the blue couch next to my house for a good night's sleep had a bed in a shelter instead.
Twitter: @AbcarianLAT
Sign up for Essential California for news, features and recommendations from the L.A. Times and beyond in your inbox six days a week.
You may occasionally receive promotional content from the Los Angeles Times.