Column: Trump needs to stop terrifying immigrant families and consider the real cost of mass deportations
Jersey Vargas, 13, was just starting a long night of homework Wednesday when I asked how school was going.
"Everything's fine. Straight A's," said the Panorama City seventh-grader, who attends a magnet school and wants to go to Harvard or Yale one day. "But math is getting more difficult."
I hadn't spoken to Jersey since I met her three years ago, when she stopped by the Cathedral of Our Lady of the Angels to meet with L.A. Archbishop Jose Gomez. Not long after that, just 10 years old, she headed to Rome with immigration reform advocates and asked Pope Francis if he could help save her father and millions of others from deportation.
Today, Jersey's father — construction worker Mario Vargas — may still need a miracle to avoid being kicked out of the country. He was arrested in 2013 in Tennessee and locked up for driving under the influence. He was released on bond several months later, but his deportation was formally begun earlier this month in immigration court.
"The family is on pins and needles," said L.A. attorney Alex Galvez, who is requesting that federal officials use "prosecutorial discretion" and spare Vargas, who has lived in the U.S. without authorization for 17 years. Galvez argues that Vargas is a working, law-abiding family man of good character, with the exception of the DUI conviction, and is the primary breadwinner for Jersey and her five brothers and sisters, who are U.S. citizens.
It's hard to predict what will happen as the case moves forward because the Trump administration has sent so many mixed signals. Trump has said he's going after "bad dudes" guilty of serious crimes, but new deportation guidelines make it appear that the estimated 11 million people in the country illegally could all get the boot.
I think Trump is absolutely right to go after hard-core criminals. But I wonder how many taxpayers want to invest in prosecuting and shipping Mario Vargas back to Mexico, or to begin rounding up and deporting millions more like him. If Trump is such a great businessman, why doesn't he produce a breakdown on the costs and benefits, including the impact on the economy, wages and the price of goods?
First of all, no matter what, the Catholic Church is going to protect our brothers and sisters
— Archbishop Gomez
Mario Vargas and countless others came north because of the relentless U.S. demand for labor. If that bothers Trump, why is he so timid about the bad hombres in the construction, agriculture, hospitality and banking industries, all of whom rely on and profit from illegal immigration? His schtick, instead, is to bully poor people who fled corruption and crime to find work and provide for their families.
I checked back with Archbishop Gomez too, and he said if he had the chance, he would offer a simple piece of advice to Trump.
"Get to know these people."
"I was celebrating Mass at Saint Helen's in South Gate and I was thinking, 'This church is packed,'" said Gomez. "A lot of these people may not have documents, but they're wonderful people. They come to church. They're hard-working. They pay taxes. They have nice families. I mean, these are good people, and I thought, 'Mr. Trump needs to come to St. Helen's in South Gate to see how wonderful these people are.'"
He should get to know the whole city, Gomez said.
"We have Mass in 42 languages in Los Angeles," he said. "This is the United States of America."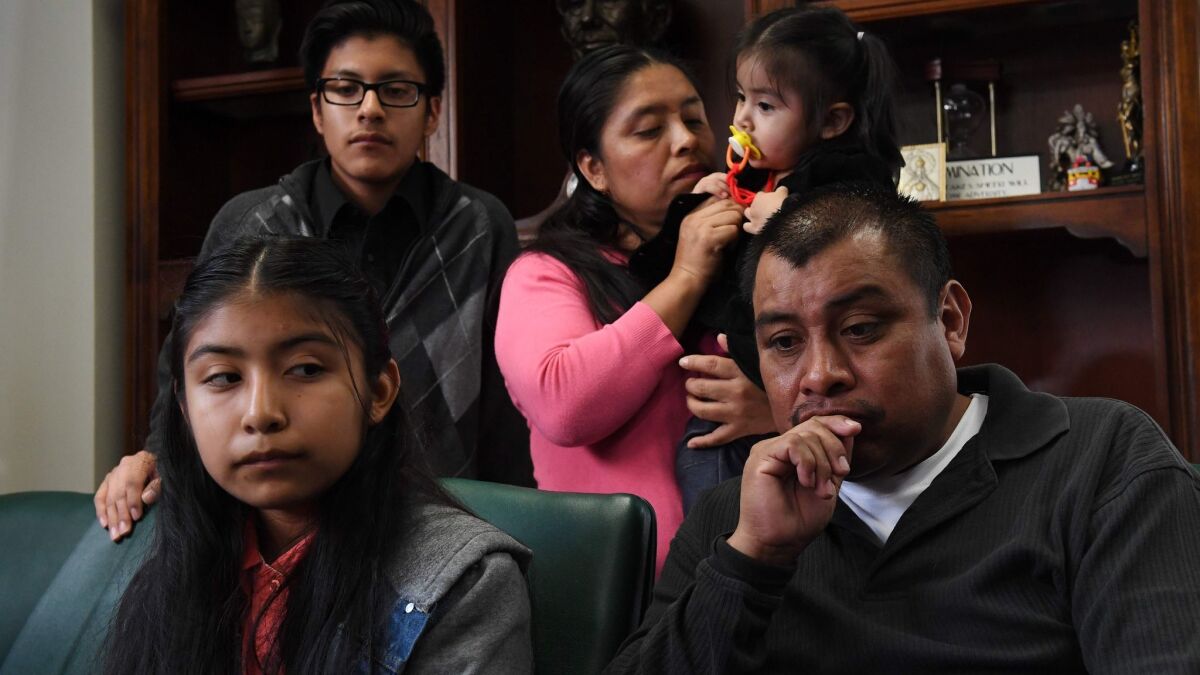 If someone in the U.S. illegally commits "a really bad crime," Gomez said, he's not opposed to deportation. But for someone like Jersey's father, he said, deportation for a relatively minor offense would be too severe.
"Honestly, for me, the penalty is not proportionate to what happened," he said.
As he interprets Trump's immigration policy, Gomez said, "any person in this country who's undocumented is considered a criminal. For me, that doesn't respect those basic principles I talk about — the dignity of the human person, the unity of the family."
I hear from a lot of readers, I told Gomez, who disagree. They want stricter border enforcement. Illegal is illegal, they say, and those who crash the border shouldn't be allowed to stay here while others wait in line for legal entry.
If you're skilled, said Gomez, the wait is much shorter. If you're a laborer, you'll stand in line forever, no matter how great the demand for your work.
What about the Ten Commandments? I asked. If you're here illegally, doesn't that mean you broke the 9th Commandment — thou shalt not bear false witness against thy neighbor? In other words, thou shalt not lie. (Has Trump been to confession lately?)
"First of all, no matter what, the Catholic Church is going to protect our brothers and sisters," Gomez said. "And the 1st Commandment is to love God and love one another. If it's a situation where someone lies … we're going to be there for them, just as Jesus was always taking care of sinners."
Gomez's vision of immigration reform would include secure borders, penalties and possibly community service requirements for those who came without authorization, and a system that allows for the regulated movement of people into and out of the country as dictated by labor needs.
"People are so afraid. They're really nervous," Gomez said. "It's so sad to see little kids, like Jersey and others, thinking, 'I don't want to go to school because when I come home, maybe my parents will be gone.'"
If Jersey's father is deported, either the family will follow, and our public investment in the kids will be wasted before they become taxpaying contributors. Or the kids will stay, without their breadwinner, and taxpayers could be on the hook.
"To Donald Trump, I would tell him to please stop judging us, because it's like judging a book by its cover," Jersey told me.
Outwardly, at least, she has an unbound sense of optimism, and she's not giving up on Trump becoming more understanding. Maybe, she said, he'll build "bridges and not walls." If so, "He could go down as one of our greatest presidents."
Get more of Steve Lopez's work and follow him on Twitter @LATstevelopez
MORE FROM STEVE LOPEZ
Why this gay, disabled Texan went to the Women's March to tell Trump: 'Mock me to my face'
Donald Trump vs. Steve Lopez: The Twitter 'war' is on!
L.A.'s melting pot is defying Trump's specialty: to provoke and divide
The stories shaping California
Get up to speed with our Essential California newsletter, sent six days a week.
You may occasionally receive promotional content from the Los Angeles Times.