A billionaire is willing to bring back public access to Martins Beach — for a price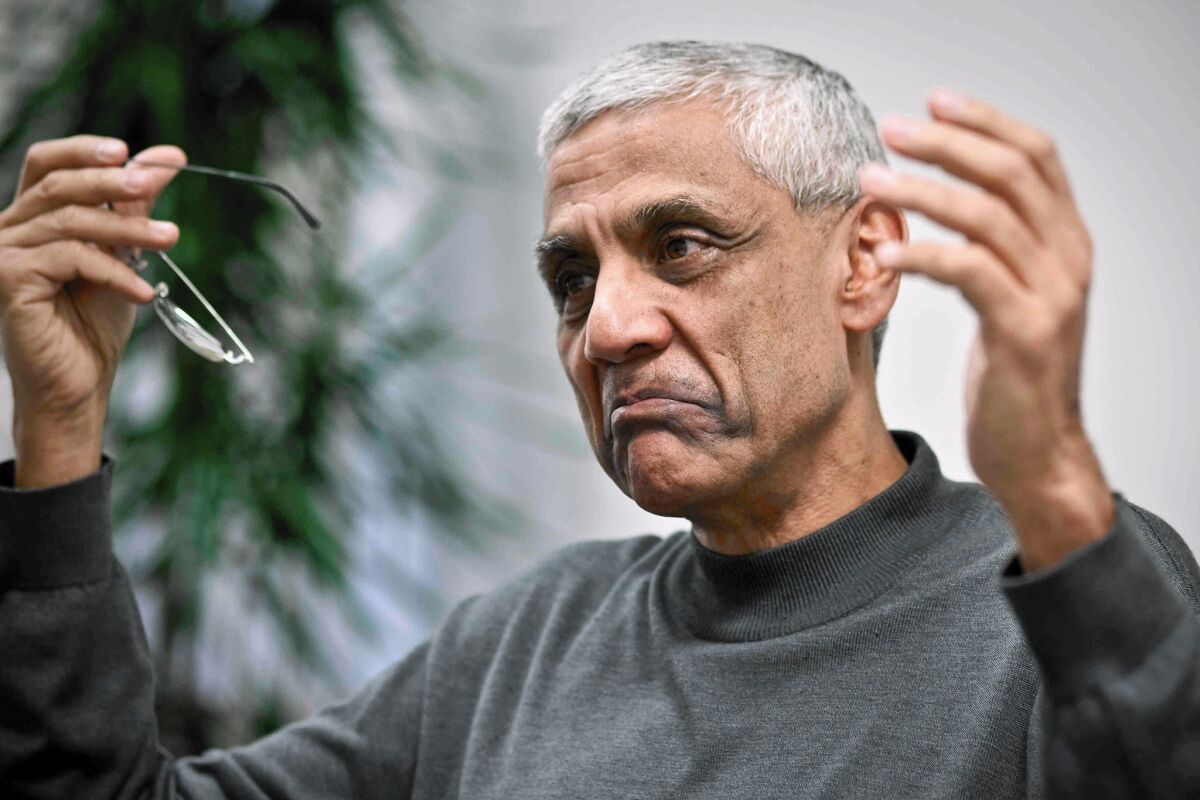 I finally got the go-ahead early last week. Silicon Valley billionaire Vinod Khosla was willing to talk to me about why he's been fighting for six years to keep the public off its own beach near Half Moon Bay.
I had plenty of questions.
Khosla, a co-founder of technology giant Sun Microsystems and a major Silicon Valley venture capitalist, is an intriguing character.
President Obama has visited his estate in Portola Valley, on the eastern slope of the Santa Cruz Mountains, and Khosla has been a huge donor to Obama's and other politicians' campaigns. For a while there, his financial and intellectual contributions to the clean technology movement had people calling him an eco-hero. He has pledged half his wealth to charity.
But few have a charitable view of what he's doing at Martins Beach near Half Moon Bay.
Khosla doesn't even live on his 89-acre coastal spread, but he's locked the gates and hired attorneys and lobbyists to keep people from fishing, surfing, doing yoga or so much as contemplating sand dollars along a shoreline that belongs to the public.
This, despite a century or more of access before Khosla bought the property for $32 million in 2008.
I've been to Martins Beach and I'd like to go back again, so I was eager to understand Khosla's thinking.
Just before my flight north, though, Khosla's lobbyist called to say that the billionaire's attorney wanted the interview to be off the record.
See more of our top stories on Facebook >>
To my relief, the lobbyist — former California Coastal Commissioner Rusty Areias — added that Khosla himself might feel differently.
So I flew north and drove to Khosla Ventures near Stanford University, shook Khosla's hand and sat down to chat.
It was a short conversation.
Khosla spoke for no more than a minute or two before saying that every word out of his mouth was off the record.
"What do you have to hide?" I asked.
Khosla said that if he spoke openly to me, he'd have to speak to 20 other reporters.
Really?
He also said that a number of Martins Beach matters are in litigation.
Sure, but I also wanted to talk to him about issues not tied up in court, such as why he bought the property if he's not living on it, and what he plans to do with it.
I wasn't there on a social call, after all, and had nothing to gain from hearing him say things I wouldn't be allowed to print.
Khosla grew increasingly irritated and told me I could take or leave his terms. He was a busy man, he said.
I gathered up my things and left. Then, spotting him again on my way to the parking lot, I told him that I, too, happen to be a busy man.
Interested in the stories shaping California? Sign up for the free Essential California newsletter >>
But not so busy that I don't have time to offer Khosla some advice:
There are few things Californians feel more passionately about than their coast, so cut your losses and quit running up the bill taxpayers will have to pay for battling you in court.
Perhaps you're thinking of fighting this to the U.S. Supreme Court, or angling for a favorable resolution from the six or seven political hacks currently holding forth on the 12-member California Coastal Commission board.
But the longer it drags out, the more you lose.
Because even if your stubbornness, money and clout prevail, you'll be the billionaire who pledges generosity but practices petty elitism.
Speaking of generosity, I offer these suggestions free of charge.
And, to be fair, Khosla's perspective is not lost on me. I've read the legal arguments.
As he sees it, the Deeney family, from whom he bought the property, allowed visitors in for the price of a parking fee, making beach access a commercial and private enterprise rather than a public right.
Khosla did the same thing from 2008 and 2010, but business wasn't great, and he didn't appreciate having San Mateo County officials telling him he still had to open the gate despite liability costs, beach erosion and the deteriorating parking lot.
San Mateo County and California Coastal Commission officials told Khosla's team before and after his purchase that he must provide access. Instead, he closed the gate without the required permit and ignored a San Mateo County judge's ruling that he open it.
"Martins Beach ... has never been open to public access," Khosla wrote in a 2014 op-ed in the San Francisco Chronicle.
It hasn't?
The Coastal Commission conducted a survey and heard from hundreds of Californians who have visited Martins Beach for decades, often for no fee at all, to celebrate special events or to simply soak up the wonder of a great treasure.
The fabulous yellowed photos they sent in, now part of the public record, pay homage to one of the most strikingly beautiful sandy beach coves on the Central Coast.
The state Constitution and the California Coastal Act demand maximum possible access to the shoreline, and at the very least, wet sand and open water are owned by each and every one of us, even where those beaches abut private land.
Frankly, I can see a way out of this for Khosla.
Since he pledged to give up half his wealth to charitable causes, why not donate Martins Beach to the state and be a hero to the people in return for a fat tax credit?
The property has a few dozen cabins, so he could make Martins Beach a kind of Crystal Cove North.
Or he can hold on to his property but negotiate a reasonable price for a beach access route with the California Lands Commission, rather than having the state grab the beach through eminent domain.
On that point, Khosla's arrogance runs as deep as the Marianas Trench.
He told the state he'd be happy to sell a small slice of his property so that people can get to the beach again.
For a mere $30 million.
That's about what he paid for the entire 89-acre property.
What a deal. The state doesn't have the money to maintain parks enjoyed by millions of Californians and visitors from around the world, and a billionaire venture capitalist wants to gouge us for a fraction of his expansive spread.
I guess I'll never know what Khosla would have told me.
But here's what I want to say:
Wealthy landowners have already fenced off far too much of California's glorious coast, and each new loss of access robs people of their right to enjoy a slice of paradise.
That's on the record, by the way.
Twitter: @LATstevelopez
ALSO
California's next senator could be a Latina. Will her past mistakes get in the way?
L.A. city and county polls diverge sharply in support for funding homelessness programs
Volunteers remove tons of trash from Los Angeles River as Earth Month cleanup continues
The stories shaping California
Get up to speed with our Essential California newsletter, sent six days a week.
You may occasionally receive promotional content from the Los Angeles Times.