In towns with most polluted air, fear that smog fight will slow down at AQMD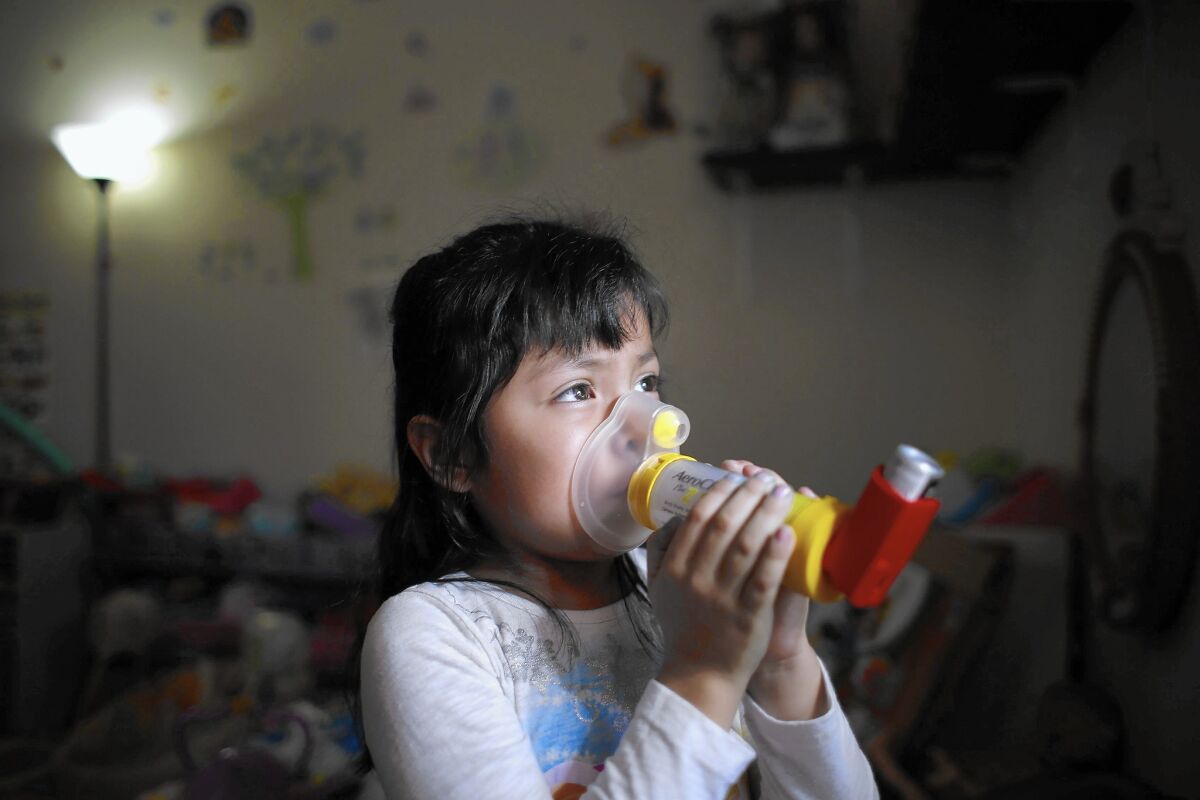 When Mira Loma resident Stephen Anderson drives through his community he's surrounded by warehouses. The sprawling complexes housing the world's goods sit next to schools and parks, neighborhoods and shopping centers, bringing a stream of diesel trucks that pollute the air with their exhaust.
The Riverside County community has paid a heavy price for the development, Anderson says. Mira Loma has for years suffered from some of the dirtiest air in the nation.
So Anderson and his wife were dismayed at recent moves by Southern California's air quality board that were widely viewed as efforts to weaken pollution regulations.
"It's a blow to all the progress that's been made," Anderson said.
Last week, the South Coast Air Quality Management District's board fired its longtime leader, seen as receptive to the concerns of environmentalists, and reaffirmed smog rules backed by polluters. Some new board members have also been talking of putting more emphasis on the needs of business.
Inland Empire environmental advocates, many of whom have fought to curb pollution for years, are frustrated by the decisions.
"To me the job of the AQMD is to clean up the air," said Jason Martinez, a Fontana resident and local activist. "For them to take a stance that they're listening more to businesses than to community members, that's a big issue."
Compounding the frustration, they say, is the fact that the air quality board's four members from Riverside and San Bernardino counties voted in favor of firing the executive, Barry Wallerstein, and against reconsidering the oil-industry backed smog rules.
"This is a concerted effort to deregulate and leave our communities in harm's way and it's very disturbing," said Penny Newman, executive director of the Center for Community Action and Environmental Justice, a local advocacy group. "Yet our representatives were right there voting to … start weakening the efforts we've been taking to clean our air."
Highland Mayor Larry McCallon, one of those board members, said he wanted to balance environmental and economic concerns, particularly for a region that has often struggled with unemployment and poverty.
"My job on the governing board is to ensure we have good air quality and that we do it in such a way that we're not losing jobs in the area," he said.
Although he wants to improve air quality in the region, he blamed much of the Inland Empire's pollution on "mobile sources that we at AQMD have no authority over at all."
Federal and state agencies regulate trucks and other vehicles that emit most of the pollution, but under Wallerstein, the air district had proposed rules to hold the ports of Los Angeles and Long Beach accountable for pollution from thousands of trucks, ships and trains they attract.
If adopted, such regulations would open the door for stricter regulation of other magnets for diesel trucks, including the warehouses that sprawl across the Inland Empire.
We're finally creating a large number of jobs out here, and you've got these people that want to shut down the one sector that's making it work.
— John Husing, chief economist, Inland Empire Economic Partnership
The agency also raised strong objections to a plan to build a 40-million-square-foot warehouse project expected to draw 14,000 diesel trucks a day to Moreno Valley.
In February, it filed the second of two lawsuits challenging the city's approval of the project, noting that it would significantly worsen air quality.
John Husing, chief economist for the Inland Empire Economic Partnership, said regulators are trying to get to an impossible place of "environmental perfection."
"For the community at large [air quality] has improved so significantly that the issue pales in comparison to other priorities," he said.
He and others in the area who have been worried about a potential for new regulations on warehouses and distribution centers pushed to replace two local AQMD board members, he said.
"We're finally creating a large number of jobs out here, and you've got these people that want to shut down the one sector that's making it work," he said.
Though air pollution in the region has improved for decades, Inland Empire communities still struggle with smog.
In 2014, San Bernardino had 76 days that violated the federal standard for ozone, a lung-damaging ingredient in smog. Riverside had 69. Fontana had 52. And Crestline, in the San Bernardino mountains, had 97.
By comparison, downtown Los Angeles had seven such days, according to air quality monitoring data.
Parts of Ontario and Mira Loma, meanwhile, have the Southland's worst levels of fine-particle pollution, which burrows deep in the lungs and is linked to thousands of premature deaths each year.
Allen Hernandez, an Inland Empire-based organizer with the Sierra Club, said the area should be pushing to create jobs that don't add pollution. Rather than weaken air quality rules, regulators urgently need to do more to improve the air, he said.
He became involved in the issue because he and several members of his family, who live in Fontana, suffer from asthma.
"It's plagued my family," he said.
As a child, he was often rushed to the emergency room with breathing difficulty. Now, it's his 4-year-old niece who gets rushed to the hospital for severe asthma attacks.
Alani Hernandez can't run with her friends. She can't exert herself much at all. She's become so used to the variety of masks and other devices she often needs to breathe that she refers to them like toys: one is her teddy bear, another a "little fishy" with a magic potion.
Watching her struggle "is heartbreaking," Allen Hernandez said.
The agency "needs to make sure every vote it takes, that they're putting the people first," he said. "It's a matter of life and death for a lot of us."
Twitter: @palomaesquivel
Times staff writers Tony Barboza and Jon Schleuss contributed to this report.
ALSO
Human Go champion scores 1st win over machine after 3 losses
Snowmobile slams into Iditarod teams, killing one dog and injuring others
As Republican rivals take aim, Donald Trump deflects blame for near-riot in Chicago
---
The stories shaping California
Get up to speed with our Essential California newsletter, sent six days a week.
You may occasionally receive promotional content from the Los Angeles Times.