In Arcadia, frustration builds as more homes give way to mansions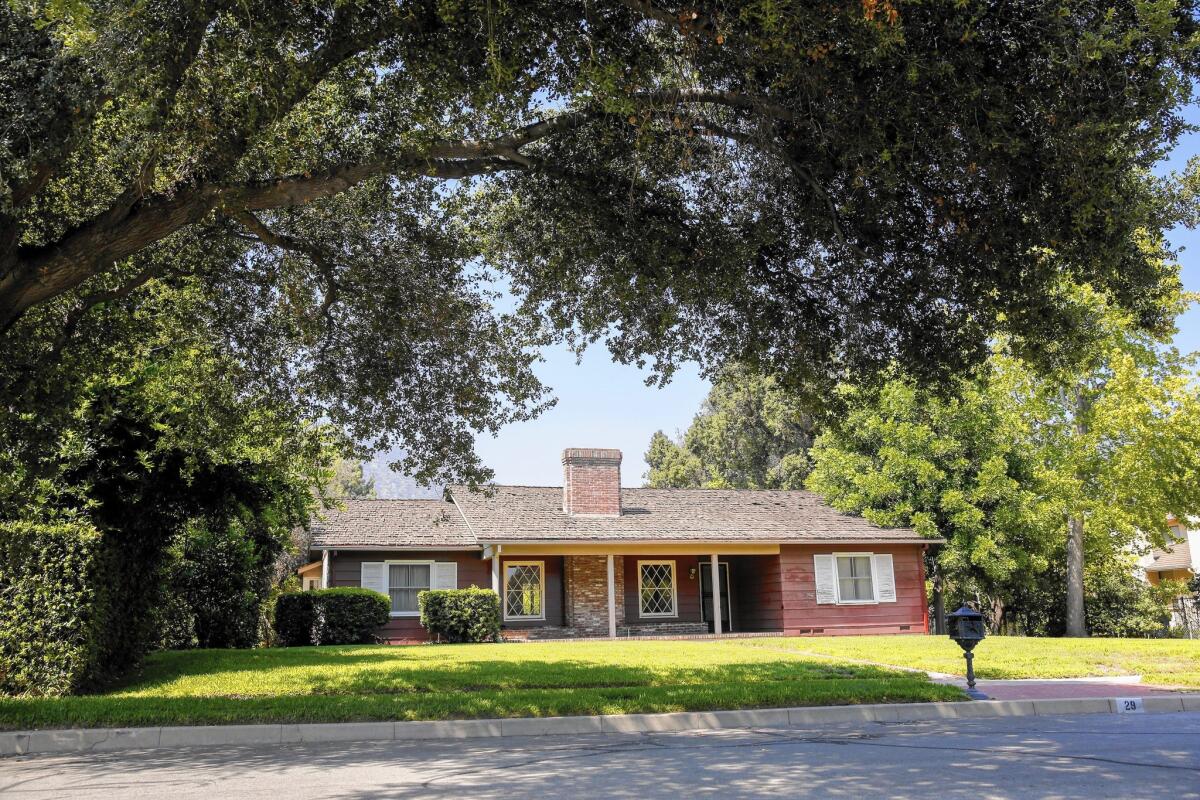 One of Arcadia's most heated political battlegrounds is a cozy house on Orange Grove Avenue with a fat brick chimney and bright white shutters.
The 1940s ranch-style home and others like it are increasingly being replaced by larger multi-story homes, a controversial trend that in Arcadia has prompted a yearlong code revision, a lawsuit and most recently, calls to oust the councilmen who voted to allow the Orange Grove Avenue house to be torn down.
Mansionization has been a flash point in communities with rising real estate prices across the Southland. But few markets are as hot as Arcadia, an upscale neighborhood in the San Gabriel Valley, where Chinese nationals are investing heavily, sometimes during "housing tours," in which they snap up multiple properties in one swoop.
Interested in the stories shaping California? Sign up for the free Essential California newsletter >>
Recently, dozens of bright yellow signs advocating for the recall of Councilmen Sho Tay, John Chandler and John Wuo have appeared in yards and road medians across the city.
It's not clear who made the signs, and city officials haven't received any recall petitions, said assistant City Manager Jason Kruckeberg.
Representatives from four of the city's homeowners associations say they weren't involved, and former Arcadia Mayor Mickey Segal, who threatened the council with a recall campaign last month, says he doesn't know who's behind the signs.
But many residents share the sentiment, said David Arvizu, spokesman for the group that's suing the city over the Orange Grove home and another property.
"This isn't just about politics," Arvizu said. "It's about what our neighborhoods are going to look like for the next 50 years."
Neighbors say the mansions ruin views, violate their privacy and are often left vacant. Builders and buyers of the homes point to the higher property values they bring to the neighborhood.
In Arcadia, part of the disagreement is cultural — most of the newcomers are wealthy and Chinese, with lavish architectural tastes that clash with the city's rustic vibe.
A few years ago — concurrent with looser Chinese restrictions on overseas investment — larger homes began appearing in greater numbers in Arcadia's northern neighborhoods, which are protected by powerful homeowners associations that can review architectural plans for proposed homes.
When the associations attempted to block the new home construction, many builders successfully appealed the decisions to the City Council, which has the power to overturn the associations' decisions.
Last year, the City Council decided to update the municipal code and began holding public workshops to determine whether there was a set of revised residential zoning codes that could make both parties happy.
But Tay, Wuo and Chandler voted to halt the code revision process after a residents' group called Save the Arcadia Highlands sued, alleging land use and environmental violations after the council voted to allow a Chinese architect to tear down the Orange Grove property and another home at 1600 Highland Oaks Drive.
Many residents saw halting the code revision as retaliation for the lawsuit. At a later council meeting, Segal threatened a recall campaign if the city didn't resolve the lawsuit within 120 days.
"We don't retaliate against the community because someone sues us," Segal said. "Freezing zoning makes no legal or common sense."
Tay said he voted to halt the revision to protect the city from further lawsuits. And the council voted last week to continue revising the parts of the industrial and commercial zoning codes that the lawsuit doesn't affect.
"We all want a code revision. But a lawsuit could cost taxpayer dollars, and the residents would have to pay for that," Tay said.
Fueling the debate is a growing fear that Arcadia, with its large home lots and relatively looser zoning codes, is becoming a place for overseas Chinese investors to park their money. Surrounding cities around Arcadia like Monrovia and Sierra Madre have passed tighter restrictions on tear-downs and mansionization over the last few years.
"We've become an investment haven for foreign investors," said Richard Midgley, president of the Santa Anita Oaks Homeowners Assn. "They're building hotel-sized homes up here."
Arvizu, who is also the lead plaintiff in the lawsuit against the city, said his group is preparing to gather signatures for a ballot measure that would allow voters to approve a set of tighter restrictions on large homes. If the petition gathers enough signatures, it could appear on a ballot as early as April 2016.
Tay agrees the code needs to be revised. But, he added, mansionization is part of a larger trend that has nothing to do with Arcadia's laws or Chinese buyers. As incomes rise, it's natural for home buyers, both domestic and foreign, to want bigger homes, he said.
"A 10,000-square-foot lot with a 7,000-square-foot home, that's too big, I feel," Tay said. "But that's what people want now."
ALSO:
Attempt to tighten 'McMansion' law spurs outcry
McMansions eat up traditional backyards as interiors trump exteriors
L.A. neighborhoods closer to getting temporary mansionization limits
Sign up for Essential California for news, features and recommendations from the L.A. Times and beyond in your inbox six days a week.
You may occasionally receive promotional content from the Los Angeles Times.