Death is scary. But for children, Día de los Muertos makes understanding it much easier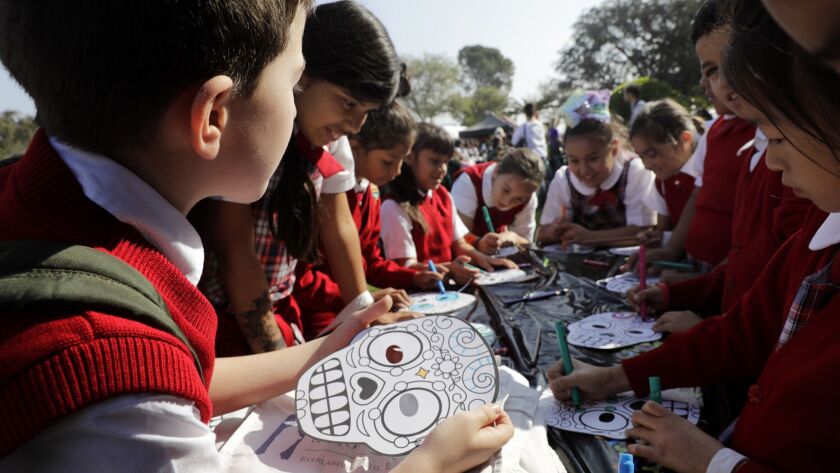 Her memories of Abuelito Felix began to fade soon after he died.
Still, Sofia Burt, 8, remembers dancing in his arms and hearing him call out to her, "Hey, my little sunflower."
This week, the third-grader carried her grandfather's photograph inside her pink backpack to a Day of the Dead celebration in East Los Angeles. More than 200 children from 10 Catholic schools gathered at Calvary Cemetery to honor their family and culture by building altars for loved ones who have died.
"These are people who loved us a lot," said Sofia, who goes to St. Anthony School in San Gabriel. "We met some and some we never knew."
Notions of death and the afterlife often are scary to children. But Sofia and the others at Calvary had plenty to say about their departed relatives and all the stories they left behind. Over the years, the third-graders have lost great grandparents, grandparents, cousins, uncles and aunts.
"My Tio Bob was really into the Cowboys and he always wore a rosary around his neck," said Ava Perez, 8, of Assumption School in Boyle Heights.
"My Tia Esther had us come over with a big chocolate cake every year on her birthday," said Jeanette Sepulveda, 8, of Our Lady of Miraculous Medal School in Montebello.
"My Tio George used to put on burgundy bow ties and loved going to parties," said Alana Martinez of School of Santa Isabel in Boyle Heights.
Tio George was 28 when he died in a car accident just last month.
Alana's mother, Stephanie Moran, went to the cemetery to spend the day with her daughter's class. As she stood there in the cool morning air, she said she felt a sense of peace.
"We're here to celebrate my brother's life," Moran said. "We know he's smiling down on us right now."
Lylah Romero, 8, brought two lists of everyone she's bid farewell to over the years. One was family. The other, her beloved pets.
"I've lost a bunch of birds, a fish, a parrot, a dog and two turtles," she said.
She doesn't remember the name of one turtle. The other was called Violet. They died after she left on vacation and forgot to leave them food.
"I was very disappointed in myself," Lylah said as she painted a picture frame to decorate her altar. Her class had brought candles, fresh pan dulce and apples and pears to pay tribute to their dead.
The Dia de los Muertos event, now in its fifth year, is a festive celebration of lives organized by the Archdiocese of Los Angeles.
"This is a demonstration of our strong sense of love," said Florencia Teran, a teacher from Our Lady of Guadalupe School in East L.A. "We're bringing back our culture, our tradition."
Teran taught students about the holiday, about pausing to remember lost loved ones and helping them on their spiritual journey with ofrendas, or altars of offerings.
She showed them a colorful altar in the cemetery's mausoleum, built for a dapper, mustached man whose photograph stood front and center. Family had surrounded it with fragrant marigolds and things he once enjoyed: rice, tamales, cactuses, Coca-Cola.
This year, a lot more children understood the traditions. They had, after all, seen the movie "Coco," about a young boy's love of music and the family he meets in his journey into the afterlife.
Teachers and parents said the film had encouraged kids to talk about death. Many saw their own relatives reflected in the close-knit characters.
Vasgian Gutierrez, 8, of Our Lady of the Miraculous Medal School in Montebello, said he was reminded of his grandfather Remberto who loved to sing rancheras.
"He used to ride a horse named Scotch and always gave me popsicles," Gutierrez said proudly.
Celebrating Day of the Dead at Hollywood Forever Cemetery.
He was in a large group on the cemetery lawn painting sugar skulls and skeleton masks when the "Coco" hit "Un Poco Loco" began playing over the speakers. Instantly, the children joined in like a well-rehearsed chorus.
Moments later, they moved into the mausoleum to build their ofrendas.
As teachers lined altars with tablecloths and the colorful Mexican tissue-paper flags called papel picado, the children took out their family photos. Some featured black-and-white faces from long ago, others young relatives lost recently, too soon.
Kailey Estrada of Sacred Heart Elementary in Lincoln Heights held a wrinkled image of an ultrasound from last year in her hand.
"This was my mom's baby in her belly," she said. "Its heart stopped one day."
In a house full of brothers, Kailey had hoped she would at last have a sister. She cried for days after her father told her the bad news.
On Tuesday, the 9-year-old carefully placed the photo in a frame she'd decorated with a sticker of a fuzzy yellow chick.
"I'm a little sad right now," she said. "But I also feel like this is going to make the baby very happy."
esmeralda.bermudez@latimes.com
---
The stories shaping California
Get up to speed with our Essential California newsletter, sent six days a week.
You may occasionally receive promotional content from the Los Angeles Times.