Investigators think they know who tore up Death Valley's fragile Racetrack Playa in an SUV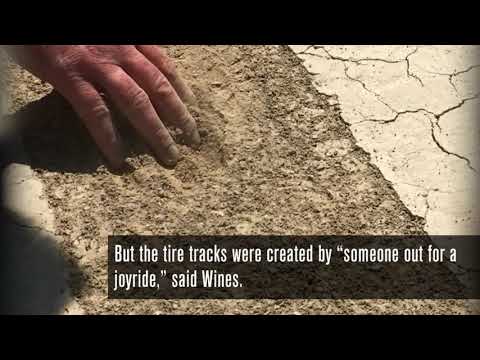 Officials said Tuesday that federal investigators have identified a suspect believed responsible for high-speed driving across "Racetrack Playa" in Death Valley National Park.
Federal investigators have identified a suspect believed responsible for a frenzy of high-speed driving across "Racetrack Playa," a remote dry lake in Death Valley National Park, officials said Tuesday.
Spinning and swerving wildly in an SUV in early August, the suspect allegedly cut 10 miles' worth of ruts into the playa, best known as a site where large rocks leave seemingly impossible trails that wiggle, weave and turn at sharp right angles for hundreds of feet.

For the record:
2:26 p.m. Nov. 28, 2023A previous version of this article misspelled Indian Springs, Nev., as India Springs.
The tracks had long posed a mystery, befuddling tourists and attracting worldwide speculation.
In 2014, however, scientists discovered that huge panes of ice pushed by light winds episodically sail into rocks weighing up to 200 pounds, bulldozing them across the slick muddy bottom of the normally dry lake.
What happened out there is inexcusable.
— James Norris, a research engineer who helped solve the mystery of the roaming rocks
The tire tracks, on the other hand, were created by "someone out for a joyride," said Abby Wines, a spokeswoman for the park.
The only mystery was who did it.
Investigators have not released the name of the suspect, but Wines said, "We are hopeful that someone will be charged in this case."
The incident was only the latest example of vandalism in the hottest, driest place on Earth, and a destination visited by more than 1 million people from around the world.
In May, three men were charged with a variety of felony counts in connection with a drunken rampage at a remote rock tub in Death Valley National Park inhabited by federally endangered Devil's Hole pupfish, one of which was found dead at the scene.
Trenton Sargent, 26, of Indian Springs, Nev.; Steven Schwinkendorf, 29, of Pahrump, Nev., and Edgar Reyes, 35, of North Las Vegas, were identified through DNA collected at Devil's Hole, a 40-acre detached unit of the park, officials said.
In June, Casey Nocket, 23, of San Diego pleaded guilty to seven misdemeanor counts of defiling rock formations with graffiti in seven national parks including Death Valley and was banned from 524 million acres of public lands during her two years of probation.
Nocket painted colorful faces with acrylic paint and markers on rock formations with panoramic views including Death Valley's Telescope Peak during a 26-day period in 2014, officials said.
"It hurts and angers us most to find damage after it's done with no leads or possibility of finding out who did it," Wines said. "But in the case of Devil's Hole and Telescope Peak, we know who did it, and they were charged."
"In the case of the racetrack," she added, "investigators have a strong lead."
A park ranger on backcountry patrol noticed the long tire track ruts and doughnuts in early August, when the playa was dry.
"What happened out there is inexcusable," said James Norris, a research engineer who, along with his cousin, Richard, discovered the mechanism that propels the playa's rocks.
"They drove north to south and swerved all over the place – all of which will be terribly damaging," he said. "That's because they tore up the surface crust, exposing earth that will be blown away by winds. As a result, the tire marks will be noticeable for years to come."
"Sadly," he added, "we're going to have to wait for a good rain to start the repair process."
Twitter: @LouisSahagun
ALSO
Nearly 200 earthquakes hit Salton Sea amid quake swarm
California is cracking down to prevent illegal fishing off the coast
California wildfires scorch parched hillsides and destroy one home in sweltering heat
Sign up for Essential California for news, features and recommendations from the L.A. Times and beyond in your inbox six days a week.
You may occasionally receive promotional content from the Los Angeles Times.