Cities hope Gold Line extension is a ticket to growth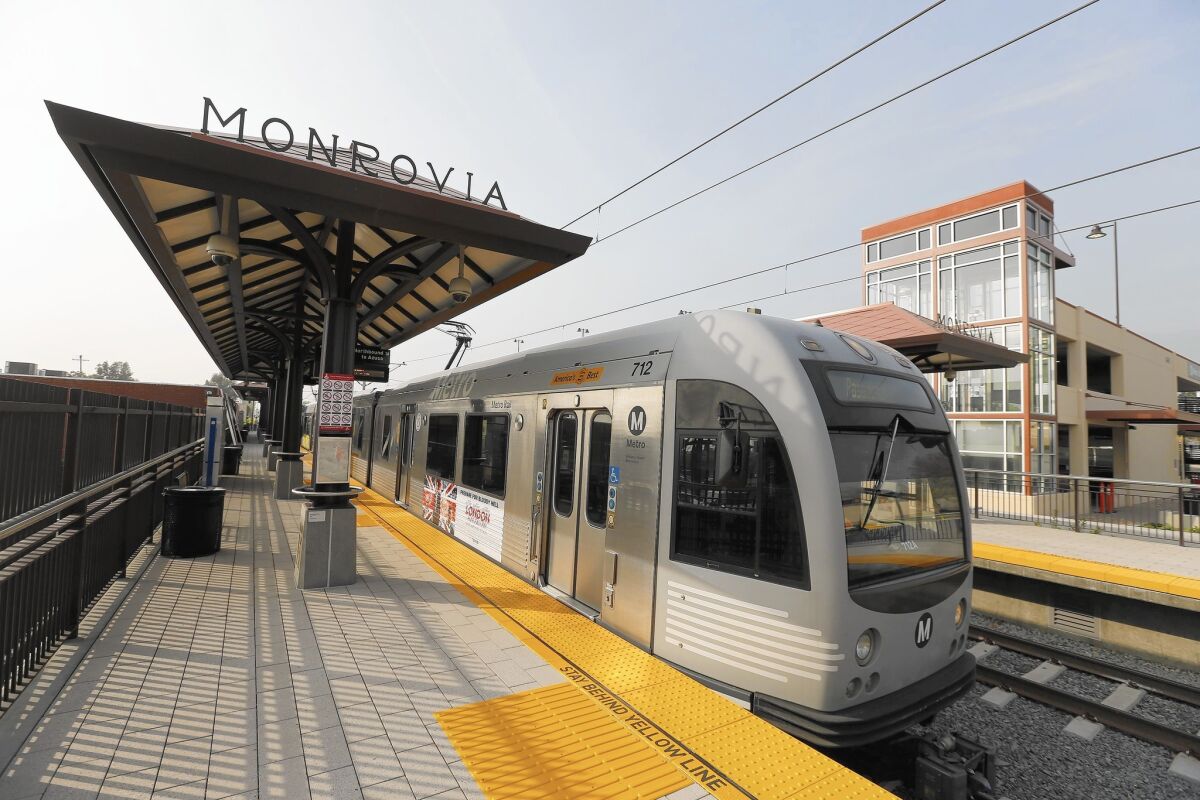 When City Manager Oliver Chi looks across Station Square next to the new Gold Line stop in Monrovia, he doesn't see a dilapidated train depot. He sees a bustling restaurant.
Where an empty lot now sits, he sees a five-story apartment complex. That old lumber house? A bustling food hall.
Los Angeles County's growing light-rail network plunges deeper than it ever has into suburbia this week with the opening of the Gold Line extension linking Pasadena to Azusa.
The new line runs through a series of bedroom communities that until now have not been served by Metro's light rail. These cities have decidedly less dense development than some other areas covered by Metro rail, notably downtown L.A., central Pasadena and Hollywood.
Interested in the stories shaping California? Sign up for the free Essential California newsletter >>
But urban planners are hoping to change that with a series of developments along the Gold Line designed to take advantage of the rail line — and hopefully attract more riders.
The 11.5-mile Foothill Gold Line extension, which consists of six stops through the cities of Arcadia, Monrovia, Duarte, Irwindale and Azusa, began service Saturday.
Most of the cities along the route began preparing at least five years ago, adjusting zoning requirements and writing up master plans. Officials say they know the transformation won't happen overnight, but they're encouraged by the surge in interest from developers that's been triggered by the rail's inception.
Habib Balian, chief executive of the Metro Foothill Gold Line Construction Authority, said the extension will be a "game changer" for development in the San Gabriel Valley.
"We're finally connected in a way we haven't been for 60 years, and this is a huge opportunity for all these cities … to build city centers around these stations," Balian said.
Balian and city officials said their goal is to surround the stations with new housing, dining and shopping and create walkable, sustainable communities that eliminate the need for cars and encourage use of the rail.
Adding rail lines does not always ensure more growth. Metro's first rail line, the L.A.-to-Long Beach Blue Line, has struggled to attract commercial and housing development to some of its stations.
But Gold Line backers believe they can succeed.
See more of our top stories on Facebook >>
The cities are in various stages of planning. Monrovia recently completed $25 million worth of infrastructure improvements and new facilities, including a park and band shell, at Station Square. Officials have also approved several projects, including the Parks apartment complex and the Lumberyard food hall concept, that are set to open within the next year or so.
"It's something our community's been waiting for and planning for for over the last two decades, and to see it actually become a reality is something that's really pretty special," Chi said.
In Arcadia, a few projects have been approved, including a four-story, 38-unit apartment complex with 16,000 square feet of commercial space on the ground floor. A microbrewery has also been approved, and other projects are on the way, said Jason Kruckeberg, assistant city manager and development services director.
Azusa has two new Gold Line stations, one in its downtown, within walking distance to the city's civic center, library and veterans park, and another near the Azusa Pacific University and Citrus College campuses.
"The Gold Line will completely revitalize our downtown," Councilman Uriel Macias said. "Certainly foot traffic is one of the things retailers look for. They want to have that captive audience, and the Gold Line is going to bring that foot traffic and captive audience."
The growth of Metro's light-rail network has led to significant increases in density in some areas. Perhaps the most dramatic example is Hollywood, which is seeing a boom in high-rise and mixed-use projects, many along the Red Line subway. Another is Pasadena, where numerous mid-rise apartments and condo complexes have risen near the Gold Line.
The Gold Line extension probably will bring more development, experts say, but the question is how much and how quickly.
"I imagine that with planning and zoning changes and over a long time period, somewhat more transit-oriented patterns can be developed in the San Gabriel Valley," said Martin Wachs, professor emeritus of urban planning at UCLA. "Pasadena is a good example that neighborhoods do change when investments are made."
Rail lines tend to be more efficient in high-density areas, Wachs said, pointing to bustling Wilshire Boulevard, where the Purple Line subway is under construction.
Monrovia and Azusa are much less dense. But Pasadena and other communities have shown rail lines can be a magnet for denser development.
"Those of us who are urban planners would argue that places like the Wilshire corridor are much more ripe for increased development and for rail investment, but we understand that there's a need to address the interest of many parts of the region in getting improved accessibility that's provided by the rail system," Wachs said.
Monrovia resident Analia Cooper, 41, who lives within walking distance of the Gold Line station, came with her son to the playground on a recent weekday and said every community needs areas such as Station Square with accessible transportation and nearby activities. Cooper said she's looking forward to taking the train to Azusa and Pasadena and checking out the new stores and restaurants.
"We're hoping that it brings more people to the community, we're hoping that it helps our property value and that it sort of helps us rediscover our neighbors to the east and to the west," Cooper said. "We already know it's causing some people headaches with the traffic, but otherwise I see a lot of good things coming from this. We have high expectations."
taylor.goldenstein@latimes.com
ALSO
Back to blimps? Lockheed Martin will show off its Hybrid Airship
San Bernardino police chase ends with 'innocent' driver's death in car crash
Mr. T, Wayne Newton among celebrities to attend Nancy Reagan funeral
The stories shaping California
Get up to speed with our Essential California newsletter, sent six days a week.
You may occasionally receive promotional content from the Los Angeles Times.