To be young, rich and Chinese in America: Amid all that flashy spending, a sense of loss
Rudy Rong, center, with Katharine Chen, left, and Kevin Chen, poses for a photo as they film for Rong's interactive virtual-reality startup in Los Angeles.
(Marcus Yam / Los Angeles Times)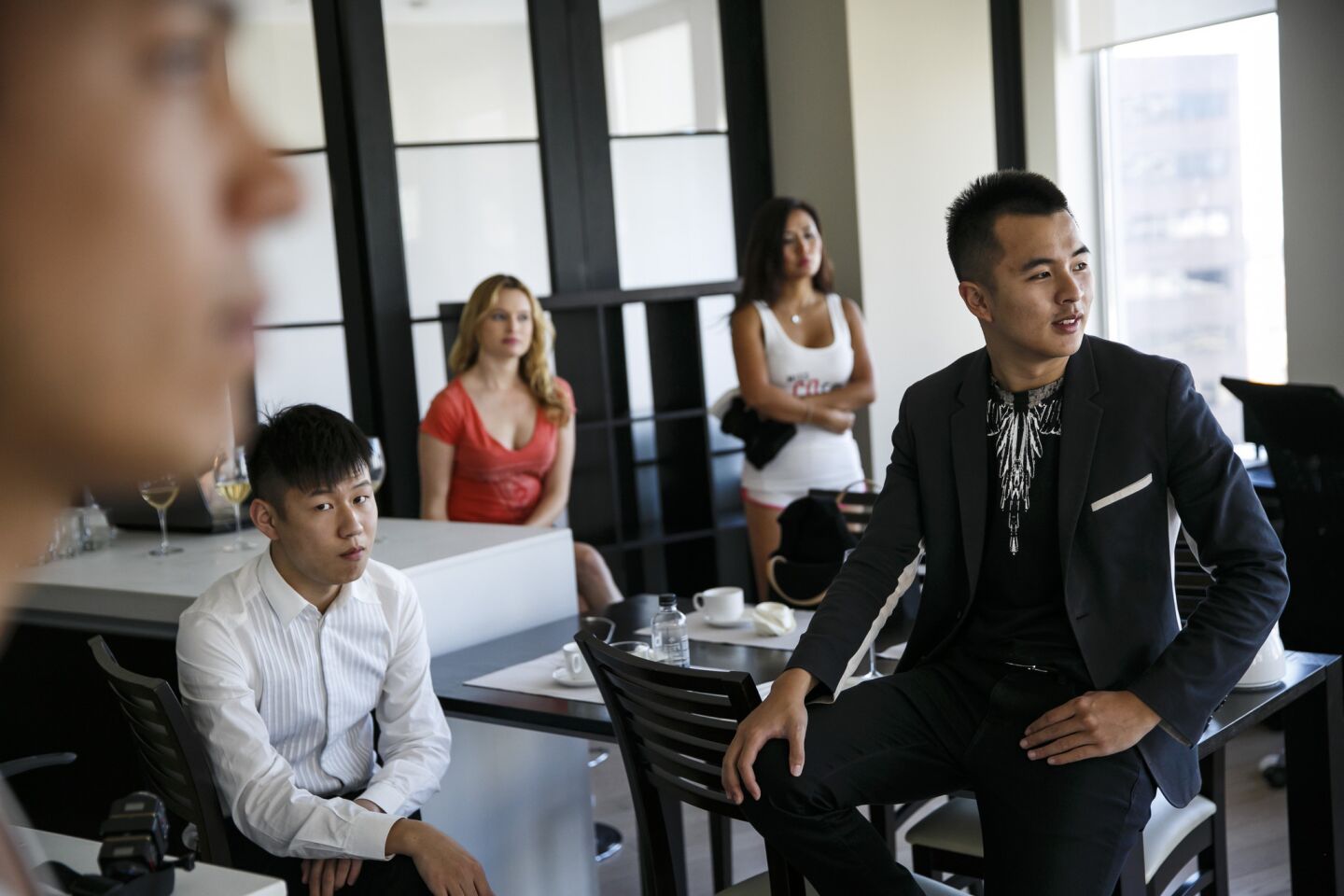 Ivan Ceron, from left, Kevin Chen, Kelly Pantaleoni, Katharine Chen and Rudy Rong during a film shoot for Rong's interactive virtual-reality startup in Los Angeles.
(Marcus Yam / Los Angeles Times)
From left, Kelly Pantaleoni, Kevin Chen, Rudy Rong and Ivan Ceron, get set up during a film shoot for Rong's interactive virtual-reality startup.
(Marcus Yam / Los Angeles Times)
Ivan Ceron, center, sits to film while Katharine Chen and Kelly Pantaleoni pillow fight on the bed, for Rudy Rong's interactive virtual-reality startup in Los Angeles.
(Marcus Yam / Los Angeles Times)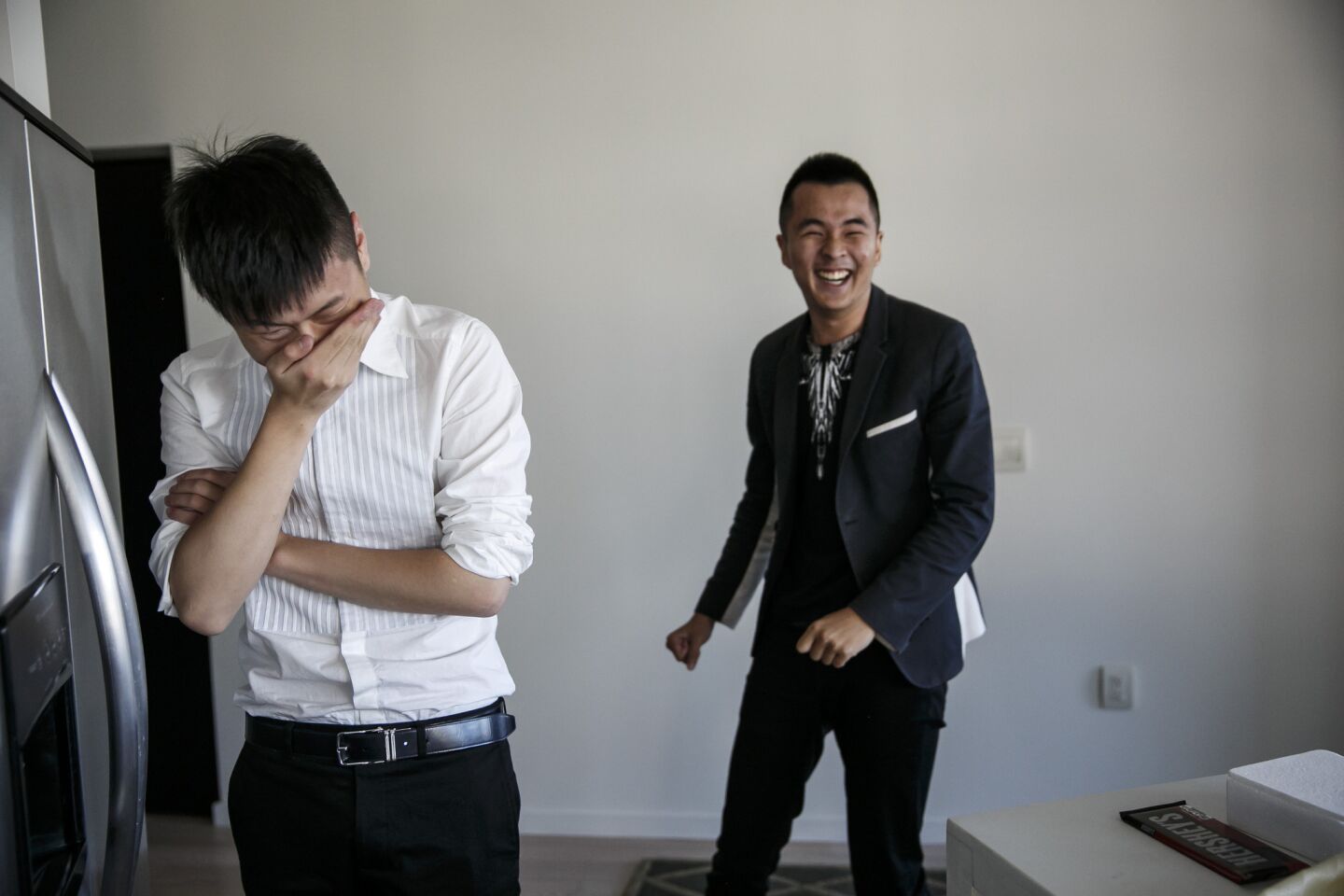 Kevin Chen, left, and Rudy Rong, laugh during a break in filming.
(Marcus Yam / Los Angeles Times)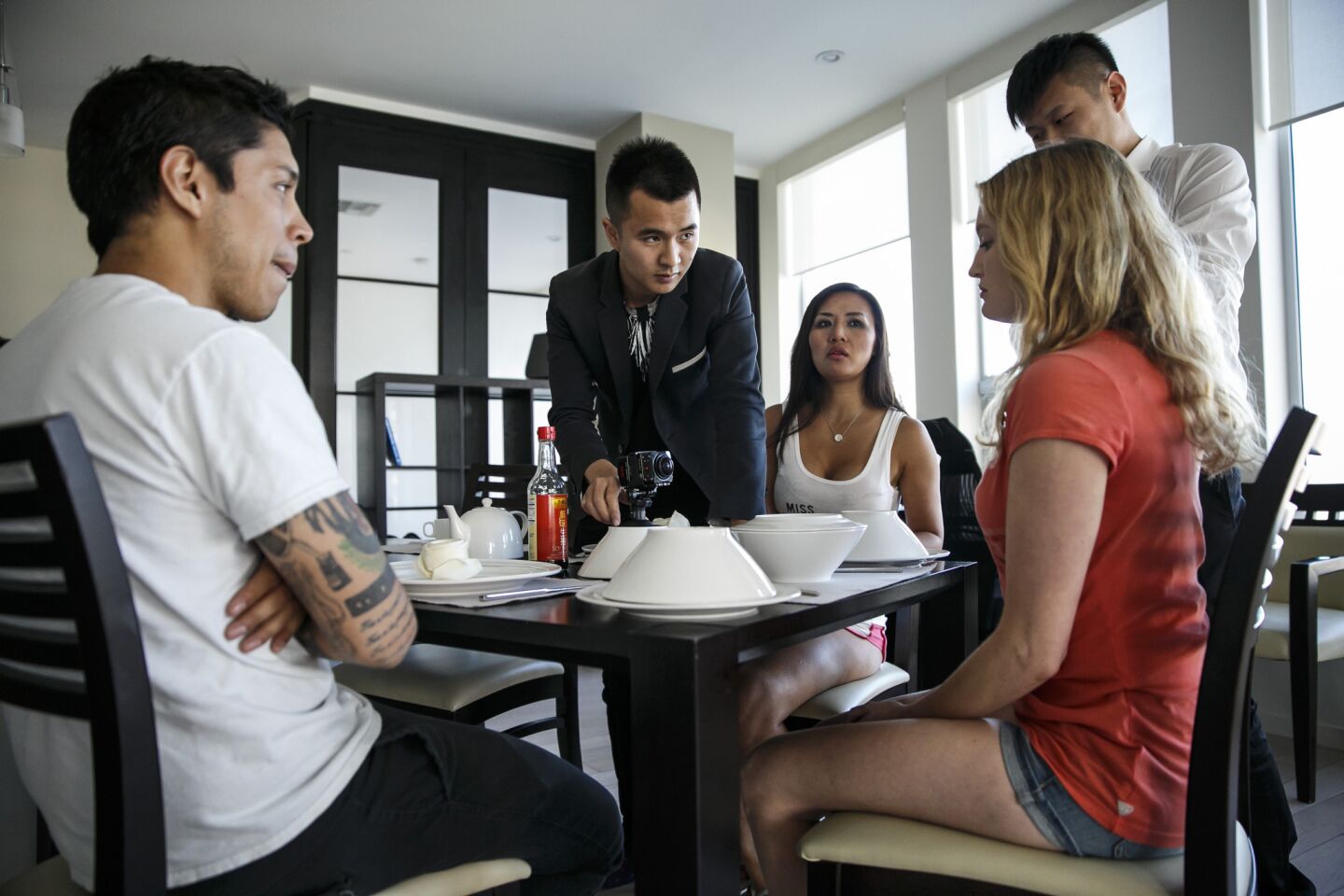 From left, Ivan Ceron, Rudy Rong, Katharine Chen, Kelly Pantaleoni and Kevin Chen during a film shoot.
(Marcus Yam / Los Angeles Times)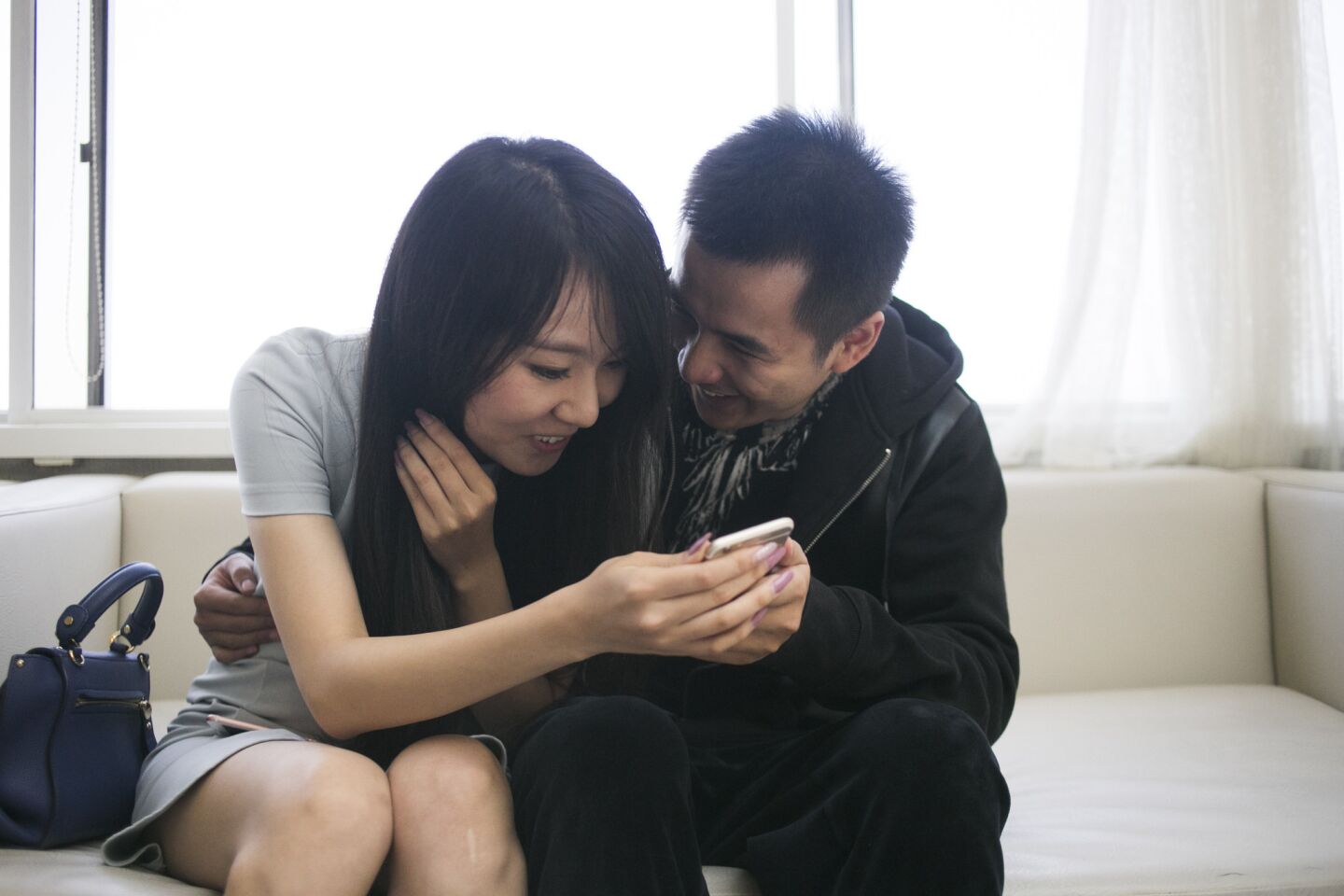 Rudy Rong, a USC student and son of one of the wealthiest men in China, looks at pictures with girlfriend Cathy Wang.
(Jenna Schoenefeld / For the Los Angeles Times)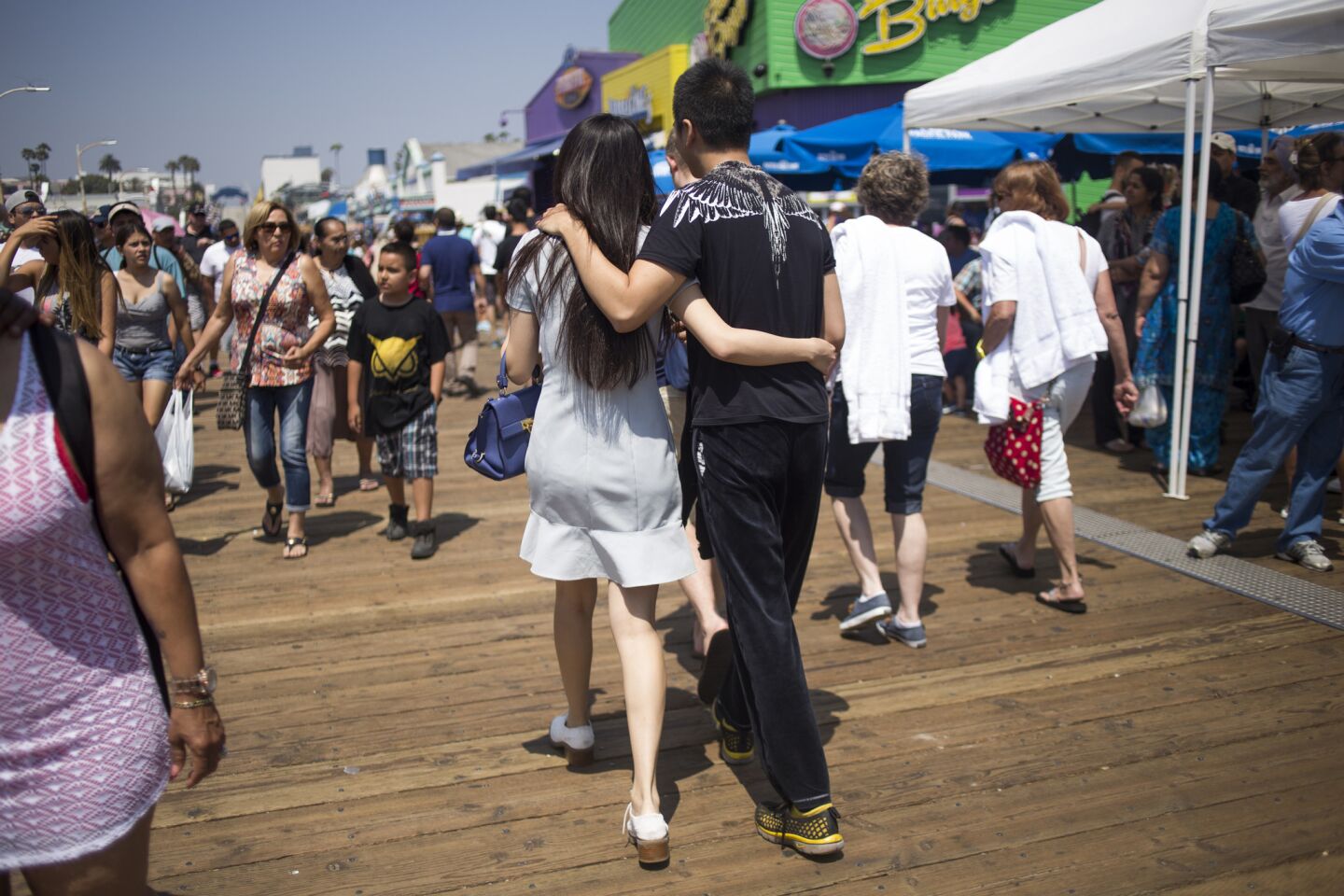 Rudy Rong and girlfriend Cathy Wang take a walk at Santa Monica PIer.
(Jenna Schoenefeld / For The Times)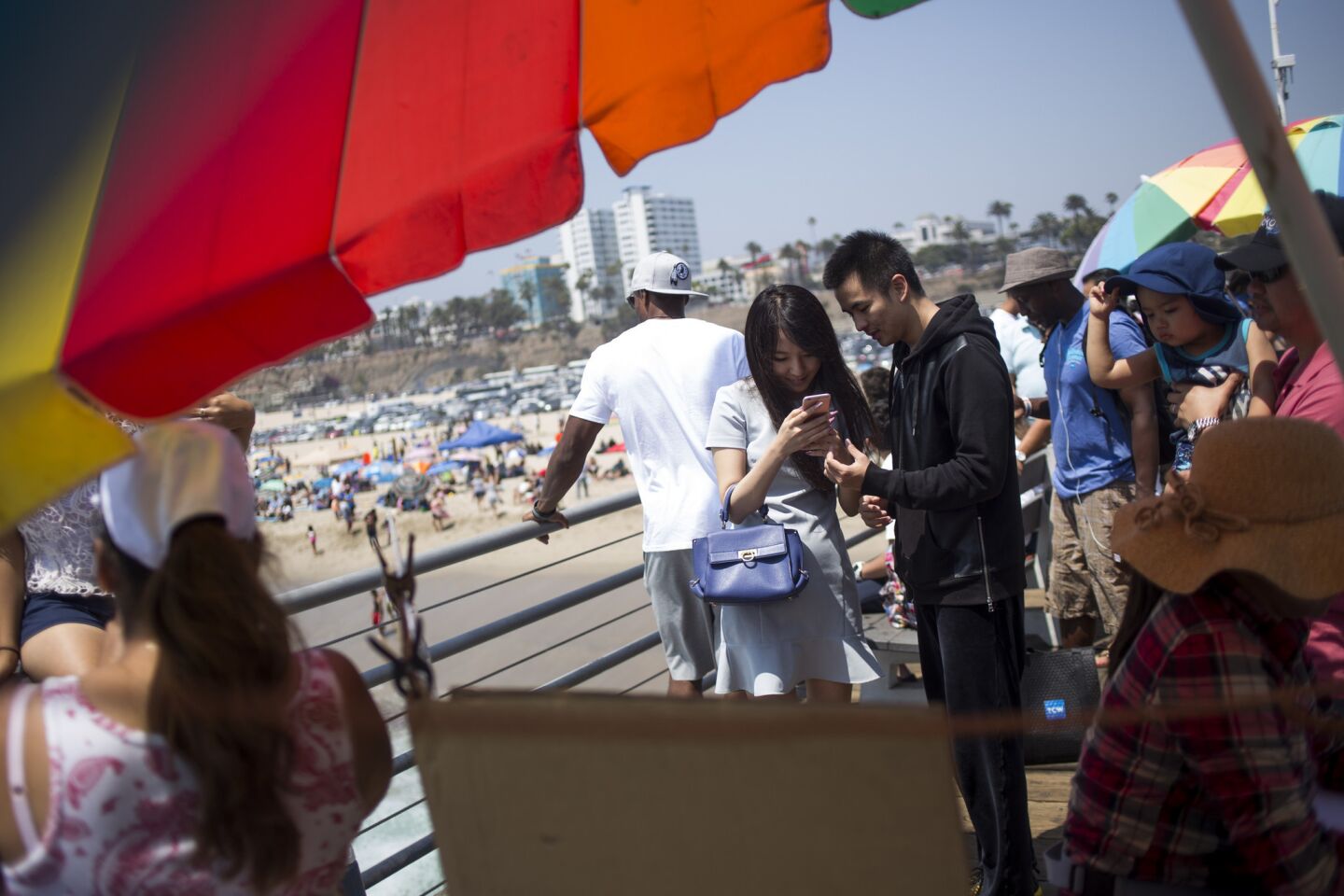 Rudy Rong and girlfriend Cathy Wang look at a picture he just took at Santa Monica Pier.
(Jenna Schoenefeld / For the Los Angeles Times)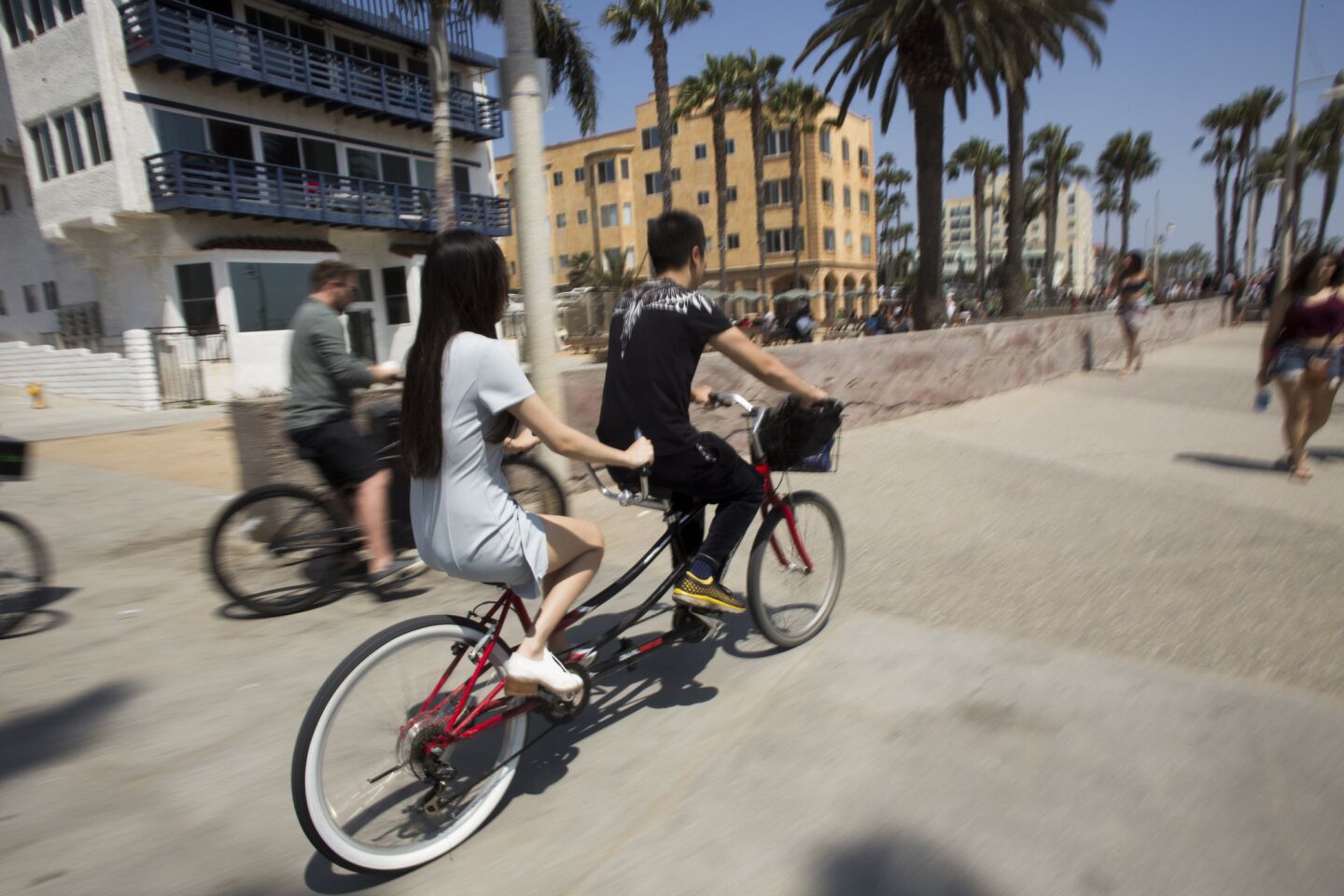 Rudy Rong rides a tandem bike with his girlfriend on the boardwalk in Santa Monica.
(Jenna Schoenefeld / For The Times)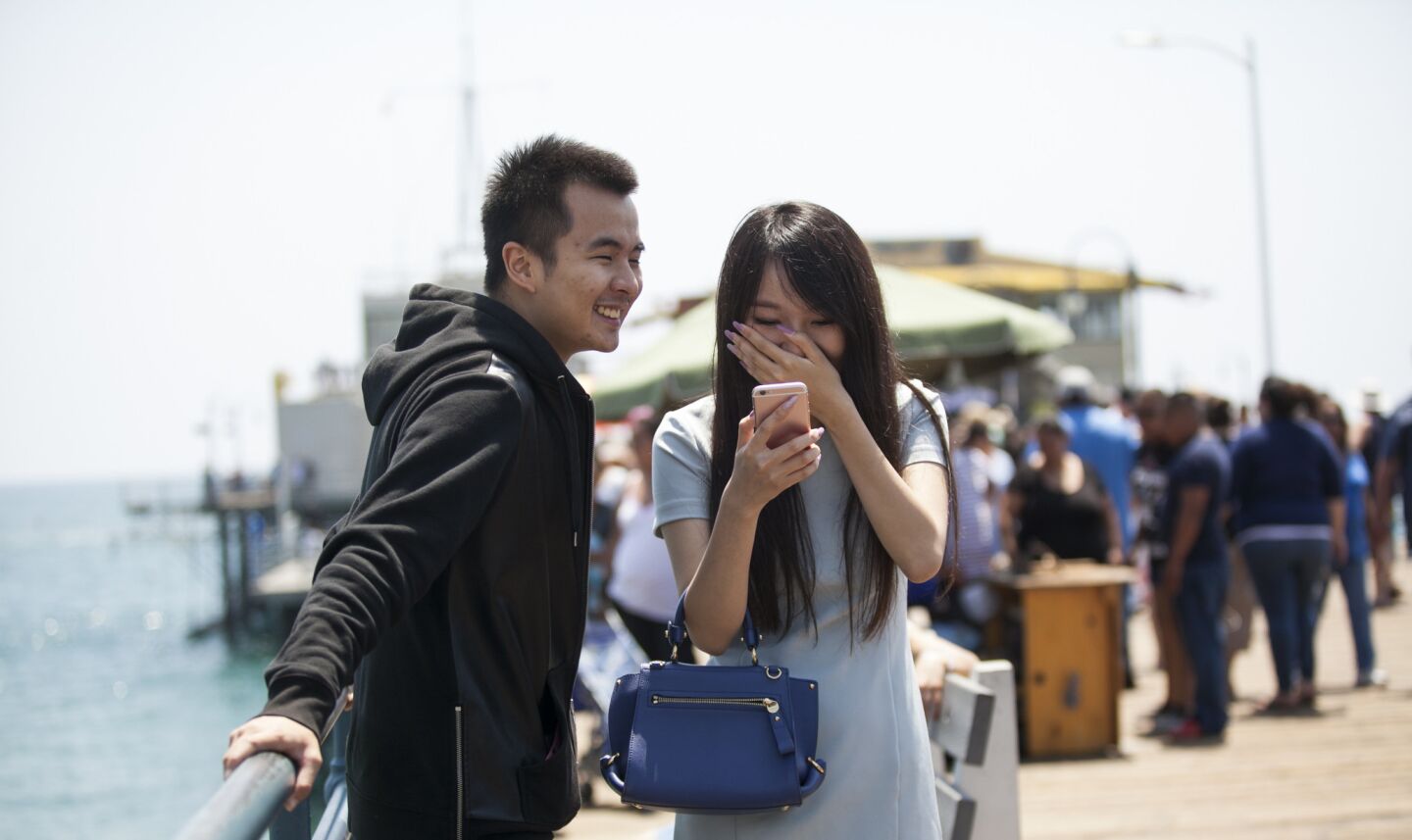 Rudy Rong walks around Santa Monica Pier with girlfriend Cathy Wang.
(Jenna Schoenefeld / For The Times)
Rudy Rong took a seat at a table in the Commerce Casino's poker hall, his legs jigging with nervous energy.
The 22-year-old son of Chinese video game billionaires hadn't come here to gamble. Rong was launching a virtual reality startup, and he had arrived hours earlier to videotape a musical performance in the casino's ballroom for an investor demo.
But as Ping An, a pop star and former contestant in the singing show Voice of China, took the mic, Rong grew anxious, left the camera running onstage and retreated downstairs to the poker tables.
As he tossed a $100 bill on the green felt, his phone's glow illuminated bags under his eyes. His startup's app would be launching in a month, and he had been pushing himself hard, packing his schedule with coding sessions, media appearances and investor meetings.
As one of China's fuerdai — the scions of the country's new wealthy class famous throughout the world for flashy spending and driving fast cars — Rong wants to prove he can do more than inherit money.
A stack of chips appeared in front of him.
The game is No Limit Texas Hold 'Em, and when it came time for Rong to make his last bet before the dealer showed the final card, he took another look at his cards.
The odds of Rong getting another spade, completing a flush and winning the hand, were low.
But so are the odds of a 22-year-old USC student launching a successful startup. To win at anything, Rong believes, you must gamble.
He pushed "all in."
The dealer flipped a queen of clubs. Another 100 dollars gone.
Rong frowned and reached for his wallet.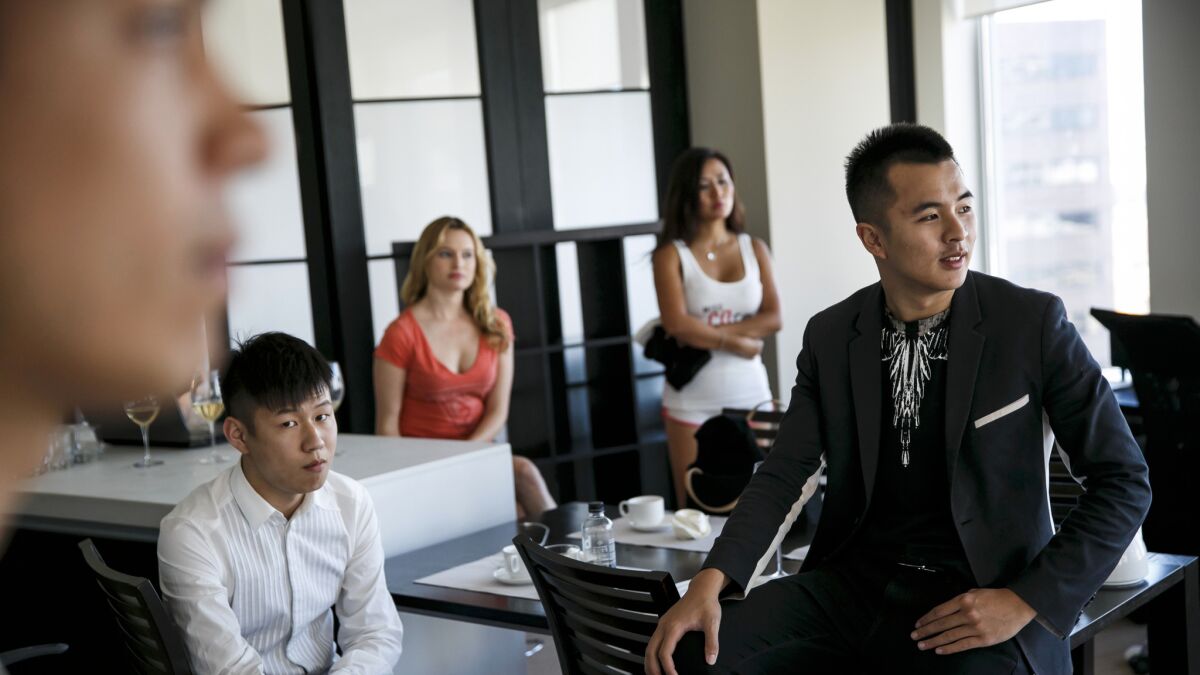 In recent years, Porsches, Lamborghinis and Ferraris have become common sights outside certain hotpot restaurants in the San Gabriel Valley.
Behind the wheels of these cars are fuerdai like Rudy, a generation born in the aftermath of China's economic miracle, with every imaginable resource at their disposal.
For many in China, the fuerdai symbolize the values lost in the modernizing country's mad dash for economic growth — diligence, humility and restraint.
Their exploits make headlines across the world and read like a cautionary tale of new wealth — "The Great Gatsby," but with China-sized fortunes:
The son of one of China's richest men buys two Apple Watches, fastens them around his dog's forepaws, and posts it on social media to wild public outcry.
A local official's son tries to use his father's name as a get-out-of-jail-free card after killing two students in a car crash.
Rumors of wild orgies in coastal cities periodically surface through Weibo, China's Twitter.
And in Los Angeles, where many rich Chinese families send their kids to school, an 18-year-old UC Irvine student from China was arrested in Malibu after leading police on a 122 mph chase across the city in a BMW 750i, unaware that he was being pursued.
The fuerdais' antics have inspired such national anxiety that last year the Chinese government ordered 70 of these second generation nouveau riche to attend an education camp on Chinese values. There's widespread concern in China that wealth is warping the social compass, said Xiaofei Li, a political science professor at York College of Pennsylvania. In the new China, morality is often measured by how much money someone makes, not how they make it.
"There's a saying in China: People will laugh at someone who is poor, but they will not laugh at a prostitute," Li said.
There's a saying in China: People will laugh at someone who is poor, but they will not laugh at a prostitute.
— Xiaofei Li, a political science professor at York College of Pennsylvania.
Rong, a second-year student at USC, rents an office in a downtown skyscraper, spends weekends in his family's 5,900-square-foot house in Newport Beach and, depending on his mood, drives a Bentley Continental GT, a Rolls Royce Phantom, a Porsche Turbo Cayenne, a Cadillac, a Mercedes or a Range Rover — a fleet he keeps parked around town, some in spaces that go for up to $2,400 a year at the downtown Los Angeles high-rise where he has his apartment.
He freely identifies as fuerdai, but with one caveat.
"It just defines you as someone's son. We want to be known for ourselves," Rong said.
::
Five thousand dollars in cash fluttered over the dance floor at Lure, a Hollywood nightclub, like overpriced confetti. Rong raised his phone and hit record.
His video of that night in 2014 shows dancers ignoring the thumping bass beat, crawling after bills and leaping to snatch money from the air.
Beyond the dance floor, he says, bikini-clad models rolled cigars and lay on tables inviting patrons to suck body shots of expensive alcohol from their navels. Outside, late arrivals pulled up in gleaming sports cars and strutted along a red carpet.
When police responded to reports of underage drinking, Rong and his friends rented two buses and moved the festivities down the street to Cosmo, where, he says, actors James Franco and Seth Rogen made an appearance.
The party's chaotic extravagance was the product of Prime Union, a leisure club for young, wealthy, Chinese nationals in the U.S. that Rong and his friends created as college freshmen.
In exchange for a membership fee that eventually swelled to $20,000 a year, Prime Union organized private jets to Las Vegas, threw parties where members could eat sushi off the nude bodies of models and rented out mansions in the Hollywood Hills to show off their flashy cars and throw more parties.
Rong says he started the club because he wanted to "change the image of Chinese people" in America — an image, he believed, that consisted of little more than infrequent, unflattering roles in film and television, like Ken Jeong's turn as Chow in "the Hangover" movies.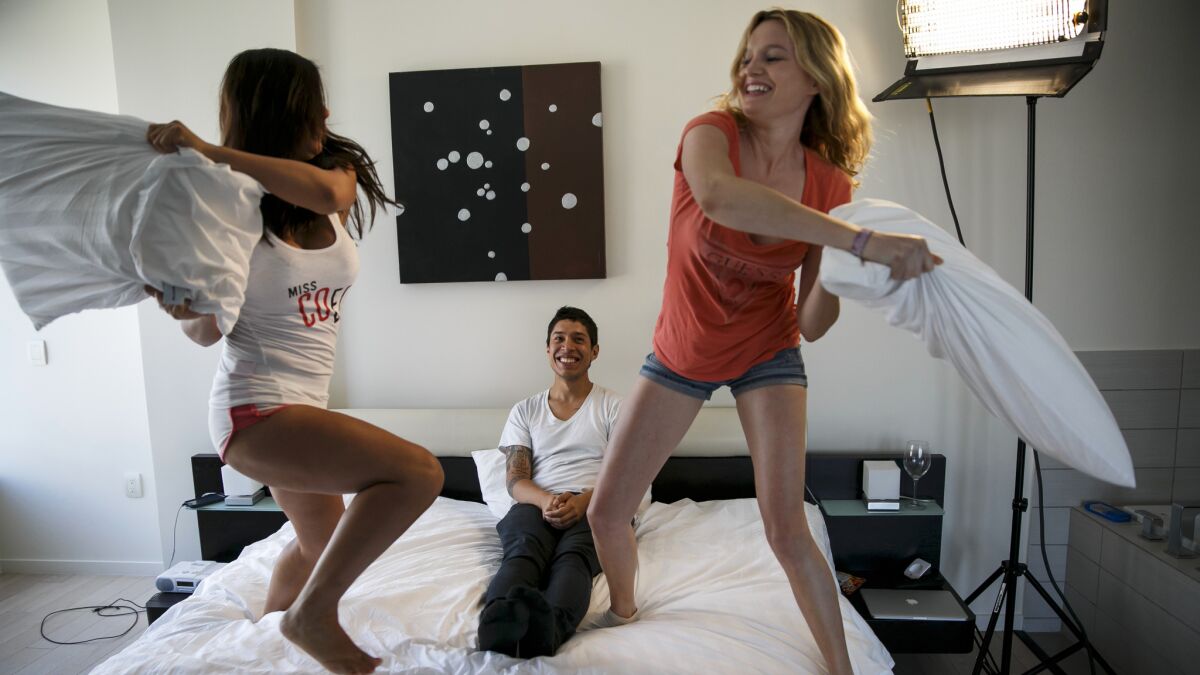 Prime Union members, Rong said, didn't need to wait for acceptance and respect — they could buy it, and they could buy the clubs that wouldn't admit them, and throw parties where Chinese guys get all the girls. Their slogan reflected an almost nationalist ethos: "You were born differently. It's in your blood."
But that part of his life, Rong insists, is in the past. He quit the club a year ago. It wasn't making very much money, and after police shut down the October event, the club lost its credibility with members.
The parties had also left Rong jaded. He began to see that many of his friends — the sons and daughters of politicians and industry titans — were unhappy.
"I've seen so many second-generation rich who are craving to fill emptiness inside of them and their hearts," Rong says. "Every day is about the next party and the next girl. I don't want that to happen to me."
Last November, he withdrew $100,000 from an account his parents help fund and launched Magic Cube. He resolved to change his image.
On his Wechat feed, a photo stream of movie premieres, first-class-seat selfies and yacht hangouts has given way to photos of his employees coding late into the night and snaps of his economy class accommodations, a laptop jammed between his knees and the seat. A few weeks ago, working late at his office, he went online to post a late-night view of the dimming lights of downtown L.A. and captioned it with an F. Scott Fitzgerald quote:
"Whenever you feel like criticizing anyone… just remember that all the people in this world haven't had the advantages you've had."
::
The actresses... loosen up for the day's scenes--a pillow fight and a balloon popping contest.
Soon after coming to the U.S. as a high school student, Rong says he lost faith in the American Dream and began to subscribe to the notion of the Chinese Dream.
If the American Dream is the promise of prosperity in exchange for hard work, the Chinese Dream, in Rong's view, is the chance of immortality – the belief that anyone can become the richest man in the world, so long as he places the right bets.
Rong's bet is Magic Cube. His idea is to merge aspects of virtual reality, reality TV, live streaming video, online gaming, the social-influencer economy and big data for a product that Rong hopes is tailor-made for the Chinese economy: ever-changing, astronomically ambitious, and with a payoff of billions.
Users will participate in live-streamed games and television shows cast with social media stars and bid money in real time to influence the cast's actions. Data scientists will analyze the movements of users wearing 3D goggles to optimize the VR content. Users can buy watches, clothes and jewelry to own in the game, and eventually, virtual reality filmmakers will be able to create their own games and television shows for the platform.
Rong has spent the last few weeks making a demo for investors and trying to model the frugality that is required of a startup founder.
The money once spent on fancy restaurants and flashy clothes he now invests in the company. The last time he went to a club was to gather footage for an investor demo. He's thinking about selling his Bentley.
But Rong also recognizes that a billionaire's son has an image to uphold.
Before a recent shoot, building management tried to stop him from filming on the apartment complex's helipad. He bought 20 minutes by offering to rent another $2,400-a-year parking space.
As the actresses for the shoot arrive, he opens the refrigerator and extracts bottles of Johnnie Walker Black Label and Moet & Chandon champagne.
"Anybody want a drink?" he asks.
Kevin Chen, a longtime friend and co-founder of the startup, sets out glasses and clears away discarded cookie wrappers. The actresses, one of whom played a cheerleader in a Netflix Snoop Dogg movie, take sips to loosen up for the day's scenes — a pillow fight and a balloon popping contest.
The actresses play with Snapchat to pass the time. Ivan, a virtual reality filmmaker and Rong's collaborator, coaches them on their performances.
Rong sets the camera up, and the actresses begin to bash each other with pillows. He drapes an arm around Chen, listens to the thuds and high pitched giggles and gulps champagne.
"They're very good," he says giddily. "This is going to be very good."
Rong still sees his Prime Union friends from time to time. They always ask him if he wants to "get back on top" — rent out the Queen Mary for a party or buy a castle in the Hollywood Hills.
Rong shrugs them off.
"I don't believe that you can have fun and make billions," he says. "To make a business, you work super hard. You give up your cars, you give up the girls, and you dig into it. Otherwise it'll never get off the ground."
::
In the final days before his startup's scheduled launch, Rong's flies back to China for his grandfather's funeral and is forced to push back his startup's launch date.
But to his family's dismay, he immediately catches a flight back Los Angeles, skipping some of the traditional mourning rituals so he can take a meeting with a Lionsgate producer about creating a virtual reality promo for the film "Nerve," a video-game thriller starring Dave Franco. He can't miss the opportunity.
He's close with his mother, and he spends much of the flight thinking about how he disappointed her. Before he left, she told him that he was disrespecting his family and his elders — one of the common criticisms of China's elite youth.
But he reminded himself that his mother, a video-game entrepreneur herself, had always taught him that he needed to make something of himself and create his own fortune. And making money, Rong decided, required sacrifice. He could only hope his mother would understand some day.
The Lionsgate meeting, he says, went well, and the next day, he sits down to brunch at Penthouse restaurant in Santa Monica with his girlfriend, Kathy Wang. He's sporting wispy stubble from the traditional three-day temple vigil for his grandfather, fighting a cold and wearing a hoodie and pajamas. He orders hot water.
The couple had a fight the night before, but then Rong changed his Wechat profile picture to include her, and the brunch is part of his apology. Afterward, they stroll along the pier, holding hands.
They pause, and Rong raises his girlfriend's rose gold iPhone and snaps a picture of her with the coastline in the background.
"You only took one picture?" She swats him playfully on the shoulder. "Can you try harder?"
He laughs and retakes the photo several more times before they continue down the pier, leaning into each other
Rong has never had a serious girlfriend. But he says that over the last six months, he has given up parties, gambling and womanizing, and perhaps it is time to try being a good boyfriend.
He has to grow up sometime.
ALSO
Plaschke: Hope Solo's remarks show the Olympics don't always bring out the best
Warning of election fraud, Trump sparks fear that his backers may intimidate minority voters
Hyperloop One is in a massive legal fight. Do investors deserve some blame?
---
The stories shaping California
Get up to speed with our Essential California newsletter, sent six days a week.
You may occasionally receive promotional content from the Los Angeles Times.